Semolina Flour (Suji) - Good For Health
Semolina flour or sooji is the coarse, purified wheat middlings of durum wheat mainly used in making pasta[1] and couscous. Semolina can be found plenty in India. The original texture of this wheat is a little bit coarsely. But the texture after it cooked is lovely and very unique. It also has a great taste. Semolina becomes very popular in wheat around the world because of its taste and benefits.
Nutritional Value of Semolina Flour (Suji)
The nutritional value of semolina consists of; Semolina, Carbohydrates, Dietary fibre ,Fat, Protein, Vitamins such as, Vitamin A ,Thiamine (B1), Riboflavin (B2),Niacin (B3), Vitamin B6, Folate (B9), Vitamin B12, Vitamin C. Minerals such as; Calcium, Iron, Magnesium, Phosphorus, Potassium, Sodium, Zinc, and Other constituents like Water.
Vitamins and Minerals Value in Semolina Flour
Health Benefits of Semolina Flour (Suji)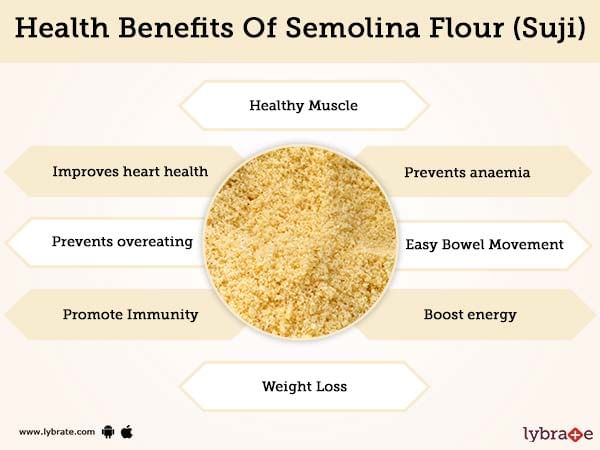 Mentioned below are the best health benefits of Semolina Flour (Suji). Check out how sooji interms of overall helath, Not only it curves your hunger but also improve your digestion, promote immunity and boost your energy.
Semolina is excellent for hearts as well. Sooji contain an chemical selenium which can protect the heart from infections. Semolina can also keep the heart in good shape. It improves cardiovascular health and prevents heart attacks, heart failures, etc.
This is because semolina contains selenium in abundance which prevents infections and strengthens the immune system too. Here are more heart-healthy foods.
Semolina is an excellent source of iron. It contains a sufficient amount of iron which is needed for your body. Consuming a diet contain sooji is full of iron will increase blood circulation, produce more fuel for your day-to-day functioning.
Semolina is made up of durum wheat which means it keeps us full for a longer period of time and prevents one from overeating. In other words, it helps to lose weight in a shorter period of time and maintain body weight. Suji is digested very slowly which increases your chances of shedding more fat.
The fiber present in semolina can help the digestive system function. As a result one can digest food easily and help in easy bowel movement too.
The selenium present in semolina is known to strengthen your immune system. Besides selenium, there are vitamin B complex and vitamin E contained inside. Those vital vitamin are very important to boost your immune system fighting disease.
As semolina flour releases energy slowly, it is obvious that energy will not be easily wasted. Therefore, semolina is a very recommended appetite for people living an active lifestyle. One's energy will be charged and performance will be improved. Moreover, one will not feel lethargic. Adding vegetables along with semolina will complete the day.
Intake of semolina leads to weight loss. One certain cause of gaining weight is hunger. By eating instant food or snack can't give you enough energy and nutrients. It only will make you want to eat more. But lucky for you semolina can resolve your problem.
According to researches, semolina have the ability to keep you away from hunger because semolina will release energy slowly. Semolina is also rich in fiber which can powerfully you digest your foods.
Uses of Semolina Flour (Suji)
Suji or Semolina flour can be used in different forms, check out various way to use sooji and how different recipes can be created without compromising with the taste:
Sooji can be used instead of corn meal to be out at the bottom of fresh pizza dough to avoid sticking. To get a tasty bread crust, 2 or 3 teaspoons of sooji can be added to the bread mixture.
Sooji is used widely in bakery. A quick semolina pudding can be made by boiling some milk, adding sugar and sooji and a flavor like vanilla essence and is served with jam.
Substituting sooji with regular flour in cakes and biscuits will add to extra crispness.
Sooji is also used in manufacturing pasta. Sooji pasta has a pleasant taste and smooth texture. Suji is good to thicken stew, prepare a base for soufflé or serve as a hot cereal.
Another dish that can be made using Semolina flour or sooji is couscous which is cooked like rice.
Sooji is used in a large no of other dishes including desserts and main courses.
Side-Effects of Semolina Flour (Suji)
Though semolina is good for health, it has some side effects, such as:
Wheat Allergy: If you have an allergy to wheat, you should not consume anything made with or containing semolina.
Allergic reactions: Which may includes syndromes like hives, runny nose, sneezing, stomach cramps, nausea, vomiting or asthma.
Anaphylaxis: A life-threatening condition that causes difficulty breathing as the body goes into a state of shock can occur.
Celiac Disease: If you have celiac disease and eat a food made with semolina, you may experience abdominal pain, chronic diarrhea, bloating or constipation.
Gluten Sensitivity: Semolina's gluten content can also cause problems if you have a gluten sensitivity.
Additionally, if you continue to eat semolina, it may damage your small intestines and lead to malabsorption of nutrients and malnutrition.
Side effects from eating semolina include abdominal pain, bloating, diarrhea or constipation, as well as joint pain and headaches. You may also experience changes in behavior, such as poor attention, hyperactivity or depression.
Cultivation of Semolina Flour (Suji)
Semolina wheat was formerly grown in Central Europe and the Near East. Now they are extensively cultivated in Italy, Russia, West Asia, Canada, North Africa. The cultivation of durum generates greater yield in areas of low precipitation (3–5 dm).