Cumin is widely known as a cooking spice, used extensively in cuisines native to the Indian subcontinent. However, the value of cumin not only lies in its flavor but its medicinal and healing properties. It contains a number of nutrients that keeps the body healthy. It is also used to create cumin essential oil, which is extremely fragrant and packs a punch. It is credited with diuretic, digestive, bactericidal, antiseptic, and carminative properties that enables the body to function as smoothly as possible.
It is said that consuming as little as one teaspoon of cumin can greatly enhance bodily functions and meet your daily requirement of multiple nutrients. Cumin is a good source of vitamins A, C, E, and B6, niacin, thiamine, and riboflavin. It is also rich in minerals, as 100 gms of cumin contains66.3 mg of iron, 931 mg of magnesium, 168 mg of sodium, 931 mg of calcium, 1788 mg of potassium, and 499 mg of phosphorus. The presence of dietary fiber and good fats and fatty acids make it a healthy addition to your daily diet. What many people do not know is that cumin is also a good source of protein and amino acids. In addition, it also contains carbohydrates.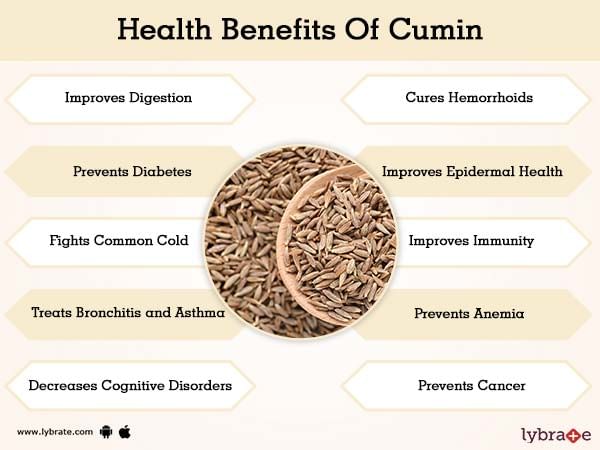 Improves Digestion
Cumin is known to cure digestive problems. However, a lesser known fact is that even its aroma, which emanates from a compound known as cuminaldehyde, facilitates digestion as it activates the salivary glands in the mouth. It also contains thymol, which complements the action of cuminaldehyde, by stimulating the glands that complete the digestive process. It enables the body to secrete acids, bile, and enzymes that break down the food and improves digestion and increases appetite. It is widely used as a home remedy for stomach aches. When taken with hot water, its essential oils, sodium, and magnesium content relieve the stomach of spasms.
Cures Hemorrhoids
An extension of its digestive properties, cumin can also help cure hemorrhoids or piles. Hemorrhoids are caused by constipation and infections or wounds in the anal tract. The high fiber content of cumin has carminative, antifungal, antimicrobial, and stimulating properties. In powdered form, this acts as a natural laxative. The essential oils in cumin heal wounds and cures infections in the digestive and excretory tracts, thus curing hemorrhoids.
Prevents Diabetes
Early studies into the healing and medicinal properties of cumin show that it prevents diabetes by reducing the chances of hypoglycemia. Although further studies and inquisitions are still being conducted, experts already believe that cumin can be a powerful preventative tool. It can also be used to manage diabetes in existing patients.
Improves Epidermal Health
Cumin has an abundance of vitamin E, which is vital for maintaining good epidermal health preventing premature signs of aging. Vitamin E acts as an antioxidant and helps keep the skin young and inhibits premature signs of aging such as spots, wrinkles, and sagging skin. In addition, cumin's essential oils have antifungal and disinfectant properties, which prevent the skin from being affected by fungal or microbial infections.
Fights Common Cold
The common cold can affect the human body repeatedly, especially if the body's immune system is compromised and vulnerable. Cumin helps the body disinfect itself. The essential oils present in cumin help fight viral infections which cause the common cold. Cumin draws out the phlegm and mucus, enabling the body to rid itself of the infection. Besides treating the infection, cumin can also help rebuild up the body's immune system. As it is rich in iron and vitamin C, the body's defense mechanism can repair itself, thus mitigating the chances of contracting the infection once more in a short span of time.
Improves Immunity
Cumin enhances the immunity of the human body due to an abundance of iron, vitamin A, and vitamin C, along with the presence of essential oils. As vitamin C is a powerful antioxidant, it stimulates and improves the action of white blood cells. It also keeps the detrimental effects of free radicals at bay. This is an essential function as it controls cellular metabolism, a process which produces free radicals, and free radicals are very dangerous as they may cause cardiovascular diseases and cancer.
Treats Bronchitis and Asthma
One of the lesser known benefits of cumin is in the treatment of respirational ailments such as Bronchitis and Asthma. It is an ideal anticongestive as it contains caffeine and rich, aromatic, essential oils. It liquefies phlegm and mucus that accumulate in respiratory tracts, acting as an expectorant, and triggers the body's natural elimination mechanism, that is sneezing and coughing. In this way, it acts as an inhibitor to more phlegm and mucus accumulating in the respiratory system, which in turn heals the initial condition.
Prevents Anemia
Anemia plagues a large portion of the world's population, without many people even recognizing it.There are numerous symptoms of anemia such as anxiety, fatigue, digestive problems, and cognitive issues. However, cumin is the perfect antidote to anemia as it is rich in iron. A 100 gm serving of cumin contains 66 mg of iron. This is more than five times the requirement of iron in an adult. Cumin provides the iron needed for optimum levels of hemoglobin in red blood corpuscles. Hemoglobin, in turn, is responsible for the transfer of oxygen through the body.
Decreases Cognitive Disorders
As cumin is rich in iron, it increases the production of hemoglobin in the blood and increases blood flow. Healthy circulation of blood ensures that the right amount of oxygen and iron is reaching the brain as well as the other organs in the body. It therefore improves overall bodily function and improves cognitive performance. Many studies have directly linked this effect with a decrease in cognitive disorders such as dementia and Alzheimer's disease.
Prevents Cancer
Studies show that cumin has chemopreventive properties, and also increases the secretion of anticarcinogenic enzymes and detoxifying agents. Additionally, it also contains antioxidants such as vitamins A and C, and antioxidants are also known to have anticarcinogenic properties. All these components work together to prevent cancer, especially colon cancer.
Treats Insomnia
One of the most ironic properties of cumin is that it can act as both, a stimulant and a relaxant. Experts have identified stress and anxiety as the most common causes of insomnia. Studies have shown that the aromatic oils present in cumin have tranquilizing effects, thus relieving stress and anxiety. Furthermore, it improves digestion, which in turn positively impacts the body's ability to relax.
Benefits for Women
Cumin is a great source of nutrients for women undergoing menses, expectant mothers, as well as lactating mothers as it is rich in iron. It can control and prevent anemia and supplement the calcium requirement for women as they grow older. It is especially beneficial for lactating mothers as it contains thymol which increases the secretion of milk from the mammary glands. Lactating and expectant mothers are advised to ensure that their intake of calcium is optimum, so as to nourish the baby properly. As cumin is rich in calcium, constituting 930 mg of the entire nutrient intake per 100 grams, it can account for at least 90% of the daily intake advised for lactating mothers.
Cumin is fairly versatile and can be used in savory cooking as well as baking, as far as breads and biscuits go. It has an earthy, nutty flavor. Cumin can be used in its seed form, where it can be toasted off to add flavor and depth to the recipe. As far as the medicinal uses go, it is best to consume cumin seeds that have been soaked overnight. In fact, many experts also suggest consuming the water in which the seeds have been soaked, instead of the seeds themselves. In this way, the seeds can be used for a second soak before being disposed. Soaking ensures that the deeper nutrients are also as easily accessible for processing by the human body. Cumin seeds can also be toasted and ground.
Studies about the side effects of cumin have been vastly inconclusive. However, there are certain precautions doctors suggest for diabetics. One of the known benefits of cumin is that it lowers blood sugar. However, diabetics must stay on the lookout for signs of low blood sugar, which can be equally dangerous. Further, this precaution must also be taken when undergoing surgery. This is also true because cumin is known to slow the clotting process. It is best to avoid cumin for a short period of time before and after surgery.