Alfalfa
Alfalfa is heavily loaded with phytoestrogens and is therefore used in the treatment of menopause symptoms to combat estrogen deficiency. Three types of phytoestrogens are alfalfa-coumestrol, genistein and biocanine. Alfalfa also helps in countering vaginal dryness, night sweats, hot flashes, low estrogen and postmenopausal osteoporosis.
Nutritional Value of Alfalfa
Alfalfa works wonderfully well as a cleaner because of the presence of large amounts of chlorophyll in it. It detoxifies the body and removes carbon dioxide, thus killing anaerobic bacteria and fighting infection.
Vitamins and Minerals in Alfalfa
Health Benefits of Alfalfa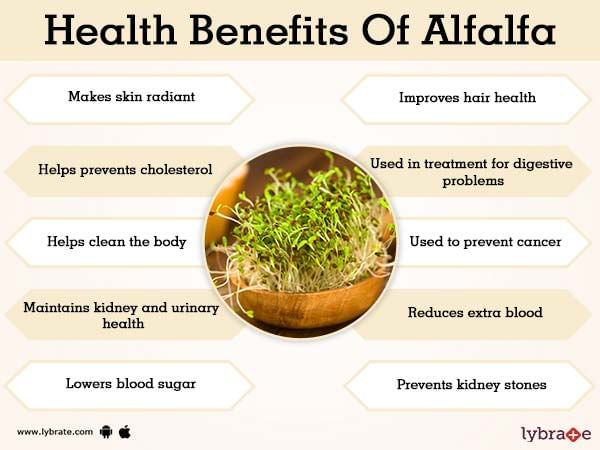 You can use Alfalfa in a different form, either you can make Alfalfa sprouts, or you can use raw alfalfa seeds. Even Alfalfa powder also available in local markets. Let check out some best health benefits of Alfalfa
The chlorophyll in alfalfa is rich in Vitamin A and enzymes. This makes skin radiant on the outside and healthy on the inside.
You can use different skincare products contains alfalfa extract. You can also use alfalfa powder and alfalfa tablets for skin tightening and glow.
Vitamins B1 and B6 present in alfalfa result in excellent hair growth. It also improves the texture of hair. You can use alfalfa hair oil contains enzymes that prevent baldness and hair loss. The presence of proteins helps hair growth while the presence of minerals such as calcium, zinc, silica make hair stronger and better. Silica prevents hair loss and baldness.
Alfalfa reduces bad cholesterol in the body and prevents cholesterol keves in the body from going too high, thereby also reducing the risk of heart diseases.
Alfalfa is an effective treatment for digestive problems. You can consume alfalfa tonic or alfalfa sprouts to prevents indigestion, bloating, gastritis, stomach ulcers, nausea, etc. alfalfa has a high fibre content and therefore also reduces chronic constipation.
Daily intake of alfalfa can greatly detoxify and cleanse the body from the inside.
Risk of cancer can be reduced by the consumption of alfalfa daily. It contains an amino acid called canavanine which is known to prevent the risk of cancer. It also helps in the binding of carcinogens that are present in the colon.
Alfalfa has diuretic properties which help prevent any problems in the kidney such as water retention. Alfalfa tablets is also known to prevent UTI or Urinary Tract Infection.
Alfalfa is rich in chlorophyll, iron and Vitamin K. These help in producing extra blood in the body and the plant is also used to treat nosebleeds, anemia, bleeding gums and poor clotting of blood.
Phytonutrients in alfalfa such as L-canavanine and chlorophyll help in increasing immunity. It also lowers blood sugar, prevents Type-II diabetes, adult-onset diabetes and many more.
Alfalfa also prevents kidney stones and gravel, arthrosis, arthritis, oedema, heavy metal poisoning, varicose ulcers, etc. It is also used to treat loss of energy, fatigue, nausea, memory weakness and decrease in alertness, decreased thyroid function, brittle nails, split hair ends, night blindness, dental problems and lessened production or poor quality of breast milk.
The sprouts of the alfalfa plant are used in salads and sandwiches. The leaves and flowers can be made into a herbal tea that can be consumed upto three times a day. Traditionally, the herb was used in digestion issues and increase appetite.
The alfalfa seeds were used to treat insect bites and boils by being made into a paste. As a herbal supplement, alfalfa is available in the form of a tablet, capsule, protein or liquid extract. It is a popular detoxifying herb.
Uses of Alfalfa
Alfalfa plant contains many essential nutrients. The roots of the plant can borrow up to the depth of almost twelve meters into the soil, and bring up trace minerals, which are of great importance to health. The alfalfa plant supplies almost all the vitamins, namely, vitamin A, vitamin B complex, vitamins C, E, and K.
It is high in protein and calcium. The sun-dried hay of alfalfa is said to be a good source of vitamin D, vitamin D2 and vitamin D3. These nutrients make alfalfa have enormous health benefits.
The best way to have alfalfa is in the form of sprouts that have been rinsed thoroughly to remove mold. Alfalfa seeds should not be eaten unless sprouted because they contain high levels of the toxic amino acid, canavanine. You can also take it in the form of a tablet.
Side-Effects & Allergies of Alfalfa
Alfalfa seeds should not be taken for a long time as they can have adverse effects, such as the increase in autoimmune diseases like lupus. Alfalfa might also cause some people's skin to become extremely sensitive to the sun. Using large amounts of alfalfa supplements during pregnancy and breast-feeding are declared unsafe.
Often it tends to behave like estrogen and causes hormonal imbalances. Alfalfa might cause the immune system to become more active and this could increase the symptomsof auto-immune diseases like MS, lupus and rheumatoid arthritis.
Persons with conditions like breast cancer, uterine cancer, ovarian cancer, uterine fibroids and endometriosis should not consume alfalfa.
Cultivation of Alfalfa
The alfalfa plant is related to the pea family. Fully grown, it can climb up to 80 cm, blooming with violet flowers in summer. It is also known as lucerne (when used in farming, for example as a vegetable manure). Alfalfa's name is rooted in the Arabic word that means 'father of all foods'. It can be grown athome in a large garden as it takes up a lot of space.