About
Our medical care facility offers treatments from the best doctors in the field of Ophthalmologist . Our goal is to offer our patients, and all our community the most affordable, trustwor...
...more
Our medical care facility offers treatments from the best doctors in the field of Ophthalmologist . Our goal is to offer our patients, and all our community the most affordable, trustworthy and professional service to ensure your best health.
More about Fortis Hiranandani Hospital
Fortis Hiranandani Hospital is known for housing experienced Ophthalmologists. Dr. Harshavardhan Ghorpade, a well-reputed Ophthalmologist, practices in Navi Mumbai. Visit this medical health centre for Ophthalmologists recommended by 49 patients.
Timings
Location
Fortis Hiranandani Hospital Mini Sea Shore Road, Sector 10 A, Vashi Navi Mumbai
Vashi West - NaviMumbai
Navi Mumbai,
Maharashtra
-
400703

Get Directions
Photos (1)

Videos (4)
View All Videos
Doctor in Fortis Hiranandani Hospital

MBBS Bachelor of Medicine and Bachelor of Surgery, MS - Ophthalmology, DNB Ophtalmology
Ophthalmologist
Book appointment and get ₹125 LybrateCash (Lybrate Wallet) after your visit
₹400 online
12:00 PM - 01:30 PM
05:00 PM - 06:00 PM
Services
Submit Feedback
Submit a review for Fortis Hiranandani Hospital
Your feedback matters!
Write a Review
Patient Review Highlights
"Professional"
2 reviews
"Helped me impr..."
1 review
"Thorough"
1 review
"knowledgeable"
1 review
"Very helpful"
3 reviews
"Caring"
1 review
Reviews
Sarada
Jun 29, 2017
Many people gave very positive feedback for this Harshavardhan Ghorpade. I owe him him a big thanks for making me fine again. The guidance Harshavardhan Ghorpade gave me has helped me immensely with my situation. The entire Saroj Speciality Eye Clinic was spotlessly, clean. I was amazed that other doctors before him were not able to even diagnose my problem, but Harshavardhan Ghorpade did it immediately and started the red eyes treatment for it. Saroj Speciality Eye Clinic had all the amenities, a patient requires. He is very courteous and behaves very aptly with elder patients. I was having this red eyes, but the symptoms were not very visible. I thought that post treatment it won't happen again, but then after sometime, the symptoms re appeared.
Jaswant
Aug 13, 2017
My problem was such that it required a number of sessions, and I must say after all the sessions, I am feeling much better now. So many doctors I consulted, but his treatment was the best. It was getting very difficult for me to cope us with my poor eye sight. I was admitted to the Saroj Speciality Eye Clinic in case of emergency, but not once did any of the nurses panicked. Never once that I felt that he is getting impatient, rather he has always responded to my each and every doubt with immense patience. I searched this Harshavardhan Ghorpade online and saw his reviews. In order to diagnose my problem completely he asked me a number of questions. I am so much benefitted with his treatment, that i am perfectly fine now.
Kampu
Aug 13, 2017
Harshavardhan Ghorpade guidance has helped me immensely and has helped gain confidence. I was quite concerned, as my health was degrading day by day, but due to my Harshavardhan Ghorpade and the weakeyes treatment I didn't lose hope. The entire Saroj Speciality Eye Clinic was spotlessly, clean. In order to diagnose my problem completely he asked me a number of questions. The Saroj Speciality Eye Clinic is designed in such a way that every patient feels at ease. I was panicked, because I never thought I will suffer from weakeyes like this. He ensures that he gives enough time to each patient.
Himalay
Apr 15, 2017
My boss referred me Dr Harshavardhan Ghorpade. I have consulted so many doctors but nobody till now was able to understand my concern properly, until i consulted him. The atmosphere in the Saroj Speciality Eye Clinic is always so positive and full of life. Overall eye infection treatment was very effective. The Clinic has all the latest technology in place to handle severe cases. He is not just friendly, but also is very motivating. I was shocked to experience the symptoms of eye infection
Abhijay
May 11, 2017
He is not just friendly, but also is very motivating. Even though it's been more than a year, still if I sometimes feel pain and call him, and Harshavardhan Ghorpade still takes my call in case of any emergency. I owe him him a big thanks for making me fine again. Due to my conjunctivitis i was feeling very depressed and had no hope. Harshavardhan Ghorpade has so much knowledge that for everything my family takes herreference. The nurses at the Clinic were really helpful.
Kshamya
May 3, 2017
All of sudden I developed therdark circles Issue and didn't know what to do. The staff at Saroj Speciality Eye Clinic in Mumbai was very attentive to my needs. drHarshvardhan Ghorpade is very talented and seasoned doctor. Someone from the office, referred him to us. My case was extremely serious, but he really handled it very nicely. With the help of hertreatment for dark circles I am feeling so great.
Arshad
Apr 14, 2017
Due to my squint my daily activities were suffering. I read about Dr Harshavardhan on one of the social media platform. Never once that I felt that he is getting impatient, rather he has always responded to my each and every doubt with immense patience. I am really grateful as his squint treatment has give me a ray of hope. I am almost my normal self post the treatment
Layak
Jul 20, 2017
I started suffering from cataract due to sunlight. I consulted Dr Harshavardhan. He has great experience in the field of Ophthalmologist. He treated me so well and now it has been 4 months, my condition has improved to great extent. Thanks to him for treating me so well.
Feed
Cataracts are a common eye problem experienced by the elderly. In some cases, babies may also be born with cataract as a congenital defect or it may develop as a result of conditions such as diabetes. Cataracts can affect one or both eyes and is characterized by the clouding of the lens in the eye. This can make it difficult to see clearly and if not treated in time can lead to blindness.
Common symptoms of cataract include:
Blurred vision
Changes in the perception of colour
Increased sensitivity to glares
Double vision
An eye examination is the first step to diagnosing cataracts. To confirm a diagnosis the doctor will also dilate the pupil to check the lens. Most cataracts can be easily treated with surgery. This surgery involves the separation of the cataract from the lens and its removal after which an intraocular lens implant is placed in the eye. In cases where this cannot be used, corrective contact lenses or glasses will need to be used. One of the most popular methods of cataract surgery is known as phaco surgery or phacoemulsification.
This surgery involves making two, small incisions on the eye where the cornea meets the sclera. This is then used to create a circular opening in the lens through which a probe is inserted into the eye. Sound waves or laser is then used to break the cataract into small pieces. This is then removed from the eyes and an intraocular lens implant is put in its place. Stitches are rarely required for this surgery and it is usually performed as an outpatient procedure while the patient is under local anaesthesia. When treating cataract, both eyes are usually not addressed simultaneously.
This surgery is usually pain free. The operated eye may be bandaged overnight and the patient will be given a protective eye shield to be worn for a week. The doctor will ask you to get a check up 2-3 days after the surgery where they can evaluate the clarity of the lens, overall health of the eye, eye pressure and visual acuity.
Cataract surgery is generally considered to be a safe surgery but like any other surgery there are risks involved. Some of the possible complications of this type of surgery include:
Pain and redness of the eye
Vision problems
Swelling of the eye
Discharge from the eye
Flashes or floaters in the patient's vision
4327
people found this helpful
Most individuals suffer from eye problems sometime in their entire life span. Since our eyes are one of the most important assets and sense organs, periodic check ups are recommended to prevent serious eye problems. Here is a list of 5 primary eye diseases, their causes and cure:
Conjunctivitis
This disease is commonly called pink eye. It involves swelling of the conjunctiva lines inside the eyelids which cover the sclera of the eyes as well.
Causes
1. May occur because of factors like viruses, bacteria and substances, which cause irritation such as shampoo, smoke, dirt, chlorine in swimming pools.
2. Dust, pollens or similar allergies may cause this disease in sensitive people.
3. This disease is infectious in nature and spreads from person to person.
This disorder may be treated with eye drops, pills or ointments containing antibiotics. Avoid being with other people when affected and also abstain from using contact lenses.
Glaucoma
In case of this disease, the optic nerve of the eye is damaged and can lead to loss of vision over time. Build-up of pressure takes place inside the eye.
Causes
1. Occurs due to intense pressure within the eyes or the intraocular pressure.
2. The extra pressure destroys the optic nerve.
3. Permanent blindness is caused if the disease is not controlled and treated.
Eye drops, laser surgery, and microsurgery are methods for curing glaucoma.
Ocular Migraine
This temporary disease causes loss of vision in one eye and generally does not last for more than an hour. This might happen after a migraine headache.
Causes
1. Mainly caused due to health-related issues than from eye problems.
2. Also occurs from regular migraines.
3. It is related to spasms caused in the blood vessels of the retina.
This disorder can be cured by using aspirin, epilepsy drugs and blood-pressure medication known as beta blockers.
Retinal vascular occlusion
This disease affects the retina and lowers the supply of oxygen-rich blood.
Causes
1. Factors such as atherosclerosis, blood clots and blockage in arteries, diabetes, high blood pressure, obesity or smoking lead to this disease.
2. The blood flow to the retina is restricted.
Medicines like blood thinners, eye injects such as vascular endothelial growth can cure this disorder.
Ophthalmoplegia
Paralysis of the eye muscles occurs. Can occur in more than one of the eye muscles.
Causes
1. Happens due to interruption of messages sent to the eye from the brain.
2. Caused from muscle disorders.
3. Also caused from migraines, thyroid problems, stroke, etc.
Special eye patches and eyewear are used for treating this disorder, for relieving double vision.
Eye diseases are very common, and a large number of eye diseases can occur from different reasons and causes. In case you have a concern or query you can always consult an expert & get answers to your questions!
4777
people found this helpful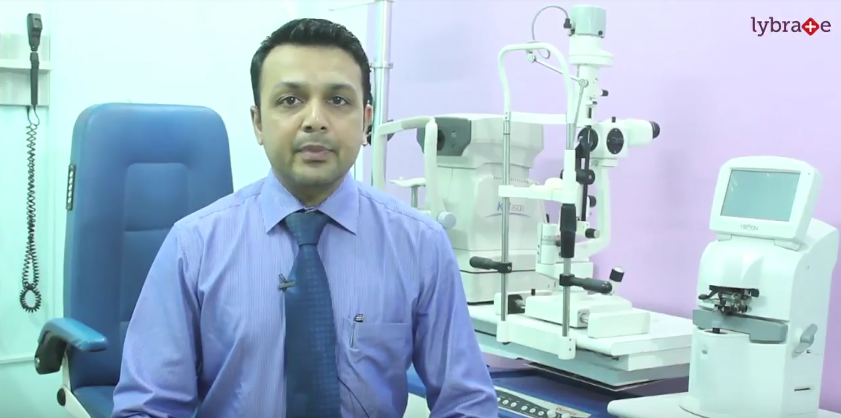 Hello friends!
I am Dr. Harshavardhan Ghorpade . I am a cataract cornea and reflector surgeon. Today I am going to speak to you about a very common occurrence in everyday life that is eye trauma or eye injuries. There are three type of eye injuries, one it could be a small foreign body or a large foreign body, second it could be a chemical injury and third it could be a mechanical injury. Now talking about foreign bodies, they can happen anywhere while playing, while working specially or while travelling, specially while doing work. We see many people coming with foreign bodies which have small dust particles or metal particles or wood particles and they are left inside for a long time. The main thing to do in this is to show the doctor immediately. Why? Because of the foreign bodies stays there for a long time, it can lead to devastating eye infections leading to permanent blindness.
How does that happen? The foreign bodies stay on the black part of the eye that is a cornea, sends in germs into the eyes which ultimately affect the vision. So go to the doctor, get it removed and take proper antibiotic eye drops for the prescribed period of time and then things should be fine. The second thing I would suggest is to have the good protection of the eyes while dealing with such work or while travelling. So that includes special eyegear that are prescribed by the company or the doctors. The second type of injuries are chemical injuries. They can happen anywhere specially in the laboratories or in factories or even while playing diwali or holi games we can have fire crackers or the colours from holi which can lead to chemical injuries. They can also happen in the house while you are dealing with liquids like harpic or any other fluid that is used to clean the toilets or homes or detergents. So the best thing to do that you can do in such a case is to give a thorough eyewash.
An eyewash is the most important thing that anyone can do before even coming to the doctor. Remember the water has to be absolutely clean while doing such a thing and the eyewash may have to be given for almost ten to fifteen minutes. Just a two or three minute eyewash may not be enough and even then there could be particles of the chemical that can stay inside for a long time and that have to be removed by the doctor. So go to the eye doctor immediately and the doctor will immediately have a look at you, remove the foreign particles, give you further eyewash and give the prescribed medications. However if the injury is very severe for example acid or alkali burns in factories or in laboratories, then sometimes an immediate surgery is also required to cover the bare areas which have got injured, otherwise it can lead to infections or even damage to the eye permanently.
The most important thing again that I would suggest is to use protective eyegear while doing such things for example while playing holi or diwali you can use a plastic goggle, while working in the laboratory or factory you should use the prescribed glasses or frames that are given by the company doctors and while travelling you can use eyegear to protect your eyes. It makes the use difference definitely. The last type of injuries are mechanical injuries. They could be of two types, blunt injuries caused by say for a example a tennis or a cricket ball and penetrating injuries caused by a nail, a knife or even a pencil or e pen refill. I have seen such cases many times. So what happens to you, what do you do? You definitely don't have to give an eyewash in this case because the water can enter the eye through the wound and cause further problems. So the best thing is to cover the eye with a eyepad or a eyepatch or a eyeshield which is available in any pharmacy and then rush to the doctor. Do not strain or caught any kind of pressure to the eye because the contents of the eye can come out. When you will go to the doctor they will examine you and decide whether it needs medical treatment if the injury is superficial but if it is deep, it will need surgery definitely because the surgery can close the wounds, put the parts of the eyes back into their place and also avoid infection because they give antibiotics through injections or tablets. Once that is done a thorough follow up is required because injuries can cause further complications in the long run that could be cataract, glaucoma or retinal problems. So the regular follow up to the doctor is a must. So that's all about injuries in short and I hope you take the requisite precautions to protect your eyes all the time and remember to approach the doctor as early as possible. Any delay from your side can lead to devastating eye blinding complications. Thank you very much. Stay healthy. Stay fit. And if you want to contact me or know more about me please visit lybrate.com.
Thank you.
4097
people found this helpful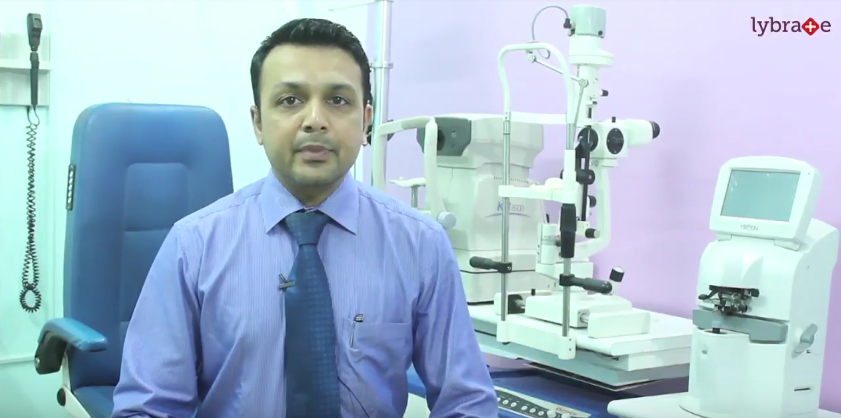 Good Morning friends!
I am Dr. Harshavardhan Ghorpade. Today I am going to speak to you about a very common condition that we all encounter and that is Conjunctivitis. Conjunctivitis is of two types, Infectious and Allergic. Infectious can be of two types, bacterial and viral. The Bacterial Conjunctivitis is usually seen in the rainy seasons while the viral conjunctivitis is commonly seen in the summer seasons. The commonest cause of the spread of this conjunctivitis is direct contact.
If you happen to encounter a person say in a swimming pool with infection or someone at home or office, you have to be aware, that it could be transmitted to you through contact. It can happen through direct contact or through indirect contact that is through towels, napkins or even at touch at the tap or the bolt of a door. Once you know that you have encountered this condition, then you need to go immediately to the eye doctor because the common symptoms are redness, watery discharge and a lot of swelling of the eyes. If you try to self medicate, there can be complications. So the best way is to go to the doctor. However even better than that is to avoid contact through such a person.
How do you do that? First, ask the person not to touch his eyes repeatedly. If he touches his eyes, then ask him to wash them thoroughly, at least twice with clean water and soap. At the same time you should avoid touching the places where the person may have contacted and clean them thoroughly. Apart from that the patient has to put regular antibiotic drops and other drops that are being prescribed. The viral conjunctivitis is more dangerous because it spreads very rapidly and it can spread into a family very quickly. Also it can lead to some complications like membranes in the eyes, and black spots or white spots appearing in front on the black part of the eye that is a cornea, which can lead to blurring of vision.
This complication needs to be treated with utmost care because it can lead to long term blurring of vision as well. So talking about the other types of conjunctivitis that is Allergic, it is commonly associated in peep patients who are allergic to certain things like dust, pollen grains or insects and mites that are seen on the mattresses. It can also happen to people who are allergic to certain medications or food types. The patient mainly comes with itching of the eyes and swollen eyes and the treatment involves total different approach as compared to an infectious conjunctivitis. So the best way is to go to the doctor, have a check, try to find out what type of conjunctivitis it is and then we can treat accordingly.
The allergic conjunctivitis can mainly be treated by anti inflammatory drops, lubricating drops as well as avoiding the allergens mainly dust and pollen grains. However it is not always possible and we may have to give long term treatment to such patients and as regards conjunctivitis I would also like to add one small note. Please do not use contact lenses when you have any kind of eye infection because they can definitely cause corneal or any type of other complications which can lead to blindness. So contact lenses never to be used during any kind of conjunctivitis and at the same time you should take good care of your contact lenses that includes cleaning them daily, not wearing them during sleep and using them only for the period for which they have been prescribed. For example, if they have been used to use for 8 hours, you should use them for 8 hours, if they have to be used for a month, they should be used for a month and not more than that and definitely
I would say monthly disposable lenses are a better option than using a yearly disposable lens. So that is all in short about two types of main conjunctivitis. Remember to avoid contact, wash your hands thoroughly and show the doctor as early as possible and please avoid self-medication. Thank you. Stay healthy. Stay fit. Thank you very much and to contact and know more about me go to lybrate.com.
Thank you!
3903
people found this helpful

MBBS Bachelor of Medicine and Bachelor of Surgery, MS - Ophthalmology, DNB Ophtalmology
Ophthalmologist, Navi Mumbai
All of us agree that healthy habits are absolutely necessary for a high quality of life. It is another story that whether we put them into practice or not. These healthy habits have to be cultivated since childhood for keeping vital organs like eyes in a perfect condition. One's quality of life is closely linked to how well one see and one can take steps now to take care of one's eyes and preserve vision well into old age.
Keep Your Eyesight Sharp and protect your eyesight with the five tips listed below
Maintain a balanced and healthy diet. It has been scientifically proven that some foods can boost eye health and delay age-related eye changes. One must include eye-boosting vitamins and minerals in diet, such as lutein and zeaxanthin, vitamin C, Vitamin E; zinc and omega-3 fatty acids to keep one's eyes in best shape. Broccoli, corn, squash, peppers, spinach and kale are the best source for zeaxanthin and lutein whereas citrus fruits, melons, tomatoes and broccoli are great source of Vitamin C. Vitamin E can be found in legumes, wheat germ, nuts and seeds while one can get zinc in found in whole grains. Salmon is a great source of omega-3.
Reduce Exposure in the sun: Sun's ultraviolet rays can increase the risk of developing cataracts, which is most common cause of age-related vision loss in adults. It is very essential to take precautions to shield one's eyes from the sun. One should wear UV protective eyewear or wide brimmed floppy hat for protection from sun.
Quit Smoking: Smoking is not only bad for heart and lungs, it can also damage eyesight. Cigarette smokers are at greater risk of developing both macular degeneration and Glaucoma.
Regular Exercise: Regular exercise keeps waistline trim and eyes sharp. Latest studies have shown that those who led an active lifestyle were seventy percent less likely to develop macular degeneration.
Go for Annual Eye Examination: Regular examination of eyes can give a surprising number of clues about ones overall health. Ophthalmologist can detect a broad set of problems ranging from hypertension to diabetes by doing a thorough examination of ones eye.
One only have one pair of eyes, so it is absolutely necessary to take the proper steps to care for them. By nourishing one's body with the right foods, getting regular exercise and going in for regular eye exams, one can keep vision sharp at any age.
4361
people found this helpful

MBBS Bachelor of Medicine and Bachelor of Surgery, MS - Ophthalmology, DNB Ophtalmology
Ophthalmologist, Navi Mumbai
If you suffer from vision loss and have to wear spectacles in order to see clearly you may be considering lasik surgery. Lasik surgery can be used to treat near sightedness, far sightedness and astigmatism. It involves reshaping the cornea with the help of a laser beam. This is an outpatient procedure where you can get back to work in a day or two.
To be able to undergo a lasik surgery, you must be:
1. Aged 18 or more
2. Suffer from nearsightedness, farsightedness or astigmatism
3. Lead an active lifestyle
4. Be in general good health
5. Have strong tear production
6. Have thick corneas
Before the surgery begins, numbing eye drops are applied to prevent any discomfort during the procedure. The surgery itself involves the creation of a thin flap in the cornea. This is the folded back to reveal the corneal tissue below. If you suffer from nearsightedness, an excimer laser is used to flatten the cornea while if you suffer from nearsightedness, it creates a steeper cornea. In cases of astigmatism, the cornea is smoothened into a normal shape. Once this has been done, the flap is laid back in place and the cornea is allowed to heal naturally. An uncomplicated lasik surgery for one eye usually takes less than five minutes. You may feel some pressure on your eyes and hear a steady clicking sound while the laser is in use.
You may feel temporary burning or itching immediately after the procedure. Do not in any condition rub your eyes to relieve this sensation. Also, do not attempt to drive and have somebody else drive you home. The blurred vision and haziness will clear by the next morning. You may also experience heightened sensitivity to light and may see halos around lights. The whites of your eyes may also look bloodshot for a few days. In most cases, vision improves immediately but in a few rare cases, it could take several weeks or longer.
Though you can return to work the next day, it is a good idea to take a few days off. Also refrain from strenuous activities of any sort for a week after the surgery. Take the medication prescribed by the doctor regularly and do not change the eye drops without consulting him first. Avoid using makeup or cream around the eye for up to two weeks after the surgery to minimize the risk of infection. You should also avoid using swimming pools or hot tubs for 1-2 months after the surgery. In case you have a concern or query you can always consult an expert & get answers to your questions!
3975
people found this helpful
Eye problems that are caused due to the computer can be termed as Computer Vision Syndrome. Staring a computer screen has become a part of our daily lives, for many of us. Work and pleasure both include using a computer or a tablet. Looking at this screen for prolonged periods can cause many problems including strain, pain and stress due to the repeated eyeball movements and non-blinking nature of the work that we do when we stare at a screen for many hours.
Let us find out more about the causes of computer vision syndrome or CVS.
Repeated Movements: When the same motion is carried out on a continuous basis, it can lead to stress based injuries due to the strain and stress caused in that part of the body. Much like carpal tunnel syndrome and other injuries like tennis elbow and shoulder joint problems, this condition is also caused due to the constant and repetitive movements which are known to lead to stress injuries. The longer you continue the activity, the worse it is bound to get.
Focus: When you sit in front of a computer screen and work, one of the most important things that you are doing is called focus. When you focus on a screen on a continuous basis, to align your eyes with what you need to read or see, you are causing long term damage if this activity is carried out for too many hours on a daily basis. This back and forth motion that makes us focus can lead to pressure and strain on the eyes, which should be broken by concentrating on other activities like writing on a paper or reading from a book.
Eye Muscles: These types of movements and activities can actually put a lot of pressure and undue strain on the muscles of the eyes. Also, things become even more difficult for the delicate eye muscles with the glare and blue light emanating from the computer screen which also has other elements like a flicker. This causes the eyes to align themselves by putting pressure on the eye muscles, which makes working on a computer that much more challenging than reading a book.
Wrong Glasses or Lenses: If you have nearsightedness or farsightedness, then these problems can become even more severe due to this kind of condition. Also, if you are wearing the wrong prescription glasses or lenses, your eyes are bound to suffer even more when you stare at a screen for such a long time.
Apart from all these factors, working on a computer gets even more challenging after a certain age like your forties.
4743
people found this helpful
Diabetes is a scourge that has been spreading like wildfire across the globe. It is one of the major public health concerns of the modern era. Diabetes not only causes damage to your internal organs but will also take a toll on your eyes if left unchecked. Retinopathy, glaucoma, cataracts and blurry vision are common phenomena accompanying diabetes.
You may not notice it at first. Symptoms can include:
Blurry or double vision

Rings, flashing lights, or blank spots

Dark or floating spots

Pain or pressure in one or both of your eyes

Trouble seeing things out of the corners of your eyes
Thus Comprehensive Dilated Eye Exam plays an important role to detect it.
Here are some common Diabetic Eye Problems:
Control and Prevention
If you have diabetes, you are not doomed to develop diabetic eye disease. Although you are at risk, you have the ability to control your diabetes so your vision is not compromised. Controlling diabetes requires you to monitor your blood sugar levels regularly. Follow some steps to help you control and preserve your vision:
Taking your Medicines regularly as prescribed by your doctor. Skipping of medication may leads to irregular control and is more hazardous.

Eating Right food is essential when trying to prevent or control diabetes. Eat a diet that is high in nutrients, low in fat and moderate in calories. A high-fiber diet with low glycaemic index foods (slow-release carbohydrates) will keep blood sugar steady and make you feel full. Although you do not need to eliminate sugar completely, you must limit sugar to a small serving. The good news is that as you cut sweets, your cravings will change and you will naturally desire more healthy foods.

Keep your A1C level under 7%: A1C is a test you have during a visit to your endocrinologist to determine how well-controlled your diabetes has been during the previous 2-3 months. Keeping your blood glucose in this target range means less damage to the delicate blood vessels around your eyes.

Control blood pressure and Cholesterol Levels: People with diabetes have a greater chance of having high blood pressure and Cholesterol, which can cause eye blood vessel damage.

Regular Physical Exercise can help you control your blood sugar, increase fitness and reduce your risk for heart disease and nerve damage. You must track your blood sugar before, during and after exercise to prevent hypoglycaemia.

Annual comprehensive eye exams: If you are pre-diabetic or diabetic, it is even more important to have Complete Dilated eye exam to initially get baseline recordings of the eye conditions and then regular yearly follow-up visits to monitor changes in your vision. If you notice blurred vision and you have had diabetes for a length of time, it might be a signal you need to keep tighter control of your glucose levels.
In case you have a concern or query you can always consult an expert & get answers to your questions!
4401
people found this helpful
Eye surgeries have evolved a long way. Starting from the most basic of eye surgeries, technological advancement has evolved a number of modern eye surgery techniques. LASIK is the latest trend in eye surgery and is the most common type of eye surgery in the modern day.
LASIK or Lasik (laser assisted situ keratomileusis), is a laser eye surgery or laser vision revision. It is a kind of refractive surgery for the rectification of nearsightedness, hyperopia, and astigmatism. The LASIK surgery is performed by an ophthalmologist who utilizes a laser or microkeratome to reshape the eye's cornea with a specific end goal to enhance visual acuity. For most patients, LASIK gives a lasting contrasting option to eyeglasses or contact lenses.
Carrying out a LASIK surgery-
To begin with, your eye specialist utilizes either a mechanical surgical apparatus called a microkeratome or a femtosecond laser to make a slender, round "fold" in the cornea.
The specialist then creases back the pivoted fold to get to the fundamental cornea (called the stroma) and expels some corneal tissue utilizing an excimer laser.
For partially blind individuals, the objective is to smooth the cornea; with farsighted individuals, a more extreme cornea is fancied.
Excimer lasers additionally can redress astigmatism by smoothing an unpredictable cornea into a more typical shape. It is a misguided judgment that LASIK can't treat astigmatism.
Laser eye surgery requires just topical soporific drops, and no wraps or fastens are required.
After your LASIK surgery is completed, you will be given some rest. You may feel a makeshift smoldering or tingling sensation promptly after the surgery is completed. After some post-surgical examinations, you are ready to go home. Abstain from driving by yourself.
Immediately after the surgery, you may experience blurred vision or hazy vision. It will subside with a little time.
You must keep away from any kind of activity that causes strain to the eyes after the surgery. Avoid watching television or reading.
Results of LASIK surgery:
Laser eye surgery offers various advantages and can significantly enhance your personal satisfaction. A great many people accomplish 20/20 vision or better after the surgery. However, LASIK results do fluctuate from people to people.
You will have to continue wearing your contact lenses or spectacles. The power will be much less after the surgery.
Side-effects:
While this surgery strategy provides effective results, LASIK complications can happen and may incorporate diseases such as night glare, and you may experience starbursts or radiances, especially while driving.
LASIK surgery is one of the most carried eye surgeries nowadays and gives satisfactory results.
In case you have a concern or query you can always consult an expert & get answers to your questions!
4622
people found this helpful
Cataract usually affects people who are above 40. It is a blurring of the eye's lens, which lies at the back of pupil and iris. It is the most usual cause behind the loss of vision for people above 40. Research also states that it is a major cause of blindness in the world.
Types of cataracts:
Subcapsular cataract: People who are diabetic and those are taking high steroids are more prone to subcapsular cataract. In this type, the cataract develops at the back of the lens.
Nuclear cataract: A nuclear cataract is related to aging. It usually affects the central portion of the lens of the eye.
Cortical cataract: It is a white opacity, which begins from the periphery of the lens and spreads up to the center of the lens in a spot-like manner. It usually affects the cortex of the lens.
Symptoms:
In the beginning, cataract affects a small portion of your eye and affects your vision.
Your vision gradually gets blurred.
Too much exposure to the light might cause glare.
In nuclear cataract, you may notice a short-lived improvement of your near vision.
In subcapsular cataract, you cannot notice any symptoms in the initial days.
Cause of cataract:
The lens inside our eyes acts like a camera and it is made of protein and water. The protein helps in keeping the lens clear. But with aging, the protein may start to form a lump, which causes cloudiness in the eye area. With time the cataract spreads all over the lens and creates more cloudiness, which ultimately leads to blindness. The factors which usually trigger cataract are
Age
UV rays from sunlight
Consumption of high dosage steroids medicines
Statin medicines
History of eye inflammation or any eye injury
History of eye surgery
Too much consumption of alcohol
Hormone replacement therapy
Family history of cataract
Prevention of cataract:
It cannot be guaranteed whether cataract can be prevented or not. A study shows that cataract is caused due to the oxidative changes in the lens of the eye. Nutrition studies have shown that consuming vegetables and fruits, which are high in antioxidants, may help in preventing cataract. Dietary intake of vitamin E, carotenoids lutein, and zeaxanthin from supplements and food items can decrease the risk of developing a cataract. Sunflower seeds, spinach and almonds are good sources of vitamin E. Kale, spinach, other leafy green veggies are the good sources of zeaxanthin and lutein. Food items that contain Omega-3 fatty acids and vitamin C decrease the chances of cataract.

Last, but not the least, when you step out, always wear a sunglasses, which has the ability to block UV rays.
In case you have a concern or query you can always consult an expert & get answers to your questions!
4203
people found this helpful
View All Feed
Near By Clinics
4.6
(

192

ratings)
Vashi, Navi Mumbai,
Navi Mumbai
View Clinic
4.4
(

84

ratings)
Vashi, Navi Mumbai,
Navi Mumbai
View Clinic
4.7
(

24

ratings)
Vashi, Navi Mumbai,
Navi Mumbai
View Clinic