Spirulina
Spirulina represents a biomass of cyanobacteria (blue-green algae) that can be consumed by humans and other animals. There are two species, Arthrospira platensis and Arthrospira maxima. It is the very same algae that can be found on the surface of the pond.
Spirulina has a dark blue-green colour and is a spiral-shaped type of algae. The colour is the result of a specific pigment known as phycocyanin.
It's the phycocyanin that is primarily responsible for spirulina's numerous health benefits, including an extraordinarily high antioxidant count which allows it to fight off free radicals that can damage the body's cells and ultimately lead to a host of diseases, illnesses, and premature aging.
Nutritional Value of Spirulina
Dried spirulina contains 5% water, 24% carbohydrates, 8% fat, and about 60% (51–71%) protein. It is a complete protein source, containing all essential amino acids. 100 gram amount of spirulina supplies 290 Calories and is a rich source (20% or more of the Daily Value, DV) of numerous essential nutrients.
Particularly vitamins such as, Vitamin A equiv. , beta-carotene, lutein zeaxanthin, Thiamine (B1), Riboflavin (B2), Niacin (B3), Pantothenic acid (B5), Vitamin B6, Folate (B9), Vitamin B12, Choline, Vitamin C, Vitamin D, Vitamin E, Vitamin K and dietary minerals, such as; Calcium , Iron, Magnesium, Manganese, Phosphorus, Potassium, Sodium, Zinc.
The lipid content of spirulina is 8% by weight providing the fatty acids, gamma-linolenic acid, alpha-linolenic acid, linoleic acid, stearidonic acid, eicosapentaenoic acid, docosahexaenoic acid, and arachidonic acid.
Nutritional facts Per 100 grams
Vitamins and Minerals
Health Benefits of Spirulina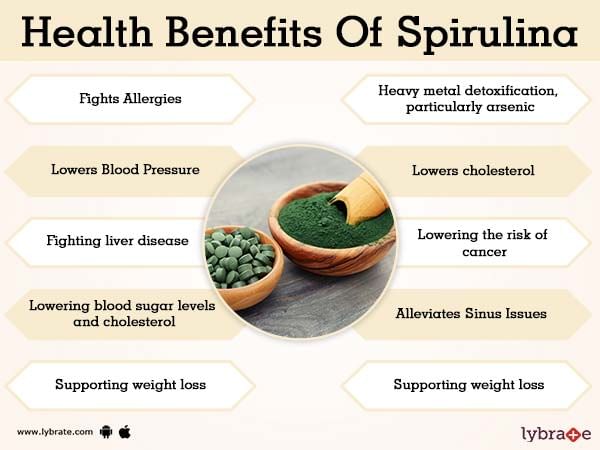 Mentioned below are the best health benefits of Spirulina
Fights Allergies
Millions of people are having problems and irritations from allergies to dust mites, pet dander, pollen, and many more. Stuffy nose, watery eyes, or itchy throat, are the symptoms of allergies.
Animal studies suggest that spirulina stops the release of histamine, which is responsible for symptoms of allergic rhinitis. According to human studies, spirulina consumption improved symptoms like sneezing, nasal congestion, nasal itching, and nasal discharge when compared to the placebo group.
Chronic arsenic toxicity is a problem worldwide, and according to the World Health Organization, the U.S. is one of the nations that are most severely affected, although it's an even more serious issue in the Far East, including India, Bangladesh, and Taiwan, where citizens are consuming a high level of arsenic in their drinking water.
The effects can be devastating and can be seen even years after exposure. It's initially associated with abdominal pain, severe diarrhea, vomiting, and nausea, but peripheral neuropathy and encephalopathy has been linked to it as well. When the affected patients are given a spirulina extract combined with zinc, the participants were found to have a 47% decrease of arsenic in their bodies. Spirulina is also very high in chlorophyll, which helps remove toxins from the blood while strengthening the immune system.
Lowers Blood Pressure
Phycocyanin is a pigment found in the spirulina that scientists have discovered possesses antihypertensive effects (it lowers blood pressure). Japanese researchers claim that this is because consuming the blue-green algae reverses endothelial dysfunction in metabolic syndrome.
Lowers cholesterol
Spirulina can also help lower blood cholesterol levels and prevent atherosclerosis. In 2010 research that was published in The Journal of Nutritional Science and Vitaminology, in which rabbits were fed a high cholesterol diet made up of 0.5% cholesterol for a four week period.
And then fed them that same diet, but this time added 1% or 5% spirulina for another eight weeks, researchers found that LDL (or "bad" cholesterol) was reduced by 26% in the group who ate 1% spirulina, and 41% in the group that consumed 5% spirulina. Serum triglycerides and total cholesterol were dramatically reduced as well.
Fighting liver disease
Spirulina may be essential for those with a chronic liver disease as research has shown that it helps to protect against liver cirrhosis, liver damage and liver failure. In the study published in Journal Nutrition, the scientists concluded that spirulina is beneficial for liver health in addition to functioning as an antioxidant, eliminating free radicals, preventing liver damage and chelating harmful metals.
Lowering the risk of cancer
The University of Maryland Medical Center reports: "A number of animal and test-tube studies suggest that spirulina increases the production of antibodies, infection-fighting proteins, and other cells that improve immunity and help ward off infection and chronic illnesses such as cancer.
Research from the Czech Republic noted that Spirulina is (also) rich in tetrapyrrolic compounds closely related to bilirubin molecule, a potent antioxidant, and antiproliferative agent.
When tested on human pancreatic cells, the scientists found that compared to untreated cells, experimental therapeutics significantly decreased proliferation of human pancreatic cancer cell lines in vitro in a dose-dependent manner. Basically, that proved that adding spirulina to one's diet can help prevent a number of different cancers from developing.
Lowering blood sugar levels
Some animal studies have suggested that consuming spirulina can lower blood sugar levels, in fact, results have even shown that it can outperform some of the most common diabetes medications, like Metformin.
Other research on humans, in which 25 patients with type 2 diabetes took two grams of spirulina each day for two months, experienced significantly lowered blood sugar levels.
Alleviates Sinus Issues
Known as allergic rhinitis, spirulina benefits the body by reducing the inflammation that causes people to experience sinus problems, according to numerous studies. (20) Compared to placebo trials, spirulina is effective at reducing itching, nasal discharge, nasal congestion and sneezing.
Supporting weight loss
Regularly consuming protein-rich, nutrient-dense foods like spirulina are known to promote weight loss while lowering fat stores. It does this in a number of ways, including being high in fibre, which is important for keeping one fuller longer and curbing hunger to prevent the temptation to give in to unhealthy snacks.
Additionally, as it takes more energy to metabolize, eating foods high in protein like this one helps to maintain lean tissue while contributing to fat burning. By taking a spoonful of spirulina each day and following a healthy lifestyle, it will help to speed your metabolism and improve weight loss results.
Uses of Spirulina
Spirulina is cultivated worldwide; used as a dietary supplement as well as a whole food; and is also available in tablet, flake and powder form. It is also used as a feed supplement in the aquaculture, aquarium and poultry industries. Spirulina is being investigated to address food security, malnutrition, and as dietary support in long-term space flight or Mars missions
Side-Effects and Allergies of Spirulina
It's absolutely critical to make sure that the quality and purity of the spirulina that one consume is of the highest standards. Particularly, like anything that comes from the sea, be certain to only purchase blue-green algae that are free from contamination.
According to WebMD, contaminated spirulina can cause the following: liver damage, stomach pain, nausea, vomiting, weakness, thirst, rapid heartbeat, shock, and even death. Also, some sources suggest that pregnant women and children should not consume algae. Contact your natural health care provider to confirm whether or not you should be supplementing with Spirulina.
Cultivation of Spirulina
Necessities to cultivate Spirulina are as follows; a tank or basin, the size will depend of the quantity of spirulina one wish to harvest, dry spirulina per square meter of basin. The culture medium is made of water and the "food" for spirulina is Sodium bicarbonate (if direct CO2 is not available) Magnesium sulfate , Potassium nitrade, Citric acid, Common salt, Urea, Calcium chloride, Iron sulphate, Ammonium sulphate.
Light is needed in sufficient amount. Spirulina will only start growing when the temperature is over 52 – 59ºF (14 – 15ºC) and have an appreciable growth over 64ºF (18ºC). The optimum temperature for maximal growth is 95º- 98ºF (35 – 37ºC).