Content Details

Written By
PhD (Pharmacology) Pursuing, M.Pharma (Pharmacology), B.Pharma - Certificate in Nutrition and Child Care
Pharmacology

Reviewed By
B.Sc (Home Science), Post Graduation Diploma in Dietetics and Public Health Nutrition
Dietitian/Nutritionist
Table of Content
Hibiscus
Nutritional Value of Hibiscus
Nutritional facts Per 100 grams
Vitamins and Minerals
Health Benefits of Hibiscus
It lowers cholesterol
Helps in managing blood pressure
Prevents liver damage
It has anti-bacterial properties
Helps in relieving menstrual pain
It helps in preventing cancer
It has anti-depressant properties
It helps you lose weight
Helps in improving digestion
It has anti-aging properties
Uses of Hibiscus
Side-Effects & Allergies of Hibiscus
Cultivation of Hibiscus
Hibiscus
When we talk about hibiscus, the first image people associate with the name is the bright red flower, which makes for a wonderful decoration but doesn't have any medicinal benefits. This bright red flower is Hibiscus Ascetosella, used mainly for decoration purposes. The hibiscus flower that has immense medicinal applications is called Hibiscus Sabdariffa, and is extremely beneficial in multiple forms with the applications of the flower, fruit and seeds ranging far and wide. The biggest application of hibiscus sabdariffa in modern times comes from the calyx of the flower, which is used to make tea. Hibiscus tea has long been hailed for the numerous health benefits it offers for the human body, without adding any calories or caffeine. The most common name used for hibiscus tea is Roselle.
Nutritional Value of Hibiscus
The biggest advantage of hibiscus tea, or roselle, is that is provides a nutrition rich drink that is extremely low on calories and completely caffeine free. For every 100 grams of hibiscus tea, there are only about 37 calories. 100 grams of hibiscus tea contains 0.7 grams of total fat, out of which just 0.3 grams is saturated fat, the rest being polyunsaturated fat and monounsaturated fat. The tea contains no cholesterol, making it all the more beneficial for your health. Minerals such as sodium and potassium are also found in this tea, with their concentration being 3mg and 9mg per 100 grams respectively. Total carbohydrate content per 100 grams of hibiscus tea is 7 grams, out of which about 6 grams is sugar and the rest is dietary fiber. The tea also consists of about 0.4 grams of protein per 100 grams. Roselle is also found to be rich in several other vitamins and minerals, offering percentage daily value of 5% for Vitamin-A, 30% for Vitamin-C and 47% for Iron, among others.
Nutritional facts Per 100 grams
Vitamins and Minerals
Health Benefits of Hibiscus
Mentioned below are the best health benefits of Hibiscus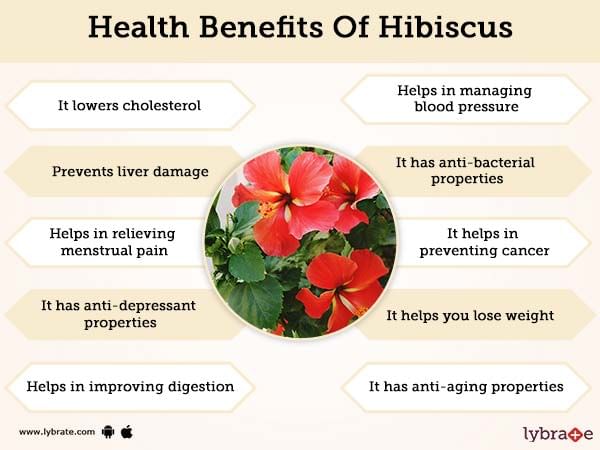 It lowers cholesterol
All of us are aware of the term LDL cholesterol, or bad cholesterol as it is popularly known. High amounts of LDL cholesterol present in the body can lead to permanent damage to the blood vessels and heart diseases and hence this is something that needs to be tended to regularly. The nutritional properties of hibiscus tea help a great deal in reducing the levels of bad cholesterol and prevent these conditions. Hibiscus tea also consists of great hypoglycemic and hypolipidemic properties, which are highly beneficial in managing diabetes and other blood sugar disorders. This tea lowers low-density lipoprotein cholesterols and triglycerides, which in turn makes it easier for people to manage blood sugar disorders.
Helps in managing blood pressure
High blood pressure, or hypertension, is a condition that affects a considerable portion of the population world over. Studies have shown that regular use of hibiscus tea can help in effectively managing the blood pressure and even lowers the blood pressure in adults who are mildly hypertensive or pre-hypertensive. Hibiscus is found to have cardioprotective and antihypertensive properties that can help a great deal in preventing cardiovascular diseases and controlling blood pressure. Hibiscus tea manages the blood pressure so well thanks to its anti-inflammatory properties as well as the diuretic properties that increase urination, leading to lowering of blood pressure.
Prevents liver damage
Hibiscus is found to be rich in anti-oxidants, which can be great in prevention and treatment of various liver diseases. These anti-oxidants help in neutralizing the free radicals present in the tissues and cells of the liver, while also having similar effects on the rest of the body. Hence it can be hugely beneficial for your body if you use hibiscus tea regularly.
It has anti-bacterial properties
As discussed earlier, hibiscus tea is a great source of Vitamin C, which is also known as ascorbic acid. Vitamin C is essential for the body and boosts the immune system a great deal, making the body ready to take on a number of diseases and ailments. Along with the rich Vitamin C content present in hibiscus tea, its anti-bacterial and anti-inflammatory properties also help you avoid ailments like common cold and flu. Thanks to the cooling effect of hibiscus tea, it can also be used to treat the discomforts caused by fever.
Helps in relieving menstrual pain
Among the many health benefits offered by hibiscus tea, one of the more important ones is the relief it provides from menstrual pains and cramps. A large number of women suffer from extreme pains during menstruation and hibiscus tea helps relieve it by restoring a hormonal balance. The restoration of hormonal balance also helps in reducing other effects of menstruation like depression, mood swings, over eating and more.
It helps in preventing cancer
Hibiscus is found to be a rich source of protocatechuic acid, which has anti-oxidant as well as anti-tumor properties. The presence of this acid in hibiscus tea makes it a great remedy for slowing down the growth of cancerous cells. This is done by inducing a condition called apoptosis, which is also commonly referred to as programmed cell death.
It has anti-depressant properties
As discussed earlier, hibiscus tea can help women in relieving stress and depression that occur as a result of menstrual pains. In addition to that, regular consumption of this tea can also help you fight off depression in general. Vitamins and minerals like flavonoids that are present in hibiscus act as highly effective anti-depressants. These vitamins and minerals help in calming down the nervous system, creating a relaxed sensation in the body. This in turn helps in reducing depression and anxiety.
It helps you lose weight
Losing weight without having to compromise too much on the diet is a challenge that a number of people face. A majority of food we consume in our day to day lives is found to be rich in carbohydrates, which generally means that it contains a high amount of sugar and starch, both the elements that can take a toll on your body. Hibiscus can help a great deal with this specific problem. It lowers the absorption of sugar and starch in the body, making sure that these elements don't add to the weight heavily. Hibiscus hinders the production of amylase, the enzyme responsible for absorption of sugar, starch and carbohydrates in the body, making hibiscus a useful component of your diet if you are looking to lose weight.
Helps in improving digestion
This is one of the most commonly known benefits of hibiscus. Hibiscus tea is used world over as an agent to improve digestion. Regular consumption of hibiscus tea helps in regularizing bowel movements and improves urination. Thanks to its diuretic properties this tea also makes for a wonderful treatment for constipation. The benefits don't stop there, with hibiscus tea being extremely effective in improving the health of your gastrointestinal system and helping in preventing colorectal cancer.
It has anti-aging properties
People often go looking for extravagant methods to help with anti-aging. However, simply incorporating hibiscus tea in your regular diet can do the trick in fighting the common signs of aging on your skin. The antioxidants present in hibiscus help in effectively keeping wrinkles at bay. They also help in dealing with the loss of elasticity and moisture on your skin, making you look younger than your age.
Uses of Hibiscus
Hibiscus Sabdariffa has a wide range of medicinal applications, with the flower being used in a number of medicines and cosmetic products. The most common form of use of this flower is in form of hibiscus tea, or Roselle. This tea has a tangy taste very similar to cranberry juice and makes for a wonderful drink when combined with honey, cinnamon, cloves, ginger and other such spices. Hibiscus tea can be a great drink for both hot and cold weathers, with the taste being great in both hot and cool forms while providing numerous health benefits.
Side-Effects & Allergies of Hibiscus
Hibiscus has anti-hypertensive properties and lowers blood pressure very effectively. However, for the people who are suffering from hypotension, or low blood pressure, it is strictly advised to not consume hibiscus tea. It may cause dizziness, fainting and might even result in damage to the heart. It also affects the estrogen levels and hence women who are on any birth control treatment or hormone replacement therapy should not have this tea. Pregnant women are also advised to avoid the consumption of hibiscus tea due to its emmenagogue effects that may lead to menstrual flow in the uterus. Hibiscus tea can also have hallucinatory effects in some people, hence every user should first make sure how the tea is affecting their body before making it a regular consumption.
Cultivation of Hibiscus
The origins of Hibiscus Sabdariffa can be traced to tropical Africa. In today's times, the plant can be found across the world. The major production of hibiscus today is in Mexico and Jamaica.