Cloves
Clove is an extremely aromatic crop commonly used as a spice. Trees of the clove are evergreen with crimson flowers among large leaves on a plant generally measuring 8 to 12 meters in height. Clove owes its distinct taste to the chemical eugenol with just a small amount of the spice sufficing the purpose. It is widely used in aromatherapy, in the form of oil for dentistry and to treat other problems of the spleen, diarrhea, cold and cough, etc. It is used in cigarettes to add flavor and as a natural antiseptic besides being extensively used in cooking.
Nutritional Value of Cloves
Main constituent of clove is eugenol which comprises of 70-90% of the total clove constitution. Other oils like acetyl eugenol, vanillin, tannins and flavonoids form the remaining composition of the spice. The presence of these oils have enabled clove to be used in the preparation of toothpaste, as a local anesthetic for local dental treatment and as a means to eliminate cold, cough and fever.
Nutritional facts Per 100 Grams
Vitamins and Minerals
Health Benefits of Cloves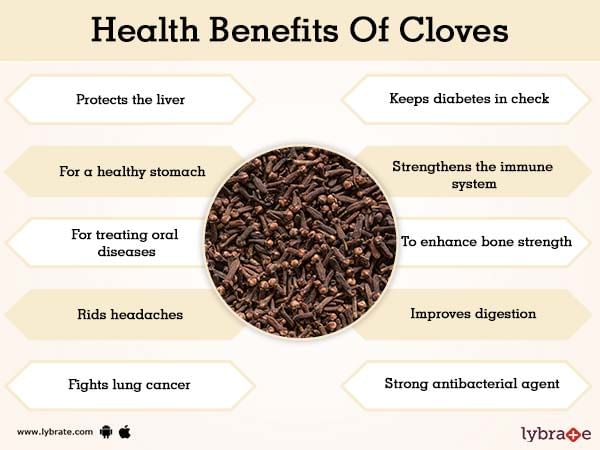 Mentioned below are the best health benefits of Cloves
Protects the liver
Due to the presence of antioxidants in high quantities, clove is an ideal choice to safeguard the body organs, especially the liver. Clove, with its hepatoprotective properties, counters the effects cause by free metabolic activity like the process of increase in lipid profile and radical production which results in the decrease of the level of antioxidants in the liver.
Keeps diabetes in check
In the case of diabetic patients, the amount of insulin produced by the body is not sufficient with the level of insulin required by the body. Research suggests that the use of clove leads to insulin generation in the body and keeping the blood sugar level in check.
For a healthy stomach
Cloves are highly effective in ensuring that the gastrointestinal tract stays healthy. It eliminates stomach problems such as diarrhea, bloating, nausea, vomiting, indigestion, intestinal gas, stomach ache, constipation, etc.
Strengthens the immune system
The clove bud is responsible for increasing the white blood cell count of the body thus boosting the immune properties that come with it. It reduces hypersensitivity of the body to foreign agents that are responsible for causing harm and discomfort to the natural functioning of the body.
For treating oral diseases
Cloves are an effectively recommended antiseptic and pain reliever for oral and dental problems. They can be used to cure gum relates diseases like gingivitis and periodontitis. They bud is pressed onto the teeth affected by the infection the one causing pain. Its oil is also used as a pain reliever and as an antiseptic.
To enhance bone strength
Cloves render hydro-alcohol extracts of phenolic compounds like eugenol, flavones, flavonoids and isoflavones. Research has proved that these compounds enable the body to retain its bone density and increase the mineral content of the bone. In patients suffering from osteoporosis, use of clove is noted to increase the tensile strength of the bones.
Rids headaches
Since ancient times, clove was believed to be a mild aphrodisiac in the realm of Unani medicine. Owing to its said properties, clove effectively reduces headaches. Applying clove oil on the forehead, around the nostrils or consuming a mixture of clove with milk and rock salt is highly effective in getting rid of a headache.
Improves digestion
Cloves enable the production and secretion of digestive enzymes, ensuring that the process of digestion is free flowing. Cloves also help alleviate problems like irritability in the stomach, flatulence, nausea and dyspepsia. Combined with honey,
cloves have been noticed to deliver excellent results in tackling with
digestive disorders
.
Fights lung cancer
Extensive research has been undertaken to study the effects clove has on tackling cancer. It has been brought to notice through these researches that clove is chemo-preventive. It is believed to be able to cure lung cancer in its early stage.
Strong antibacterial agent
Cloves have fared highly in combat with human pathogens. The use of clove bud/extract/oil is potent enough to kill such pathogens. It has been studied to highly affect the pathogens causing cholera.
Fights bad breath
Cloves, due to their distinct aroma are highly efficient in eliminating bad breath. Apart from being widely used as a major ingredient in the preparation of toothpastes, clove can be consumed in drinks or food though the day to tackle the problem of bad breath.
Anti-inflammatory properties
Anti-inflammatory properties
Cloves are excellent pain relievers. It stimulates the pain receptors of the body in the process to relieve the body of pain. The presence of eugenol in high quantities is known to essentially reduce pain associated with edema.
Uses of Cloves
Cloves are widely used as an antiseptic, to treat problems of oral hygiene and to tackle common cold, cough, flu and sinus. It boosts the immune system, eliminates problems like indigestion, headache, diabetes, liver ailments and enhances bone strength. It is used in teas, juices, sweets, food preparations, in cigarettes and in the form of oil.
Side-Effects & Allergies of Cloves
Use of clove in infants need to be in check as excessive use may lead to seizures. Due to the strong chemical composition prolonged use of clove oil on gums is believed to weaken the mucus membrane and the gums. Heavy doses are ill advised for pregnant women and breastfeeding mothers as it may lead to inflammation.
Cultivation of Cloves
Originally a native plant of the Spice Islands, clove witnessed its highest cultivation in Zanzibar in the early days. Currently, cloves are widely cultivated in Bangladesh, Indonesia, Madagascar,India, Pakistan, Tanzania and Sri Lanka.