Eucalyptus Oil
Eucalyptus oil is a pure essential oil which has practical and industrial uses along with its healing properties. Eucalyptus oil is the common name for distilled oil produced from the leaf of the eucalyptus tree, belonging to the plant family of Myrtaceae which is native to Australia and is cultivated worldwide.
Eucalyptus oil has a history of wide application, as a pharmaceutical, antiseptic, repellent, flavouring, fragrance and industrial uses. The leaves of selected eucalyptus species are steam distilled to extract eucalyptus oil.
Nutritional Value of Eucalyptus Oil
Health Benefits of Eucalyptus Oil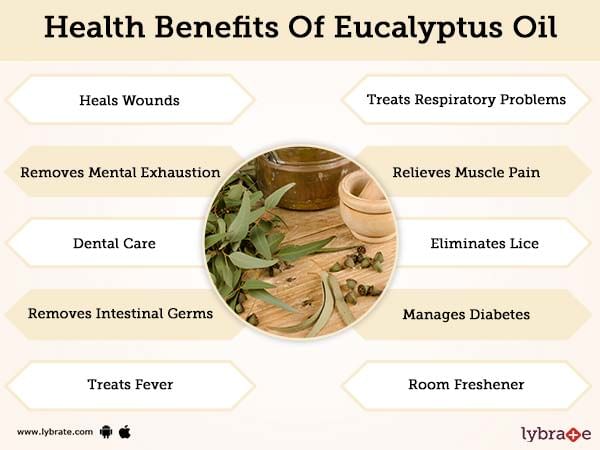 Mentioned below are the best health benefits of Eucalyptus Oil
Because of its germicidal qualities eucalyptus oil has antiseptic qualities. Therefore, eucalyptus oil is used for healing wounds, ulcers, burns, cuts, abrasions, and sores.
Eucalyptus Oil is also an effective ointment for insect bites and stings. Besides soothing the affected area, it also protects the open wound or irritated skin from developing infections due to microbial activity and exposure to air.
Eucalyptus essential oil is effective for treating a number of respiratory problems including cold, cough, running nose, sore throat, asthma, nasal congestion, bronchitis, and sinusitis.
It also has antibacterial, anti-inflammatory, antimicrobial, antifungal, antiviral and decongestant properties, which makes it a valuable ingredient in a wide variety of medicines that treat respiratory problems. A study published in 'Laryngoscope' journal in 2004 shows its usefulness in treating non-bacterial sinusitis.
Patients who were suffering from non-bacterial sinusitis showed faster improvement when given the medicine containing eucalyptus oil. Doctors recommend doing gargles with eucalyptus oil mixed in warm water as they are consistently effective in treating sore throats.
One of the most important reasons why many people use eucalyptus oil is because it creates a cooling and refreshing sensation when applied. In some cases, people who suffer from certain conditions and disorders feel slightly sluggish.
Eucalyptus oil, as a stimulant, helps removes exhaustion and mental sluggishness thus, rejuvenating the spirits of people feeling sick. It is also effective in the treatment of stress and other mental disorders.
If anyone experiencing any kind of joint and/or muscle pain, massaging eucalyptus oil on the skin helps to reduce stress and pain. Eucalyptus oil is also analgesic and anti-inflammatory in nature.
Hence eucalyptus oil is often recommended to patients who suffer from rheumatism, sprained ligaments, lumbago, and tendons, aches, stiff muscles, fibrosis and even nerve pain. The oil should be massaged in a circular motion on the affected areas of the body.
Eucalyptus oil is very effective against dental plaque, cavities, gingivitis and other dental related infections due to its germicidal properties.
Eucalyptus oil is commonly found as an active ingredient in toothpaste, mouthwash and other dental hygiene products.
One of its most well-known qualities is that of a bug repellent and natural pesticide, it is frequently used as a natural treatment for lice. A lot of the most used, mainstream treatments of lice can be very severe and in some cases damaging to the hair, as well as packed with dangerous chemicals that should not be absorbed into your skin, so combine a few drops of eucalyptus oil through a lice-infested head is a much better and healthier solution.
Eucalyptus oil being a vermifuge is frequently employed to eliminate germs in the intestine. Medical records have shown that ingesting eucalyptus oil can deter many of the bacterial, microbial, and parasitic conditions that arise in the various parts of the body, particularly susceptible areas like the colon and intestine.
Eeucalyptus oil on ingesting can help control blood sugar. Its qualities as a vasodilator, means that the entire body benefits from the increase in blood circulation. Patients suffering from diabetes commonly lack of good circulation, and this can be very dangerous, even resulting in amputation or death.
Therefore, it is a good idea to regularly massage eucalyptus oil onto the skin topically, and also inhale it as a vapor to ease the constriction of blood vessels. For best results, it is advised to massage it onto the skin after a shower. The vasodilating and relaxing qualities will benefit diabetics.
Eucalyptus oil is also used for treating fever and reducing the body temperature. This is why one of the common names of eucalyptus oil is "fever oil". It works well when combined with peppermint oil and sprayed on the body as a mixture of a deodorant and a temperature reducer.
The antiseptic and deodorant qualities of eucalyptus oil makes it a perfect room freshener for hospitals. It also kills bacteria and germs in the air, keeping the environment of the rooms clean and sterilized.
Eucalyptus oil is frequently used in soaps, detergents, and household cleaners. This is primarily due to its pleasant aroma and effect as a deodorant, antibacterial, antiseptic, and antimicrobial agent.
Eucalyptus oil is full of antibacterial and antiseptic qualities, and when massaged on the chest and used as a vapor rub or inhalant, it can ease the signs of harmful conditions such as tuberculosis by clearing the lungs and reducing inflammation. It is best if applied to both, the chest and the back, over the area of the lungs.
Uses of Eucalyptus Oil
Eucalyptus oil is used to treat arthritis, early research suggests that aromatherapy with a combination of eucalyptus oil, rosemary, marjoram, lavender, and peppermint oils might reduce pain and depression in people with arthritis.
Eucalyptol, which is a chemical found in eucalyptus oil, might be able to break up mucous in people with asthma. Some people who suffer from severe asthma have been able to lower their dosage of steroid medications if they take eucalyptol oil.
Doctors suggests that chewing gum containing 0.3% eucalyptus extract might reduce dental plaque in some people. Research suggests that applying a combination product containing eucalyptus oil, peppermint oil, and ethanol to the head does not reduce pain in people with headaches.
Side-Effects & Allergies of Eucalyptus Oil
Eucalyptus oil is perhaps unsafe when applied directly to the skin without first being diluted. Eucalyptus oil is likely unsafe when it is taken by mouth without first being diluted.
Doctors say taking 3.5 ml of undiluted oil can be fatal. Signs of eucalyptus poisoning might include stomach pain and burning, dizziness, muscle weakness, small eye pupils, feelings of suffocation, and some others. Eucalyptus oil can also cause nausea, vomiting, and diarrhea.
Cultivation of Eucalyptus Oil
There are several hundreds of species of Eucalyptus that have been shown to contain volatile oil, though probably fewer than 20 of these have ever been used commercially for oil production.
Today, fewer than a dozen species are utilized in different parts of the world, of which six account for the greater part of world production of eucalyptus oils. When leaf oil is to be a product of new eucalypt plantings the choice of species will depend on the particular environmental conditions that prevail at the intended site.
Although most species of Eucalyptus provide an oil on distillation, its economic recovery requires the oil to be of good quality (at least 60-65 percent cineole in the case of a medicinal-type oil) and produced in high yields.