Peppermint (Pudina)
Peppermint is an aromatic herb, it is a hybrid mint formed due to a cross between watermint and spearmint. The rhizomes are wide-spreading, fleshy, and bear fibrous roots. The leaves can be 4–9 cm (1.6–3.5 in) long and 1.5–4 cm (0.59–1.57 in) broad.
Peppermint are dark green with reddish veins, and they have an acute apex and coarsely toothed margins. The leaves and stems are usually slightly fuzzy. The flowers are purple, 6–8 mm (0.24–0.31 in) long, with a four-lobed corolla about 5 mm (0.20 in) diameter; they are produced in whorls (verticillasters) around the stem, forming thick, blunt spikes.
Nutritional Value of Peppermint (Pudina)
Peppermint possesses high menthol content. They also contain carboxyl ester, particularly menthyl acetate and menthane. Dried peppermint typically has 0.3 – 0.4 % of volatile oil containing menthol (7-48%), menthyl acetate (3-10%), menthane (20-46%), methofurane (1-17%) and 1,8 – cineol ( 3-6%).
Along with this, they also contain small amount of many additional compounds including imonene, pulegone, caryphyllene and pinene. Peppermint contains terpenoids and flavonoids, such as eriocitrin, hesperidin, and kalompferol, 7-0-rutino side.
Nutritional facts Per 100 grams
Vitamins and Minerals
Health Benefits of Peppermint (Pudina)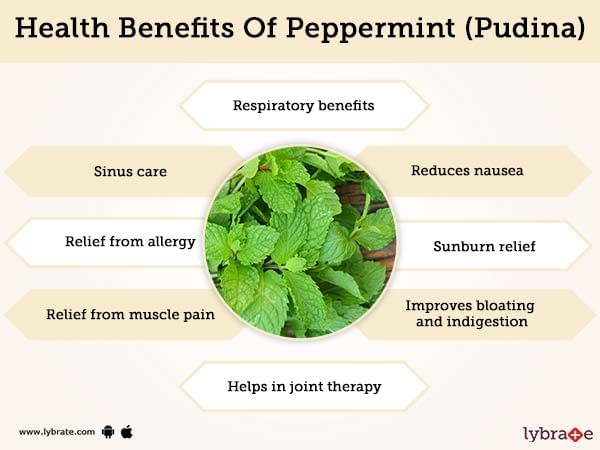 Peppermint can be used in various ways, you can drink peppermint tea to get relief from stress and refresh your mood. Get benefit of peppermint oil using as a massage oil due to its medicinal properties. Both dried and fresh peppermint or pudina leaves are used in cooking.
It also acts as a traditional home remedies and is used in diarrhea, nausea, the depression-related, and the common cold. One of the best remedies in the case of digestive Upsets. To deal with the oral smell, you can use peppermint and it has anti-bacterial properties which keep your mouth clean
Respiratory benefits
Peppermint essential oil has the ability to open your airways and act as a decongestant. Mix it with coconut oil and eucalyptus essential oil to make homemade vapor rub to help reduce the symptoms of asthma and bronchitis.
Sinus care
Inhaling diffused peppermint oil can oftentimes immediately unclog sinuses and offer relief to scratchy throats. Menthol in peppermint acts as an expectorant which loosen and bring up mucus from the lungs. Expectorants help people with coughs, sinusitis, asthma, and bronchitis.
Reduces nausea
A medical study found that peppermint oil is used to reduce nausea. By adding a drop of peppermint oil to water, or rubbing 1-2 drops behind one's ears, or even diffusing it can help to reduce nausea.
Relief from allergy
Peppermint oil is highly effective at relaxing muscles in your nasal passages and can help clear out the muck and pollen during allergy season. Diffusing peppermint along with clove oil and eucalyptus oil can also reduce allergy symptoms.
Sunburn relief
Peppermint oil can hydrate burnt skin and relieve the pain from sunburns. One can mix peppermint oil with a bit of coconut oil and apply it directly to the affected area, or can make natural homemade sunburn spray to relief pain and support healthy skin renewal.
Peppermint give relief from muscle pain
Peppermint oil is a very effective natural painkiller and muscle relaxant. It is especially helpful in soothing an aching back , sore muscles, and headaches.
A study shows that peppermint oil applied topically has pain relief benefits associated with Fibromyalgia and Myofascial Pain Syndrome. The study found that peppermint oil, eucalyptus, menthol, capsaicin and other herbal preparations may be helpful to get relief from pain.
Peppermint improves bloating and indigestion
Peppermint oil has been established as a natural alternative to drugs like Buscopan to reduce spasms of the colon. It works by relaxing the muscles of your intestines, which can also reduce bloating and gas. Peppermint tea or adding 1 drop of peppermint oil to water before meals improves digestion.
Peppermint helps in joint therapy
Applying some pure peppermint oil mixed with lavender oil to achy joints can cool muscles like an ice bath, but helps to stay warm and dry.
Uses of Peppermint (Pudina)
Fresh or dried peppermint leaves are often used alone or with other herbs in herbal tea. Peppermint is used for flavouring ice cream, candy, fruit preserves, alcoholic beverages, toothpaste, and some shampoos, soaps and skin care products.
Peppermint oil is frequently used in the manufacture of soaps and perfumery but it most prized for use in flavoring confectionery, medicines. Peppermint is used in several dishes for flavouring, they are used in chutneys in India, and are used in salads. Peppermint leaf sprinkled in the back of cabinets will help deter ants and mice.
Pudina leaves powdered in sugar scrubs, invigorates the skin. Peppermint oil is also used in construction and plumbing to test for the tightness of pipes and disclose leaks by its odor.
Side-Effects & Allergies of Peppermint (Pudina)
Peppermints are likely to be safe. buf its overdose may cause some side effects like; heartburn and allergic reactions including flushing headache and mouth sores.
Cultivation of Peppermint (Pudina)
Peppermint is indigenous to Europe and the Middle East. The plant is now widespread in cultivation in many regions of the world.
The suitable temperature for mint cultivation is between 20°C - 40°C, with rainfall ranging between 100cm – 110cm. light shower at planting time and good sunny days at the harvest stage is best for its yield.