Apple
Apple is a medium-sized, pomaceous fruit that belongs to the Rosaceae family. This juicy looking fruit originated in the mountainous regions of Kazakhstan. Apples come in various sizes. They are naturally available in red, purplish-pink, yellow and green colors.
The skin is a firm on the outside and its fleshy and juicy on the inside. Apples have a combination of sweet and sour taste. Apples are so well-loved by people and children that they have also been featured in classic fairy tales like Snow White and The Seven Dwarfs.
Nutritional Value of Apple
The list of nutritional value of an apple is long and varied- it is packed with vitamins, (such as vitamin C, vitamin K, Vitamin B6), minerals (such as riboflavin, potassium copper, manganese and magnesium) organic compounds; phytonutrients and flavonoids (such as epicatechin, quercetin and phloridzin).
Apples are also a great source of antioxidants. Eating an apple per day supplies you with about 12% of the daily fibre requirement.
Nutritional facts Per 100 Grams
Vitamins and Minerals In Apple
Health Benefits of Apple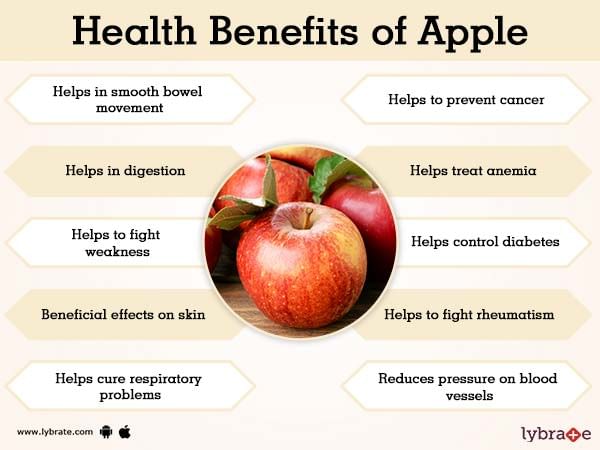 Mentioned below are the best health benefits of Apple
Apple Helps in smooth bowel movement
Bowel Movements- Apples are high in a fibre called pectin. This fibre can be found between the cell walls of the apple. The pectin fibre contained in apples aid in the digestive process by ensuring smoother bowel movements. It prevents constipation and all kinds of stomach diseases.
Fibre should be included as part of your daily diet. The insoluble fibre contained in apple help to add bulk to your stool (especially those suffering from loose stools) - this helps to retain water and make your stool soft. Consuming apple also help to stimulate peristaltic motion which in turn makes the muscles contract allowing the food to move along.
Helps to prevent cancer
Cancer- The benefits of apple for cancer prevention have become a subject of study in the medical world. They help to improve types of cancer such as breast and colon cancer. Apples are naturally imbued with health and nutrional properties that help to act as protective barriers to any kind of health trouble from brewing (including cancer).
As a cancer preventive measure it contains antioxidants that help to fight off the free radicals that bring about harm to your cells.However, exactly how an apple works to improve cancer in terms of its mechanism is still not fully clear in the medical world.
Apple for digestive problems
Intestine- Apples help to better develop the functioning of the bacteria that reside in the large intestine. Apples alter the metabolic rate of the digestive tract. This changed metabolic rate then helps to cause modifications in the bacteria balance, which improves the gut health. As a result of the improved health condition, it aids in the removal of toxic elements and bad bacteria.
Apple juice for anemia
Anemia- Anemia is a health condition where there is a decrease in the haemoglobin count of the blood. Patients who are suffering from anemia can easily treat their condition by including a source of iron in their daily diet (either in fruit form or as additional health supplements).
Apple is a great source of iron and acts as a great home remedy in the treatment of anemia. The common signs and symptoms of anemia include sleep deprivation, headache, heartbeat, shortness of breath and tiredness. Have it raw or in the form of juice made at home (without sugar).
A combination of apple juice with that of beet-root juice or apple juice and tomato juice works wonders for your health.
Apple helps to fight weakness
Fights Weakness- Apples are loaded with antioxidants and help to detoxify the body. They help in gaining weight. Patients who are going through their recovery phase are often given apple to eat as they instil energy and vitality. Remember to add apples to your daily diet if you want to feel energized all day long!
Apple helps control diabetes
Diabetes- For those suffering from diabetes, regulating blood sugar levels is absolutely necessary. The polyphenol contained in apples help to reduce the absorption of carbohydrates by the digestive system. This helps to control the constant fluctuation of the blood sugar level in the bloodstream. As a result your diabetes remains in check.
Additionally, the polyphenols present in apple help in the absorption of glucose by the digestive tract. When this happens the insulin released from the pancreas play an important role of keeping the blood sugar levels in control.
Apple good for skin whitening
Skin Care- Eating apples or applying it as a paste in combination with honey and milk helps to add glow and shine to your skin.
The antioxidants present in the skin of apples help to fight the signs of damaged skin such as wrinkles, age-spots, blemishes, etc. It helps in improving the blood circulation. Improved blood circulation replaces the old cells with new ones, this ensures youthful and radiant looking skin.
Apple helps to fight rheumatism
Rheumatism affects the joints and muscles of the body. People suffering from chronic rheumatism may find relief by consuming an apple daily. Apple contains a ton of flavonoids that help in the healing process of rheumatism. Apple also helps to treat arthritis pain and gout.
Apple reduces risk of Alzheimer's disease
Apple contain antioxidants that have been seen to provide protection to the cells in the brain against a process called oxidative stress. This process causes an imbalance between the amount of free radicals produced and that of the ability of the body to be able to negate the damaging effects. This process leads to tissue-damage and causes Alzheimer's to occur.
Aside from Alzheimer's this tissue damaging process also causes certain neurodegenerative disorders. The phytonutrients contained in apples work towards lowering the chances of an Alzheimer's disease.
Apple helps cure respiratory problems
Apples contain anti-inflammatory properties that help to treat respiratory troubles. Respiratory issues are triggered when the respiratory system becomes weakened by the inflammation of certain membranes and cells. Asthma is one of the most aggravated respiratory conditions where people suffering from it can also die.
Consuming apples on a regular basis helps to deal with any kind of respiratory diseases. Those who are prone to asthmatic tendencies should make it a point to add apple to their daily fruit diet.
Apple reduces pressure on blood vessels
As already mentioned apples are a great source of antioxidants. These properties play a significant role in lowering the oxidizing effects of fats. This process involves counteracting triglycerides and other kinds of fats that are contained in the canals of the blood vessels. This leads to excess application of pressure on the walls of the blood vessels.
By eating an apple this pressure can be avoided as they contain a potent flavonoid known as quercetin. This flavonoid reduces the occurrence of inflammation in the blood vessels of the heart.
Uses of Apple
The uses of apple are numerous. If we were to put them all down in a list, the list would be endless. Apples are used to treat diabetes, hair loss or alopecia in men, diarrhoea, for lung cancer, for skin care, etc.
Apple are also used to treat allergic reactions such as hay fever. They help to heal throbbing migraine pains. They are also greatly used in cooking purposes- as the fruit or in the form of apple cider vinegar.
The addition of apple or apple cider enhances the taste and aroma of food. The famous Viennese dessert apple strudel, caramel apple tart, Dutch Apple pancakes, Potluck German Apple Cake, Apple and Kohlrabi gratin and Roasted meats drizzled with apple cider vinegar are some mouth-watering and scrumptious apple dishes to die for.
Side-Effects & Allergies of Apple
There have been no reports of any fatal side effects or extremely damaging allergic reaction of apples. However, the seeds of the apple contain a poisonous compound called which is life-threatening and eating too much apple seeds can be fatal.
The usual cases of allergy from apple may include groups of people who are allergic or sensitive to all the fruits belonging to the Rosaceae family and not just apple. The other fruits include plum, peach, strawberry and pear. Consuming packaged apple juice is bad for you as packaged juices contain a high amount of sugar which may play a part in increasing the blood sugar levels of the body.
Apple juices are a major red flag in the case of diabetic patients. It is always better and is advised to have apple as the natural raw fruit or have the juice extracted out of it at home without adding any extra sugar. Eat healthy and take wise decisions to ensure your health and well-being.
Cultivation of Apple
Apples have been harvested for many years throughout the regions of Asia and Europe, in places such as Armenia, Turkey, Georgia, Persia and Mesopotamia. They are the one of the oldest fruits to have been cultivated and have featured in plenty of writings dating to the pre-Christian times. China is by far the largest producer of apple in the world. In India, apples are widely cultivated in the regions of Kashmir followed by Himachal Pradesh and Uttar Pradesh.
The presence of loamy soil that are rich in organic content with a pH range of 5.5- 6.5 is essential for the cultivation of this fruit. Apple trees bloom in climatic conditions ranging from 21' C to 24' C. Therefore, the ideal time for cultivating apples would be the months of January and February. An annual rainfall count of 100 cm-125 cm is necessary for effective cultivation. They can be cultivated at a height of about 1,500 m to 2,700 m above the sea level.