Peach (Aadu)
The peach (Aadu) tree is a member of the Prunus family and is deciduous in its growth.It is scientifically called Prunus persica. Peaches generally have a fuzzy, velvety skin; the variety with a smoother skin.
Nutritional Value of Peach (Aadu)
The peach is rich in Vitamin A and potassium, which is beneficial to the eyes. It also has greater amounts of Vitamin B and Vitamin C and numerous minerals essential to our overall health like iron, calcium, phosphorous, carbohydrates and protein. It is a powerhouse of vitamins and minerals.Peaches are very beneficial for enhancing the skin tone and complexion because they contain such powerful Vitamins and minerals in such abundant quantities.
Nutritional facts Per 100 grams
Vitamins and Minerals
Health Benefits of Peach (Aadu)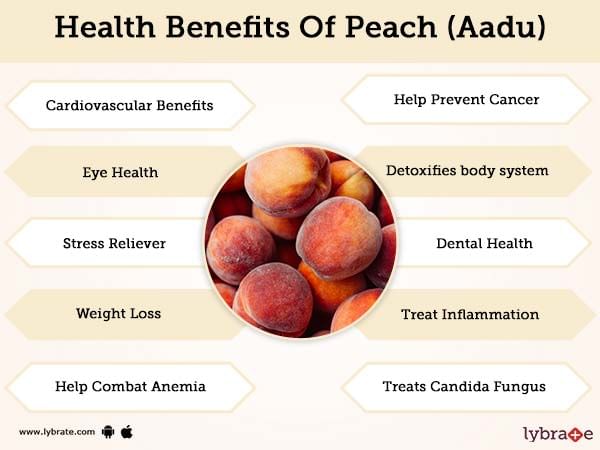 Mentioned below are the best health benefits of Peach (Aadu)
Cardiovascular Benefits
The fiber, vitamin C,vitamin K and iron and potassium in peaches support heart health. Vitamin K prevents blood clotting and provides protection against several heart diseases. Iron is essential for the formation of red blood cells or erythrocites. It keeps our blood healthy and prevents anemia which occurs due to iron deficiency in the body. Lycopene and lutein present in peaches also lower the risk of heart disease. Peaches also contain potassium, an electrolyte that regulates blood pressure and maintains fluid balance, thus controlling our heart rate and providing protection against stroke.
Help Prevent Cancer
Peaches are high in antioxidants, particularly chlorogenic acid whcih help prevent the multiplication and spread of cncer cells in the body. It also contains another compound called caffeic acid, which offers protection against breast and colon cancers by reducing the cancer growth.
Eye Health
Peaches are a good source of beta carotene, a compound that is converted to
vitamin A
in the body and help in maintaining the retina of the eyes. The presence of antioxidant phytonutrients like lutein and zeaxanthin protect the eye from potential damage caused by light striking the retina. Lutein also aids to lower the risk of developing common age-related eye diseases in humans.Lutein and zeaxanthin are also effective in protecting the macula.
Detoxifies body system
Peaches are ric in vitamins A, C, and E and selenium. All of these essentials act as antioxidants and aid detoxification in the body.The high content of potassium and fiber found in peach reduce the risk of stomach ulcers, inflammation and kidney related diseases. Peaches are also instrumental in curing digestive problems like gastritis and colitis.
Stress Reliever
Peach is called the "Fruit of Calmness" in Hungary. This is because of its ability to relieve stress and anxiety. It helps to restore the calmness of mind. Using peach flowers have proved to be highly beneficial for treating restlessness.
Dental Health
Peach contains vitamin C, along with iron, which helps reduce lead absorption. It also contains fluoride and small amounts of calcium that help to prevent cavities and other dental issues. So consumption of peaches can help cure bone diseases and several dental problems.
Weight Loss
Peaches are a good source of fiber, and fiber promotes satiety and contributes to weight loss in a healthy manner. Peaches are also low in calories and fat free which makes them ideal for weight loss. Moreover, they also contain natural sugars which do not raise the blood sugar or insulin levels in the body.
Treat Inflammation
Peaches possess anti-inflammatory properties. They are an excellent source of vitamin c. Vitamin C helps to alleviate inflammation and is particularly effective for hypertensive, obese, or diabetes patients.The vitamins also helps alleviate chronic inflammation in asthma patients and is also associated with healing wounds.
Help Combat Anemia
Anemia occurs due to the deficiency of iron. Peaches are one of the best non-heme sources of iron and are effective in increasing the iron content of the body. Anemia can also occur with low levels of vitamin C. Peaches, being rich in both iron and vitamin C, are excellent foods to combat anemia.
Treats Candida Fungus
The polyphenols and flavonoids in peaches can play a vital role in treating Candida fungus. It also contains condensed tannins that offer protection against Candida.
Uses of Peach (Aadu)
Peach has anti-aging benefits by reducing the dead cells. It also acts as a great moisturizer and helps in protecting the body from harmful UV rays. Being rich in vitamin C, A and K, beta carotene, potassium, magnesium and selenium, peach prevents hair loss and acts as a scalp cleanser.
Side-Effects & Allergies of Peach (Aadu)
Overconsumption of peach can cause increased risk of colorectal cancer in men. Peach contains poorly absorbed fermentable sugars and are incompletely absorbed in the small intestine.They are fermented in the large intestine, where they release gas. And hence, over eating peach can cause bloating. They also contain salicylates and a compound called amygdalin, which might cause an allergic reaction in some individuals.
Cultivation of Peach (Aadu)
The peach is a deciduous tree native to Northwest China. Italy, India, Greece and the United States are the major peach producers today.
Peaches grow in a fairly limited range in dry, continental or temperate climates. The trees have a chilling requirement that tropical or subtropical areas generally cannot provide except at high altitudes.Most cultivars require 500 hours of chilling around 0 to 10 °C (32 to 50 °F) during which key chemical reactions occur, but the plant appears dormant. Once the chilling period is over, the plant enters a second type of dormancy, the quiescence period during which buds break and grow when sufficient warm weather favorable to growth is accumulated.The trees themselves can usually tolerate temperatures to around −26 to −30 °C (−15 to −22 °F).Climates with significant winter rainfall at temperatures below 16 °C (61 °F) are also unsuitable for peach cultivation.Summer heat is required to mature the crop, with mean temperatures of the hottest month between 20 and 30 °C (68 and 86 °F)