Beetroot
The beetroot is the taproot part of the beet plant. In North America, this plant is called beet, while in other parts of the world, it is referred to as table beet, red beet, golden beet and garden beet. Beetroot is one of the different cultivated assortments of Beta vulgaris grown for its edible leaves and taproots.
Several beet products are made from the varieties of Beta vulgaris specifically sugar beet. Popularly called beet, this vegetable is known as Remolchas in Spanish, Hong cai tou in Chinese and Chukandar in Hindi.
Nutritional Value of Beetroot
Raw beetroot is made up of 88% water, 2% protein, 10% carbohydrates and only 1% fat. About100 grams of raw beetroot offers 43 grams of calories, and is considered a good source of folate and a moderate source of manganese. Beetroot has an exceptional nutritional value.
The leaves of this vegetable is rich in vitamin A, calcium and iron. Beetroot is also one of the most excellent sources of fiber, potassium, manganese and folic acid. The green leafy part of this beetroot can easily be cooked and relished just like spinach.
Nutritional facts Per 100 grams
Vitamins and Minerals
Health Benefits of Beetroot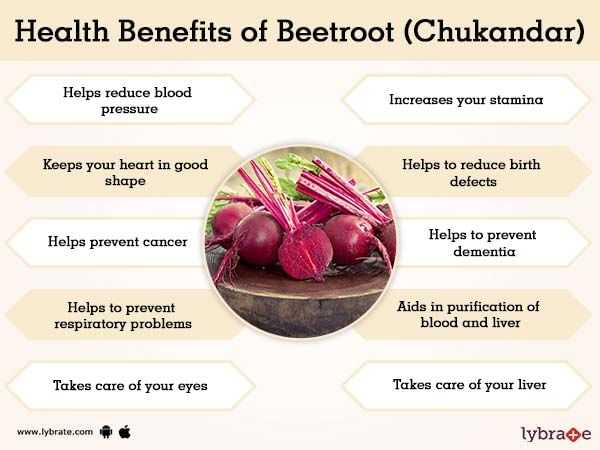 Mentioned below are the best health benefits of Beetroot (Chukandar)
Helps to lower blood pressure
Want to lower your blood pressure quickly? Drink beetroot juice! Research suggests that consuming a glass of beetroot juice can immensely help in lowering systolic blood pressure, by an average of five points. This benefit comes from the nitrates that are naturally found in beets. Nitrates get transformed into nitric oxide that dilates the blood vessels and relaxes the heart. Subsequently, nitric oxide lowers the blood pressure and improves blood circulation.
Improve stamina during workouts
Beetroot juice might prove valuable for individuals looking to boost their stamina while exercising. Individuals who regularly consume beetroot juice possess the ability of exercising 16% longer in comparison to the people who rarely consume beetroot. The naturally occurring nitrates in beetroot juice get converted into nitric oxide which further helps in enhancing tolerance to high-intensity exercise. Research suggests that beetroot juice stimulates the production of red blood cell and builds stamina.
Is a great purifier
Beetroot is considered one of the best purifiers. The beet juice detoxifies the body as it carries toxins to the colon; from where the toxins are flushed out of the body. The sugar content of beetroot is quite high but it is completely fat free and low in calories. The fact that beetroot is loaded with fiber makes it one of the best and the most nutritious food options for maintaining optimal body weight.
Maintains body weight
The sugar content of beetroot is quite high but it is completely fat free and low in calories. The fact that beetroot is loaded with fiber makes it one of the best and the most nutritious food options for maintaining optimal body weight.
Lowers bad cholesterol
Beetroot contains soluble fiber, betacyanin and flavonoids in large quantities. It is due to the presence of the compound called betacyanin that beetroot is purplish-red in color. Betacyanin is also a very powerful antioxidant that helps in reducing the oxidation of bad or LDL cholesterol, and does not allow LDL cholesterol to deposit on the walls of the artery. Thus, beetroot protects the human heart from
stroke
and heart attacks, naturally.
Aids in fetal development
Beetroot is one of the best sources of folic acid. Folic acid is necessary for the healthy development of the unborn baby and expecting mothers. Folic acid is responsible for the proper development and formation of the spinal cord of an unborn baby, and protects the unborn baby from medical conditions like spina bifida.
Spinal bifida is a congenital defect where the spinal cord of a child does not form properly and appears as if it has been divided in two parts at the base. The extra energy that pregnant women need during pregnancy can also be derived from beetroot juice.
Good for bones
Beetroot is loaded with mineral silica which helps in the consumption of calcium in the body in the most efficient manner. Since calcium constitutes healthy teeth and bones, thus regularly drinking beetroot juice can prevent brittle bones and osteoporosis.
Reduces the risk of cancer
Beetroot juice contains betacyanin that prevents cancer of the prostate and the breast. According to Howard University research, beetroot consumption can also prevent skin and lung cancer. Carrot extract and beetroot juice, when taken in equal quantities helps in treating leukemia. There are several studies that highlight the anti-cancer properties of beetroots. A French study suggests that betacyanin present in the beetroot helps to decrease the proliferation of cancer cells.
Improves liver health
Beetroot with its essential nutrients like betaine, calcium, iron, antioxidants and B vitamins is considered one of the best and the most effective food for a healthy liver. f. This remarkable vegetable also helps in thinning the bile for its easy flow through the small intestine and the liver. This further helps in enhancing the health of the liver. Betaine also aids in eliminating toxins from the liver whereas beetroot's fiber content clears toxins that have been eliminated from the liver.
Good for brain
Beetroot improves brain neuroplasticity by improvising the oxygenation of the somatomotor cortex. This is the area of the brain that is generally affected during the early phases of dementia. The high content of nitrates in beetroot gets converted into nitric oxide that helps brain cells to communicate with each other which further enhances the health of the brain. Naturally occurring nitrates in beetroot also improve the flow of blood to the human brain.
Improves digestion
Consuming beetroot regularly can immensely improve digestion and the quality of blood. Research indicates that the juice extracted from white beets helps in treating diseases of spleen and liver. On the other hand, red beetroots can effectively be used for treating illnesses in the blood and in the digestive system. Red beets can also be used for treating constipation and for improving abdominal health. Since beetroots are a rich source of fiber, they help in treating diverticulitis.
Good for skin and hair
Vitamin A present in beetroot helps in maintaining healthy mucous membrane and in improving the health of the skin. Hair health can also be significantly improved with regular consumption of beetroot.
Uses of Beetroot
Since time immemorial, beetroot has effectively been used for teas and dyes while its medicinal properties help in treating fevers, constipation, skin disorders and blood circulation. The deep purple roots of this plant are either roasted, boiled or eaten raw. Beetroot is one of the most common ingredients used in vegetable salads. It is also used as an important ingredient in making pickles.
The leafy green part of beetroot is also edible, as you can add them to salads or serve them steamed or boiled. Apart from being used as a food item, beetroot is also used as a medicinal plant and as a natural coloring agent for different dishes. Betaine derived from the roots is industrially used in the form of food colorant for improving the flavor and color of sauces, tomato pastes, jams, jellies, candies, ice creams, breakfast cereals and desserts.
Allergies and Side effects of Beetroot
There are rare but interesting side effects of consuming beetroot in excessive quantity. One of the most important side effects is that it can turn your urine pink which can easily be mistaken for blood in urine. Beetroot can also change the color of human poo.
Its high oxalate content can increase the severity of kidney stones. Individuals can experience tightness and discomfort in their throat, upon drinking excessive amounts of beetroot juice. Although beetroot contains compounds that help in cleansing and detoxifying the body, people might experience chills and fever.