What is Pickles?
Pickling is the way of preserving and expanding the life of food through anaerobic fermentation or by way of immersion in vinegar. Fermentation in brine results in the food called pickles. In fact, the pickling procedure results in the change in the texture of the food and its flavor as well. Vinaigrette or a mixture of vinegar and vegetable oil is used in East Asia as the pickling medium.
Some of the food items that are picked include eggs, vegetables, meats, and fruits. Pickling procedure reduces the pH of the food material which comes around to 4.6 or even lower to kill the bacteria. This procedure can even preserve foods that are perishable. To prepare pickles or to facilitate pickling procedure, herbs and spices like cinnamon, cloves, garlic and mustard seeds are added.
If there is sufficient moisture in the food content, dry salt may be used to produce pickling brine. Derived from the Dutch word 'pekel', pickle means 'brine'. In New Zealand and Australia, the word 'pickle' is used to refer to 'pickled cucumber'. The term is also used to refer to other pickle kinds like 'pickle cauliflower', 'pickled onion'. In different regions of the world, the word 'pickle' is used differently.
Nutritional Value of Pickles
According to NSDA, cucumber pickles comprise of energy, moisture, fat, protein, carbohydrate, sugars and dietary fibers. Apart from this, pickles are rich in minerals and mention must be made to iron, phosphorus, magnesium, sodium and potassium. Pickles also comprise of Vitamin C, riboflavin, thiamin, vitamin B-6, vitamin A, Vitamin B-12, niacin, Vitamin D, Vitamin E and Vitamin K.
As nutrients are there in abundance, pickles do have an array of health benefits. Cucumber pickles have a high nutritional value as cucumber is a rich source of fiber, and the best part is that picking will not impact the nutritional content of the fiber.
Nutritional facts Per 143 Grams in Pickles
Vitamins and Minerals in Pickles
Health Benefits of Pickles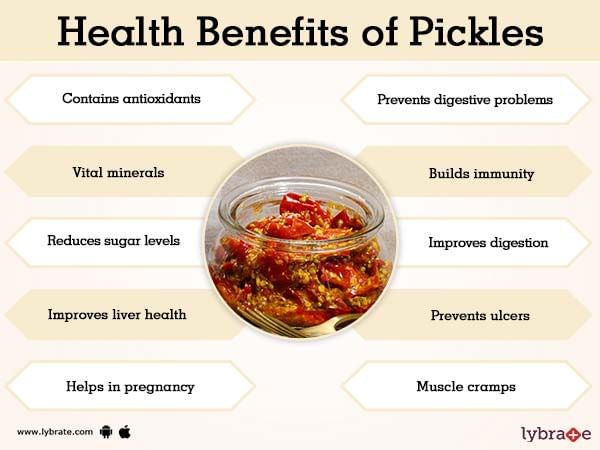 Mentioned below are the best health benefits of eating Pickles. Here we check out how pickle juice are good, you add pickle in your diet plan and consume to refresh your taste buds.
Pickles contains antioxidants
Pickles are rich in antioxidants and it mainly holds true for 'Decalepis hamiltonii' or the Swallow Root. As unripe and raw vegetables and fruits are used for the making of pickles, its antioxidant content is kept intact.
Here the fruits and vegetables are stored raw without any cooking and so pickles are rich sources of antioxidants that tend to fight free radicals and reverse the aging process. Pickles foods that are rich in antioxidant can protect our health and save from impacts of cellular metabolism
Pickles prevents digestive problems
Eating pickles can save you from digestive issues. Probiotic bacteria or the friendly bacteria that form the part of the human digestive system help in food digestion. But, these friendly bacteria get killed due to invading bacteria or due to the use of antibiotics. Any decrease in the number of probiotic bacteria might lead to digestive issues.
Eating pickles that are made without the use of vinegar can help restore probiotics. Pickles prepared out of salt and the natural process can lead to the growth of probiotics. Fermented salt pickles can lead to the growth of friendly bacteria to aid digestion.
Vital minerals in Pickles
Pickles supply your body with vital minerals and vitamins. Fresh pickles, chutneys and dips are made from various beneficial herbs like curry leaves, coriander, parsley, spinach.
They taste of Pickles is awesome and may be given to kids to let them have their share of herbs and leafy vegetables. Freshly made pickles are rich in Vitamin A, C, K and Folate and essential minerals like calcium, iron and potassium. The best part is that pickles are even loved by kids, and thus they also reap health benefits of pickles.
Pickles boost immune system
Constituting vital micronutrients, pickles are rich in vitamins and minerals to protect the body from several diseases. It can strengthen the bones, immunity system, cure anemia, protect vision and prevent several other problems.
Pickles reduces sugar levels
Vinegar based pickles can help in reducing blood sugar level and improves blood hemoglobin in diabetic patients. Pickles directly helps to control diabetes. In fact, it is the presence of acetic acid which helps in the control of sugar. But, you must be careful of salted pickles as that can increase blood pressure.
Pickles Improves digestion
Amla and gooseberry pickles, that are so popular in India, improve digestion. When you talk about these two fruits in particular, they are loaded with health benefits. Amla Pickles has great usage in the preparation of ayurvedic medicines. Unripe amla pickles offer a variety of health benefits. In the Indian families, it is customary to have amla pickle as an appetizer before the main course meal
Pickles improves liver health
Pickles also have hepatoprotective feature that protects liver. Gooseberry and amla pickles mainly help in improving liver health.
Pickles prevents ulcers
Regular consumption of pickles prepared from Indian gooseberry and amla can reduce ulcers. Ulcers refer to internal wounds caused due to the interaction of acids on tissues and due to the sudden failure of mucus membranes.
It is mainly gastric ulcer which is caused by the failure of hyperacidity and failure of mucus membrane. If consumed regularly, amla and gooseberry pickles can reduce the chance of ulcer.
Eating pickles good for pregnancy
Pregnant women do have pickle cravings for good reasons. Nausea and vomiting which is so common in the first trimester of pregnancy can be relieved by consuming pickles. Morning sickness may be done away with the consumption of pickles. The tart, tangy and sour flavor of pickles tingle taste buds while reviving appetite. This cures nausea and curbs vomiting.
Drinking pickle juice for muscle cramps
Pickle juice is well known for curing muscular cramps. It can fabulously resolve cramping. As per the studies, the one who consumes 1 ml serving of pickle recovers from muscular cramping much faster than the one drinking a glass of plain water.
Pickles Boosts immunity
Suguki or Japanese Turnip Pickle can boost the activity of immunity system to help one avoid Spleen Cancer. Certain special kinds of pickles may prevent cancer diseases.
Pickles controls glucose level
To keep the blood glucose level under control, you may consider putting 1ml of pickle in your burger piece. By doing so, you may prevent the blood sugar from rising after the meals.
Uses of Pickles
Eating low-sodium pickle is the great way to add more nutrients into the diet. Fruits and vegetables are used for the preparation of pickles that offer a variety of health benefits. Pickle juice is a solid workout booster. Pickle juice or pickles have a variety of interesting uses. If you have a hangover tummy, pickle is an outstanding way to get over with the hangover. It helps to replenish depleted level of sodium and helps in rehydration as well.
In most parts of the world, pickle brine is consumed just before stepping out of the sun. It helps to avoid sun strokes. Pickle brine is also a post-workout drink. The scientifically proven benefits assist in workout recovery or exercise recovery. The juice of pickle can be used in soups, salad dressing and any recipe almost. It also cures heartburn.
Pickles Side-Effects & Allergies
Pickles are good for health but only when consumed in moderation. Pickles increase the risk of esophageal cancer and gastric cancer, and this holds more truth in case of Asian pickled consumption.
Pickles are high on salt content and so it increases the risk of hypertension and also heart disease. The main risk of eating pickles is definitely an increase in the blood pressure. It is better to avoid commercial pickles as they are prepared by using different chemicals that are harmful for health. If there is too much oil content, it can increase cholesterol in the blood.
Origin And Cultivation of Pickles
Pickling is a method of preserving the food shelf-life by anaerobic fermentation in saline solution or vinegar. The cycle of pickling began around 4,000 years prior when the ancient Mesopotamians began to soak cucumbers in acidic brine to preserve them. Since then pickles are a staple in cultures around the world. Pickle was introduced to America by Christopher Columbus.
Pickling influences the food texture, taste and flavour. Pickling is probably the one of the most established techniques to preserve vegetables, organic products, meats, dairy, eggs and fish. Pickling is done to protect the nourishment for a long journey or to consume it in another season.
In ancient times, people used to soak the fruits or vegetables in brine/ vinegar with some salt over it and held it underwater by the flat stone layered on the top. They additionally used the tight lid to release the pressure which may result from carbon dioxide development.
Which eventually can develop a layer of yeast on the top; it is commonly innocuous yet can affect the taste, be that as it may, it very well may be taken out without affecting the cycle. In the process, fruits or vegetables are put inside the sterilized jar with the vinegar or brine along with the other spices and then the mixture is allowed to rest until the actual taste is obtained.