Cucumber
Belonging to the same family as zucchinis, watermelons, pumpkins and squash, cucumber (scientific name – Cucumis sativus) is a creeping vine that bears cucumiform fruits that are used as vegetables. Different varieties of cucumber are grown in different region and they are either eaten fresh or pickled.
However, there are three main varieties of cucumber: slicing, pickling and seedless. Pickling cucumbers are generally smaller than slicing cucumbers. Cucumbers are available all round the year.
Nutritional Value of Cucumber
Consumption of cucumber can be extremely beneficial to you health and especially so during summer since they are mostly made of water and other important nutrients that are beneficial for our body.
They are excellent sources of Vitamin K and molybdenum. They are also rich in pantothenic acid, copper, potassium, manganese, Vitamin C, phosphorus, magnesium, biotin and Vitamin B1. Cucumber contains silica, a trace mineral that helps to strengthen our connective tissues.
Cucumber also contain ascorbic and caffeic acids which prevent water loss and so, cucumber is applied topically to burns and dermatitis.
Nutritional facts Per 100 Grams
Vitamins and Minerals in Cucumber
Health Benefits of Cucumber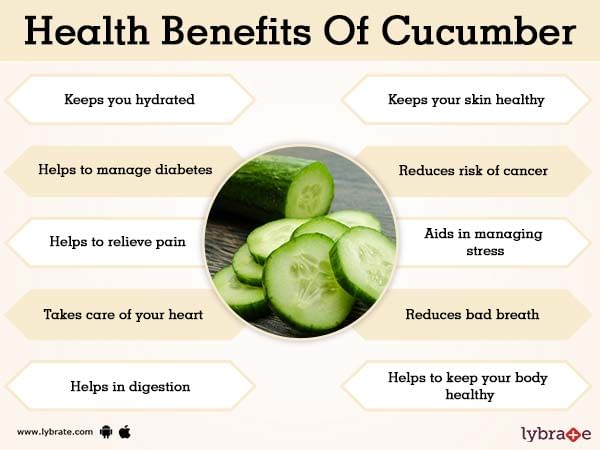 Mentioned below are the best health benefits of Cucumber. You can make Cucumber juice, Cucumber Salad and add in various dishes. Cucumber doesn't contain any kind of calorie content, and no sugar.
Cucumber keeps you hydrated
Cucumber can be a great remedy for dehydration, especially during the summer months, as it is mostly made of water and id full of essential electrolytes. Adding cucumber to water is a great way to increase water consumption.
Cucumber keeps your skin healthy
Cucumber contains silica which helps to develop strong and healthy connective tissues in the muscles, ligaments, tendons, cartilage and bone. Thus consumption of cucumber helps you get healthy and bright skin. Cucumber is rich in water and this helps your skin to stay hydrated.
Cucumber extract is also used to treat various skin ailments like sunburn and swelling under the eyes. Ascorbic acid and caffeic acid present in cucumber also prevent water loss from the body.
Health benefits of cucumber for diabetes
Cucumber possesses a hormone that is required by the beta cells during insulin production and, thus, has been useful for diabetic patients for many years. The carbohydrates in cucumber can be easily digested by diabetic patients and this helps to keep blood sugar in check.
Cucumber juice benefits for cancer patients
Cucumbers contain polyphenols called lignans which may help to reduce risk of breast, uterine, ovarine and prostate cancers. They also have phytonutrients called cucurbitacins which also have anti-cancer properties.
Cucumber as pain reliever
Cucumbers contain flavonoid, which are anti-inflammatory, and tannins. They help to fight the harmful free radicals that roam in our body. Elimination of free radicals lowers the risks of any illness plaguing our body and, hence, gives us relief from pain and discomfort.
Cucumber good for stress
Cucumber contains multiple B vitamins including Vitamin B1, vitamin B5 and Vitamin B7. These vitamins help to deal with feelings of anxiety and also reduce some of the damaging effects of stress.
Cucumber good for heart patients
Cucumber has potassium that helps to reduce blood pressure levels. A proper balance of potassium, both outside and inside the cells, is crucial for the body to function properly. Potassium, being an electrolyte, must maintain a certain concentration of in order to carry out its functions. This may include interacting with sodium to help control nerve impulse transmission, muscle contraction and heart function.
Cucumber water helps in bad breath
According to the principles of Ayurveda, consumption of cucumber helps to release excess heat in the stomach which is the primary cause of bad breath. Placing a cucumber slice on the roof of your mouth helps you to get rid of disease-causing bacteria.
Cucumber juice benefits for digestion
Cucumbers are rich in the most important elements which are required for digestion: water and fiber. You can meet your daily requirement of fiber by adding cucumbers to your juice or salad. Cucumbers may also help you to suppress the acute symptoms of acid reflux.
Cucumber skins contain insoluble fiber which adds bulk to your stool and helps you to eliminate undigested food more easily.
Cucumber helps to keep your body healthy
Cucumber juice helps to cure rheumatic conditions caused by accumulation of excess uric acid in your body. Gout and eczema can be cured by regular intake of cucumber juice. Cucumber can be beneficial for those having lung or stomach problems. It also promotes muscle flexibility while the magnesium content of cucumbers ensures proper blood circulation and also relaxes your nerves.
Cucumber good for weight loss
You can make healthy cucumber recipes for weight loss managment. You can also add cucumber in your salad, it has zero fat and contain low calories.
Uses of Cucumber
Including cucumber in your diet can prove to be beneficial in a number of ways. It helps to manage diabetes, lowers blood pressure, prevents constipation, reduces risk of kidney stones, keeps body healthy and functioning and provides you with a bright and glowing complexion.
Side-Effects & Allergies of Cucumber
Inspite of its beneficial effects, consumption of cucumber has its fair share of side effects. Cucumber contains toxins like cucurbitacins and tetracyclic triterpenoids which can prove detrimental if consumed in large quantities. Cucurbitin, a mild anti-diuretic, is present in cucumber and excess of it can leave you highly dehydrated.
Excess intake of Vitamin C, present in cucumber, can reverse its actions and make it act like a pro-oxidant rather than an anti-oxidant.
Cultivation of Cucumber
Cucumber was cultivated in ancient India about 400 years ago. Later it spread beyond the Indian borders and moved through ancient Greece, Rome, Europe, America and China and eventually became the fourth most cultivated vegetable in the whole world. Cucumber is viewed as an integral part of the cuisine of many cultures.
In a few other places, it is regarded as bringer of diseases. Cucumber is a warm season crop and it grows best at a temperature between 18-24 degree temperatures. Loam, silt loam and clay loam are best for getting a higher yield. However, it is cultivated both as a summer and a rainy season crop and the seed is son according to the type of crop.