Saffron
Saffron is a spice which is obtained from the flower Crocus sativus and is known as 'saffron crocus.' The styles and stigma of these flowers are dried to be used as a colouring or a seasoning agent in foods and beverages. Earlier it was cultivated from Greece only, which later spread to Oceania, North America, North Africa and Eurasia.
Nutritional Value of Saffron
The fragrance and taste of saffron results from the chemicals called safranal and picocrocin. It consists of a carotenoid pigment which has a very rich golden colour to textiles and dishes. It has been traded and used since the early ages. In the present world, Iran cultivates around 90% of the world's total saffron content.
The leaves of Saffron are known as cataphylls and they are non-photosynthetic leaves. These leaves protect the crocus as the plant begins to develop. The flowers of this plant have a very sweet fragrance which is similar to that of honey.
Nutritional facts Per 100 grams
Vitamins and Minerals
Health Benefits of Saffron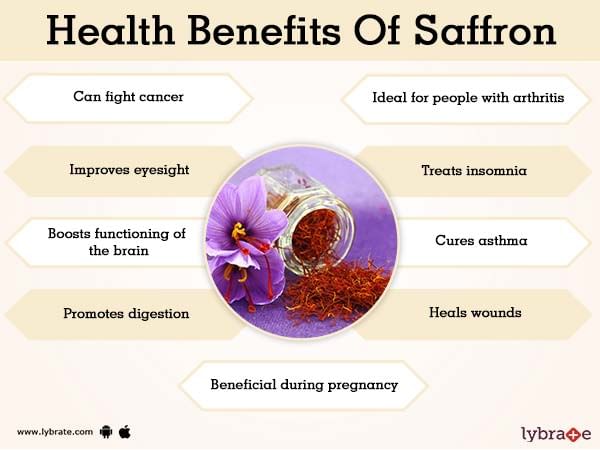 Saffron also used in ancient Ayurveda therapies to balance doshas. Also, it is good for skin tone, and its anti-inflammatory and anti-microbial properties good for the eyes. You can also add some saffron in milk to boost the immune system. Saffron can offer some side effects if you consume in high quantities.
Saffron good for cancer prevention
Saffron is known to have cancer preventing qualities. A compound in Saffron known as crocin is beneficial to cease the growth of colorectal cancer cells. It has also shown the same effects in the cases of prostate cancer and hepatic cancer. Skin cancer can also be treated in some cases with the help of Saffron.
Since Saffron is rich in carotenoids, it has anticancer properties. The useful compounds in Saffron are also useful in preventing the development of cancer cells in the case of leukemia and breast cancer. According to research Saffron can also block the multiplication of two kinds of human cancer cells. This occurs due to the inhibition of an enzyme which is active in cancer cells.
Crocetinic acid present in Saffron also has the power to prevent pancreatic cancer from occurring. This compound also stops the growth of cancer stem cell and destroys them so that the cancer cannot return.
Saffron ideal for people with arthritis
Crocetin present in Saffron can increase the cerebral oxygenenation which facilitates in the treatment for arthritis. According to studies, Meadow Saffron can be very effective in curing gout.
This particular variety of Saffron should however not be consumed by elderly patients who have bone marrow, kidney and liver disorders. It should also be consumed in minute quantities by pregnant women.
Saffron supplements for eye health
The natural compounds present in saffron helps retinal degeneration and vision loss. It also strengthens the capillary network and visual response. Saffron supplements are beneficial in improving macular thickness. It has also been found to cure and prevent photoreceptor damage.
Saffron largely affects the genes which regulate the fatty acid content in the cell membrane, this in turn improves vision to a great extent. Retinitis pigmentosa can also be cured further preventing permanent blindness in young adults.
Saffron good for insomnia
Insomnia can be extremely annoying and can make us very unproductive throughout the day. Consuming Saffron on a daily basis can treat insomnia and induce sleep in people. It also regulates the pattern of sleeping.
Apart from this, Saffron is also beneficial in treating the side effects of insomnia and depression. It is also beneficial in improving the non-rapid eye movement during sleep.
Saffron boosts functioning of the brain
Saffron is effective in curing memory impairment and learning. According to research, consuming saffron in a day can show improvement in Alzheimer patients. Ethanolic extracts and crocin found in saffron can also be used as a substitute for antidepressants.
People have been consuming saffron since early ages to improve their mood and fight anxiety. Saffron extracts are also safe for schizophrenic patients with little or no side effects.
Saffron benefits for asthma patients
Saffron has been used to cure breathing problems like asthma since ages. Also traditional medicines use saffron to cure respiratory ailments. Due to its antioxidant properties, saffron proves to be the best medicine for respiratory disorders.
Saffron also plays an important role in treating digestive disorders and promoting digestion. This is due to its anti-inflammatory properties, radical scavenging and antioxidant effects. It has also been proven to treat ulcerative colitis and peptic ulcers.
Saffron healing properties
Wounds caused by burns can be healed by Saffron. A paste can be made along with water and saffron which can be directly applied to the wound area for increased healing. Saffron has the tendency to re-epitheliaze burn wounds.
Saffron beneficial during pregnancy
Saffron can increase the preparation of the cervix in term pregnancies. It can also have excellent effects on effacement. Effacement is the thinning of the walls and shortening of the uterine cervix.
Saffron also helps in normal delivery, and women who consumed Saffron during pregnancy have been able to have healthy deliveries and the possibility of a caesarean section was also low. However, it shouldn't be consumed in excess by pregnant women or it can be detrimental for health or even cause miscarriage.
Uses of Saffron
The uses of saffron include, relieving discomfort during menstruation and PMS symptoms, boosting athletic performance, etc. Saffron is also useful in treating erectile dysfunction, make infertility, cough, atherosclerosis, baldness and body pain.
Side-Effects & Allergies of Saffron
Saffron can have possible side effects and should be used with caution. Consuming high doses of Saffron might cause bloody diarrhea, dizziness, vomiting, mucous membrane, yellowing of skin and eyes, etc. In some cases ingestion of 12 to 20 grams of saffron can also result to death.
Saffron can also trigger impulsive and excited behaviour, therefore, it should not be consumed by people suffering from bipolar disorder. Saffron should be avoided by low blood pressure patients and patients suffering from heart conditions. Pregnant women should also not consume it in excess.
Cultivation of Saffron
Saffron is male sterile, hence it is incapable of independent sexual reproduction. It thrives in climates where dry and hot summer breezes sweep the semi arid lands. It cannot survive frosts and cold winter as low as 14 degrees Fahrenheit. They only flower during the mid Autumn and the harvests take place as quickly as possible. It is widespread in Iran.