Brown Rice
Brown rice has become a fairly sought after grain, especially because it provides a ton of health benefits and is considered superior to its more commonly consumed cousin, white rice. This rice is obtained by just removing the outer husk of the grain and is a part of the whole grain family. The nutrient dense bran and the germ layer of the grain is retained in this process, which is why it is a healthier option. It is also slightly chewier and has a nuttier flavour when compared to white rice. Many people also eat germinated brown rice, which is basically brown rice that has been soaked in water for some time before cooking.
Nutritional Value of Brown Rice
As the bran of the rice is filled with nutrients, brown rice is a healthier option when compared with white rice, and is ultimately better for you. In 100 grams of brown rice, you will find 111 calories. It has low fat content at just 0.9 grams, including 0.2 grams of saturated fat, 0.3 grams of polyunsaturated fat, and 0.3 grams of monounsaturated fat. It does not have any cholesterol in it. It has 5 mg of sodium along with 43 mg of potassium in it. The total carbohydrate content in 100 grams of brown rice is 23 grams, including 1.8 grams of dietary fiber and 0.4 grams of sugar. It has 2.6 grams of protein in it. Brown rice also offers a few vitamins and minerals. Of the daily recommended dosage for the following, it has 10% of magnesium, 5% of vitamin B-6, 2% of iron, and 1% of calcium. It does not have any vitamin A, B-12, C, or D. It is also rich in manganese, zinc, selenium, important fatty acids, and phosphorus.
Nutritional facts Per 100 grams
Vitamins and Minerals
Health Benefits of Brown Rice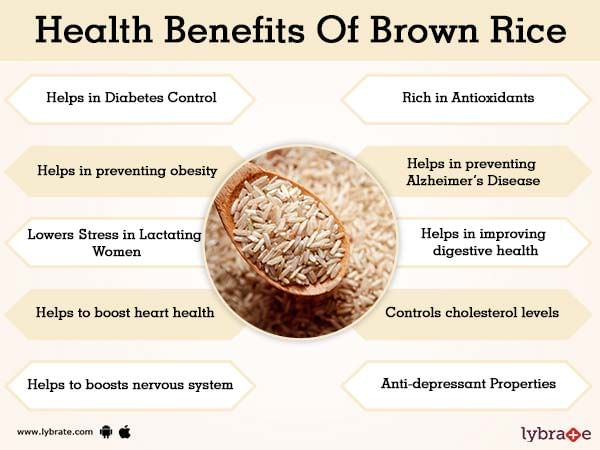 Mentioned below are the best health benefits of Brown Rice
It is good for diabetics
It is good for diabetics
Brown rice has a low glycemic index, which is why it is very good for people who suffer from diabetes. This can help reduce surges of insulin, which is very beneficial in controlling the blood sugar levels. Furthermore, brown rice is a complex carbohydrate which can help reduce the rate at which sugar is absorbed into the body. This also goes a long way in controlling diabetes.
It is rich in antioxidants
Antioxidants are important for your body as they help fight the free radicals present in your body. This leaves your immune system free to deal with larger issues. Furthermore, antioxidants are known to prevent certain types of cancer from occurring as well. They even help ensure your cells are prevented from oxidation when energy is produced. Therefore, they are very good for you. Brown rice is rich in antioxidant properties, especially when compared with white rice.
It prevents obesity
Many people who are interested in losing weight add brown rice to their diet instead of white rice. This is because it is rich in manganese, which is good for synthesizing body fats. It can help you reduce your BMI (body mass index) and fat. Furthermore, brown rice helps increase the amount of HDL cholesterol in your body, which is good for you. It has strong anti-obesity effects.
It prevents Alzheimer's disease
Brown rice is rich is gama-aminobutrynic acid which helps prevent various types of neurodegenerative diseases such as Alzheimer's disease. It even helps by inhibiting a harmful enzyme known as protylendopetidase. This enzyme is directly linked with Alzheimer's disease.
Lowers stress in lactating women
Lactating can be stressful in itself, however, the additional stress and concern tends to cause the milk to retreat, causing more stress, leading to more retreating of the milk, and so on. It is an endless cycle, which is why lowering the stress on the woman is very important during this period. Brown rice helps with this. It helps to lower the sense of fatigue, depression, and mood swings in women who are breastfeeding. It also increases your immunity to infections and diseases during this period.
It is good for digestion
Brown rice is rich in fiber which helps to bulk up the stool and move it along the digestive tract. This is important because it facilities regular and good bowel movements in people. Furthermore, brown rice contains an extra layer of bran on the surface, which prevents an excess absorption of acid. As a result, the texture retention during digestion is far better. Brown rice is good for constipation and colitis.
Its good for your heart
Another reason why so many people choose brown rice over white one these days is because it is very good for your heart. It lowers the levels of bad cholesterol in the body, thereby preventing a ton of cardiovascular problems like clogged arteries, heart attacks, strokes, and an overworked heart. It also helps with hypertension and other vascular diseases such as the hardening of arteries. On the whole, it keeps your cardiovascular system safe from harm and functioning healthily.
It is an antidepressant
Another beneficial property of brown rice is that it is an antidepressant. This is because germinated brown rice has a ton of important nutrients like glutamin, glycerine, and GABA. These are neutrotransmitters that inhibit messages in the brain that are related to depression, anxiety, and stress. As a result, they help promote a sense of well-being and happiness.
It treats insomnia
Having insomnia can be an extremely frustrating experience. However, resorting to pills that create dependencies is not always the right answer. Sometimes, nature provides all the cures you need. In this case, brown rice works well to treat insomnia. This is because it is extremely rich in melatonin, which is a sleep hormone. It can regulate your sleep cycle and also provide a deep sleep when you do fall asleep, treating all problems related to insomnia.
Other benefits
Apart from the ones mentioned above, brown rice offers a host of other health benefits as well. It is good for your skin and can treat problems like psoriasis. It can boost your nervous system and immune system quite nicely. It is filled with magnesium and can improve the health of your bones and teeth. The ferulic acid present in brown rice has anti-ageing elements. Brown rice can also help prevent hair loss.
Uses of Brown Rice
Brown rice is mainly used for culinary purposes. It can be used as a substitute for white rice in any rice based dish. It can be used in stir frys, pilafs, curries, and salads really easily and tastes great. Furthermore, brown rice syrup is often used in deserts. They add a sweet, buttery, nutty flavour to whatever you add it to. The syrup can also be used to create delicious beverages.
Side-Effects & Allergies of Brown Rice
Brown rice is extremely healthy and does not have any side effects or harmful elements present in it. If you are not sure whether or not you are allergic to cranberries, performing a patch test can always help. On a general note, it is always best to consult a physician before adding anything new to your diet or lifestyle.
Cultivation of Brown Rice
Rice originated in china and so did brown rice. The Chinese name for brown rice translates to 'rough rice' due to the presence of the outer layer.