Fenugreek
Fenugreek is an annual plant in the family Fabaceae, with light green leaves and small white flowers, it consists of seed pods containing 10-20 small, yellow-brown, flat, pungent, aromatic seeds, which have a somewhat bitter taste.
Interesting facts: Fenugreek is commonly known as – Greek hay.
It is native to the Mediterranean region, southern Europe and western Asia and is widely used in the Indian subcontinent as well. Fenugreek has three important purposes: its leaves can be dried and used as herbs, seeds can be ground into a spice while the plant matter can be consumed as a vegetable.
Nutritional Value of Fenugreek
Fenugreek seeds are rich in phytonutrients, minerals and vitamins. The seeds are rich in dietary fiber and non-starch polysaccharides (NSP) like tannin, hemicellulose and saponin form a significant part of these seeds. The different phytochemical compounds present in fenugreek seeds are choline, trigonelline diosgenin, yamogenin, gitogenin and other
Fenugreek consists of protein, fats, carbohydrate, calcium, copper, iron, magnesium, manganese, phosphorus, potassium, selenium, sodium, zinc, vitamin A, vitamin C, vitamin B6, vitamin E, vitamin K, Ribo flavin, Thiamin, folate, niacin, sugars, fibres and water.
Vitamins and Minerals
Health Benefits of Fenugreek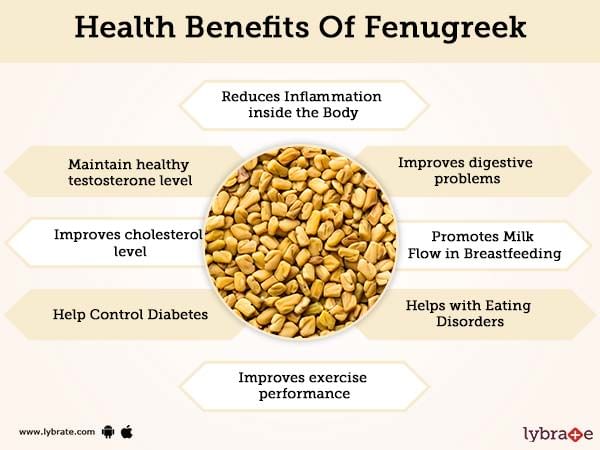 Amazing seeds with lots of nutritional properties helps in curing various health conditions. You can find fenugreek in different forms such as fenugreek powder, fenugreek capsules, fenugreek tea, and more. Mentioned below are the best health benefits of consuming fenugreek seeds.
You can also soak some fenugreek seed in water and used it for different purposes such as hair regrowth, weight management, and skincare. We also discuss the uses of fenugreek seed in a different way and other items such as coconut water, buttermilk, etc.
Fenugreek Seeds Reduces Inflammation In Body
Fenugreek helps with inflammation within the body, such as: mouth ulcers, boils, bronchitis, infection of the tissues beneath the surface of the skin, tuberculosis, chronic coughs, cancer, kidney ailments. Fenugreek was discovered to have medicinal qualities, including management of metabolic and nutritive disorders such as diabetes.
Fenugreek seeds lead to slow absorption of sugars in the stomach and stimulate insulin. It is said to break up stuck energies and cool inflammation within the body. The anti-inflammatory and antioxidant property of fenugreek fights inflammation.
Fenugreek Seeds Maintain Healthy Testosterone Level
Some fenugreek uses for men include treating hernias, erectile dysfunction and other male problems, such as baldness. That's because fenugreek may increase sexual arousal and testosterone levels. Supplements produced from fenugreek have been shown to increase sexual desire and performance in men, as well as naturally remedy impotence.
According to studies it is found that that fenugreek seeds extract had a significant influence on sexual arousal, energy and stamina and helped participants maintain normal testosterone levels.
For those suffering from stomach ailments, fenugreek can be a boon. It is an effective treatment for gastritis and indigestion. Fenugreek seed helps in preventing constipation as well as digestive problems created by stomach ulcers. This is because it is a natural digestive tonic, and its lubricating properties help soothe your stomach and intestines.
Research has proven that fenugreek seeds help to lower the cholesterol level, especially the 'bad' cholesterol or LDL in our body. Fenugreek seeds have a flavonoid named naringenin that lowers the lipid levels in those with high cholesterol.
Fenugreek seeds also helps breastfeeding women who may experience low milk supply. Fenugreek can increase a woman's breast milk supply because it acts as a galactagogue, which is a substance to increase milk supply. This stimulates the milk ducts and can increase milk production in as little as 24 hours.
Diabetics are often recommended to include fenugreek seeds in their diet because of the positive effects they can have on their health. Studies conducted on the effect of fenugreek seeds on type 2 diabetes have produced favorable results. It was found that fenugreek seeds help control blood sugar and decrease insulin resistance.
Beyond enhancing flavor, fenugreek seeds have been shown to increase appetite, which results in restorative and nutritive properties. According to studies and investigations, it is showed that chronic oral administration of the fenugreek extract significantly increased food intake and the motivation to eat.
The report also indicated, however, that the treatment does not prevent anorexia nor the decreased motivation to eat. In cases of anorexia nervosa, intake of 250 to 500 milligrams of fenugreek seeds up to three times a day, but it may not be safe for children — so with any medication or natural treatments, check with your doctor first.
The Journal of Sports Science and Medicine reports a study of the effects of combined creatine and fenugreek extract supplementation on strength and body composition in men. Fenugreek leads to significant increases in lean mass, bench press and leg press strength.
Fenugreek seeds extract supplementation had a significant impact on upper body strength and body composition as effectively as the combination of creatine with dextrose.
The use of fenugreek with creatine supplementation may be an effective means for enhancing creatine uptake while eliminating the need for excessive amounts of simple carbohydrates, and thus one should consider adding fenugreek to your list of best foods for athletes.
Uses of Fenugreek
Fenugreek seeds has a wide variety of uses and most of its beneficial effects can be attributed to the presence of saponins and fibers. It can also be used for herbal healing. Fenugreek works against both internal and external inflammation and can be either taken by mouth or used to form a paste that can be applied on the skin to heal inflammation.
Fenugreek seeds extracts are can be found in soaps and cosmetics. Fenugreek is used as a herb (dried or fresh leaves), spice (seeds), and vegetable (fresh leaves, sprouts, and micro greens). Sotolon is the chemical responsible for fenugreek's distinctive sweet smell.
Cuboid-shaped, yellow- to amber-coloured fenugreek seeds are frequently encountered in the cuisines of the Indian subcontinent, used both whole and powdered in the preparation of pickles, vegetable dishes dal, and spice mixes such as panch phoron and sambar powder. They are often roasted to reduce bitterness and enhance flavour in cooking.
Allergies and Side Effects of Fenugreek
Inspite of all its beneficial effects, consumption of fenugreek can have a few side effects. It can cause diarrhea, stomach upset, bloating, gas, 'maple syrup' odour in urine, coughing, nasal congestion, wheezing, facial swelling, and allergic reactions.
Cultivation of Fenugreek
Fenugreek is native to the Middle and Near East and is widely used in the Indian subcontinent. Fenugreek seeds have been found in ancient tombs of Egypt, including Tutankhamen's. This points to the fact that ancient Egyptians understood the importance of fenugreek seeds. Romans tried fenugreek with wine in the first century A.D. During the same period, it was grown as a staple in Galilee.
The largest producer of fenugreed seeds is India. Fenugreek production in India is concentrated in the states of Rajasthan, Gujarat, Uttarakhand , Uttar Pradesh, Madhya Pradesh, Maharashtra, Haryana, and Punjab.
Fenugreek seeds is used both as a spice, herb or as a vegetable. It can be grown in both spring and summer while it can be cultivated throughout the year in the tropics. It can be grown in both the ground and in containers. It can be grown from seeds and requires a temperature range of 10-32 degrees centigrade. It is best grown on neutral soil with a pH range between 6-7.