Lemongrass
Belonging to the grass family, lemongrass is otherwise widely known as Cymbopogon. Its discovery leads to Asian, African and Australian roots. It is a widely used medicinal and culinary herb with a distinct aroma resembling that of a lemon. It is used in the form of oil, tea, for garnishing food, etc.
Nutritional Value of Lemongrass
Lemongrass contains a variety of nutritional components in abundance. Vitamin A, vitamin C, thiamine, riboflavin, niacin, pyridoxine and pantothenic acid are the vitamins lemongrass is composed of. Essential minerals like magnesium, potassium, calcium, phosphorous, zinc, copper, iron, manganese, etc form the remaining composition in lemongrass. It also boasts of containing no harmful cholesterol content and fats.
Nutritional facts Per 100 Grams
Vitamins and Minerals
Health Benefits of Lemongrass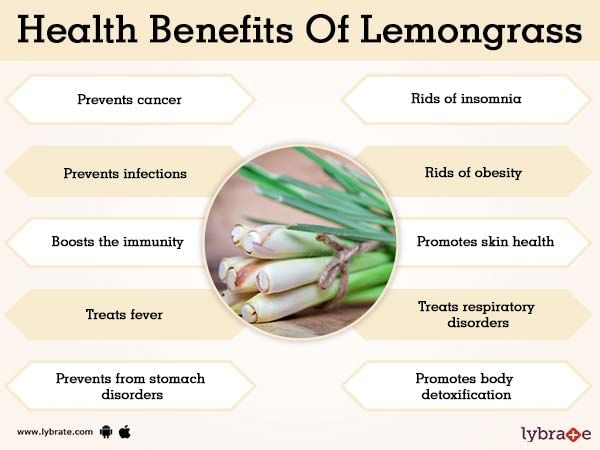 Mentioned below are the best health benefits of Lemongrass
Prevents cancer
By safeguarding the normal cells of the body, lemongrass is known to effectively treat various types of cancers. Lemongrass is equipped with anti-cancerous properties and research undertaken has proved that it is extremely helpful in the cure for skin cancer. Citral, an ingredient present in lemongrass inhibits the growth and prevents the expansion of cancerous cells causing hepatic cancer and especially breast cancer.
Rids of insomnia
Lemongrass acts as a relaxant and induces deep sleep by calming the overworking nerves and muscles of the body. Due to its sedative properties, lemongrass enhances the quality of sleep in addition to increasing the duration too.
Prevents infections
Lemongrass has antiseptic properties and is known to prevent and treat infections such as ringworm, scabies, Athlete's Foot, urinary tract infection, sores, etc. and other infections that are caused due to anti-fungal and antimicrobial action. Research about dermatological infections have shown that lemongrass is equipped with healing effects for the same along with yeast infections and those caused by pathogens. Lemongrass is also known to efficiently treat vaginal and oral candidiasis.
Rids of obesity
Citral is probably the most important ingredient which is found abundantly in lemongrass. Cityral prevents the accumulation of abdominal fat and promotes breakdown of fat to produce energy which helps in eliminating obesity. By promoting oxidation of fatty acid s and reducing the possibilities of weight gain, citral improves the metabolic action of the body.
Boosts the immunity
Lemongrass enhances the regular operations of the body like digestion, respiration, excretion and the functioning of the nervous system. By utilizing the maximum capacity of the nutrients present in it, lemongrass boosts the immune system of the body and prevents effects from any harmful foreign invasion.
Lemongrass has been widely used as a skin tonic and a natural remedy to prevent acne and as a cleanser for oily skin. Owing to its antiseptic and astringent like qualities, it sterilizes the pores while also strengthens the skin tissues.
Treats fever
Also known as the fever grass, lemongrass is known to subside fever. Since it is equipped with diaphoretic and anti-pyretic properties, lemongrass has been since time immemorial used to cure fever by promoting sweating in Ayurvedic medicine.
Treats respiratory disorders
Lemongrass has been since ancient time used to treat cold, cough and fever in the field of Ayurvedic medicine. The vitamin C present in lemongrass relieves of nasal blockages, bronchial asthma, flu and other respiratory disorders.
Prevents from stomach disorders
The essential oils present in lemongrass are equipped with anti-bacterial and anti-microbial properties that keep stomach infection causing pathogens at bay and fights existing infections. It also shields the body against gastrointestinal disorders like gastric ulcers, improves digestion and stimulates the bowel function. Constipation, diarrhea, stomach ache, nausea, constipation, etc are all tackled effectively by lemongrass use.
Promotes body detoxification
Lemongrass puts into motion the process of flushing out harmful toxins and unnecessary chemicals from the body owing to its diuretic properties. This results in low levels of uric acid in the body as opposed to otherwise and enhances the functioning of the liver and kidney. Lemongrass consumption promotes urinating urges that ensure a healthy digestive system and elimination of excess fat.
Keeps cholesterol levels in check
Owing to the anti-hypercholesterolemic and anti-hyperlipidemic properties present in lemongrass, it aids in maintaining adequate levels of triglycerides and limiting the level of LDL cholesterol in the body. This ensures that there is no accumulation of lipids in the blood vessels, causing blockage or obstruction to the free flowing blood in the arteries. Lemongrass eliminates the risk of cardiac disorders like atherosclerosis.
Beneficial for type-2 diabetes
Citral present in lemongrass has been found after extensive research to be extremely useful for patients suffering from type-2 diabetes. Lemongrass maintains the levels of insulin in the body while also tolerating the existing glucose levels.
Uses of Lemongrass
Lemongrass is an excellent resilient herb that works best to keep problems such as insomnia, respiratory disorders, fever, aches and infections at bay. It also ensures optimum cholesterol levels, reducing the risk of obesity, enhancing cellular health, nervous system functions, metabolism and the immune system. Extensively used in aromatherapy, it tackles anxiety, stress, body odor and fatigue.
Side-Effects & Allergies of Lemongrass
In rare cases, lemongrass has triggered an allergic reaction. In such an event, lemongrass usage needs to be stopped and medical attention seeked. Lemongrass oil is not advisable to be used by children without adult supervision. Excess application of lemongrass oil on direct application on the body might result in a reaction. The quantity needs to be kept in check. Pregnant women and breastfeeding mothers are to consume lemongrass only after consultation with a trained medical practitioner.
Cultivation of Lemongrass
Lemongrass is a perennial tall grass native to India and tropical regions of Asia, Africa and Australia. The leaves of the herb grow in bunches at about a meters distance between each stem. It is widely used and cultivated in Southeast Asia, America and Africa.