What is Kiwi Fruit?
Kiwi resembles a small furry egg. Though kiwi is plain in appearance it has a brilliant emerald green colour flesh beneath its fuzzy brown surface with an exotic taste. The brilliant pale green flesh is speckled with a ring of tiny edible black seeds. It has a tangy (sweet and tart) flavour. It is a highly refreshing fruit.
The most common type of kiwi in the markets is the green Hayward kiwi. Another is a golden kiwi. The gold kiwis have bronze skin and a pointed cap at one end. The flavour of green kiwi is sometimes described as a mixture of strawberry, banana and pineapple. The gold kiwi has yellow flesh which is less tart than green kiwi and has a tropical flavour.
Nutritional Value of Kiwi
Kiwis fruit are a nutritional power house. This little fruit is an amazing powerfood. Kiwi fruit is a low-calorie fruit. It has low fat content. A medium size kiwi fruit provides 42 calories and about 0.4 grams fat. It is a rich source of vitamins and dietary fiber.
The Kiwi fruit has a higher Vitamin C content per ounce than most other fruits. It contains Vitamins such as Vitamin A, Vitamin C , Vitamin K, Vitamin E , folates. Kiwi fruit contains copper, choline, magnesium , iron, manganese, chloride and phosphorus. Start eating kiwi fruit has a low to moderate glycemic index. It also contains carotenoids such as lutein, zeaxanthin and beta carotene.
Vitamins and Minerals in Kiwi
Health Benefits of Eating Kiwi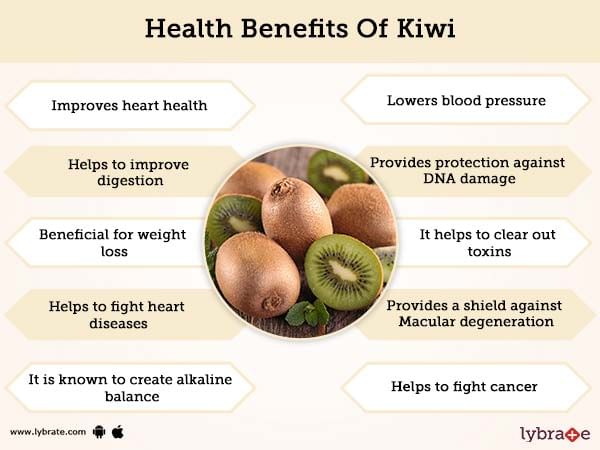 Mentioned below are the best health benefits of Kiwi.
The potassium content in kiwis supports heart health. Increase in potassium intake with simultaneous decrease in sodium helps to reduce cardiovascular disease. Potassium is known to aid in blood thinning and clot removal process.
Kiwi fruit has a polyphenol antioxidant known as quercetin which help to reduce the risk of heart disease.
Due to high potassium content, kiwifruits can help to reduce high blood pressure.
Kiwi helps to nourish digestive system by acting as a prebiotic element. Raw kiwi has a protein dissolving enzyme known as actinidain which help in digestion as the papain in papaya.
A study conducted by Collins, Horska, Hotten depicted that Kiwi fruit has a very unique combination of antioxidants which helps to protect the cell DNA from oxidative damage. Flavonoids and phytonutrients in this excellent fruit are responsible for DNA protection.
Kiwi has a low glycemic index and high fiber content which implies that it will prevent the body to respond by storing fat.
The fiber content of the Kiwi fruit helps to bind and move the toxins from our intestinal tract.
Consuming kiwis assists to reduce the potential of blood clotting and also reduce triglycerides by 15 percent as it contains anti-clotting benefits.
Kiwi fruit has a high level of lutein and zeaxanthin which are natural chemicals present in human eyes. As a consequence, it provides protection against eye problems. Kiwi also contains Vitamin A which is beneficial for eye health.
Kiwi helps in maintaing alkaline balance
Kiwi is known as the most
alkaline
fruit which implies that it has a rich supply of minerals which are able to replace the excess of acidic foods.
Kiwi is a rich source of Vitamin C that benefits us by scavenging the free radicals which damage our cells and can lead to skin cancer. It also prevents colon cancer. The flesh of this fruit contains soluble fiber which promote the growth of good bacteria in colon reducing colon cancer.
The glycemic index of kiwi fruit is extremely low which prevents instant rise in blood sugar levels. Kiwi also contains inositol, which is an enzyme that helps to keep the blood sugar level in control.
Kiwi for bone maintenance and repair
Kiwi fruit is high in Vitamin K and Calcium content which are essential for bone health. They also help to reduce bone injuries and fights against osteoporosis.
Uses of Kiwi
Kiwi fruit can be used to prepare smoothies. It can be used as toppings on pavlovas. Kiwis work wonder for the skin. Face mask can be prepared using kiwi which rejuvenates skin, fights acne, prevents sun damage, have anti-aging properties, promotes fairness, lighten dark circles, smoothes wrinkles. Kiwi also fights for hair loss, prevents premature greying of hair, kiwi also promotes collagen growth on the scalp if used as a hair pack. Serves as a colorful garnish for a variety of dishes.
Side-Effects & Allergies of Kiwi
Though kiwi is known for its unique taste and is favourite with most of the people of all age group yet it can give rise to some side effects if taken in large quantities. Many people who have consumed kiwis in large quantities have reported cross-sensitization and different types of allergies. Kiwis can also lead to swelling. Too much of kiwi consumption can cause Anaphylaxis in human. Rash, asthma, hives and local mouth irritation have also been reported. Skin disorder such as dermatitis can also develop. Overeating of this fruits can cause acute pancreatitis. It can cause vomiting, nausea, and diarrhoea. As this fruit has anti-fungal properties , when taken with other anti-fungal medicines it can lead to addictive effects. It enhances the chances of bleeding if taken with certain specific drugs. Kiwi can also lead to synergistic effect on the levels of serotonin. Kiwi might slow down blood clotting process and make bleeding disorders worse. Kiwi is safe for pregnant and breast feeding women when taken in food amounts. The appropriate dosage of kiwi depends on the feeder's age and health conditions. Yet there is no enough scientific information for determination of appropriate range of doses of kiwi.
Cultivation of Kiwi
Kiwi (which is a berry) is a tropical fruit produced by a deciduous, woody, twinning vine reaching thirty feet or nine meters. Native to China this fruit was originally known as Yang Tao. In 1960 they were renamed as Chinese Gooseberry. They were brought to New Zealand in the early Twenteith century where it was renamed as kiwi after their national bird kiwi. It is preferably grown in sites shielded from low winter and early spring. Soil must be well drained, fertile, moist , friable loamy soil. Soil pH should range between 5.0 to 6.5. The kiwi fruit grows naturally at all altitudes between 2000 -6500 feet.