Pineapple
Pineapple is an herbaceous perennial fruit that grows up to 3.3 to 4.9 feet tall. It has a stocky, short stem with waxy and tough leaves.
This fruit usually produces around 200 flowers. After the fruit starts to develop, all the individual flowers cling together to create what is known as a Pineapple. It has minimum 30 narrow, long, trough shaped and fleshy leaves with sharp spines.
Pineapple is usually cultivated from the crown cutting of the developed fruit. It flowers in about 5 to 10 months and they don't ripen after harvesting. The enzymes present in this fruit contain a lot of useful properties.
Nutritional Value of Pineapple
Pineapples are very beneficial for health as it contains sinapic acid, ferulic acid, vanillin, syringic acid, gentisic acid and galic acid. Additionally it also contains arbutin, tyramine, chavicol, myricentin and chlorogenic acid. Apart from the fruit, even the fiber of the Pineapple is considered useful as it is used as a component for furnishings like wallpapers.
Vitamins and Minerals
Health Benefits of Pineapple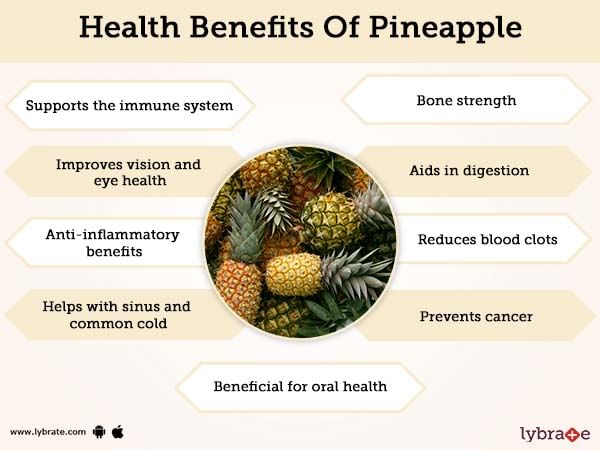 Mentioned below are the best health benefits of Pineapple
Pineapple also help in maintaining the heart health. It contain antioxidant called anththocyanins that prevent cell damage due to its anti-inflammatory effects and also checks cholesterol oxidation.They also contain other poly phenolic compounds like lutein and cryptoxanthin. These compound also further help reduce oxidative stress on the cells.
Pineapple can also make you strong due to its properties which boost bone health. Pineapple contains mineral manganese which is important in connecting tissues and developing strong bones. According to studies, manganese present along with other essential minerals can prove to be helpful in women by preventing osteoporosis.
Improves vision and eye health
It is a proven fact that Pineapple can decrease the risk of macular degeneration. This disorder usually affects vision as people age and can also result to blindness in some cases.
Since Pineapple is high in antioxidants and vitamin C, it helps to improve eyesight in both children and adults.
Pineapple contains high amounts of dietary fibres that are essential for keeping your intestines healthy. It also contains a lot of bromelain, a substance that breaks down all the proteins and helping digestion.
According to research, people who consumed Pineapple or its juice on a daily basis had comparatively less problems in passing stool and rarely had any digestive tract ailments.
Bromelain present inside Pineapple can reduce acute inflammation. It has also been proven to reduce the growth of tumours. In old men and women, it can also reduce the symptoms of osteoarthritis and may even cure it in certain cases.
Excessive inflammation can also be associated with cancer. Therefore, it should not be ignored and should be diagnosed as soon as possible for speedy recovery.
Pineapple is also useful in reducing excessive coagulation of blood. Blood clots can be very fatal, especially in the case of people suffering from strokes. Therefore, Pineapple is an excellent snack for a person who is at a constant risk for blood clots, for example frequent fliers like air-force officers, pilots and cabin crew attendants.
Pineapple helps in sinus and common cold
Since pineapple has a lot of Vitamin C, it is helpful in reducing the mucus in the nose and throat. Consuming Pineapple chunks can be very beneficial in reducing sneezing and can prevent excessive watering of your nose. However, those who have allergies should consume pineapple in small amounts only.
According to studies, Pineapple has been related to prevent cancer from occurring. It can help prevent throat, mouth and breast cancer as it is rich in flavonoids, bromelain, beta carotene, vitamin A and antioxidants. It also contains high levels of manganese which helps to prevent the multiplication of cancer cells.
Pineapple has properties which strengthens the teeth and gums. The astringent agents in Pineapple can also help to tighten the tissues in the body and reduce skin loosening, muscle weakness, hair loss and tooth loss. Pineapple is considered as a natural remedy for retraction of gums and fixing loosening of teeth.
Uses of Pineapple
Pineapple has a variety of uses such as curing acne, anti-ageing benefits, exfoliation agent, getting rid of chapped lips and cracked feet, hydrating the skin, preventing hair loss, thickening of the hair and preventing hypertension.
Side-Effects & Allergies of Pineapple
Pineapple can have certain side effects like, heart burn, abdominal pain, vomiting, nausea and diarrhea. These side effects only occur if it is consumed excessively.
In some cases, eating Pineapple may also cause the onset of menstruation earlier than the expected date for some women. Pineapple should not be consumed in excess by pregnant women as it may induce early labour or even miscarriage in some cases.
Cultivation of Pineapple
During the plantation of Pineapple, the top part of the plant is usually planted on the soil and after few days a new Pineapple fruit will start to emerge from that. Suckers and slips are planted commercially. Costa Rica is the highest producer of Pineapple. It is also produced in abundance in Brazil, Philippines, Thailand, India and Indonesia.