What is Popcorn?
Popcorn is a variety of corn kernel, which forcefully expands and puffs up when heated. A popcorn kernel's strong hull contains the seed's hard, starchy endosperm with 14-20% moisture, which turns to steam as the kernel is heated. The pressure continues building until it exceeds the hull's ability to contain it. The kernel ruptures and forcefully expands, allowing the contents to expand, cool, and finally set in a popcorn puff 20 to 50 times the size of the original kernel. Some strains of corn (Zea mays) are cultivated specifically as popping corns. The Zea mays variety everta, a special kind of flint corn, and is commonly used for making of pop corns.
Nutritional Value of Popcorn
Popcorn is a whole grain food and contains high amounts of several important nutrients. 100 grams of air-popped popcorn serves with 387 calories of energy, 13 grams of protein, 78 grams of carbohydrates, 5 grams of fat, 15 grams of fibre, 7% vitamin B1 (thiamine), 12% vitamin B3 (niacin), 8% vitamin B6, 18% iron, 36% magnesium, 36% phosphorous, 9% potassium, 21% zinc, 13% copper and 56% manganese.
Nutritional facts Per 100 Grams
Vitamins and Minerals
Health Benefits of Popcorn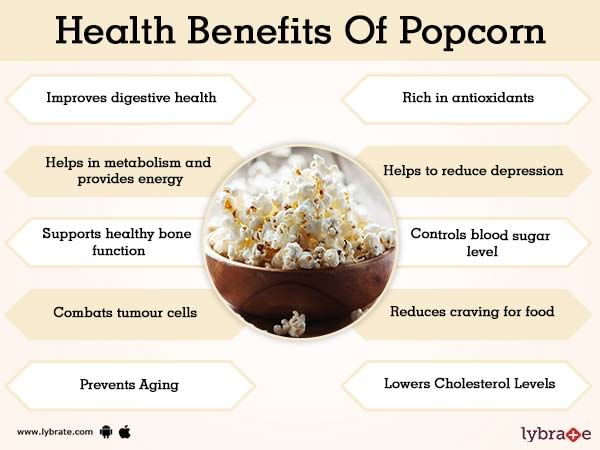 Mentioned below are the best health benefits of eating Popcorn . You can easily consume popcorn with butter, coconut oil and oilve oil according to your taste buds.
Popcorn Improves digestive health
Popcorn good for the digestive system and tract, popcorn is high in dietary fibre, which helps with digestive regularity, keeps a feeling of fullness throughout the day, is crucial for a healthy heart, and may even help to protect against colon cancer. Because of its high fibre content, eating popcorn may help to promote healthy gut bacteria which are essential for not only digestion but also for a healthy immune system.
Popcorn antioxidants benefits
Yellow popcorn is rich in carotenoid antioxidants, including lutein and zeaxanthin, which not only helps in protecting eye health, and may guard against age-related macular degeneration, but they also work to combat system-wide inflammation, which may underlie a number of chronic diseases.
Popcorn is rich in vitamin B, including vitamin B3, B6, folate, and pantothenic acid. Vitamin B is essential for regulating bodily processes across multiple systems. The two examples of these are the production of energy and the metabolism of various nutrients.
Popcorn helps to reduce depression
Vitamin B3 present in Popcorn, also known as niacin, has been studied for its potential to help naturally ease depression, making popcorn a "comfort food" in the literal sense.
Popcorn supports healthy bone function
Popcorn contains phosphorus, a mineral that aids in supporting healthy bone function, as well as the function of many types of cells throughout the body. Manganese is another mineral found in popcorn which also support healthy bones,
Popcorn controls blood sugar level
Dietary fibre also has an impact on blood sugar levels within the body. When the body has ample amounts of fiber, it regulates the release and management of blood sugar and insulin levels better than people with low levels of fibre.
Popcorn lowers blood sugar levels, Reduction of these fluctuations in blood sugar is a major bonus for diabetic patients and hence popcorn is always recommended if a person suffers from diabetes.
Popcorn combats tumour cells
Popcorn contains ferulic acid, which is linked to potentially killing certain kinds of tumor cells. Hence popcorn also assists in treating cancer.
Popcorn reduces craving for food
Munching on a bowl of organic popcorn provides a great alternative to other less-healthy snacks, and because it is high in fibre, may reduce cravings for these snacks.
Popcorn Prevents Aging
Popcorn acts as anti aging agent. Free radicals do a lot more damage than cancer. They have been closely linked to age-related symptoms like wrinkles, age spots, macular degeneration and blindness, muscle weakness, cognitive decline, osteoporosis, Alzheimer's disease, dementia, hair loss, and a wide variety of other things which becomes prominent with aging. Popcorn can make a person feel healthy and happy well into their old age because of the powerful antioxidants that combat these effects of free radicals.
Popcorn Lowers Cholesterol Levels
Fibres function in another beneficial way within the body, and whole grains contain the type of fibre which can eliminate excess cholesterol from the walls of blood vessels and arteries, thereby popcorn lowers cholesterol levels in the body, and hence lowering the chances of dangerous cardiovascular conditions like atherosclerosis, heart attacks, and strokes. Popcorn also reduces the strain on the cardiac system, since the heart doesn't need to work so hard to move blood through clogged vessels and arteries.
Popcorn Controls Anaemia
According to the USDA, 28 grams of popcorn contains 0.9 mg of iron. This number might seem small, but adult men require only 8 mg of iron in their diet each day. Adult women, on the other hand, need 18 mg per day because of the blood they lose during menstruation. According to some surveys, almost 10% of women are iron deficient. Hence having popcorn in one's diet provides the body with enough iron and helps to keep away problems like anaemia.
Popcorn helps in relieving constipation
Since popcorn is all whole grain, their insoluble fibres helps keep the digestive tract in check and prevents constipation. Researchers have found out that people who ate popcorn regularly increased their daily fibre intake by 22%. Eating more fibrous foods helps in relieving constipation.
Uses of Popcorn
Apart from using it as a snack or food, there are some other uses of popcorn. One of these is that it is used for decoration, strung together and hung on Christmas trees. This tradition is common in North America and in the Middle East. The other use is for packaging. This is not as common because it is a dangerous and difficult packing material to use since it is flammable and attracts insects and animals and this is a negative effect of using popcorn.
Popcorn Side-Effects & Allergies
P> Popcorn is likely safe when taken in optimum amounts in diet. However, popcorn might encourage an
allergic reaction
in some individuals. Care should be taken in case of any
allergy
symptoms that may arise immediately after consuming popcorn, such as swollen mouth or difficulty in breathing.
Popcorn is also on a list of foods that commonly cause irritating symptoms among people with inflammatory bowel disease and hence it should be avoided in such cases.
Cultivation of Popcorn
Corn was domesticated in Mexico over 9,000 years ago and continues to be one of the leading vegetables produced each year throughout the world. Popcorn as a snack has been discovered in Mexico in archaeological sites dating back to 3600 B.C., and unsubstantiated claims say that Squanto himself taught European settlers how to popcorn during the growth of North America.
The history of popcorn is not entirely documented, but it seems that its popularity soared in the United States first in the Great Lakes region where the Iroquois people settled in large numbers. The first reliable sources to actually refer to "popped corn" date back to about 1820, and records from the mid-1800s name popcorn as a popular family treat.
In the 1890s, popcorn received another boost in demand, the credit of which goes to candy store owner Charles Cretors. In an attempt to better roast nuts for sale at his store in commercial quantities, he created the first ever commercial-grade popcorn popper, later displaying it in a horse-and-buggy style design. Then came the early 20th century, when the occurrence of popcorn in a movie theater began to become normal.