Bitter Melon
Bitter melon or bitter gourd (scientific name – Momordica charantia) belongs to the family of Cucurbitaceae and is a tropical and sub-tropical vine which is widely grown in Asia, Africa and the Caribbean. It belongs to the same family as squashes, melons and gourds and hence it is known by 3 different names in different locations of the world.
Bitter Melon exterior is very warty and ridged and it is harvested before ripening to prevent it from turning extremely bitter. It is one of the most beneficial bitter fruits available and its benefits are found mostly in the flesh. A bright red pith appears after the fruit ripens and this is used in some cultures in their cuisines.
Nutritional Value of Bitter Melon
Bitter melon or bitter gourd is rich in whole range of vitamins and minerals such as Vitamin A, Vitamin B1, Vitamin B2, Vitamin C, calcium, potassium, zinc, iron, copper and phosphorus. Not only is it a good source of dietary fiber, it also contains twice the amount of calcium that is present in spinach.
Furthermore, bitter melon it is low in sodium and very low in cholesterol. This fruit is sure to provide you with a host of health benefits if you include it in your diet.
Vitamins and Minerals
Health Benefits of Bitter Melon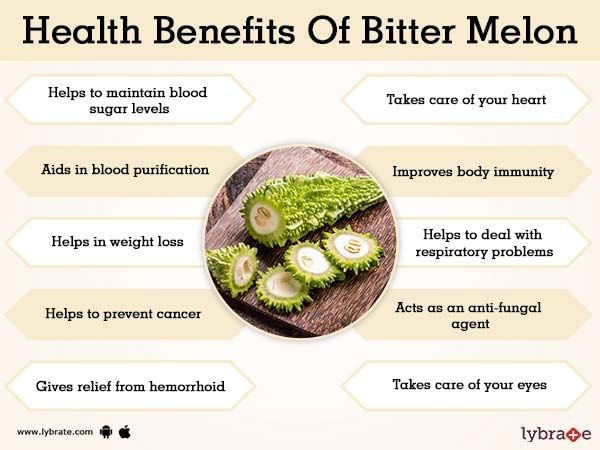 Mentioned below are the best health benefits of eating bitter melon. It helps in maintaining blood sugar levels and good for heartburn. This vegetable is also used in Ayurveda and used to treat gout and control uric acid levels.
The antioxidant of bitter melon helps in boosting immunity and common infection. We also discuss condition when consuming bitter melon good for health such as pregnancy condition. Also, read out cultivation details of bitter melon vegetable to know more about it.
Helps to maintain blood sugar levels
Bitter melon helps to control diabetes naturally as it contains an insulin-like compound called Polypeptide-p or p-Insulin. Research has shown that regular intake of optimum amounts of bitter melon juice can significantly reduce blood glucose levels in people suffering from Type-2 Diabetes. Further research has shown that bitter lemon increases the uptake of glucose and improves glycemic control. It even helps people with Type-1 diabetes.
Bitter melon helps to lower the level of bad cholesterol in your body and thus helps to keep your heart healthy. It contains potassium which absorbs the excess sodium in your body and thus maintains your blood pressure. The iron and folic acid which is present in bitter melon helps to ensure that your heart does not suffer a stroke.
Bitter melon is known to be an effective blood purifier. It has anti-microbial and anti-oxidant properties that help to purify your blood. This is turn helps you get healthy and glowing skin. Various skin disorders like eczema and psoriasis can be treated by including bitter melon in your diet.
Bitter melon contains antioxidants that help to enhance your body's immunity. The antioxidants act as a powerful defense mechanism against various illnesses as they act against the free radicals and other dangerous compounds that are released during cell metabolism. Thus, bitter melon protects against 3 very dangerous illnesses like heart attacks, kidney damage and liver failure.
If you are trying to lose some weight, there is no other healthy way to do it than including bitter melon in your diet. Bitter melon is low in carbohydrates, fats and calories. Consumption of bitter melon will keep you full for longer and thus can easily fit into your weight loss program. Studies have shown that bitter melon extracts help to dislocate human fat cells and also prevent growth of new ones.
Respiratory problems like asthma, cold and cough can be treated effectively by including bitter melon in your diet. Paste of bitter melon leaves when taken together with paste of tulsi leaves and honey in the morning is a good remedy for your respiratory problems.
In addition to being an anti-oxidant, bitter melon also has anti-tumor and anti-carcinogenic properties. Consuming bitter melon helps to prevent tumor growth for cervical, breast and prostate cancer patients. This is primarily because this fruit has the ability to induce apoptosis or cell death in cancerous cells.
Consumption of bitter melon in optimum quantities help to fight off various fungal infections as it possesses anti-fungal and anti-bacterial properties. These properties also help to remove toxins from the bloodstream which may cause various diseases in your body.
Hemorrhoid or piles is a very uncomfortable illness that may jeopardize your daily life. Bitter melon has anti-inflammatory properties which help to reduce or prevent the uncomfortable symptoms that are associated with this disease.
A paste created from the roots of the bitter melon plant when applied topically to the affected areas help to reduce inflammation and also helps to reduce pain and bleeding.
Bitter melon is rich in compounds like beta-carotene and Vitamin A which are very beneficial for your eyes. It helps to deal with vision-related problems like cataract. Including bitter melon in your diet will help to prevent or at least delay the onset of this disease called cataract which causes partial blindness in your eyes.
Uses of Bitter Melon
Bitter melon or bitter gourd is a fruit that has a number of nutritional and medicinal benefits. Having bitter melon in optimum quantities can help you to lead a healthy and fulfilling life. It boosts your immunity system and prevents your body from falling prey to a number of diseases. Bitter melon also helps to prevent certain forms of cancer and also helps to manage blood sugar levels. It allows you to get relief from respiratory problems like asthma, bronchitis and hay fever. Moreover, it also helps to treat fungal infections and also provide relief from hemorrhoid.
Side-Effects & Allergies of Bitter Melon
It is advisable to avoid bitter melon before and after surgeries as it acts strongly to reduce blood sugar levels. It is better to avoid eating bitter melon during pregnancies as it may cause excess menstrual bleeding.
Dehydrogenase deficiency is caused in some people due to consumption of bitter melon. The symptoms of this include headaches, stomach pains and fever.
Cultivation of Bitter Melon
Very little is known about the origin of bitter melon. However, it is common knowledge that this fruit is a native of tropical and sub-tropical regions. Bitter melon or bitter gourd is cultivated all over the Indian subcontinent and also in parts of China and Africa. It is also widely grown in the Caribbean islands and also in South-East Asia.