Pears (Nashpati)
Pears are curvaceous , sweet, juicy and are available in an array of colours from bright green to tawny red to sunset yellow type with an unusual texture which alters as its ripening stage appears. Some pears have a rounded body that taper into a neck of various lengths (European Pears) while some are completely round with no neck(Asian Pears) and some have a smooth texture.
Some pears possess a sweet flavour while some have an aromatic one . Pears can be classified into Asian Pears (Pyrus pyrifolia) and European Pears(Pyrus communis). Asian pear varieties show a sandy texture which does not change after harvesting or storage while European pears turn juicy when they ripen.
Pear belongs to any of the tree or shrub species of genus Pyrus in the family Rosaceae. It is also the name of the pomaceous fruit of trees. There are several species of trees which are valued for their edible juices and fruits. The common varieties of pears are- Anjou, Bartlett, Bosc, Concorde, Seckel, Comice, Forelle, Starkrimson.
Nutritional Value of Pears (Nashpati)
Pears are nutrient dense fruits. A medium sized pear contains approximately hundred calories and is fat free. Pears are rich source of dietary fiber. A medium sized pear provide about fifteen percent of daily copper requirement. The skin of pear is mainly a concentrated source of phenolic phytonutrients.
Pears have a high water content with negligible amount of protein. Pears are cholesterol free. They contain minerals like copper , calcium, manganese, phosphorus, zinc, magnesium and iron. Pears are also filled with vitamins ( Vitamin A, C, D,K, E,B-12, B-6,), folates, pantothenic acid, and carbohydrates. The fruit excels in phytonutrient category.
The list of phytonutrients contained in pear is as follows:- Hydroxybenzoic acid- chlorogenic acid, gentisic acid, syringic acid, vanilic acid; Hydroxycinnamic acid- coumaric acid, ferulic acid, 5-caffeoylquinic acid; Hydroxyquinones- arbutin; Flavanols- catechin, epicatechin; Flavonols- isorhamnetin, quercetin, kaempferol; Anthocyanins ( in red-skinned varieties); Carotenoids- beta-carotene, lutein, zeaxanthin.
Nutritional facts Per 100 grams
Vitamins and Minerals
Health Benefits of Pears (Nashpati)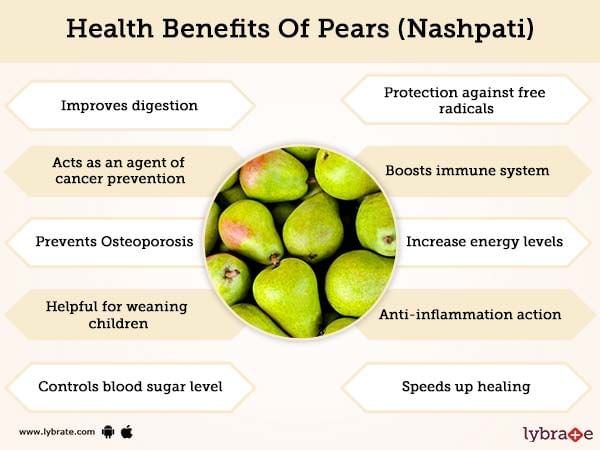 Mentioned below are the best health benefits of eating Pears (Nashpati). Women can eat pear fruit during pregnancy, it is safe and offers low calories and high nutritional value. We also check side effects of pear consumption in excess and also cultivation details
Improves digestion
Most of the fiber content in pears is a non-soluble polysaccharide, which implies that it acts as a bulking agent in the intestines. This fiber helps to accumulate the food and adds bulk to it making it easier to pass through intestines.
Pears also stimulates secretion of gastric and digestive juices. Thus it regulates bowel movements reducing chances of constipation and diarrhea.
Pears offers protection against free radicals
Presence of Vitamins like Vitamin C and Vitamin K and minerals like Copper in pears battle against free radicals that damage the body cells.
Pears acts as an agent of cancer prevention
The fiber content of pear binds to the carcinogenic cells by removing them and consequently prevents colon cancer. After menopause, consuming a pear a day can keep away breast cancer in women.
Pears boosts immune system
The high content of antioxidants like Vitamin C and Copper in pears support the immune system to fight against various health harming diseases.
Pears prevents Osteoporosis
Pears helps in maintaining pH of the body and providing body with recommended amount of calcium are necessary to keep bones healthy and prevent Osteoporosis. Boron rich pears help in calcium absorption.
Pears increase energy levels
The high glucose content in pears give instant energy. It gets absorbed very quickly by the body and converts into energy.
Pears helpful for weaning children
Pear is recommended for weaning children because it is hypoallergenic and is low acidic fruit and hence it does not contain any digestion problem.
Pears anti-inflammation properties
Pears have anti-inflammatory properties which help to reduce inflammation of arthritis and other problems of such kind.
Pears controls blood sugar level
The Pears fruit has low glycerine index and high fiber content which help to control sugar levels in blood and thus prevents diabetes. Certain flavenoids in pear improve insulin sensitivity. This decreases the risk of type 2 diabetes in men and women.
Vitamin C is an essential component for synthesizing new tissue in various organs of the body. Ascorbic acid helps to speed up healing. Pears contain high levels of ascorbic acid and thus acts as catalyst to speed up the healing process.
Pears helps to improve circulation
Pear can be very beneficial for patients suffering from anaemia and other mineral deficiency diseases because it contains a high amount of copper and iron. Copper facilitates the uptake of minerals into the system and iron helps in synthesis of red blood cells.
Pears helps to keep the heart healthy
Pear contains potassium which is a well-known vasodilator. Thus it can significantly affect heart health. It helps to lower blood pressure reducing strain on cardiovascular system and thus lower the chance of heart attacks and atherosclerosis.
Pears increases blood flow to all body parts which oxygenates the organs improving their function. Potassium in pears act as a fluid regulator. Hence, it keeps body hydrated and ensures balance of essential fluids in the various cells and organs of the body.
Uses of Pears (Nashpati)
Pears are beneficial for maintaining skin health. It very effectively treats oily skin if used with fresh cream and honey. Pears help to get acne free skin and are also effective as natural scrub. Pears are also used to treat and tame freezy hair. They restore the lost shine and reduce hair dryness. Pears are also used to prepare jams and jellies.
Side-Effects & Allergies of Pears (Nashpati)
Regular and moderate consumption of pear is beneficial to health. But too much consumption of Pears (Nashpati) can be harmful. Pears are good source of dietary fiber. But too much of fibers is bad for digestive health because it interferes with absorption of nutrients in the body.
High levels of Vitamin C can give rise to complications like diarrhea, nausea, heartburn, abdominal bloating and headache. High levels of antioxidants can increase the risk of cancer. In a study conducted in the 2011 among 35,500 men, it was found that increased level of Vitamin E can be a cause of increased risk of prostate cancer.
High levels of Vitamin A can cause blurry vision, bone swelling, poor apetite, dizziness, bone pain etc. Pears are safe when taken in a moderate amount. Pears have less chances of allergenic reactions. But there are cases where patients have been reported to develop allergenic reactions.
Cultivation of Pears (Nashpati)
Pears are one of the world's oldest cultivated fruits which are loved by almost all generations. The pyrus species are native to Northern Hemisphere of the ancient world. European and East Asian species are native to Eastern Europe and South Western Asia while East and North Asian species are native to Eastern Asia including China , Japan and ManAuria.
Pyrus pyrifolia originated in China from where it was brought to Amritsar's village by Chinese Merchants. It is the fifth most widely produced fruit in the world. It is mainly produced in China, Europe and United States.
Pear trees grow from 20-50 feet tall, depending on variety. European pears ripen in late summer. Asian pears ripen generally from late summer to early autumn. Most pears grow in full sun to light shade. Slight variations may occur according to varieties. In areas with mild climates, pears tolerate salty and coastal environment.
Pears can grow in loamy, sandy or clay soils though they grow best in rich well drained loamy soil having pH less than 8.5. Alkaline soil is unfit for pear growth. Pears can be grown successfully at 1200-1800 meter above sea level. It can tolerate very low temperature as well as high temperatures during summers.