Pumpkin Seed
As the name suggests, pumpkin seeds come from the pumpkin fruit or squash. They are flat and oval-shaped, and while their husks are white, the inside is light green. There are many species of pumpkins, some of which are cultivated in Central America and Mexico, whereas others are cultivated across Europe and Russia.
Although the pumpkin itself is seasonal, wherein it can be harvested during autumn and can be seen around the United States at Halloween, the seeds are so popular as a snack item that they are available throughout the year. Pumpkin seed are quite common and can be bought at a local grocery store in snack packs.
Nutritional Value of Pumpkin Seed
Pumpkin seeds boast impressive health benefits, which can be attributed to their unusual nutrient composition. Just a 100 gram serving of pumpkin seeds can provide 574 kcal of energy. It is rich in proteins at 29.84 grams.
Additionally, it also contains approximately 82.5% monounsaturated and polyunsaturated fats, both of which are extremely beneficial for the human body. It is also rich in vitamins and minerals. In fact, a 100 gram serving of pumpkin seed can cover up 62% of the daily required intake of iron and 80% of zinc all by itself.
Pumpkin seed also one of the best sources of phosphorus, potassium, and magnesium for the human body. In terms of vitamins, it can offer 30% of the daily value of niacin, also known as vitamin B3, along with riboflavin, folate, and pantothenic acid. All these attributes make pumpkin seeds a very valuable commodity.
Nutritional facts Per 100 Grams
Vitamins and Minerals
Health Benefits of Pumpkin Seed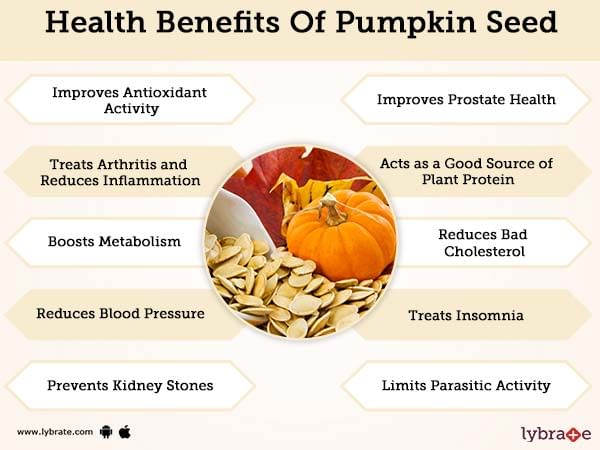 Not only pumpkin but you can get various health benefits from its seeds. Pumpkin seeds nutritional benefits are mentioned above, it is rich in antioxidants and other vitamins and minerals important for controlling various health issues.
Pumpkin seed is good for diabetic patients as it contains ingredients good for lowering blood glucose and maintain sugar level. Type 2 Diabetic patients also consume this fibre rich seeds. We also discuss the side effects of consuming pumpkin seed in excess and also check out its cultivation details to know more about it.
Pumpkin Seed Contain Antioxidant
Pumpkin seeds are rich in phenolic compounds, which combat free radicals in the body. This property is important because it inhibits the growth of cancer cells in the body. Consuming a small to medium serving of pumpkin seeds on a daily basis can serve this purpose. A regular cleansing of the body is important to overall health besides.
Pumpkin Seed Improves Prostate Health
The prostate is one of the biggest areas of concern in men's health. It is one of the most common areas where men develop cancerous cells. Pumpkin seeds good for prostate as act as diuretics, and therefore relieve the symptoms of an inflamed prostate.
Pumpkin Seed Treats Arthritis and Reduces Inflammation
A deficiency of various vitamins and minerals can cause an inflammation of various tissues, organs, and joints, as in the case of arthritis. Arthritis is a debilitating condition, which needs to be treated in time to stop its effects from wearing the body down. Treatment requires adding a healthy amount of proteins and anti-inflammatory compounds.
Studies have revealed that pumpkin seeds have anti-inflammatory properties. There is a direct correlation between reduced arthritis-related joint pain and the consumption of pumpkin seeds. From a medical perspective, this is one of the most popular uses of the pumpkin seed.
Pumpkin Seed Good Source of Plant Protein
The consumption of the necessary amount of protein without consuming meat is one of the biggest aspects of a vegetarian diet, as proteins directly impact the growth and development of the body.
Proteins contain a number of amino acids that are essential to many enzymatic and metabolic processes. Pumpkin seeds are a rich source of healthy plant protein. The body can get 25% of its required intake of proteins per day by consuming just one cup of pumpkin seeds.
Pumpkin seeds, which have an abundance of protein, can give the body what it needs. Pumpkin seeds can also be consumed when you are feeling tired and unenergetic.
Pumpkin seeds will boost metabolism and sustain the body for a longer period of time. The high calorie content in pumpkin seed is a great nutritional supplement for those who need the extra energy for cell and tissue repair, for instance people recovering from traumatic injuries.
An optimal level of metabolism is crucial in many aspects. It provides the energy that the body needs to perform day-to-day work. Additionally, this energy enables the body to conduct its internal functions normally.
For metabolism to be at its optimum, the body needs amino acids, which are provided by the consumption of proteins. These amino acids are crucial to metabolic and enzymatic processes in the body. A low metabolic rate can make us lethargic, fatigued, unhealthy, and weak, and it can also impact brain function. To deal with all these health, start consuming pumpkin seeds.
Pumpkin Seeds Reduces Bad Cholesterol
A compound that is unique to the pumpkin seed is phytosterols, and this compound has been directly linked to lowering the levels of bad cholesterol in the body. Further, it prevents the development of conditions like atherosclerosis and blood clots.
Pumpkin seeds keeps blood vessels healthy and clear, thus reducing the risk of strokes and heart attacks. It is a commonly prescribed food product for those who are at risk of developing cardiovascular conditions.
Pumpkin Seeds Reduces Blood Pressure
Pumpkin seeds are rich in copper, and copper is known to increase the red blood cell or RBC count in the body. It also improves the passage of oxygenated blood. This property, combined with its low sodium content, reduces blood pressure and in turn, improves cardiovascular health. Pumpkin seeds are an invaluable cardiovascular booster.
Pumpkin Seeds Treats Insomnia
Pumpkin seeds contain an abundance of tryptophan and magnesium. Studies have shown that both have soothing qualities and can cause sedation. Experts recommend eating pumpkin seeds if you have high levels of stress that causes restlessness and insomnia.
Insomnia can have degenerative effects on the body and mind in the long run. It has been known to reduce brain and organ function. Pumpkin seeds can combat these ailments effectively. They can be consumed at night for a restful sleep.
Pumpkin Seeds Prevents Kidney Stones
The wonderful antioxidants present in pumpkin seeds (which act as diuretics), have been known to combat toxicity in the body. Additionally, it has been known to have a positive impact on circulation as well as kidney and liver function. Through these activities, the pumpkin seed prevents the accumulation of uric acid in the body in the form of kidney stones.
Besides uric acid, it also prevents the accumulation of other toxins that cause diseases like gout. In fact, pumpkin seeds are a great addition to a cleanse or detoxification diet.
Pumpkin Seeds Limits Parasitic Activity
Even before it was formalized through medical findings, pumpkin seeds were consumed as a way to eliminate tapeworms and other parasites from the body. Children, who are particularly susceptible to worms in the stomach, were given pumpkin seeds as a snack.
Parasitic growth can result in malnutrition and incorrect growth, among other things, but can also result in death if untreated. Pumpkin seeds, therefore, are beneficial for gastrointestinal health in children as well as adults.
Pumpkin Seeds Prevents and Treats Osteoporosis in Women
The combination of minerals in the pumpkin seed is especially beneficial in preventing osteoporosis, a condition which normally affects older women. The high levels of zinc, copper, calcium and other minerals increase bone density and decrease bone weakness, both of which are signs of osteoporosis.
Uses of Pumpkin Seed
Pumpkin seeds can be consumed raw, although their shells can be tough to chew and digest, in which case they are roasted and eaten. There are numerous pumpkin seed recipes of both kinds, sweet and savory. The seeds are also a popular addition to coffee served by renowned, global coffee chains, in a beverage known as the Pumpkin Spiced Latte.
Pumpkin beverages and the use of pumpkin seeds usually sees a sharp spike in the autumn season, especially in the United States where the pumpkin is also linked directly with Halloween. Pumpkin seeds are also used to extract pumpkin oil, which is a very healthy oil used in cooking.
Side-Effects & Allergies of Pumpkin Seed
Experts always recommend consuming pumpkin seeds in small to moderate quantities. The reason behind this recommendation is the high calorie content of this seed. If these calories are not consumed 100%,they can cause weight gain, which is not universally healthy. In obese people, it can exacerbate the condition.
Further, limited findings that suggest that high consumption of these seeds can cause ejaculation problems in some men. The shells of the pumpkin seed contain insoluble fiber, which can cause digestive problems such as constipation.
High consumption of this seed, even without the husk, can cause flatulence and diarrhea. As pumpkin seeds can go bad fairly quickly, one should be very careful to check the health of the seeds before eating them. Rancid pumpkin seeds can increase the buildup of toxins and free radicals in the body, which is the opposite of what a healthy pumpkin seed is supposed to do for the body.
Cultivation of Pumpkin Seed
Pumpkin seeds have been an integral part of Native American and other cultural cuisines since the age of the Aztecs. However, there is evidence to suggest that the pumpkin was farmed far before that. It is frequently classified as one of the first three agricultural products in North America's history. Historians believe that all parts of the fruit were consumed in one way or another, including the pumpkin seed.