Frankincense Oil
Frankincense essential oil, as the name suggests, comes from the resin or gum from the frankincense tree, which is also known as Olibanum tree. This oil has been used in cosmetics for centuries, and is also a popular oil for aromatherapy. It has many different health benefits, making it a great oil to try out for your needs.
Frankincense oil is also connected with a bunch of religious rituals and sacrifices, and is especially prominent in Christianity. It can be burned for its pleasing and mild smell as well and you can create a warm, calm ambience in your home with it.
Nutritional Value of Frankincense Oil
While not much research has been conducted into the individual nutritional compounds of frankincense oil, the components that make up this oil are known to be extremely good for you. The main substances that are present in this essential oil are Alpha Pinene, Actanol, Bornyl Acetate, Linalool, Octyl Acetate, Incensole and Incensyl Acetate.
These nutrition vital present in frankincense oil for various bodily functions, which is why this oil is so popular when it comes to herbal and organic healthcare. More and more people benefit from this oil daily.
Health Benefits of Frankincense Oil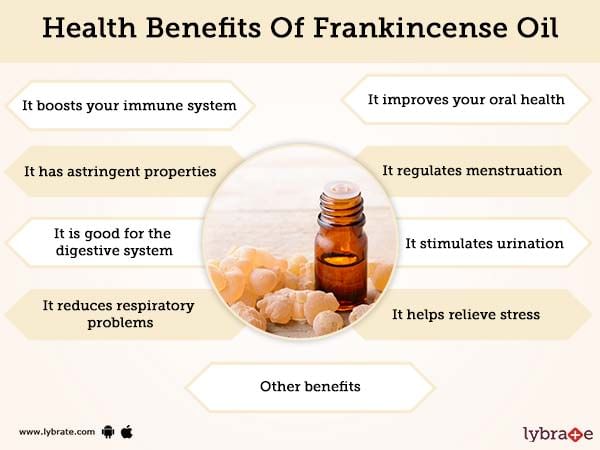 Mentioned below are the best health benefits of using frankincense oil. This effective oil good for anxiety, stress, ulcers, indigestion and relax your mind. Anti-inflammatory, anti-tumor and anti astringent properties of frankincense oil good for the immune system and menstruation cramps. This oil good for digestion and stimulates urination. We also discuss the side effects of frankincense essential oil and cultivation details also.
Frankincense essential oil is an extremely effective antiseptic. In fact, it is so effective that you can obtain its antiseptic properties by inhaling the smoke that it emits into the air when you burn it.
You can apply frankincense oil onto your wounds and this can prevent tetanus from occurring. It is also good for internal injuries and can prevent infections from occurring.
Frankincense essential oil is also known for improving oral health. It can be used to prevent a number of problems such as bad breath, mouth sores, cavities, and toothaches. There are many oral care products that use frankincense oil and you can look for them if you want to include this essential oil in your oral hygiene routine.
Moreover, you can also create a homemade toothpaste by using frankincense oil and ad baking soda. It works just as well as any store brought toothpaste and has fewer chemicals in it!
Frankincense essential oil has strong astringent properties that can come in handy across various systems of your body. You can use it to improve the health of your hair, to tone and lift your skin, take care of your gums, or stimulate the contraction of your muscles, blood vessels and tissues, which can prevent hair fall, and the loss of teeth.
Frankincense oil can be used to combat a few age-related problems as well due to the astringent properties. It can help you reduce wrinkles, and it can also prevent the loosening of intestines and digestive muscles over time with age, keeping your digestive system as good as new. The stringent properties of frankincense oil also help to reduce diarrhea in patients.
Irregular periods can be extremely taxing on your body and mind. Frankincense essential oil can help you reduce obstructed or delayed menstruation, and can also delay the onset of menopause. It is also great for women with regular periods because it can help combat all the signs and symptoms of PMS such as headaches, nausea, cramps, mood swings, and so on. Therefore, frankincense oil is a great for women in general.
Frankincense essential oil has a number of properties that make it good for your digestive system. For starters, it can help you prevent and reduce gas. This is because frankincense oil helps to remove all the extra gas from the intestinal regions, which also helps provide relief from the other symptoms of gas like pain, sweating, digestive problems, uneasiness, and so on.
Use frankincense oil to speeds up digestion in your body. This is because it encourages the release of gastric juices and bile, which help break down food at a faster rate, thereby making it move across the digestive tract quickly. Having a digestive system that functions properly can help prevent many other problems in the future.
Frankincense essential oil is a diuretic, which means that it stimulates frequent and abundant urination. As a result, your system gets cleared of a lot of unwanted toxic waste, excess water, excess fat, ureic acid, and excess calcium.
Due to this, it not only purifies your body, but also helps you lose weight in a manner that is safe and allows your body to deal with the weight loss naturally. Furthermore, frankincense oil removes all the excess calcium, it prevents the formation of painful kidney stones as well.
Frankincense essential oil is known for reducing respiratory problems as well. It can soothe a persistent cough you've been battling for weeks. It can clear up any excess phlegm that's built up in your respiratory tracts, allowing for easier breathing. It is known to providing relief from the symptoms of bronchitis and the congestion of the lungs, throat, bronchi, nasal tract, larynx, and pharynx.
Frankincense oil has strong anti-inflammatory properties and as a result, it can soothe your respiratory tracts. This can help reduce the risk of asthma by a significant margin. Oil of frankincense also help you with colds and all its associated symptoms such as body pains, headaches, congestion, increased body temperature, and pain in the teeth and jaw.
Frankincense essential oil is also known for relieving stress. It is a very powerful sedative in nature. As a result, it can help you feel at peace and relax, even if its generally difficult for you to do so. It helps awaken your insight, making you more introspective, and it can also help with feelings of anxiety, depression, anger, and stress.
In order to fully utilize these properties, you can add some frankincense oil to a diffuser and inhale. Since this oil also helps with breathing and relaxation, it can reduce your blood pressure and make you feel calm and happy.
Frankincense oil can help keep your uterus healthy since it stimulates estrogen in your body. As a result, it keeps you safe from post-menopausal cysts or tumors, thereby preventing uterine cancer.
Frankincense essential oil also has a ton of other benefits. Frankincense oil can speed up the rate at which your body heals wounds. You can just apply it topically or mix it with a moisturizer and then apply it to a wound. Since it is an antiseptic, it can also help prevent infections from occurring on the wound.
Use frankincense oil to delay the signs on ageing on your skin such as sun spots, wrinkles, and fine lines, and can also tone up your skin. Frankincense essential oil is extremely good for pain, especially pain that is associated with rheumatoid arthritis. It can be applied topically to the areas that hurt. It is good for treating acne.
Frankincense oil is a sedative and is therefore a good remedy for insomnia. It can be used in a diffuser right before you go to sleep in order to induce and calm and peaceful sleep.
Uses of Frankincense Oil
Frankincense essential oil is a popular oil in aromatherapy. It can be blended well with other essential oils such as the oils of lemon, lime, orange, and other citrusy oils. It can also be blended with oils of Benzoin, sandalwood, pine, myrrh, lavender, and bergamot.
Frankincense essential oil is also used in a varety of dental products and herbal skin care products due to its various antiseptic and astringent properties that are good for your skin and for your oral health.
Side-Effects & Allergies of Frankincense Oil
Frankincense essential oil is an organic oil that does not contain any harmful chemicals. There are no known side effects of using this oil. However, pregnant women should avoid frankincense oil as it is an emmenagogue and also has astringent properties that may have negative effects on the pregnancy. That being said, it is a safe oil to use.
You should consult with your doctor before adding anything new to your diet or your lifestyle. It also makes sense to perform a patch test to determine whether or not you are allergic to this oil, just to be on the safe side.
Cultivation of Frankincense Oil
Frankincense essential oil has been found in the remains of ancient Egypt. It also has Anglo-Saxon roots. This oil has been used for centuries in order to avail its health properties and has connections with religious rituals and rites, particularly those of Christianity. This leads many people to believe that this oil has been in use for a very long time.