Mulethi
Mulethi is commonly known as licorice. It is an herbal supplement that treats a lot of medical conditions. It is very popular in Middle Eastern and Asian cooking. It can have a lot of health benefits if used topically or taken orally. Mulethi powder also has a good taste, therefore this makes it a delicacy and a flavoring agent in most places.
Mulethi is also used as flavorings in sweets and candies in Middle Eastern and European countries. Apart from this, they are also used as folk and herbal medications. It grows to a height of about 1 meter with leaves about seven to fifteen centimeters longs with 9 to 17 leaflets. The flowers are whitish-blue and are very pale, the fruit is usually an oblong pod containing several seeds.
Nutritional Value of Mulethi
Mulethi has an enticing scent, this comes from a variable and complex combination of compounds out of which anethole makes up 3% of the entire plant. Most of the sweetness comes from a substance called glycyrrhizin, it is generally 30 to 50 times more sweeter than sugar. Isoflavane glabridin is found in the roots of the liquorice.
Health Benefits of Mulethi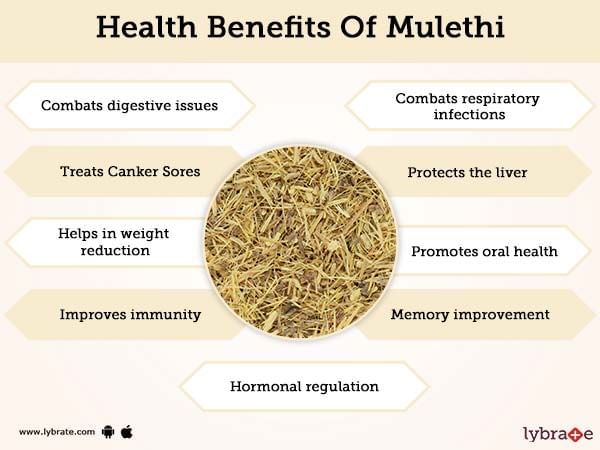 Mentioned below are the best health benefits of Mulethi, you can use mulethi powder to get all these benefits using in different forms:
The root of Mulethi is very helpful in curing digestive problems like acid reflux, inflammation of the stomach, stomach ulcers, heartburn, acidity and constipation. Mulethi also acts as a mild laxative and regulates bowel movements.
Mulethi has anti-bacterial and anti-inflammatory properties which is why it helps reduce inflammation in the lining of the stomach. In most cases, peptic ulcers are also treated by consuming this herb on a regular basis.
Mulethi herb can treat asthma, cough, cold, sore throat and other respiratory ailments. Mulethi has antioxidant properties help to reduce inflammation specifically in the bronchial tubes. Mulethi thins and loosens the mucus inside the airways, this eases coughing and congestion.
Many times, microbes are responsible for the overproduction of mucus which results to coughs and cold, Mulethi can easily clear these microbes due to its anti bacterial properties.
Mulethi also aids in curing canker sores because of its mucosa healing and anti-inflammatory properties. According to studies, Mulethi has successfully healed herpes virus to a certain extent. Chewing Mulethi herb can easily fight the virus in our body and strengthen our immune system to a certain extent.
Mulethi helps to treat certain disorders such as liver damage, non-alcoholic fatty liver disease, hepatitis and jaundice. Additionally, it also has anti-inflammatory properties which help to soothe the liver during hepatitis. Mixing Mulethi in a cup of warm tea twice a day for a couple of weeks can purify the liver and make it immune to diseases.
Obesity is a serious condition and is very difficult to reverse. Mulethi helps in weight loss as it contains flavonoids that help to reduce excessive fats accumulated in the body. According to studies, Mulethi oil helps to reduce visceral fat and body fat to a great extent in overweight people.
People who consume Mulethi supplements can experience low-density lipoprotein and a reduction in body mass index (BMI). However, Mulethi or licorice candies should be avoided by an obese person because it contains copious amounts of sugar along with Mulethi.
The anti-microbial and anti-bacterial properties of Mulethi can also reduce the growth of bacteria which causes cavities, combats bad breath, reduces plaque and keeps the gums and teeth healthy and strong. Dried Mulethi powder can be used to brush our teeth and mouthwash which contains Mulethi can also be used to take care of oral health.
In most cases, Mulethi is used to improve immunity which is due to the increase in the production of macrophage and lymphocytes. Mulethi helps to prevent microbial infections and improve the defense mechanism of the body. It also aids in reducing immune-related allergy reactions and immunity complications to a certain extent.
Consuming the roots of Mulethi can render a supportive effect to the adrenal gland thereby aiding brain stimulation. It not only improves learning but also decreases the effects of amnesia. However, Mulethi should be used under a doctor's guidance for memory improvement.
Mulethi roots contain phytoestrogenic compounds which are beneficial for women suffering from moods swings, exhaustion, hot flashes, menopause symptoms and hormonal imbalance problems. It also provides relief from menstrual cramps and regulates the flow during menstruation. This is due to the cortisol production of Mulethi which affects the brain.
Uses of Mulethi
Mulethi provides skin brightening effect, diminishes blemishes, heals acne, treats eczema and dermatitis, acts as a natural sunscreen and protects your immune system. It also has wonderful effects on the scalp and hair which involves preventing hair loss, treating dandruff, boosting hair growth and combating premature balding.
Side-Effects & Allergies of Mulethi
Mulethi can also have certain side effects to people who are allergic to peas or legumes. Hence it should not be consumed by them. Sometimes, excessive consumption of mulethi might also cause blurred vision or temporary loss of vision in rare cases. Potassium and sodium imbalance in the body can also be cause due to electrolyte imbalance after consuming Mulethi.
Cultivation of Mulethi
Mulethi or licorice grows perfectly in well drained soil which is situated in the deep valleys experiencing complete sunlight. It is usually harvested in Autumn, 2 to 3 years after harvesting. Mulethi is grown abundantly in Turkey, Turkmenistan, Uzbekistan, Azerbaijan, Iraq, Pakistan, China, Iran, Afghanistan, Italy and India.