Table of Content
Tea Tree Oil
Health Benefits of Tea Tree Oil
Healing ointment
Used aganist athlete's foot and ringworm
Soothe inflamed skin
Improves the health of hair and scalp
Effective against acne
Kills bacteria
Used against mold infestation
Used for its antimicrobial properties
Helps relieve sores
Remove yeast infections
effective against chickenpox
Used in topical ointments
Uses of Tea Tree Oil
Side-Effects & Allergies of Tea Tree Oil
Cultivation of Tea Tree Oil
Tea Tree Oil
Tea tree, also known as melaleuca, is well-known for its powerful antiseptic properties and ability to treat wounds. Tea tree oil (TTO), the volatile essential oil derived mainly from the Australian native plant Melaleuca alternifolia has been widely used throughout Australia for at least the past 100 years. Tea tree's natural antiseptic and anti-inflammatory actions make it an essential oil that should be part of everyone's natural medicine cabinet.
Health Benefits of Tea Tree Oil
Mentioned below are the best health benefits of Tea Tree Oil
Healing ointment
Soothe inflamed skin
Improves the health of hair and scalp
Effective against acne
Kills bacteria
Used against mold infestation
Used for its antimicrobial properties
Helps relieve sores
Remove yeast infections
effective against chickenpox
Used in topical ointments
Uses of Tea Tree Oil
Tea tree oil is applied to the skin (used topically) for infections such as acne, fungal infections of the nail (onychomycosis), lice, scabies, athlete's foot (tinea pedis), and ringworm. It is also used topically as a local antiseptic for cuts and abrasions, for burns, insect bites and stings, boils, vaginal infections, recurrent herpes labialis, toothache, infections of the mouth and nose, sore throat, and for ear infections such as otitis media and otitis externa. Some people add it to bath water to treat cough, bronchial congestion, and pulmonary inflammation.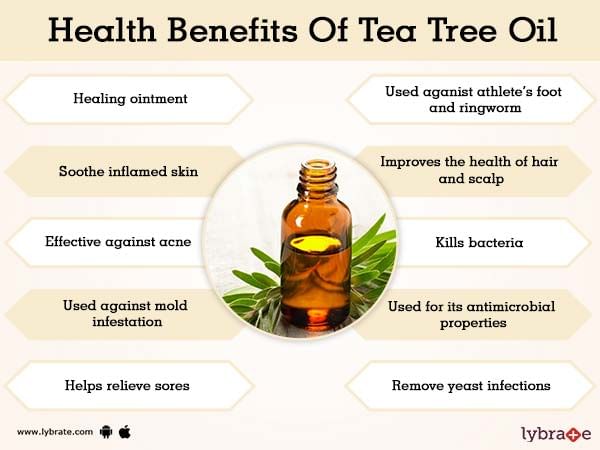 Side-Effects & Allergies of Tea Tree Oil
Tea tree oil is safe to use for most people. However, the oil itself is toxic and should never be ingested. The oil may cause inflammation and rashes in people using it for the first time. If this happens, stop using the oil immediately and report to a doctor. In people with acne, it can sometimes cause skin dryness, itching, stinging, burning, and redness. Applying products to the skin that contain tea tree oil along with lavender oil might not be safe for young boys who have not yet reached puberty. These products might have hormone effects that could disrupt the normal hormones in a boy's body. In some cases, this has resulted in boys developing abnormal breast growth called gynecomastia. The safety of these products when used by young girls is not known. Tea tree oil should never be ingested. Taking tree tea oil by mouth has caused confusion, inability to walk, unsteadiness, rash, and coma. It is best to use the oil in combination with oils like coconut and lavender oil or with baking soda.
Cultivation of Tea Tree Oil
Tea tree oil is derived from the leaves of the tea tree. The tea tree was named by eighteenth century sailors, who made tea that smelled like nutmeg from the leaves of the tree growing on the swampy southeast Australian coast. It is a high value plantation crop, known for its oil-yielding leaves of high medicinal value. The essential oil can easily be extracted with steam, oils and fats, or with solvents like alcohol. In their natural range, tea trees grow in water-saturated, riparian or swampy soils. Therefore, in cultivation, they require more or less constant access to water in order to thrive. Plantation trees are usually harvested every 12-18 months. Studies found that the best growth occurred in the trees receiving the most effluent plus nitrogen. Melaleuca alternifolia was able to accumulate excess phosphorus to its needs in the older leaves. They also found increased nitrogen had no effect on the oil concentration in the plant but did increase the dry matter production. With modern farming methods, and the fact that the Tea Tree grows fast, there's plenty of its oil to go around.