What is Pistachio nut?
Pistachios were one of the first edible nuts to be discovered, and are therefore extremely popular. They are sold and eaten across the world. A pistachio tree produces its first crop only after 10 to 12 years. They are a drupe, which means that the nut is actually a large seed which is centered in the heart of the pistachio fruit. The nut is covered by a dichotomous shell.
Pistachio shell protects the nut from damage as well as infections. These nuts are available throughout the year and they are very common, so they can be purchased from any grocery store.
Pistachios are available for consumption in a variety of forms, such as sweetened or salted and shelled or unshelled. Once purchased they are best when Pistachio stored in an airtight container and kept in a cool, dry place. Exposure to moisture can soften them, and they can also go bad.
Nutritional Value of Pistachio Nuts
The best way to consume pistachios is to purchase them unshelled. Unshelled pistachios are the least processed and therefore the healthiest of all variants. Pistachios are one of the few nuts that contain most of the nutrients the human body needs to maintain its overall health.
So let check out nutritional facts of pistachio nuts, 1 ounce of pistachios, which is usually approximately 50 kernels or 28 grams, contains 159 calories. It contains 12.9 grams of fat, of which almost 88% are healthy, monounsaturated or polyunsaturated fats. Additionally, it also contains 7.7 grams of carbohydrates, 5.7 grams of protein, and 3 grams of fiber.
Consuming only one ounce of pistachios a day can provide the body with 25% of its daily value of vitamin B6, 20% of thiamine, and 20% of copper. Further, pistachios also contribute to the body's daily required intake of potassium, magnesium, iron, zinc, folate, calcium, vitamin A, vitamin C, vitamin E, and niacin.
Nutritional facts Per 100 Grams of Pistachio Nuts
Vitamins and Minerals in Pistachio Nut
Health Benefits of Pistachio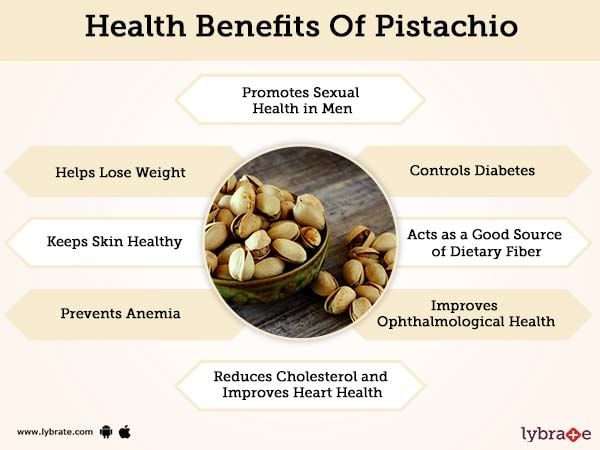 Mentioned below are the best health benefits of eating pistachio nuts. You can now add pistachio nuts to get all these healthy advantages. Also check out how pistachio nutrients helps in fight against different diseases.
Studies have shown that pistachios have a positive effect on men's sexual health. One study showed that men between 38 and 59 who had been suffering from erectile dysfunction for a year before participating in the study, saw an increase in erectile function by about 50% when they consumed only 100 grams of pistachios every day for lunch.
There were no dietary changes, or changes in physical activity or lifestyle for the duration of the study. The positive effects were tested and confirmed by examining the amount of blood flowing into the penis. There was also an increase in serum lipid levels. The reason why pistachios are associated with erectile function is because they are relatively rich in the nonessential amino acid arginine. Arginine boosts nitric oxide in the body, which is a compound that relaxes blood vessels, and in turn keeps the arteries flexible and open.
Pistachio nuts good for lowering cholesterol
Pistachio is one of the more well-known cholesterol-reducing foods. Studies have shown that those who consume one to two servings of pistachios a day can lower their cholesterol levels. A decrease of 9% has been associated with those who consume one serving per day, whereas those who consume who them twice a day show a 12% decrease.
High cholesterol is one of the biggest risk factors in coronary heart disease. Pistachio helps in Lowering cholesterol lowers the risk of developing a coronary condition. Additionally, pistachios are rich in antioxidants, which are essential in maintaining cardiovascular health.
Pistachio good for losing weight
Eating pistachios can not only help in maintaining weight balance, it can also help in losing weight. Instead of consuming unhealthy snacks that contain high amounts of sugar, sodium, and unhealthy fats, it is better to consume pistachios.
Pistachio is a healthy snack as it contains monounsaturated and polyunsaturated fats, protein, and fiber. Therefore, it can keep your hunger controlled and helps in losing weight, and it also makes you feel full for a longer period of time. This can prevent you from overeating.
Pistachio are a great to supplement for those who are following weight-loss diets. Further, research conducted by the UCLA School of Medicine showed the positive effect pistachios can have on maintaining weight.
The subjects of the study substituted snacks like dairy products, potato chips, candy bars, and variants of buttered and microwaved popcorn with pistachios accounting for 20% of their total calorie intake for three weeks, and did not gain body weight. In fact, their levels of bad cholesterol reduced and levels of good cholesterol increased.
Pistachio good for diabetes patients
Diabetes is not just a condition, it is a lifestyle. Therefore, just consuming or refraining from consuming certain food items doesn't control diabetes effectively. Routine is equally important in treating this condition.
Research conducted to determine the effects of daily pistachio consumption on blood sugar levels, inflammation markers, circulation, and lipid or lipoprotein on type 2 diabetes patients showed that it had a positive impact on cholesterol ratios, total cholesterol, and triglycerides.
Pistachio benefits diabetes patients, also can decrease the risk of developing heart conditions and a stroke. By consuming pistachios, as a supplement to their overall healthy diet, type 2 diabetes patients can improve their cardiometabolic risk factors.
Pistachio health benefits for skin
While the concentration of unsaturated fatty acids is what makes the pistachio healthy, saturated fatty acids also contribute to the health of the body. These saturated fats keep the skin from drying. It can also help restore moisture in the skin, if it is already dry.
Pistachiois one of the most recommended food items for those suffering from atopic dermatitis and eczema. Furthermore, pistachio oil offers skin benefits, extracted oil from the pistachio are extensively used as a base in traditional massage therapies as well as aromatherapy.
Pistachio Acts as a Good Source of Dietary Fiber
Pistachios contain a considerable amount of dietary fiber, which is able to meet a good portion of the daily required intake of fiber by itself. These dietary fibers help in the smooth digestion of food. Optimizing digestion ensures that the body is not storing unwanted fat.
Additionally, Pistachio also keeps the entire gastrointestinal tract healthy and avoids blockages in the bowel by regularizing bowel movements. A daily serving as small as an ounce can do the trick.
Pistachio good for anemia
Although pistachios themselves do not have very high iron content, they do contain significant amounts of copper. Copper in Pistachio, improves the body's ability to absorb iron from food items. This can help you avoid developing conditions like anemia.
Pistachio Improves Ophthalmological Health
Pistachios are the only nuts that comprise a significant amount of lutein and zeaxanthin, which are dietary carotenoids. These two carotenoids are the only two present in the retina and lens of the eye.
Dietary carotenoids benefit the body by reducing the risk of certain types of cancer and eye diseases. Studies suggest that diets that are rich in lutein and zeaxanthin slow the development of cataracts and age-related macular degeneration.
Overall, carotenoids are best absorbed in combination with fats in a meal. However, since good fats are already present in pistachios, the body is able to absorb these carotenoids in a better manner.
Uses of Pistachio
Pistachios are extremely versatile and have been used extensively in savory cooking as well as baking. They can be added to healthy salads or they can also be added as garnish to entrees and appetizers. They can be consumed raw, either shelled or unshelled. However, there are specific pistachio products that are artificially sweetened or salted.
Pistachio Side-Effects & Allergies
While shelled and unshelled pistachios are healthy, sweetened or salted pistachios may be detrimental because of the artificial additives present in the product. Their high sodium or sugar content may undo the natural health benefits of the pistachio. Doctors and nutritionists also caution people with a sensitivity towards a compound called fructans to refrain from consuming pistachios.
Although fructans are not dangerous, they can irritate the digestive system and cause gastrointestinal problems like bloating, flatulence, abdominal pain, and diarrhea or constipation. The degree of discomfort depends on the number of nuts consumed. Higher the consumption, higher the discomfort.
Cultivation of Pistachio
Pistachios were originally native to Asia, specifically Iran and Iraq. The association between pistachios and their consumption can be dated back to 6000 BC, according to archaeological evidence. They were introduced to the Romans only in 100 AD, from where it went on to become popular globally. Today, they are produced in non-native countries like the United States, Australia, China, and Turkey.