Apricot (Khubani)
Apricots are small, golden orange colored fruits that belong to the Rosaceae family of fruit trees. An apricot fruit, also known as Khubani, comprises of a centrally located single seed surrounded by crunchy aromatic edible flesh.
Apricots have a velvety skin and flesh. These fruits are not extremely succulent. The seed is also edible and is similar to almonds in taste and appearance. It is enclosed in a hard stony shell often called a "stone".
Nutritional Value of Apricot (Khubani)
The health benefits of apricots are due to the significant content of vitamins, including vitamins A, C, K, E, and niacin,It is also a rich source of a number of other essential vitamins in trace amounts (less than 5% of daily requirement). Apricots also have a good mineral content.
The minerals found in apricots are potassium, copper manganese, magnesium, and phosphorous. They are also a very good source of dietary fiber, like most fruits.
Nutritional facts Per 100 grams
Vitamins and Minerals
Health Benefits of Apricot (Khubani)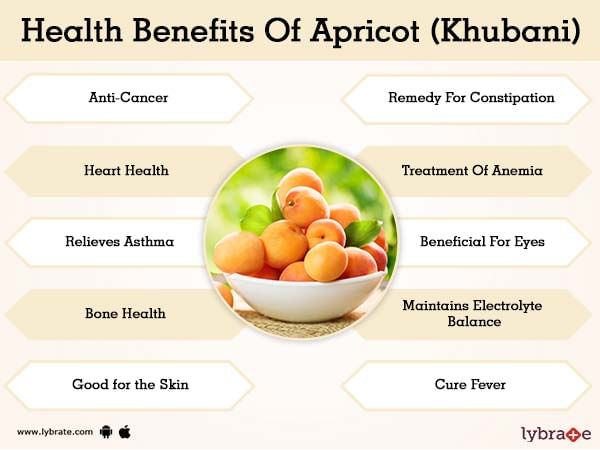 After checking out the nutritional benefits of Khubani. Mentioned below are the best health benefits of eating Apricot (Khubani). You can eat dried apricot or you can make khubani juice. This amazing fruit, you can easily find in your fruit market. You can also add an apricot in weight management. A great source of vitamin A, C, and E and fiber.
Apricot seeds for cancer treatment
Apricots are rich in antioxidants. The carotenoids and antioxidants protect our bodies from the dangerous free radicals and prevent the damage of cells. Apricots are also rich in vitamins A and C which are powerful antioxidants that fight cancer diseases and boost the immune system. Moreover, apricot seeds contain a compound called B17 that can fight cancer and curb its mutative ability.
Apricot juice good for constipation for infants & adults
Apricots are rich in fiber and are,therefore, good for smooth and proper bowel movements.Fiber stimulates the gastric and digestive juices that help nutrient absorption and break down of the food for easier processing.
Fiber also activates the peristaltic motion of the digestive tract. Apricots contain high amounts of pectin and cellulose that act as a mild laxative, thus helping in the treatment of constipation.
Apricot for good heart patients
A high amount of vitamin C, as well as potassium and dietary fiber in apricots contribute to good cardiovascular health.Apricots reduce the risk of cardiovascular disease like atherosclerosis, heart attacks, and strokes as they are rich in antioxidants like vitamin C and lycopene.
Potassium contros blood pressure and reduces bad cholesterol (LDL), thus minimizing the risk of heart attack and improving heart health. Dietary fiber scrapes the excess cholesterol from the lining of the vessels and arteries, thereby clearing them and reducing the strain on the heart.
Apricot (Khubani) treatment of anemia
Iron and copper abundance in apricots help in the formation of hemoglobin and thus helps in the treatment of anemia.
Anemia is nothing but iron deficiency in the body, and it can lead to weakness, fatigue, lightheadedness, digestive issues, and general metabolic dysfunction. Both of these minerals present in apricots make it a great tool to boost metabolism and keep the body functioning properly.
Apricot (Khubani) relieves asthma
Apricot has certain expectorant and stimulant qualities due to its essential oils. It can help to relieve pressure and stress on the lungs and respiratory system, thereby preventing asthma attacks,tuberculosis, and bronchitis.
Apricot benefits for eyes
Consuming apricots are highly beneficial for our ophthalmic health.Apricots are packed with Vitamin A, which is also known as retinol.
Consuming apricot helps in strengthening the optic nerves in our eyes and also prevents macular degeneration. It also lowers the risk of a major eye-related illness called Neovascular ARMD- an age-related macular degeneration that causes loss of vision over the years.
Vitamin A with Carotene and Lutein present in Khubani is aslso beneficial for people with retinitis pigmentosa
Apricot (Khubani) - Calcium rich fruits for healthy bones
Apricots have significant amounts of all the minerals necessary for bone growth like calcium, phosphorous, manganese, iron, and copper. Lack of calcium leads to a disorder of the bones called Osteoporosis with low bone density and strength.
The absorption, distribution and excretion of calcium in our body is controlled by potassium.Thus, eating apricots helps in maintaining bone health and prevents bone related problems.
Apricot (Khubani) Maintains Electrolyte Balance
Apricots contain minerals like potassium and sodium which are essential for maintaining the balance of electrolyte levels in our body. Electrolyte balance is important for transportation of ions to every cells of the body.
Khubani also maintains fluid level which is important for muscle contraction. Thus, apricot with its abundant potassium and sodium content,help in maintaining electrolyte level and proper functioning of the body.
Apricot health benefits for skin whitening
Apricots are excellent sources of B vitamins, vitamin A, vitamin C and lycopene which make it beneficial for our skin health. It is quickly absorbed by the skin and does not keep it oily after application. Not only for maintaining the smooth and shiny appearance of the skin.
Apricots also aid in treating a number of skin diseases including eczema, itching, scabies, and a number of other irritating conditions. Its antioxidant property helps in preventing signs of premature aging.
Apricot juice to cure fever
Apricot juice is often prescribed to patients suffering from fever.It provides necessary vitamins, minerals, calories and water to the body, while also detoxifying various organs.Steamed apricots are also used to relieve fevers.
Its soothing, anti-inflammatory substances can also impact the body's overall temperature level in sickness. These natural substances present in apricot and its oil help in an overall boost of the immune system.
Uses of Apricot (Khubani)
Apricots also improve metabolism of the body. It is a good ailment in the treatment of earaches. Beneficial in pregnancy, consumption of apricots can also facilitate healthy weight loss.
It helps to remove blemishes and acts as a skin moisturizer. Hair benefits of apricot include treatment of scalp problems, promotes hair growth and acts as a great conditioner.
Side-Effects & Allergies of Apricot (Khubani)
There are no inherent dangers of eating apricots, except for normal allergies that some people might have. Those known to have sulfur-sensitivity should be extra cautious when consuming apricots.
Sulphites have been found in most dried forms of apricots. Sulphites can seriously impact asthma and induce asthmatic attacks. Unripe apricot can also cause stomach upset.
Cultivation of Apricot (Khubani)
The exact origin of apricots is not known for certain. However, from its scientific name Prunus armeniaca, it is assumed that its origin was in Armenia since ancient times.
Although the apricot is native to a continental climate region with cold winters, it can also be grown in Mediterranean climate, provided enough cool winter weather allows a proper dormancy.
Apricots have a chilling requirement of 300 to 900 chilling units. A dry climate is good for fruit maturation. The tree, slightly more cold-hardy than the peach,can tolerate winter temperatures as cold as −30 °C (−22 °F) or lower if healthy. The trees are very sensitive to temperature changes during the winter season.