About
Our goal is to provide a compassionate professional environment to make your experience comfortable. Our staff is friendly, knowledgable and very helpful in addressing your health and fin...
...more
Our goal is to provide a compassionate professional environment to make your experience comfortable. Our staff is friendly, knowledgable and very helpful in addressing your health and financial concerns.
Timings
Location
A-19/A, Near Kailash Colony Metro Station, Kailash Colony Road, Block-A, Sector-19
Kailash Colony
Delhi,
NCT of Delhi
-
110048

Get Directions
Videos (2)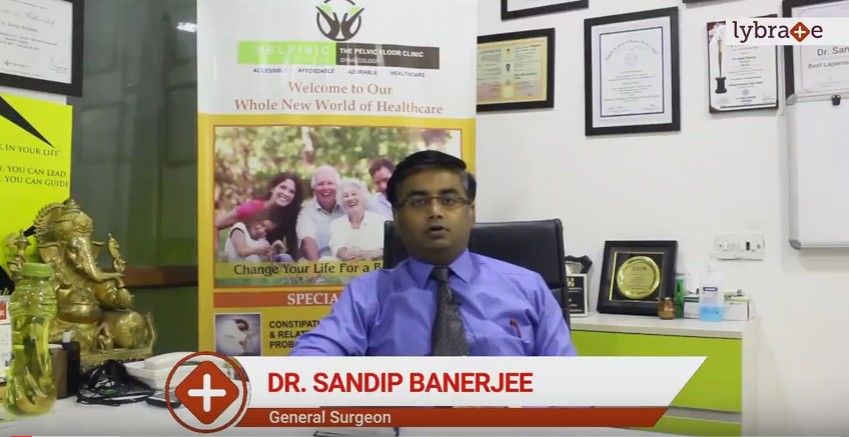 Hello friends, I am Dr. Sandip Banerjee, and I am a consultant laparoscopic surgeon, bariatric and colorectal surgeon. I am practicing in my clinic, named as Pelvinic. I am also a head surgeon in Apollo Spectra Kailash Colony.
Today I am going to talk about benign anorectal conditions which are problems involving your anus and rectum, and which is involving a large amount of population in our country. So the primary problem arising out of this is because of a constipation. Constipation is affecting almost 13 % of the population, much higher than what diabetes and hypertension are affecting our population. So because of a constipation there are few problems which day in day out in the routine life, and involves any group, any class of patients.
The first thing I'm going to discuss is a fissure in anus. Fissure is a painful condition in anus which mostly is because of an ulcer formation, or the breach of skin in the anus which develops due to the passage of hard stool. And the main symptoms of this is a painful difficulty to sit, postural problems, and painful defecation, with a minimum association of passage of minimum amount of fresh amount of blood during defecation. The solution lies in the treatment with medical management mostly. And 70 to 80 percent of the patient benefit out of the medical management. Only the remaining of the patients who develop a chronic fissure, who are not being cured by medical management, they are the one fit for surgery.
The second one is in hemorrhoids, which are called piles. So all of us do have an anal cushions normally, and which once gets prolonged due to chronic straining developed pathological piles. Now, the piles were graded according to the size, and the type of problems which patients are facing. It can be graded from grade one to grade four. The initial grade piles, which are grade one and two, in which the patients do have problems related to like bleeding or mucous discharge or some sort of difficulty while passing stool. But there is no history or no complaints of something coming out of the anus. So they are the early grade piles. In early grade piles, either they need some sort of a treatment in terms of medicine, or at times when it is really bothersome, then we do advise some nonsurgical treatment like laser radiofrequency ablation, cryotherapy, and even banding. But for the haemorrhoids which are quite big, like grade three and four, in which the patients mainly complain of something coming out of the anus, and they need to manually reposition it. So, they are the one which needs a definitive surgery. And the surgery which has come late in a high success rate is the stapler surgery for haemorrhoids. The stapler surgery which has been used for last 10-15 years is seen with a lot of success, that has revolutionized the piles surgery, in which the patients only need a day in a hospital, goes back to home, without any pain, without any problems thereafter. The chances of recurrence even less than 0. 001%. Then there are some acute conditions in which you develop an abscess in the anus, and you must know that abscess in the anus should always be drained. It should always be surgically drained, and there is no other way just to linger it on with medication.
Because if an abscess in the anus or the perianal region is being neglected, that abscess may develop into a tract which is called a fistula, and once you have developed a fistula then it's very difficult to treat. Now, fistula in anus is a tract which is connecting the outer skin with the inner anus. So what happens is that a patient, once they develop a fistula, they have typical complaints of persistent perianal discharge in forms of pus, and then suddenly the discharges end, and then patients are quite okay. For few days, the patient may develop some swelling, there is severe pain, and then sudden discharge again comes back. So in this way the cycles goes on and develops into a complex tract.
It's very important to know what is the tract of a fistula. While treating fistula we see whether it'san high or a low fistula. So low fistula need not need any further imaging things, because out of experience we can find it out while doing proctological examinations that it's a low fistula. Low fistula has a very high success rate of surgical cure. Whereas in high fistula it requires some sort of an MRI imaging. MRI imaging helps us to know the different kind of tracts, and once knowing the tracts we need to perform some different forms of surgery based on the tract. It can be a laser, it can be radio frequency ablation, it can be a vaaft surgery, it can be a lift surgery. Based on the complex nature of the fistula, the cure rate is quite. The cure rate is having a recurrence rate of 3-7% world over. And I have been using radio frequency ablation for different types of fistulas. Even laser has been applied, and I've met with a quite a good amount of success in my patients.
The other 2 things which I want to discuss is about rectal prolapse. Now the patients do complain of something coming out as a chunk through the anus while defecation, and it's a quite a big amount as compared to hemorrhoids. Patients do have a problem associated with rectal prolapse, either they have chronic diarrhoea, or constipation. So it can be either constipated prolapse or a diarrheal prolapse, and for that too it needs a treatment, and definitive surgery. Definite treatment is a surgery, and it involves a laparoscopic cure from the abdomen. And the last is pilonidal sinus. And pilonidal sinus develops as a small chronic discharging fissure in between the anus…buttocks, and that also needs a very good flap surgery. So hope you will like this information, and for any type of solution, any type of cure, you can contact me either in Pelvinic, or through Lybrate, or in Apollo Spectra Kailash Colony. Thank you.
And the last is pilonidal sinus. And pilonidal sinus develops as a small chronic discharging fissure between the buttocks, and that also needs a very good flap surgery.
I hope you like this information, and for any type of solution or any type of cure, you can contact me either in Pelvinic, or through Lybrate, or in Apollo Spectra Kailash Colony. Thank you.
read more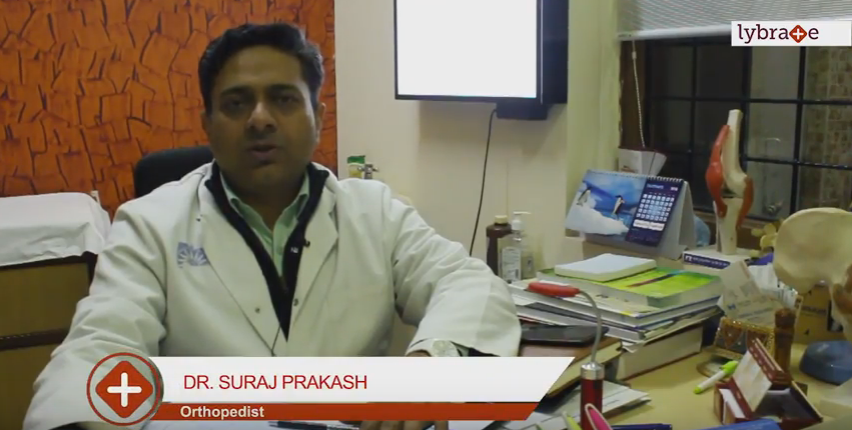 Causes, symptoms and treatment for Knee Pain

Hello, I'm Dr. Duraj Prakash, Orthopedic Surgeon practicing in areas of South Delhi and specializing in the field of knee replacement surgery and Orthoscopic reconstruction procedure of knee and shoulder. Today I'll briefly talk about common problems of the knee and how to prevent degeneration of knee in people who're reaching middle age group. Knee arthritis is one of the common problems that we're facing as population ages and people want to beome and lead more and more active life. Generally knee arthritis has multiple reasons, why somebody gets knee arthritis others don't. It could be related to genetics, lifestyle, weight of the person and activity level. There is a small group of people where a neglected injury very rapidly damages the joint and gives rise to premature or early athritis.
The symptoms of knee arthritis are:
1. Pain
2. and Stiffness
Many people ust complain of morning stiffness and the issue becomes complicated if the person trips or falls because weak muscles fall in arthritis. Make sure that cause people trip and fall moee frequently. So the way to avoid is to maintain proper weight. In case someone has got early childhood deformities like bow legs and knock knees it should be appropiately corrected in younger age group. Then any injury which a person may sustain, it may look innocous, it may hurt for a couple of days and then becomes alright should never be neglected. If the problem is instability, if your knee feels it is going to slip out of the alignment on a rough surface you must go see an orthopedic surgeon.
Another group of people is ones who are suffering from Rheumatoid arthritis where the problem starts with fingers and small joints of hands and feet but gradually progresses to the knees. These people should regularly do exercise to maintain muscle strength and ensure that they take proper medication in time to prevent long term damage to the knee. Regular strengthening of the knee muscles, the thigh muscles which stabilizes the knee goes a long way in preventing any problem in knee joint. Even with mild arthritis if your knee and your thigh muscles are strong, your likelihood of getting a surgery is very rare. In addition when the muscles are strengthened not only the knee feels better, likelihood of fall also reduces to a great extent.
In those people where the knee is already damaged the technology now offers us many remedial measures starting from small penaul procedures to regenerate the cartilage to upcoming procedure like platelet rich plasma, stem cell therapy and reconstruction therapies ranging from many many ways of small surgery partial knee replacement and leading onto total knee rreplacement which everybody knows right now. The smaller procedures have a very big advantage in terms of safety, better function, smaller stay in the hospital and equally long functional life of the prosthesis. With the newer technology it is possible to treat these conditions but then the best remedy is to take step before the problem arises. So stay healthy, keep active and remain fit.
read more
Specialities
Ear-Nose-Throat (ENT)
Aims to offer special care to patients with conditions related to the ear, nose and throat
General Surgery
Offers extensive care to patients suffering from abdomen related medical issues
Gynaecology
A branch of medicine reserved especially for treating female conditions of the reproductive system
Orthopaedics
Concentrates on efficient treatment of injuries and problems of the musculoskeletal system
Urology
Offers cumulative treatment of problems of the Urinary tract and male reproductive organs
Ophthalmology
Concerns itself with the treatment of diseases related to the eye
General Physician
Aims to provide best quality care to patients with acute and chronic problems
Internal Medicine
Deals with the careful understanding and treatment of adult diseases
Bariatrics
Determines causes and offers quality treatment for obesity, including measures of prevention
Radiology
A speciality, which uses hi-tech radio imaging for diagnosis of various medical conditions
Network Hospital

No.143, 1st Cross, Srirampuram, Koramangala, 5th Block

,

Bangalore
Get Directions

Plot No.9+10/A S.No.2/64, Opposite Sanas Play Ground

,

Pune
Get Directions

No.156, Tardeo Road, Near Famous Cine Labs, Behind Everest Building

,

Mumbai
Get Directions


J-37, Opposite Jai Club, No.2, Mahavir Marg, C Scheme, Ashok Nagar

,

Jaipur
Get Directions

No.41/42, Sathyadev Avenue, Annamalai Puram, MRC Nagar

,

Chennai
Get Directions

Ujagar Compound, Opposite Deonar Bus Depot Main Gate, Deonar, Chembur

,

Mumbai
Get Directions

No.66A/2, New Rohtak Road, Block-23 B, Block-2/C, Karol Bagh

,

Delhi
Get Directions

No.12, C.P. Ramaswamy Iyer Road, Natesan Colony, Alwarpet

,

Chennai
Get Directions

Plot No.1 & 6, Kothaguda X Roads, Near Harsha Toyota Showroom, Kondapur

,

Hyderabad
Get Directions

No.18, Kila Gate Road, Vikas Nagar, Near Sai Baba Mandir

,

Gwalior
Get Directions
Patient Review Highlights
"Professional"
4 reviews
"Well-reasoned"
2 reviews
"Nurturing"
2 reviews
"Practical"
5 reviews
"knowledgeable"
5 reviews
"Sensible"
1 review
"Caring"
2 reviews
"Very helpful"
11 reviews
"Saved my life"
1 review
"Inspiring"
1 review
Reviews
Sanjiv
Apr 14, 2017
I was panicked, because I never thought I will suffer from constipation like tHer. The Pelvinic Clinic is designed in such a manner that all requirements of patients are taken care of. He is so nice that they even at odd hours one can call him in case of emergency. One of my cousin's referred to Dr Sandip Banerjee. My case was extremely serious, but he really handled it very nicely. The constipation treatment for constipation has helped me greatly and now I am perfectly fine. The waiting area in the Pelvinic Clinic is very comfortable for elderly patients.
Renesh
May 27, 2017
I consulted a number of specialists but the way he treated me was the best. I thought it was something very normal, but then I realised it is gastritis. He is not just friendly, but also is very motivating. It was an amazing experience as everyone in the Pelvinic Clinic is so nice. In the very first sitting, Sandip Banerjee clearly told us the problem and the what the surgery procedure will be in future. One of my cousin's referred to Sandip Banerjee. Pelvinic Clinic can handle all types of emergency cases.
Kaustubh
Feb 22, 2017
He is one of the best physicians in city. During the complete gallstones treatment program he always supported and motivated me. I am so thankful that Sandip Banerjee has given me the best advice and I am now finally able to get back to my normal self. I thought it was something very normal, but then I realised the gallstones is something else. Sandip Banerjee has so much knowledge that for everything my family takes his reference. The overall atmosphere in the Pelvinic Clinic is very soothing.
Deetya
May 25, 2017
I was suffering from hemorrhoids. One of my neighbour's recommended this Sandip Banerjee. He handled my case with ease. He is very professional and is a really patient listener. The complete process of hemorrhoids treatment was so painless and quick, and i am so relieved that I chose to consult him. Finally with his treatment, I am completely cured from the disease. I must say the hygiene was maintained very nicely in the Pelvinic Clinic.
Kalap
Mar 29, 2017
I have consulted so many doctors , but no one was able to solve my high sugar. Due to my high sugar i was feeling very depressed and had no hope. One of my cousin's referred to Sandip Banerjee. He is a very practical doctor. The nurses at the Pelvinic Clinic were really helpful. His advice and counselling has helped me immensely.
Karna
Apr 5, 2017
I was shocked to experience the symptoms of hernia. Dr Sandip Banerjee is really like god send person. I am so much benefitted with his treatment, that i am perfectly fine now. Whatever tests he prescribed, were very correct and the gave they gave us an exact idea about my condition. I owe him a big thanks for the treatment.
Sahasan
Mar 14, 2017
My mother was very ill due to anal fissure in intestine. Approached dr Sandip banerjee he was in Fortis Escorts Hospital in Delhi ,he treated very well and professionally,he is very polite. He investigated the cause and then only provided the medication.He saved my mother's life.Thank you Doctor
Verified
Sep 6, 2017
Dr usha maheshwari is a very good general surgeon...I am improving from the disease by the prescribed treatment
Pragati
Oct 2, 2018
Very gentle and soft spoken doctor. Listens to the patient and answers all queries very patiently.
Vamiq
May 3, 2018
I found the answers provided by the Dr. Suraj Prakash to be practical. I think it will help me
Srikant
Aug 8, 2018
pleasing and helpful. listens very patiently and does not prescribe unnecessarily
Neeraj
Feb 27, 2017
Dr. Sandip Banerjee provides answers that are very helpful. Thanks
Verified
Feb 22, 2018
A very knowledgeable doctor who truly cares about the patients.
Feed
Shared 1 month ago • Featured Tip

M.Ch - Orthopaedics, Fellowship in Arthroscopy & Sports Medicine, MS - Orthopaedics, MBBS
Bones are similar to a porous framework which is filled with minerals that make it hard and strong. With age, there is gradual degradation and the mineralized portion is lost, thereby leading to thinning of the bone. The word osteoporosis literally translates to porous bones, which is due to the gradual demineralisation. In addition to the natural ageing process, there are other diseases that can accelerate the demineralization process.
Women are more prone to demineralisation, and after the age of 40, they should take extra precaution to slow down the onset of the condition. The following are some ways to improve bone health and halt osteoporosis in the long run-
Diet: Ensure that your diet has sufficient amounts of vitamin D and calcium. Though calcium is the essential mineral for bone formation, vitamin D is required for the absorption of calcium, and therefore both these elements play a vital role in maintaining the quality of the bones in our body. Most people require about 1,000 mg of calcium and about 500 units of vitamin D for optimal bone health. This requirement goes up slightly in postmenopausal women.

Sun Exposure: In most people, exposure to the sun allows the body to make vitamin D, but careful sun protection prevents this from happening. Also, with age, the body's ability to form intrinsic vitamin D also declines. The body, therefore, relies on supplements. Most dairy products are good sources of calcium. In addition, spinach, salmon, turnips, and broccoli are some calcium-rich foods. Supplements of calcium carbonate or calcium citrate can be taken if your diet is lacking in calcium. Vitamin D also should be included in the supplementation. The treatment for osteoporosis is incomplete without these two supplements.

Exercise With Weights: The constructive tension that exercise puts on the body helps in bone building, whatever the age may be, which prevents the onset of osteoporosis. Any exercise which improves muscle mass strengthens the bones, and puts stress on the bones is advisable. Since the fractured area due to osteoporosis mainly includes the spine, lower back exercises, yoga, tai chi, and abdominal exercises all work wonders. Pick any of these and do them for 30 minutes three times a week.

Quit Smoking: Continuing to smoke while taking osteoporosis medications is completely useless. Nicotine negates all the effects which defeat the purpose of taking the medication and is as good as taking no medication at all. So if you want the bone thinning to stop, stop smoking.

Alcohol Consumption: While a drink or two per week is permissible, more than this can harm the bones significantly.

Constant Health Watch: Talk to your doctor about how other routine medications (if any) can affect your bone health. Also, identify how frequently you should check your bone mineral density and stick to the schedule.
Bone health and osteoporosis can be managed with some conscious efforts.
2
people found this helpful
Shared 3 months ago • Featured Tip
MS - Ophthalmology, MBBS Bachelor of Medicine and Bachelor of Surgery
Anything that enters the eye from outside and causes inflammation or irritation, or even an abrasion, among varied other problems, can be termed as a foreign body. This foreign body usually ends up having an effect on the conjunctiva or the cornea. While the cornea is the outer layer that protects the eye, the conjunctiva is the membrane that covers the white portion of the eye. Here are a few ways for understanding and treating the entry of foreign objects into the eye.
Symptoms: To begin with, one must understand the symptoms so as to recognise the problem. A feeling of pressure or discomfort will be experienced by the patient, who will feel as though something is preventing him or her from shutting the eye properly. At the same time, too much tear formation and pain in the eyes will also point at the entry of the foreign object while redness and bloodshot eyes are also a common sight at such instances. The patient may be forced to blink at more than the normal rate, while glares of light will create pain and discomfort.
Causes: There are many kinds of foreign objects that can enter the eyes including fine substances like saw dust, dirt, grime, dust, sand and even the dust of cosmetics. Also, eye lashes, dried mucus, shards of glass and metal particles may enter the eyes and create an emergency situation. When the wind sweeps debris up, it may fall into a person's eyes and settle there.
Prompt Action: As soon as you feel like something has entered your eye and does not seem to be leaving it even after continuous blinking, then you will need to see a doctor in the Emergency Unit of your hospital. Do not rub your eyes at all, as the foreign object may cause cuts inside and lead to bleeding and other complications. You must take special care to notice whether or not the object in the eye is sharp and is preventing you from shutting your eye properly, in which case immediate medical intervention and diagnosis will be required.
Treating the Foreign Object: With the aim of removing this object, the doctor may administer anaesthetic drops before using a fluorescein dye to find out what kind of object has entered. A moist cotton swab will be used for removal and an antibiotic ointment will be prescribed for any cuts. Acetaminophen can treat the pain while a CT scan can investigate any intraocular object.
You can also use a wet cloth to rinse and remove the object at home, but blurry vision and pain must be taken to an ophthalmologist immediately. In case you have a concern or query you can always consult an expert & get answers to your questions!
2474
people found this helpful
Shared 4 months ago • Featured Tip

M.Ch - Orthopaedics, Fellowship in Arthroscopy & Sports Medicine, MS - Orthopaedics, MBBS
The Anterior Cruciate Ligament or ACL tear is a very common problem with athletes and with people who have an active lifestyle. In fact, this can also be caused by any accident due to sudden movement.
Importance of ACL-
The ACL is the supporting ligament, which runs diagonally from back to front right in the middle of the knee, connecting the femur bone and the tibia, and helps the tibia not to come before the femur. Thus the balance of the knee during back and forth movements and the entire stability of the knee joint is secured by this very important piece of ligament.
What leads to an injury to the ACL?
Here are a few actions that may result in a ligament tear.
Sudden stopping while running or slowing down from a fast speed

Sudden change in direction

Uncontrolled jumping from a height

Direct hitting with an object or person
What happens when the ACL is torn?
If the ACL is torn, the stability of your knee is gone, and you feel as if you have no control over the joint. Moreover, it causes extreme pain and instant swelling. Swelling usually appears within 24 hours of the injury.
Treatment of ACL Injury-
Recovery from an ACL tear is possible only after a surgery. Without surgery, the affected will not be able to return to sports or athletics, or may not be able to run and make swift movements again as before. However, to avoid surgery, there are non-invasive treatments for the aged and people who require moving less.
Non-invasive Treatment: Bracing is one treatment where braces are given to support the knee joint during movement and also to avoid further injury. This is effective for the elderly who need minimum movement and may manage daily activities with a braced knee. Also, crutches add to the support and let the weaker knee get rest. This is followed by physical therapy. But the swelling has to reduce before starting it. Many exercises and controlled movements over a long time help in getting back agility in movement gradually.

Surgical Treatment: Once the swelling subsides, doctors would plan for an Arthroscopic (Key-Hole Surgery) ACL reconstruction. In this Doctor make a graft of a tendon. This graft is inserted into the joint and fixed in anatomical position in femur and tibia Arthroscopically so that the newly created ACL functions like the natural one. This is the only way to get back the ligament in whole as the torn ligament cannot be stitched. Surgery is done through arthroscope and recovery time is 15 days for resuming day to day activities and 3 to 6 month for resuming sports activities with continued physical therapy after the surgery.
2544
people found this helpful
Shared 5 months ago • Featured Tip
MS - Ophthalmology, MBBS Bachelor of Medicine and Bachelor of Surgery
In today's world, most of the work that you do, is on your computer. With an increasingly digitized world, computers can't be replaced. Though they have made your work easier, they do come with certain disadvantages as well. The rays emitted by a computer screen can be harmful to your eyes, if exposed for an extended duration.
It is important that you take certain precautionary measures to protect your eyes:
1. Wash your eyes: Wash your eyes on a regular basis; it facilitates cooling and relaxation of the eyes. Make it a routine to wash your eyes at least 5 to 6 times in a day.
2. Get computer glasses: Use computer glasses to protect your eyes as they help to minimize the effect of radiation from the screen. If you work for long hours in front of the computer, then you should consider getting a pair of computer glasses.
3. The position of your screen: The screen should ideally be positioned at an arm's length and the viewing angle of the monitor should be around 35 degrees. Make sure you position your chair accordingly, keeping these tips in mind.
4. Eye exercise: You should exercise your eyes to reduce the strain and relax your eyes. Follow the 20-20 rule wherein after working on your computer for 20 minutes, you redirect your gaze to an object that is around 20 feet away. This helps your eye muscles to relax and thus, improves your eye health.
5. Don't work at a stretch: Take breaks in between your work sessions to reduce fatigue in your eyes. Constantly staring at a screen for an extended amount of time can cause problems in your eye. Take 2 minute breaks for every 30 minutes you spend working on your computer. This helps to reduce the strain on your eyes also helps to release tension in the muscles of the neck and back.
6. Blink more than usual: Blinking moistens your eyes and causes tear production which does not allow the eye to suffer from dryness. It also prevents eye irritation and helps in clearing out dirt from the eyes.
3074
people found this helpful
Shared 6 months ago • Featured Tip

M.Ch - Orthopaedics, Fellowship in Arthroscopy & Sports Medicine, MS - Orthopaedics, MBBS
When a blow or a fall causes an injury, where the top of your arm bone pops out from your shoulder socket, it's called shoulder dislocation. It is a very painful condition and you need to get this relocated to its position immediately. The tissues and bone related to that particular joint get damaged.
If you ignore this situation or keep the shoulder like this, it will be more harmful and painful for you. There may appear a bump in front or at the back of your shoulder that hurts.
What can lead to a dislocated shoulder injury?
Sharp or a very fast twist of your arm.
Falling down on a hard surface.
A sudden hurt or hit.
It may also happen when you fall down and try to save yourself using your hand. The force of the hit indirectly gets into the shoulder and your shoulder joint may slip from its place.
In some of the outdoor games, there are high chances to get hurt in the shoulder. Hockey, football, rugby, rock climbing, volleyball etc. bring in high probabilities of injuring the shoulder, thereby resulting in a shoulder dislocation.
What is the treatment or therapy of a dislocated shoulder?
The dislocated shoulder should be very urgently treated. As this injury of the shoulder is very painful, you should go to a specialized orthopaedist as fast as possible to fix up the shoulder to its proper joint. As it is very painful and swollen, the faster the treatment, the better it is. When your doctor fixes your shoulder in its actual place or the bone of your arm comes back to the socket, most of your pain will go away and you get huge relief from pain. After the shoulder bone is relocated, you can use further conservative treatment to reduce the pain and swelling of that place. Dislocated shoulder may take 3 to 12 weeks to recover. But this is the approximate time and it depends on the seriousness of the injury.
After the treatment, when all the symptoms are gone, the doctor will suggest some exercises for better results and normal shoulder movement and to prevent future shoulder injury. Ones the shoulder is dislocated, the chances of dislocation in future is further increased as the tissue supporting the head of humerus into its socket is torn. Such patients may land up with recurrent dislocation of shoulder wherein shoulder dislocates easily on specific movement and patients are afraid to do over-head activities. The problem is best diagnosed by MRI Scan.
The best treatment for this is Arthroscopic (Key-Hole Surgery) Bankart's Repair. Following operation shoulder is kept at rest for 2 weeks then Physiotherapy is started. Day to day activities are started after 2 weeks and sports activity is started after 3 to 5 months. In case you have a concern or query you can always consult an expert & get answers to your questions!
2572
people found this helpful
Shared 7 months ago • Featured Tip
MS - Ophthalmology, MBBS Bachelor of Medicine and Bachelor of Surgery
Eye fatigue is a condition where the eyes are constantly tired and in some amount of pain as well. The other symptoms of this condition can also include swelling, burning and itching. Other ailments and conditions in the body like computer vision syndrome and others can cause this condition as a side effect and it should be referred to an ophthalmologist at the earliest for treatment. So what else do we know about tired eyes or eye fatigue? Here are our list!
Causes: Usually, this condition may be caused by activities that require the constant movement and focus of the eyes for tasks like reading, writing, focusing on the glare and flicker found in computer screens or on smartphones, and more. Also, driving for a long time and exposing the eyes to too much sunlight can lead to this condition. Video games and handheld devices may also lead to the same. Also, the presence of more serious ailments in the body as well as computer vision syndrome that hits roughly 50 to 60% of workers who use computer screens on a daily basis and for long hours, can lead to this condition. Lack of sleep and a poor diet that does not have plenty of nutrients can also cause this condition and other related symptoms.
Symptoms: There are many symptoms of this condition including redness, itching, burning, swelling, watery eyes and much more, which will leave the eyes feeling tired. Also, blurred or cloudy vision may be experienced by patients for whom this condition has become more severe. The patient will also end up facing difficulty when it comes to focusing or driving for long periods of time, and headaches may take over after a few hours of reading or computer screen times. Also, related symptoms include acute pain and dull aches in the neck and shoulders which can trickle down to the upper back region.
Treatment: The best treatment for this condition is with the help of lifestyle changes like cutting down your working hours and taking frequent breaks. Also, you could place your computer screen at least 20 to 26 inches away from your face while you are working so that your eyes are at a more comfortable distance and do not get affected too easily. You must also try and limit your screen time in terms of hand held device usage. A doctor may also carry out an eye exam and prescribe artificial tear inducers or bifocal lenses to deal with the problem.
Persistent eye fatigue must be checked by an ophthalmologist who will arrive at a proper diagnosis and treatment. In case you have a concern or query you can always consult an expert & get answers to your questions!
2591
people found this helpful
Asked for female, 42 years old from Gurgaon

M.Ch - Orthopaedics, Fellowship in Arthroscopy & Sports Medicine, MS - Orthopaedics, MBBS
Occasional pain is generally not a serious issue. However any swelling associated with pain does need attention.
1
person found this helpful
Shared 9 months ago • Featured Tip
MS - Ophthalmology, MBBS Bachelor of Medicine and Bachelor of Surgery
Redness, itchiness and watery eyes are common symptoms of eye allergies. Pollen, mold, dust and pet dander are common allergens that trigger such allergies. Other triggers include adverse reactions to cosmetics and eye medication such as eye drops. Being allergic to certain food items rarely causes eye conditions such as itchiness or excessive tearing. When the surface of the eye is exposed to allergens, it releases histamines. This causes itchiness and makes the eye red and watery.
However, sometimes these can also be symptoms of a larger problem. Itchiness in the eyes and excessive tearing can also be a symptom of conjunctivitis or caused by eye disorders like dry eyes and blepharitis. Ironically,dry eyes is the most notorious factor amongst the above. Watery eyes could also be caused by clogged tear ducts or eyelids that turn inwards or outwards.
If your eye feels itchy or is persistently watery, you must consult an eye doctor. To correctly diagnose the condition and recognize the symptoms triggering it, he will conduct a thorough eye exam and discuss your medical history and lifestyle. If the condition is triggered by an allergy you might also require blood tests for allergies. This will decide your course of treatment. A few tips that could help are:
Avoid allergens
The best way to keep your eyes healthy is to limit their exposure to factors that could irritate it. Avoid going outdoors during the pollen season especially if it is windy. Wearing wraparound sunglasses can also help create a barrier between your eyes and the allergens. Within the house, ensure that your air filters in the air conditioner are cleaned regularly.
Avoid contacts
Switch to spectacles or consider lasik surgery if you wear contacts regularly and often suffer from eye allergies. Alternatively you could switch to daily disposable lenses to avoid the buildup of airborne allergens on the surface of the lenses.
Eye drops
Non prescriptions eye drops that help lubricate the eyes are easily available over the counter and can help relieve itchiness. This can also keep your eyes from drying out and thus prevent watery eyes.
Antihistamines
The histamines released by the body on contact with an allergen dilute blood vessels and make then abnormally permeable. Antihistamines reduce these reactions by not allowing the histamines to attach themselves to cells in the body. Antihistamines can take a while to react and can make you feel drowsy. Hence it is advisable not to take them when operating heavy machinery or driving.
In case you have a concern or query you can always consult an expert & get answers to your questions!
2460
people found this helpful
Shared 9 months ago • Featured Tip
MS - Ophthalmology, MBBS Bachelor of Medicine and Bachelor of Surgery
Problems in vision are a common occurrence these days; various factors such as spending a lot of time looking at smartphones and computers are a major cause of these problems. There are various natural remedies which can help you improve your eyesight, they are:
Wash, especially after coming back from outside, your eyes regularly: Washing your eyes regularly with water helps in clearing out debris from the eyes and relaxing the eye muscles.
Eat Healthy: Eating a healthy diet that has lots of fruits and vegetables are good for the eyes as they contain important nutrients such as vitamin A. You should include foods such as carrots, fish oil, cabbage and eggs in your diet.
Walk barefoot: Walking barefoot on green grass is therapeutic for your eyes as it enhances your eye power. It is recommended you walk early in the morning to get maximum benefits.
Eye exercises: You should do various eye exercise to improve your eyesight as these exercises help in rejuvenating muscles of the eye. The muscles in the eye are strengthened which leads to better vision.
Triphala remedy: This is a treatment that combines three herbal fruits which treat various eye disorders, eye weaknesses and hair problems. Triphala helps in eliminating toxins from your body and make your eyes healthy.
Reduce screen time - avoid extra working hours on computers and mobiles as far as possible. Especially playing video games. This can save you from computer vision syndrome.
Avoid frequent rubbing of eyes - this habit can lead to frequent infections and shedding of eyelashes . Also, this is one of the causes of dark circles.
Proper sleep - Importance of proper rest to the eyes cannot be denied and is equally important in general wellbeing.
Lastly, if anything is bothering your eyes seek help immediately before the problem increases. In case you have a concern or query you can always consult an expert & get answers to your questions!
2655
people found this helpful
View All Feed