What is Sendha Namak or Rock Salt?
Sendha Namak or rock salt is also popularly known as Halite or rock salt. It is the natural form of sodium chloride and is a type of a salt. Sendha Namak usually forms isometric crystals and is usually white or colorless.
Sendha Namak can also be different colour such as gray, yellow, orange, red, pink, dark blue or light blue depending upon the kind of impurities present in them. It usually occurs along with borates, halides and sulfades. Sendha Namak or halites are found in most parts of the world.
The one found in France appears to be filled with fibrous vein filling with a purplish colour. Sendha Namak forms very quickly in rapidly evaporating lakes, thus resulting in modern artifacts with a coating of halite crystals or encrustations.
Nutritional Value of Sendha Namak
Since Sendha Namak is a form of a mineral and has isometric crystals of Sodium Chloride, let check out sendha namak nutrition facts it can also contain elements like zinc, iron, manganese, potassium and magnesium. It is suitable for consumption and is used in the preparation of different cuisines throughout the world.
Sendha Namak or Rock salt it is low in iodine, it also contains a lot of beneficial minerals in its composition that makes it perfect for including it in your regular diet. Sendha Namak can also be mixed with iodized soil for more health benefits.
Nutritional facts Per 100 grams in Sendha Namak or Rock salt
Vitamins and Minerals
Health Benefits of Sendha Namak or Rock salt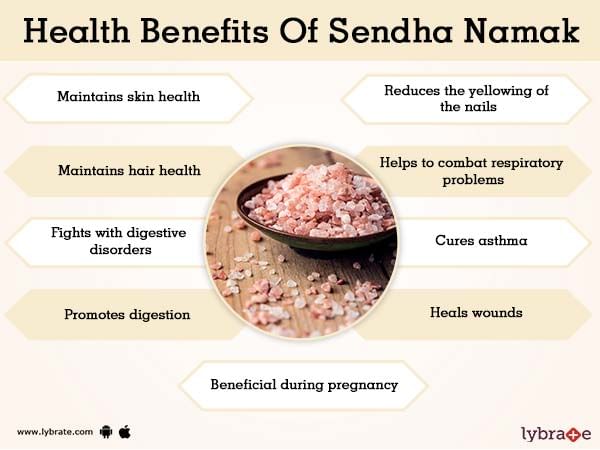 Mentioned below are the best health benefits of Sendha Namak. Now you can include Sendha Namak in your dishes beside normal salt. Let check out how Sendha Namak or Rock salt helps in differnt health issues such as thyorid, skin care and blood pressure.
Sendha namak benefits for skin
Sendha Namak is known to have a lot of skin benefits. It helps to detoxify and cleanse the skin in a thorough way. Accumulation of our dead skin cells can cause a dull and rough appearance in the skin. Sendha Namak exfoliates these skin cells and protects all the layers of the skin. This results in glowing and youthful-looking skin.
It also makes the skin tissues strong and rejuvenates the skin, therefore making it look firm and young. Massaging Sendha Namak on your skin can refine your skin and can eliminate all the dead skin cells which make your skin look dead and dull. Sendha Namak or Rock salt enables the nutrients and minerals inside the salt to reach the cells to regulate their absorption in the form of ions in your body. This makes your skin healthy due to increased circulation.
Sendha Namak reduces yellowing of the nails
Sendha Namak has beneficial properties that take care of your nails. It can also help to keep your nails white. Usually, nails can become yellow due to certain diseases, discoloration, and frequent use of poor quality nail polish. Sendha Namak or rock salt can easily reduce the yellowing under the nails and makes them shine beautifully.
Rock salt for hair growth
Sendha Namak is vital for maintaining the health of your hair and scalp. It has beneficial cleansing properties, so it helps to remove dead skin cells and impurities from the hair. It also prevents to strip the hair of its healthy oils.
One can also put Rock salt on their hair by mixing it inside their shampoos. This will not only condition your hair but also make it strong and immune to breakage. It also helps to remove dirt from the scalp and makes it shiny and well-nourished.
Sendha Namak Helps to combat respiratory problems
Sendha Namak is helpful for people who are suffering from sinus, migraine and other respiratory ailments. Gargling with Sendha Namak can relieve painful tonsils, dry cough, throat swelling and throat pain. Sendha Namak can be dissolved in water and used as a facial steam, it can do wonders for people suffering from ear and nose discomforts, bronchitis, asthma, etc.
Sendha Namak fights with digestive disorders
Sendha Namak helps to relieve digestion issues. It can be used as a natural substitute for laxatives. Apart from this it also soothes heartburn, removes gas, and improves appetite. This is due to the beneficial minerals which are possessed by Sendha Namak or Rock salt.
Sendha Namak reduces stress
Stress has become very common in today's world. It can get triggered due to the smallest reasons and can sometimes lead to anxiety, depression, loss of appetite, etc.
According to researchers, Sendha Namak helps to relax the mind and the body. Sendha Namak can be consumed by mixing it with any beverage or plain water, if consumed on a daily basis, it can manage anxiety and stress. Taking a bath in a hot tub that contains rock salt and water is a sure way to relieve stress and helps one feel refreshed.
Sendha Namak purifies the air
Pollution has become very evident in our society these days. Harmful toxins released form cars and buses can make the air extremely polluted. Sendha Namak also tends to reduce allergens, pathogens, and airborne irritants by absorbing the water vapour from the air. Sendha Namak or Rock salt has the properties to pull out the toxic components from the environment and helps to neutralizes them.
Sendha namak is good for weight loss
Losing weight has been a common concern among men and women, consumption of Sendha Namak can help to reduce fat and helps a person to become thin. This takes place due to the minerals in Sendha Namak which reactivates insulin by reducing the sugar cravings. The less the craving for sugar, the less a person will consume it. Consumption of Sendha Namak with lemon on a daily basis can help combat weight gain and obesity.
Uses of Sendha Namak
Sendha Namak has a variety of beneficial uses such as boosting metabolism, stabilizing blood pressure (only in low blood pressure patients), keeping skin healthy, treating insect bites, herpes and arthritis. It also soothes heartburn, removes gas and improves appetite.
Sendha Namak Side-Effects & Allergies
Sendha Namak should not be consumed in quantities which exceed more than 6 grams per day because of the high sodium content in it. Too much sodium content can prove fatal for our body. It should also be used along with other spices and herbs. Also, Sendha Namak should not be consumed by people who have a high blood pressure, as it can be detrimental for their health.
Cultivation of Sendha Namak
Sendha Namak comes from salt domes which are usually found in parts of America, Pakistan, United Kingdom, India, Romania, Netherlands, Spain, Germany and France. They occur in wide beds of evaporate sedimentary minerals which result from the drying up of enclosed seas, playas, lakes, etc.