Geranium Oil
Geranium essential oil comes from the Geranium plant, as the name suggests. It is obtained through steam distillation and the roots, stems, and leaves can all be put through this procedure in order to get the oil. Geranium essential oil has various health benefits and is stocked with a ton of nutrients. It is therefore used all over the world for herbal or organic medication and for aromatherapy. This oil can be found anywhere in the world and you can procure it from your local store or supermarket quite easily.
Nutritional Value of Geranium Oil
Geranium essential oil is stocked with a ton of amazing nutrients that combine and offer you a host of health benefits. Although the individual compounds of this oil are not that well known, its chemical nutrients certainly are. The main components of this oil are Alpha Pinene, Myrcene, Limonene, Menthone, Linalool, Geranyl Acetate, Citronellol, Geraniol and Geranyl Butyrate. These are all essential substances and can aid various bodily systems.
Health Benefits of Geranium Oil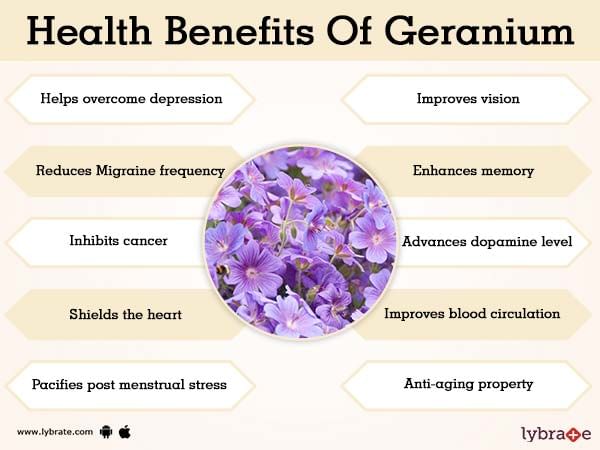 Mentioned below are the best health benefits of Geranium Oil
It has astringent properties
Geranium essential oil has strong astringent properties. This means that it is good at inducing contractions or the tightening of different muscles, gums, intestines, tissues, blood vessels, and your skin. As a result, using geranium essential oil can give you a highly toned look. It can also prevent certain signs of ageing. For instance, it can prevent sagging muscles and sagging skin. It can also prevent the loosening and loss of teeth and hair fall. Furthermore, it is known to reduce the appearance of wrinkles and fine lines, therefore preventing premature and drastic ageing.
It prevents bacterial growth
Many essential oils can be used to treat wounds and geranium essential oil is one of them. It has antibacterial properties which means that it can prevent the growth of microbes and bacteria on open wounds, thereby prevent infections from occurring. This not only protects you from random infections but also boosts your immune system on the whole. By taking care of cuts and scrapes, it allows the immune system to focus on bigger problems, rather than get weakened by peripheral toxins for no reason. Furthermore, geranium essential oil also speeds up the rate at which your body heals wounds. It has vulnerary properties and can work on cuts, burns, surgical incisions and other types of wounds quite effectively.
It reduces scars
Most people hate their scars and would do anything to erase them. They spend a ton of money on cosmetic procedures that may not work or creams that may cause harmful side effects due to all the chemicals present in them, and are ultimately dissatisfied and disgruntled. Geranium essential oil is a good remedy for scars. This oil is a cicatrisant, which means that it can make scars and spots vanish. This is possible because it increases the blood circulation under the skin and also allows a more even distribution of melanin.
It can prevent hemorrhaging
Hemorrhaging can be an extremely dangerous thing to happen. Many people lose their lives because of this, especially women in labor and people going through surgical procedures. However, hemorrhaging can be prevented pretty easily. All you need to do is use geranium essential oil. This essential oil can help you prevent hemorrhaging in two different ways. The first is that as it has astringent properties, it can make your blood vessels contract, thereby preventing a faster flow of blood. The second way that it prevents hemorrhaging is that it is a hemostatic. This means that it encourages the blood to thicken and clot, preventing people from bleeding out. As a result, with both these effective ways, hemorrhaging is prevented.
It is a diuretic
Urination is an important bodily function. It helps to remove harmful and unwanted toxins from your body, as well as excess sodium, water, fat, and calcium from the blood. This is extremely important as it purifies your body and keeps everything running smoothly. Geranium essential oil is a diuretic, which means that it stimulates urination. It helps keep your body clean and your kidneys functioning well. Moreover, it also prevents the occurrence of kidney stones as it cleans out the excess calcium from the system. Therefore, this is a very good advantage of this oil.
It is a deodorant
Bad body odor can be a huge problem. While you may not be able to smell it, others can and it can really put them off you. No one wants to associate with someone who stinks, which is why most people prevent themselves from getting to this state by cleaning themselves regularly and also using deodorants. However, many people choose not to use deodorants due to the chemicals that are a part of it. For them, there is a herbal solution and this solution is geranium essential oil. It is a great substance to use due to two reasons. The first is that it has antibacterial properties so it always keeps your skin free from infections. The second is that it is a circulatory oil, which means that it exits your body when you sweat. Coincidentally, you stink the most when you sweat too, so instead of smelling like acrid body odor, you'll smell like geranium essential oil which is a pleasant smell.
It prevents neural degeneration
The prospect of developing neural issues is a scary one for anyone. Geranium essential oil can help you prevent degenerative diseases such as Alzheimer's Disease. This is because it has pro-inflammatory properties and releases Nitric Oxide, which can combat the inflammation that is developing in the neural pathways. This inflammation leads to the neural degeneration. Therefore, geranium essential oil can be extremely good for the health of your brain, especially as you get older and older.
It eliminates worms
Geranium essential oil can help you eliminate worms in the intestine, including both, round and tape worms. Having worms in your system is extremely harmful. The ones that stay in your digestive tract can suck out all the nutrients from your food, slowing starving you the death. The ones that travel are just as harmful. They can reach any part of your body and cause damage to the systems that surround it. They can even travel all the way to your brain and result in brain damage. Geranium essential oil can help you get rid of worms in your body. It is a strong vermifuge that works effectively on children as well as adults.
It works as a tonic
Geranium essential oil works as a tonic and can stimulate the secretion of various bile and enzymes in your body, making all the pertinent bodily functions run smoothly. It even stimulates the secretion of important hormones and acids, and all of this leads to better respiratory, digestive, circulatory, nervous, and excretory functions.
Other benefits
Geranium essential oil has a host of other benefits that have made it so popular in the herbal healthcare industry. It can help cure the symptoms of PMS and is very good for depression, stress and anxiety. Furthermore, geranium essential oil is also good for improving the overall health of your cells. This is because they get rid of dead cells and stimulate the production of new ones, keeping the cycle smooth and flawless. Geranium essential oil can also be used for restricting the blood flow.
Uses of Geranium Oil
Geranium essential oil is used widely for its health benefits. It is also used in aromatherapy and can be blended with a host of different oils. Some of these oils are angelica essential oil, bergamot essential oil, basil essential oil, lavandin essential oil, cedar wood essential oil, carrot seed essential oil, citronella essential oil, lavender essential oil, neroli essential oil, lime essential oil, orange essential oil, lemon essential oil, jasmine essential oil, rosemary essential oil, and grapefruit essential oil. Geranium essential oil is also used in certain herbal skin care products as it is good for dermatitis and eczema.
Side-Effects & Allergies of Geranium Oil
Geranium essential oil is known to have sensitizing effects in certain cases. As this oil stimulates the flow of hormones and enzymes, pregnant women should avoid using it as it can lead to problems. Geranium essential oil is used to constrict blood vessels to restrict the flow of blood. This can be a problem for people who have high blood pressure or heart diseases as it can stimulate a heart attack or a stroke. You should consult with your doctor before adding anything new to your diet or lifestyle. You should also perform a patch test on your skin to determine whether or not this oil will give you an allergic reaction just to be on the safer side.
Cultivation of Geranium Oil
Geranium essential oil comes from the geranium plant, which is scientifically known as Pelargonium Odorantissimum. This plant is commonly found in various areas in the world such as tropical mountains, the Mediterranean, and most temperate regions. They are believed to be native to South Africa, although their exact point of origin is unknown.