Fennel Tea
Fennel, also known as Foeniculum vulgare, is a herb that has been used for thousands of years in many cultures. Fennel not only has value as a spice used for cooking, but it is often brewed into a tea which has a host of health benefits. Fennel tea is prepared from crushed or ground mature fennel seeds. These seeds are rich in important volatile oil compounds like anethole, fenchone and estragole that are responsible for its antispasmodic, anti-inflammatory and antibacterial/antimicrobial properties. Fennel tea is made by crushing fennel seeds and steeping them in boiling water.
Nutritional Value of Fennel Tea
Fennel tea does not contain any calories, nor does it contain any carbs, sugar or fat. Fennel tea is rich in numerous flavonoid anti-oxidants like kaempferol and quercetin which function as powerful antioxidants by removing harmful free radicals from the body. Fennel seeds contain essential oil compounds such as anethole, limonene, anisic aldehyde, pinene, myrcene, fenchone, chavicol, and cineole. Fennel seeds are a concentrated source of minerals like copper, iron, calcium, potassium, manganese, selenium, zinc, and magnesium.
Nutritional facts Per 1 cup
Vitamins and Minerals
Health Benefits of Fennel Tea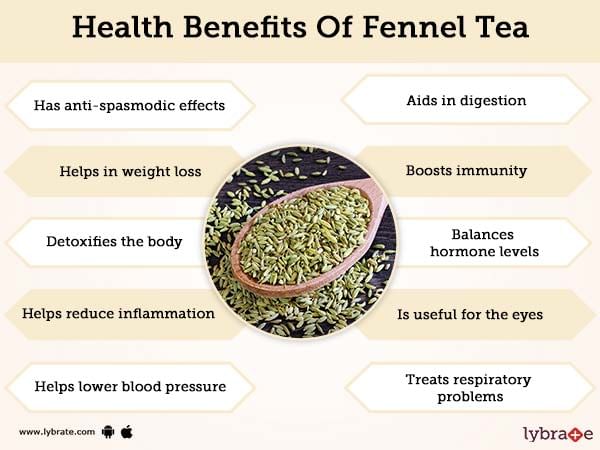 Mentioned below are the best health benefits of Fennel Tea
Has anti-spasmodic effects
Calming the stomach and other organs can be an important first step in eliminating inflammation and stomach upset. The natural soothing effects of fennel tea can help reduce spasms in the gut and other parts of the body, thereby reducing stress hormones and taking less of a toll on your overall system.
Aids in digestion
For thousands of years, fennel has been used as a digestive aid. The anti-inflammatory and carminative effects can prevent the formation of gas, thereby eliminating bloating and cramping, while also speeding up the digestive process and ensuring maximum nutrient uptake. Fennel can even help to rebuild damaged tissues and prevent further injury to the digestive tracts.
Helps in weight loss
Fennel tea can help with weight loss in a number of effects. Firstly, it is a diuretic, so it helps promote urination, thus elimination water retention and bloating. Secondly, as a metabolism booster, it can help the body burn fat and calories faster, making exercise efforts more rewarding. Finally, by regulating your appetite and hormones, it can prevent overeating and obesity.
Boosts immunity
Fennel tea has a number of antiseptic, antifungal and antibacterial effects, which makes it an excellent immune system booster. Fennel tea can also help stave off flus and colds before they develop into a full-blown infection. Thus, regular consumption of fennel tea can act as a preventative measure, and keep you healthy.
Detoxifies the body
One of the most important functions of urination is not only relieving that pressing feeling in the gut, but eliminating excess toxins extracted from the blood and kidneys. Fennel tea works as a blood cleanser and a diuretic, keeping your kidneys and liver healthy and working at full capacity.
Balances hormone levels
When it comes to protecting female reproductive health and wellness, few herbs are as important as fennel. The compounds found in fennel tea have estrogen-like qualities, meaning that they can alleviate many of the most painful symptoms of menstruation, while also regulating hormones, increasing libido, and stimulating the production of breast milk in lactating mothers.
Helps reduce inflammation
Those suffering from arthritis, gout and other inflammation issues have found relief from fennel tea for generations. By detoxifying the body, fennel tea also helps tissues and muscles function more normally, and lowers the chances of unnecessary inflammatory responses.
Is useful for the eyes
Fennel tea can be a great help for those times when you've had a very bad night's sleep, and are now facing swollen and puffy eyes. Fennel tea's rapid anti-inflammatory responses can help improve physical appearance of the eyes. Additionally, the anti-bacterial and immune boosting effects of this tea can further protect the eyes from other infections, such as conjunctivitis.
Helps lower blood pressure
The impact that fennel tea can have on the heart is largely based on its mineral content, namely the potassium found in this herb. Potassium acts as a vasodilator, meaning that it can relieve the tension on arteries and blood vessels, thus making it more difficult for the atherosclerosis to occur. This can help prevent coronary heart disease, as well as lower the risk of heart attacks and strokes.
Treats respiratory problems
When it comes to congestion of the respiratory system, fennel tea is an excellent solution, as it works as an expectorant, eliminating the phlegm and mucus where infectious pathogens can reside and multiple. Furthermore, the anti-inflammatory effects help to relieve sore throats and sinus pressure as well.
Uses of Fennel Tea
Fennel tea contains plenty of antioxidants and antimicrobials which strengthen and boost the immune system. Fennel seeds have been known to stimulate the flow of bile by relaxing stomach muscles, thus aiding in digestion, as well as helping solve digestive issues such as flatulence and irritable bowel syndrome. Fennel tea is a great source of fiber, and helps prevent cholesterol absorption, thus helping keep the heart health and preventing onset of heart diseases. Extracts of fennel seed have been found to be potentially useful in treating glaucoma. Fennels is one of the few herbs that contain phytoestrogen which help reduce hormonal imbalances.
Side-Effects & Allergies of Fennel Tea
Fennel tea has a variety of health benefits, but it can also cause allergic reactions in certain people. These allergic reactions include, but are not limited to, facial swelling, difficulty swallowing or breathing, hives or dizziness. People who have a known allergy to carrots, celery or mugwort are at an increased risk of developing an allergic reaction upon exposure to fennel. Additionally, do not consume fennel tea if you are pregnant and/or breastfeeding.
Cultivation of Fennel Tea
Fennel, a hardy, perennial, umbelliferous herb, with yellow flowers and feathery leaves, is native to the shores of the Mediterranean, but it also grows wild in many parts of temperate Europe. Fennel was cultivated by the ancient Romans for its aromatic fruits and succulent, edible shoots. In mediaeval times, Fennel was employed, together with St. John's Wort and other herbs, as a preventative of witchcraft and other evil influences. The plant's popularity spread northward during the middle ages, when it was grown in monasteries. It is now naturalized in many parts of the world. The fennel plant can be cultivated easily, and does not need any special requirements. Fennel grows in moderate sunlight and is adapted to dry and sunny situations. It does not need heavily manured ground, and grows best of rich, stiff soil.