What is Capsicum?
Capsicum is an evergreen plant that grows in tropical climates. The plant comes in variants of yellow, green, orange and red colours. In addition to being an ancestral culinary spice, Capsicum provides with an array of health benefits when consumed; essentially cancer and arthritis. It is a highly aromatic plant with an acrid taste. Capsicum has its origin in South America with wide plantations in Australia, Asia, North America, South America and Europe currently. Other common names used for capsicum are cayenne pepper, bell pepper, Mexican chilies, Tobasco Pepper, Paprika, etc.
Nutritional Value of Capsicum per 100gm
Capsicum is used as a spicing agent owing to the high level of capsaicin present. Capsaicin is a phytochemical responsible for producing the spice heat and is tasteless and odorless. Different variants of the pepper contain capsaicin in different ratios thus making them more or less hot/sweet depending on the capsaicin level present. Let check out nutritional value of capsicum, Capsicum contains high levels of vitamin A and vitamin C. Capsicum also contains bioactive components like tannins, flavonoids and Alkaloids - responsible for its analgesic properties.
Vitamins and Minerals in Capsicum
Health Benefits of Capsicum Vegetable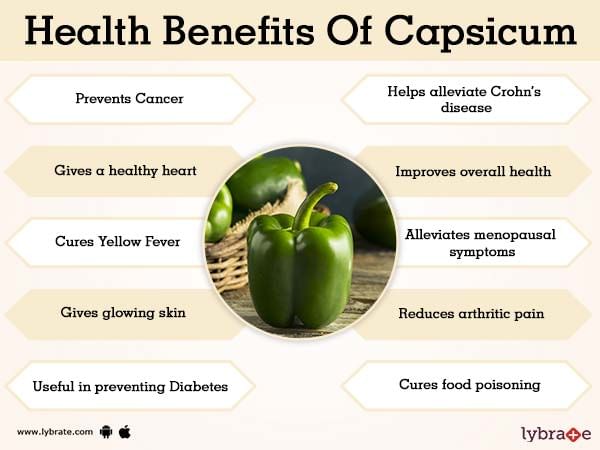 Mentioned below are the best health benefits of capsicum. Since differnt type of capsicum are availble such as green capsicum, red capsicum, yellow capsicum are available.
Owing to the presence of tannin in capsicum, it is also known to prevent cancers caused by malignant tumors; specifically gastric cancers. Research continues to prove the capsicum vegetable is beneficial in treating and preventing prostate cancer and other hormone related cancers.
Capsicum with its anti-inflammatory properties due to the presence of potential phytochemical constituents helps lessen pain in patients suffering from
Crohn's disease
which is a disease of the bowel causing extreme inflation.
The warming properties of capsicum enable it to alleviate hypotension and an abnormal heart rate. Capsicum has a vasodilative effect on the body when consumed which helps in enhanced oxygenation of organ tissues and improves blood flow.
Capsicum for immune system and digestive health
Stimulating the production of gastric juices, capsicum improves the appetite, lowers triglyceride levels and cholesterol, boosts metabolism, strengthens the immune system and enhances resistance to sinus, cold and sore throat. Capsicum vegetable also helps in weight loss, regulating blood pressure and enhancing athletic performance.
Capsicum acts as an analgesic and relieves pain/soreness in the throat and improves resisting capabilities of the body. When consumed in a soup, it helps alleviate the symptoms and strengthens the immune system of a patient suffering from yellow fever.
The tannins present in capsicum perform the role of an astringent and benefit inflammation and other problems of the gastrointestinal track such as dysentery, diarrhea and other microbial disorders. It also acts as an agent of gastric mucus formation ensuring peptic ulcers do not develop.
Owing to the presence of flavonoid in them, capsicums have been instrumental in reducing symptoms associated with menopause in women.
Capsicums have been forever known for their anti-aging properties. However, the vitamins present in them act as an antioxidant on cell tissues leaving you with improved skin appearance and feel.
The anti-inflammatory properties of capsicum are believed to relieve pain arising due to arthritis. The phytochemicals present in the capsicum act upon the peripheral nerve endings deadening them and thus relieving the pain.
Research suggests that red and green capsicum enables insulin production thus, leveling the blood-glucose level in the body. This would mean that capsicum is highly efficient in preventing type II diabetes. Green capsicum in particular have rich hypoglycemic benefits.
Capsicum has analgesic and antiseptic properties which help in treating food poisoning. It reduces cramps and alleviates stomach spasms and pain. It also helps repair the damaged tissues in the stomach and the gastro-intestinal tract.
Uses of Capsicum
Capsicum's beneficial uses are numerous. It is used to prevent cancer, alleviate - muscle cramps, sore throat, diabetes, hypotension, heart problems, gastro-intestinal problems, food poisoning, asthma etc. It also is a very efficient plant to use for enhancing metabolism, immune system skin health and treat menopausal symptoms. It can be used as an edible ingredient dried or fresh in salads, soups, gravies, in powder form as chilli/paprika powder and as analgesics in the form of ointment.
Capsicum Side-Effects & Allergies
Though there are no fatal or chronic side-effects associated with the use of capsicum it is advisable to use the plant on the advice of a trained medical practitioner pertaining to your condition. It is advisable for children, pregnant women and breast feeding mothers to keep their regular consumption of capsicum to a bare minimum. Known side-effects due to unguided consumption are diarrhea, heartburn and upset stomach.
Cultivation of Capsicum
Capsicum is a plant that requires a cool sunny climate and moist soil for growth. It is planted in rows in a zig-zag manner. The highest producers of Capsicum are China, India, Mexico, Turkey, Indonesia and Spain with China recording the highest cultivation consistently.