Mulberry
The structure of mulberries is very similar to that of blackberries or loganberries. They taste like grapefruits. They are the juiciest of all members of the fruit family. They are fleshy, delicious and succulent.They possess a mild sweet flavour. Mulberries are related to figs and breadfruits. Mulberries are not single berries. They are actually concentrated fruits where each mulberry is a concentrated one. The fruits occur in a cluster and are arranged concentrically around a central axis. They can be consumed both in fresh and dried forms. Mulberries are obtained from the silkworm tree. Though there are more than hundreds of species three species are mostly recognised- white mulberry (Morus alba), red mulberry (Morus rubra) and black mulberry (Morus nigra).
Nutritional Value of Mulberry
These berries are less in calories (43 calories per 100 grams). They are composed of health enhancing phytonutrient compounds which include polyphenol pigment antioxidants, minerals, vitamins, lipids, protein, dietary fibre , high water content etc. Nutritional profiles of various mulberries are pretty much same. Mulberries are rich source of Vitamin K and Vitamin C and contain small amount of Vitamin A and Vitamin E. They also contain Riboflavin. They are an excellent source of iron. They are good source of minerals like potassium, manganese, magnesium, phosphorus, sodium and zinc. They have significantly high amounts of anthocyanins. They also contain resveratrol and zeaxanthin.
Nutritional facts Per 100 grams
Vitamins and Minerals
Health Benefits of Mulberry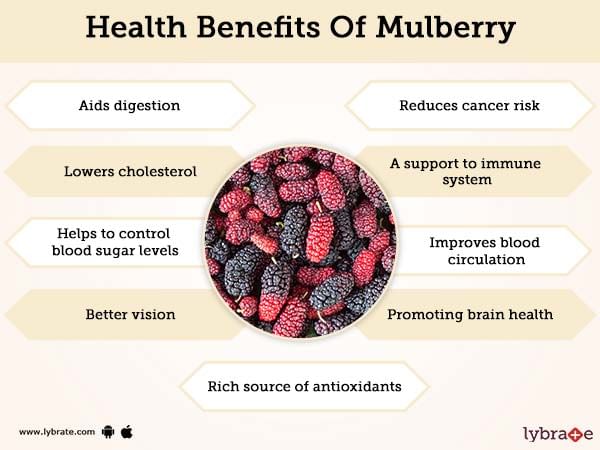 Mentioned below are the best health benefits of Mulberry
Aids digestion
As mulberries contain dietary fibre, they can help to improve digestion by bulking up stool and facilitating movement of food through digestive tract. As a consequence , they help in relieving constipation, bloating and stomach cramps. Healthy digestion is a necessary requirement for maintaining optimum weight. Thus, they are excellent for weight lose programmes.
Lowers cholesterol
Berries help to lower the level of bad cholesterol and thus prevents cardiovascular diseases.
A support to immune system
Mulberries contain alkaloids which are helpful in activating macrophages which in turn stimulate immune system keeping it alert against health threats. Vitamin C contained in these berries is also an immunity strengthening nutrient.
Helps to control blood sugar levels
White mulberries contain certain chemicals which are similar to those used in treating type 2 diabetes. These compounds help to keep a check on blood sugar levels by breaking down the sugar and allowing them to get absorbed into the blood.
Improves blood circulation
Antioxidants contained in the berries help to enhance the functioning of blood vessels by keeping them supple and dilated. Consequently blood flow is not hindered and there is a free blood flow to heart and other parts of the body. As they are an excellent source of iron , they increase the red blood cell production and help to cure anaemia. Polyphenols in these berries keep the blood vessels healthy. Minerals like potassium present here lowers the blood pressure.
Better vision
Mulberries contain zeaxanthin, which helps to reduce oxidative stress in cells that form our eyes. It also protects the retina from harmful ultra violet rays. The carotenoids present assist in preventing cataract and diseases like macular degeneration.
The calcium needs of the brain is met by the mulberries keeping it healthy. Mulberry is also an excellent treatment for Alzheimer's.
Rich source of antioxidants
Mulberries contain a high concentration of powerful antioxidant named resveratol, which is known to be a natural antibiotic which helps to reduce heart risks.
Reduces cancer risk
Animal studies indicate that antioxidants in mulberries are effective in reducing oxidative stress, potentiallt decreasing the risk of cancer.
Uses of Mulberry
Mulberries are excellent ingredients for preparation of delicious smoothies, jams, snacks. Mulberries are also effective skin and hair care agent. They help to reduce blemishes and dark spots. Mulberry root extracts soothe irritated skin. They also promote hair growth and help to retain hair colour. Mulberry is a food for silkworms, making it an economically important plant for silk production.
Side-Effects & Allergies of Mulberry
Eating mulberries on a moderate basis is beneficial for health. But as per a test conducted by the American Diabetes Association, it was found that eating too many mulberries can be fatal. It can drop blood sugar level to a dangerously low level. There is also a risk of using mulberries extract on skin. They contain Arbutin which is believed to possess carcinogenic side effects. They have been reported to hinder the absorption of carbohydrates and triacylglycerol. It has been seen that mulberries increase the risk of hypoglycaemia.
Cultivation of Mulberry
Mulberry is a deciduous woody perennial plant and has a deep root system. Mulberry fruit has its origin in different parts of the world. The red mulberry is native to United States whereas black mulberry is native to western Asia. White mulberry is considered to have originated in China and is mainly grown in countries with a tropical type of climate. White mulberries grow well in every type of soil. Soil acidity can range from acidic to alkaline. It is generally drought tolerant but prefers moist and well drained soil. It is highly salt tolerant. It grows thirty to fifty feet tall. The red mulberry trees grow thirty five to fifty feet tall with an upright and spreading canopy. These trees grow best in rich soil. Black mulberries grow thirty five feet tall and are salt tolerant in areas with mild climate. They prefer warm, moist and well drained soil. Mulberries can be grown from seeds.
In India, total acreage of mulberry is around 282,244 ha. States where mulberry tree are grown are as follows- Andhra Pradesh (highest area under mulberry cultivation) , Assam, Jammu Kashmir, Karnataka, Kerala, Madhya Pradesh, Manipur, Tamil Nadu, Uttar Pradesh, West Bengal and others.