Jasmine Oil
Jasmine oil is extracted from the flowers of Jasmine. Its scientific names are Jasminum Grandiflora (Royal Jasmine) and Jasminum Officinale (Common Jasmine). It is one of the most powerful, soothing, exotic and pleasant oils available.
It is widely accepted for its ability to treat depressed people. This oil is also known to ease childbirth and has been used for many years now. Jasmine oil is also appreciated for its blending properties with other oils.
Although expensive, this oil is preferred by many people around the world. The benefits and effects it has on the skin are innumerable. It is extremely effective in healing wound scars and stretch marks besides helping in treating dry skin.
Nutritional Value of Jasmine Oil
Jasmine oil is non-toxic which is why it is preferred widely. Though jasmine oil is extracted mainly from Jasmine flower, its chemical composition includes a variety of constituents that includes phytol, benzyl benzoate, benzyl alcohol, benzyl acetate, nerolidol, benzoic acid, farnesol and a lot of other ingredients.
Jasmine oil can be used in a number of ways – by scrubbing it on your skin, by inhaling it, by diluting and applying it on your hair.
Health Benefits of Jasmine Oil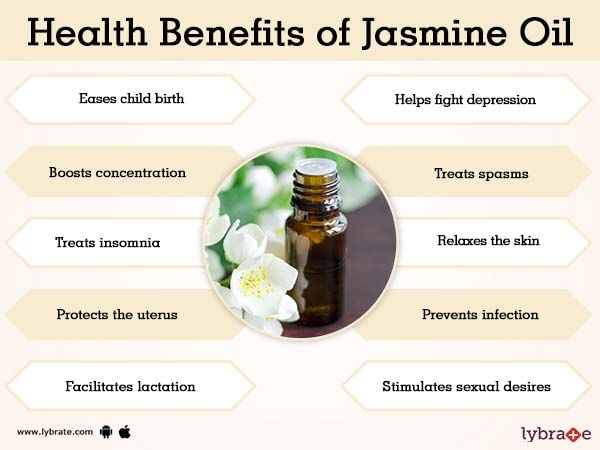 Mentioned below are the best health benefits of jasmine essential oil. You can easily find jasmine oil in your markets and use in massage to reduce anxiety, stress, and fatigue issues. It also used in various ayurvedic massage and therapies due to its properties and now various skincare and beauty products include it.
Jasmine oil eases child birth
Jasmine oil eases childbirth. Ever since the advantages and uses of jasmine oil were studied, it has been used for inducing childbirth. Jasmine oil is said to decrease pain during the process of childbirth.
In today's fast-paced world, the majority of women adopt the artificial caesarean method of childbirth. However, there are many women who prefer natural childbirth, and there is nothing better than jasmine oil to provide them with a sense of relief.
Women who use jasmine oil often claim to have suffered less pain (lesser than the expected pain). This wonder oil can strengthen the contractions and shorten the duration of childbirth. Its soothing, anti-depressing and calming effects also help women deal with their post-childbirth pain and symptoms.
Jasmine oil fight against depression
Jasmine oil helps fight depression. This is one of the most proven benefits of jasmine oil. The soothing effect of jasmine oil is famous all over the globe.
It is also said to arouse romantic feelings in people. This uplifting and pleasant oil can also go an extra mile in fighting depression.
The aromatic effect of this oil can lift the mood of any depressed or sad individual and takes them to a world of joy and passion. This potent oil can stimulate certain hormones in the body and thus can be used as an excellent mood swinger.
Jasmine essential oils for concentration
The oil extracted from Jasmine flower boosts concentration. In case you are looking for a natural way to boost your concentration levels, jasmine oil is the thing that can help you. Its soothing action gives an instant boost to your brain and its activities, resulting in improved concentration.
Reduce Muscle Pain
Jasmine oil is effective in treating spasms. Jasmine oil can be used to treat intestinal cramps, breathlessness, congestion, coughs and other possible spasm in the body. Spasms, if not treated, can be dangerous and pose a risk to good health.
Jasmine improves sleep quality
If you suffer from insomnia jasmine oil can be of great help. The fast-paced and digital lives of people have often rendered them sleepless at night. Sometimes this can lead to insomnia, a condition of extreme sleeplessness. If left untreated the condition can aggravate stress levels. This is where jasmine oil comes in handy.
It can have a relaxing effect on people suffering from insomnia and can help them have a good night's sleep. It acts as a sedative and puts the patient to sound sleep, thus helping them tackle sleeplessness.
Jasmine oil for skin whitening
Studies have proved that jasmine oil relaxes the skin. Ever since the benefits of jasmine oil were studied, it has been widely used to treat skin ailments. Drops of jasmine oil, when applied regularly to the skin can help remove skin dryness. It can also eliminate stretch marks.
Jasmine oil is good for uterine health
Jasmine oil protects the uterus. Jasmine oil is much helpful in toning the uterus as it promotes secretion of certain hormones. It also protects the uterus from tumors helping women lead healthier lives.
Provides relief to PMS (Pre-Menstrual Syndrome) symptoms
Jasmine oil comes with an ability to provide relief to women who suffer from PMS (Pre-Menstrual Syndrome) symptoms. The symptoms include stomach cramps, vomiting, acne, restlessness, headaches and a variety of other problems. It is advised to apply jasmine oil or inhale it to prevent the above-mentioned symptoms.
Jasmine oil also helps women deal with other menses related problems like nausea, exhaustion and pain. This oil actually goes an extra mile to help women live healthy and active lives by regulating their periods.
Jasmine oil prevents infection
It prevents infection against bacteria and virus. Jasmine oil has extreme effects on diseases. It can act as an antiseptic and a disinfectant agent. The presence of generous amounts of benzaldehyde, benzyl benzoate, and benzoic acid can help you in the fight against virus, bacteria, and fungi.
Jasmine oil can be applied to scars, burns, and open wounds. In fact, when used on open or cut wounds, it can prevent the injury from turning septic, thus helping you stay immune to tetanus. Jasmine oil when inhaled also cure certain respiratory infections.
Facilitates lactation
The oil derived from Jasmine flower enhances breast milk production. Jasmine oil is also widely used to enhance and improve the milk production in breasts, thereby providing with all the essential nutrients and vitamins for the baby and at the same time decreasing the risk of breast cancer in women.
Jasmin essential oils to increase libido
Jasmine oil works to stimulate sexual desires. Are you surprised to see this particular benefit of jasmine oil? Well, you must be. Most of us know that Indians are fond of Jasmine flowers that they even use it to decorate the room of a newlywed couple.
In case you did not know this particular use of Jasmine flower, here is the reason – Jasmine is known to arouse sexual feelings. It often makes them more romantic by stimulating certain sex hormones. It is also effective in treating premature ejaculation in men.
So, you have all the reason to jump up and down in joy for having found an efficient way to sparkle your love life.
Uses of Jasmine Oil
Jasmine oil, besides acting as an excellent agent in fighting infections, can also be used for its revitalizing effects on people. Its aroma can prove effective in the treatment of insomnia and depression.
Jasmine oil is excellent in treating dry, dehydrated skin. It is also helpful in regulating periods in women and the pain associated with it. It is truly helpful in giving us beautiful skin and good health.
Side-Effects & Allergies of Jasmine Oil
Though many people have benefitted from using this great oil, it may cause mild allergic reaction to some. This may be due to the presence of benzyl acetate in massive amounts in jasmine oil. In such cases, it is advised not to use it. If symptoms of any allergic reactions persist, please consult a doctor. It is also recommended not to use jasmine oil during pregnancy.
Origin And Cultivation of Jasmine Oil
Though many people have benefitted from using this great oil, it may cause mild allergic reaction to some. This may be due to the presence of benzyl acetate in massive amounts in jasmine oil. In such cases, it is advised not to use it. If symptoms of any allergic reactions persist, please consult a doctor. It is also recommended not to use jasmine oil during pregnancy.