About
We will always attempt to answer your questions thoroughly, so that you never have to worry needlessly, and we will explain complicated things clearly and simply.
...more
We will always attempt to answer your questions thoroughly, so that you never have to worry needlessly, and we will explain complicated things clearly and simply.
Timings
MON-SAT
08:30 PM - 10:00 PM
11:30 AM - 02:00 PM
04:00 PM - 06:00 PM
Location
sec 84, BPTP Parklands, Sector-84 j block
BPTP Parkland
Faridabad,
Haryana
-
121004

Get Directions
Photos (8)







View All Photos
Videos (5)
View All Videos
Amenities
Parking
Cafeteria
Online Appointments
Reception
Waiting Lounge
Credit Card
Ac Rooms
Doctor in Anjuli Nursing Home

DGO, MBBS
Gynaecologist
Book appointment and get ₹125 LybrateCash (Lybrate Wallet) after your visit
Specialities
Gynaecology
A branch of medicine reserved especially for treating female conditions of the reproductive system
Health Packages
200 Days validity
•
Medicines included
₹11500
180 Days validity
•
Medicines included
₹10000
Network Hospital

Patient Review Highlights
"Prompt"
6 reviews
"Helped me impr..."
2 reviews
"Thorough"
1 review
"Nurturing"
1 review
"Sensible"
3 reviews
"Very helpful"
68 reviews
"Saved my life"
2 reviews
"Inspiring"
5 reviews
"Professional"
10 reviews
"Well-reasoned"
8 reviews
"Practical"
3 reviews
"knowledgeable"
32 reviews
"Caring"
12 reviews
Reviews
Achyut
Apr 13, 2017
I had a lot of complications in my pregnancy, I had lost all hope, but then I met Dr.Anjuli Dixit and I am hopeful Ill have a great delivery as she is such a smart and a learned doctor. It was a bad case. The overall atmosphere in the Pushpanjali Medical Centre in Faridabad is very soothing. She is one of the best physicians in city. My case was extremely serious, but she really handled it very nicely. Thanks to herI am much better now.
Sadhri
Feb 4, 2017
I was shocked to experience the symptoms of gynae problems. I am almost on the path to recovery, Thanks to my Anjuli Dixit perfect advice. They took very nice care of me, i never felt that I am in a Pushpanjali Medical Centre. Anjuli Dixit has a very positive attitude towards all the patients. Whatever tests the Anjuli Dixit prescribed, were very correct and the gave they gave us an exact idea about my condition.
Rakshak
Jul 29, 2017
Thanks to Dr Anjuli for the perfect advice as I was not able to conceive. I was quite depressed due to this problm. The doctor gave me perfect guidance and prescription which helped me deal with my situation. The complete process of the treatment was so painless and quick, and i am so relieved that I chose to consult her. I must say She is one of a known gynaecologist in the city.
Ashank
Jun 17, 2017
I feel so great after the completion of treatment for infertility. I have had this infertility issue from quite some time. Anjuli Dixit certainly knows the in and out of her speciality. I was suffering from infertility. She ensures that she gives enough time to each patient. The overall atmosphere in the Pushpanjali Centre is very soothing.
Balaji
May 31, 2017
I feel strange that I am suffering from irregular periods. I am amazed that she is such a sweet doctor, even though she is so busy all the time. I had lost hope, but the irregular periods treatment given by Anjuli Dixit has helped me regain my confidence. It was an amazing experience as everyone in the Pushpanjali Medical Centre is so nice.
Giridhar
Jun 4, 2017
She is so nice that they even at odd hours one can call her in case of emergency. I found the Pushpanjali Medical Centre itself quite pleasant. I was quite concerned, as my problem was increasing day by day, but due to my Anjuli Dixit and the in IVF I didn't lose hope. Her advice and counselling has helped me immensely.
Verified
Nov 13, 2017
Doctor anjali dixit is good. The consultation fees mentioned in the site is Rs.300 but puspanjali centre they took Rs. 500 as a fees from me. As enquired through phone the receptionist said Rs.300.I think the consultation fees must be clearly mentioned in website and should charge the correct fees.
Mahaganga
Mar 5, 2017
I was searching for some guidance about my family planning. So I consulted Dr Anjuli Dixit who is a famous gynaecologist in Faridabad. She helped me in family planning and I owe her a big thank. She also gave some neceessary steps which are important to know before having a child.
Verified
Sep 14, 2017
Doctor Anjuli was extremely caring and understanding . She carefully listened to all the symptoms and provided prompt solutions in the form of medication and suggestions. I would recommend Dr. Anjuli to all my friends and colleagues.
Verified
Nov 22, 2017
Doctor Anjuli was extremely caring and understanding . She carefully listened to all the symptoms and provided prompt solutions in the form of medication and suggestions. I would recommend Dr. Anjuli to all my friends and colleagues.
Surabhi]
May 24, 2017
Pushpanjali Medical Centre in Delhi gives Excellent Service. the Staff and Doctor dr anjuli dixit are very responsive and act very quickly and are friendly. she gave me a treatment for my problem to avoid pregnancy.
Gp Mittal
Jul 24, 2016
She's a very competent doctor specially in Gynae matters and a very good General physician too. During 20 years of experience I have found her very simple, sincere and hopeful to poor.
Saumya
Jun 10, 2017
dr Anjuli Dixit is a very caring professional when it comes to her work. She did my abortion at Pushpanjali Medical Centre in Faridabad. Nice doctor! Very caring.
Ketan Sharma
Aug 25, 2016
I found the answers provided by the Dr. Anjuli Dixit to be knowledgeable. Well the answer was a loyal one . Thanq for being honest i appreciate that .
Mini Nair
Jun 21, 2017
Dr.Anjuli is the best doctor i have ever met..so humble..so down to earth..we are so happy that our daughter has been delivered by her.kudos to her.
Joya
Mar 6, 2017
I found the answers provided by the Dr. Anjuli Dixit to be very helpful, knowledgeable, well-reasoned, inspiring and sensible. Thanks
Sruti
May 5, 2017
I found the answers provided by the Dr. Anjuli Dixit to be very helpful. Thank you so much , won't need it regularly
R Gupta
Aug 20, 2016
Have worked with her.She is very competent in her work and follows the professional ethics to the core.
B P Kundu
Jun 22, 2017
She is down to earth, listens patiently, not money minded. Gives advice like a family doctor.
Shruti Seth
Aug 16, 2017
Very understanding n kind doctor. I really appreciate the way she deals with patients.
Rahul
Nov 16, 2018
I found the answers provided by the Dr. Anjuli Dixit to be very helpful. Thanks madam
Asnia
Sep 27, 2016
I found the answers provided by the Dr. Anjuli Dixit to be very helpful. thnq doctor
Feed
Asked for female, 25 years old from Nellore
it may old collection dt separation of sac or sometimes low lying placenta may cause this kind of bleeding in anu case usg will confirm the diagnosis and rest is the treatment
1
person found this helpful
Shared 1 week ago • Featured Tip
Many women experience acne during pregnancy. It is most common during the first and second trimester. During pregnancy our body produces an increased amount of hormones called androgens which can cause the glands to grow and produce more oil. This oil leads to bacteria, inflammation, and breakouts. This is natural, and nothing to worry about from a health perspective. There is often no way to prevent acne during pregnancy as it is not possible to control the hormonal changes that lead to the problem. However, you can take following precautions to check its outbreak:
Use a mild, soap-free face wash or cleanser to clean your face daily. You should cleanse your face not more than twice a day.
Pat your skin dry after each wash as rubbing with towels or washcloths can irritate the facial skin, leading to the problem.
Use oil-free moisturizers, face wash and makeup.
Use an oil-free sunscreen lotion whenever going out during daytime.
Wear full-sleeve clothes to avoid exposing your skin to direct sunlight.
Wash your hair regularly especially if you have oily hair.
Maintain proper hygiene. Wash and clean your towels, pillowcases and hats regularly.
Drinking lots of water to flush to keep the skin hydrated.
Have a balanced diet containing plenty of fresh fruits and vegetables which are rich in vitamins A, E and B complex and fibre.
Avoid oily, greasy foods and fast foods.
Stop touching your face that often as bacteria from your fingers can pass on to your face.
Buy makeup products after utmost diligence.
You should also take zinc supplements to prevent acne.
If you still get acne despite following the above mentioned tips, then you should take appropriate medicine as prescribed by the dermatologist. Medicines like Clindamycin e.g. Cleocin T, Clindagel, Azelaic acid (Finacea, Azelex) and Erythromycin are considered safe during pregnancy. You can also apply the medicine only as recommended as most products are intended for daily or twice-daily use only. Also try some home remedies like apply a mixture of honey and ground oatmeal to your face and rinsing off gently. Massage gently with a plain carrier oil such as argan oil or olive oil. You can also consider applying aloe vera gel to cure acne. These treatments will not be as effective as taking medicines though.
However, avoid hormone therapy including anti-androgens like spironolactone, flutamide and estrogen as these can lead to major developmental changes to the foetus. Oral tetracycyclines and topical retinoids should also be avoided. Accutane also leads to increased risk of miscarriage, hence do not even consider it.
3602
people found this helpful
this is dt pcod keep thand exerciseyroid in control do walkand exercise these are not very big problems if ur fertility is good u can very well conceive
1
person found this helpful
Asked for female, 27 years
Get your other hormonal test also to rule out hypogonadotrophic hypogonadism also see by usg if mullerian agenesis is not there.
1
person found this helpful
Shared 1 month ago • Featured Tip
A menstrual cup is a flexible cup designed out of medical grade silicone or rubber, which can be inserted inside the vagina. It is not used for absorbing blood; rather it collects the menstrual blood.
Advantages of menstrual cups over tampons
Tampons are disposable. Menstrual cups can be cleaned, rinsed and reused.
Need not be changed after every few hours. One can go without changing a menstrual cup for more than 12 hours.
Easier to use compared to a tampon. The insertion is smoother and it is generally not very uncomfortable if insertion is done correctly.
The menstrual cups need not be replaced frequently. Tampons however are needed in large numbers every month.
Tampons absorb almost all the vaginal fluid, leaving it dry and prone to irritation. Menstrual cups on the other hand, leave the beneficial bacteria in place and maintain vaginal pH.
Menstrual cups help prevent menstrual odours as it is present internally.
Reasons why you should use menstrual cups
Menstrual cups rarely cause allergic reactions, unlike tampons. One menstrual cup lasts an entire day, month and even years. They are also the most environment friendly choice as there is no need to dispose them after every use. They prevent staining, leakage and do not increase muscle cramps. There is no risk of TSS (Toxic Shock Syndrome) from menstrual cups, which is a major risk from leaving tampons inside the body for too many hours. Menstrual cups are also helpful if you are a swimmer. They don't make things difficult for you at all. Menstrual cups are made from 100% medically approved silicone and not cotton or rayon. If you are unable to use tampons, you may choose menstrual cups as the insertion is generally smoother. However, it completely depends on individual preference. Menstrual cups also reduce the bulk of having to carry like sanitary napkins during travel, and urgent needs to change. Thus it makes a long journey worry free. No matter what protective measures you take, remember to be comfortable. Try and maintain a diet rich in nutrients, that can help regulate the blood flow and prevent painful blood clots. Also, it is important to remain physically active to prevent muscle cramps and back pain.
1
person found this helpful
Shared 1 month ago • Featured Tip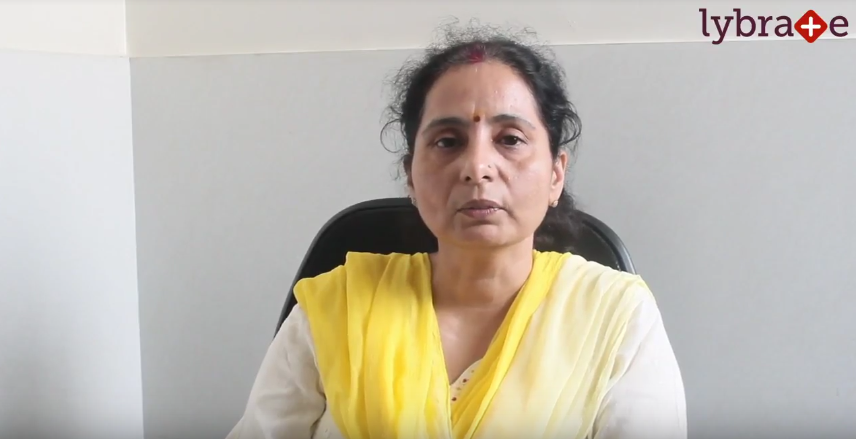 There are many causes of infertility, including some that medical intervention can treat.The main symptom is an inability to get pregnant. In many cases, there are no additional symptoms.
4249
people found this helpful
Shared 1 month ago • Featured Tip
Pregnancy can put quite a strain on your body. As your body changes to accommodate the growing baby, you may find yourself suffering from a few common discomforts associated with the various stages of pregnancy. Most of these are nothing to worry about. Here are a few of the most common problems faced by pregnant women.
Backaches: As the body's ligaments stretch and become softer to prepare for labour, you may feel a strain on your lower back and pelvis. This can cause a chronic backache. The growing weight of the fetus within your body can also add to this discomfort.
Morning sickness: Despite its name, morning sickness can affect you at any time of the day. Most women begin to experience nausea and an urge to vomit from the 4th or 6th week of pregnancy, but this usually resolves itself by the 16th or 20th week of pregnancy. Some women may even feel sick for the entire day.
Bleeding gums: Pregnancy hormones can make your gums more vulnerable to the build-up of plaque. This can lead to inflammation and bleeding gums. This condition may also be known as pregnancy gingivitis.
Cramps: Many pregnant women complain of cramps in their calves and feet. This usually is more common at night, but the cause behind it is not clear.
Urinary incontinence: Urinary incontinence is a problem experienced by many women during and after pregnancy. They often find themselves involuntarily urinating while coughing, laughing or sneezing. In most cases, this is a temporary problem caused by the relaxation of pelvic floor muscles (to prepare for delivery) and should resolve itself after delivery. Women may also find themselves feeling the urge to urinate frequently. This may be because of the pressure being placed on your bladder by the uterus.
Skin and hair changes: Pregnancy hormones can make birthmarks, moles and freckles darken. Your nipples may also turn darker. In addition to this, you may notice the bumps around the nipples become more prominent. Pregnant women may also find their skin more prone to sunburns. You may also notice an increased rate of hair growth.
Feeling hotter than normal: The hormonal changes occurring during pregnancy can make you feel warmer than normal because of increased blood supply to the skin. You may also find yourself sweating more than usual. In addition, you may also feel faint because of decreased blood supply to the brain.
3867
people found this helpful
View All Feed