Rye
Rye is one of the most commonly grown cereals in the world. It is quite similar to barley and wheat and is used in the same ways. One of the oldest grains to be cultivated, it is one of the top 5 grains to be consumed all over the world, making it a pretty important one to know about. Rye has various nutritional benefits, which is why it is so good for your health and is certainly a must-have in your kitchen. Add it to your diet to create well-rounded, delicious meals.
Nutritional Value of Rye
Rye is filled with important nutrients. In a 100 grams of rye, you will find a total of 338 calories. It has a total fat content of 1.6 grams, out of which there is 0.2 grams of saturated fat, 0.8 grams of polyunsaturated fat, and 0.2 grams of monounsaturated fat. It does not contain any trans fat or cholesterol. It has 2 mg of sodium and 510 mg of potassium in it.
The total carbohydrate content is 76 grams with 15 grams of dietary fiber and 1 gram of sugar. It has 10 grams of proteins and is also rich in essential minerals. Of the daily recommended dosage for each, 100 grams of rye contains 2% of calcium, 14% of iron, 15% vitamin B-6, and 27% of magnesium. It does not contain any vitamin A, D, or B-12.
Vitamins and Minerals
Health Benefits of Rye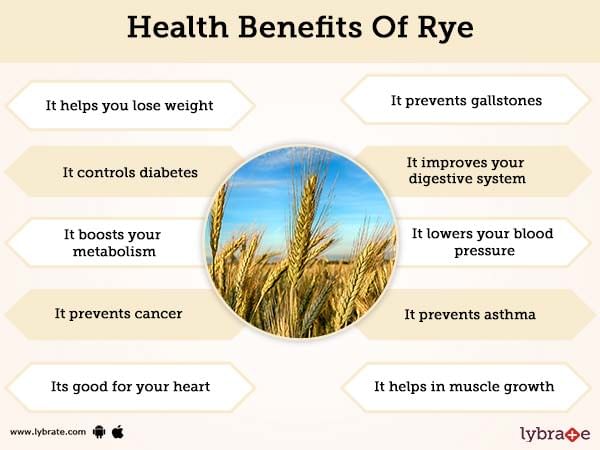 Mentioned below are the best health benefits of Rye
Rye is one of the top grains to choose when it comes to losing weight. It's considered superior to wheat and barley. This is mainly because the type of fiber that is present in rye tends to bind with water and makes you feel like you're full quickly so you don't end up eating that much. As a result, it's easier to stick to your diet plan because you won't get hungry and start snacking between your meals.
As rye is rich in fiber, it does more than just help you lose weight. It makes the digestive process much smoother, bulking up your stool and helping it move along the digestive tract faster. As a result, there's lesser bile secreted in your stomach to facilitate digestion. Bile is what leads to the formation of gallstones so by lessening the secretion, gallstone formation is prevented entirely.
Diabetes is a dangerous disease that requires proper control to prevent the situation from getting worse. One of the natural ways to help control the disease is to watch what you eat. Rye is a really good grain for people with diabetes. It is made of larger molecules than wheat, which means that it does not break down as easily in your system. This can help prevent the random spikes and drops in your blood sugar levels. It can even prevent a ton of issues like diabetic shock, asphyxiation, and so on.
Foods that are rich in fiber are very good for your digestive system on the whole. The fiber that is present in rye helps you have regular and better bowel movements as it bulks up the stool and stimulates peristalsis, which moves it to the colon. It also helps prevent a number of digestive issues like ulcers, acidity, inflammation, and even colorectal cancer. Adding rye to your diet can really help your entire digestive system perk up.
Another huge advantage of rye is that it boosts your metabolism. This occurs at the earliest development process of your cells and can affect your genetic makeup. As a result, genetic diseases like diabetes can be prevented because it helps with the down-regulating of the harmful genes that lead to insulin.
Rye is also known for lowering your blood pressure. This is mainly because of the high fiber, mineral, and vitamin content of this grain. It allows your blood to flow at a more normal pace and even helps dilate your blood vessels a little, which contributes to lowering your blood pressure on the whole.
Rye is filled with important antioxidants like phenolic. This specific antioxidant is linked with cancer prevention and can, therefore, be a very important part of your diet, especially if cancer runs in the family. Including rye in your meals can help you prevent a number of different types of cancer such as breast cancer, prostate cancer, and colon cancer.
Whether you live in a large metropolis or a small town, there's no denying that pollution levels these days are off the charts. As a result, more and more children as well as adults are becoming susceptible to respiratory diseases, particularly asthma.
Asthma, though common now, is highly dangerous as it obstructs your breathing and can be fatal if an attack is not treated on time. This is why anything that prevents asthma should definitely be added to your diet. Rye is such a food. Studies have proven that children who had rye as a part of their diet were 60% less likely to develop asthma as opposed to children who did not eat this grain.
Your immune system is your body's main line of defence against any kind of attack. A good immune system leads to protection from injections caused by bacteria, viruses, and fungi, and various diseases, including autoimmune diseases.
However, if the resources in your immune system are constantly depleted over tinier matters, it makes your immunity too weak to handle bigger problems, thus letting your body fall sick all the time. Rye is rich in antioxidants, which are very important for your immunity. They help hunt down and eliminate free radicals in your system, leaving your immune system healthy and free to tackle bigger problems.
Your cardiovascular system is always in danger if you pursue an unhealthy diet filled with junk food. This is because foods with high cholesterol content, like junk foods, tend to clog your arteries, increase your blood pressure, and add a ton of strain on your heart.
Similarly, foods that are rich in fat tend to leave deposits all over the cardiovascular system, including the surface of the heart, making it work harder to pump blood. Eventually, the heart, a muscle after all, gets exhausted and gives way, leading to heart attacks or strokes. It is important to eat foods that lower your cholesterol and have low fat content. Rye is a great example of such foods and a must-have for heart patients.
Uses of Rye
Rye is mainly used for culinary purposes. It can be used as a substitute for wheat or barley in almost any meal. Rye is also used as the base for many whiskeys. It is also used to feed livestock.
Allergies and Side-Effects of Rye
Rye does fall under the category of glutinous food because it contains gluten, a protein that many people are sensitive or intolerant to. Because of its high fiber and gluten content, rye may be a major cause of gas and bloating in sensitive individuals.
So, if you have a gluten allergy, it's best to avoid this grain altogether. If you are not sure whether or not you are allergic to gluten, performing a Blood test can always help. On a general note, it is always best to consult a physician before adding anything new to your diet or lifestyle.
Cultivation of Rye
It is believed that rye originated in Turkey, however some studies show that it may have originated even further east. It was cultivated during the Roman times and has been in use since then. It is an agricultural staple that is grown and found all over the world.