Health Benefits of Cannabis Coconut Oil, Uses And Its Side Effects
The combination of cannabis and coconut oil helps to relieve pain, fight cancer, improve the immune system, boost cognition, reduce inflammation, increase the metabolism, and protect heart health. Lauric acid , a fatty acid found in abundance in coconut oil, when mixed with cannabis produce better results.
Cannabis Coconut Oil
Cannabis coconut oil is a really versatile way to consume cannabis. It is great when taken alone or baked into all kinds of edibles - most strains of cannabis beautifully complement the flavor of coconut oil.
Nutritional Value of Cannabis Coconut Oil
Compounds in cannabis are fat soluble. Coconut oil has a very high saturated fat content for a plant-derived oil. Combination of these as a mixture can help boost the immunity and improve health.
Health Benefits of Cannabis Coconut Oil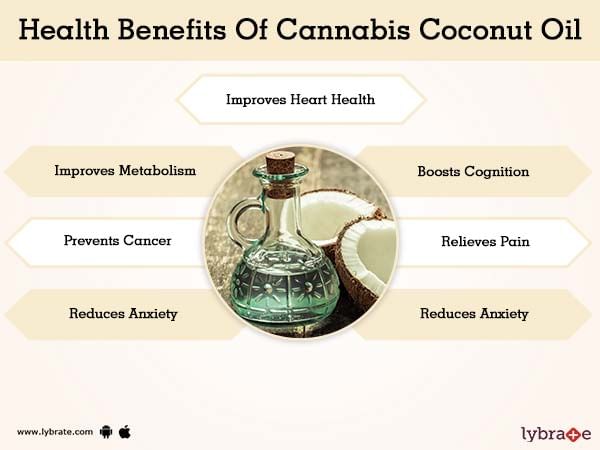 Mentioned below are the best health benefits of Cannabis Coconut Oil
The healthy fats present in coconut oil are effectively beneficial forms of cholesterol, and can help lower the levels of "bad" cholesterol in the body.Cannabis coconut oil contains a compound called THC which is also known to lower blood pressure, making this combination an all-around boost for cardiovascular health.
Cannabis coconut oil contains THC and cannabinoids which cures inflammation associated with arthritis, injuries, and other conditions within the body. It has anti-inflammatory properties that help it soothe the stomach. When cannabis-infused coconut oil is applied topically it helps to clear up irritation on the skin.
Cannabis coconut oil is able to stimulate the metabolism thus improve body functioning.
THC present in cannabis coconut oil is associated with improving cognition, minimizing oxidative stress in the brain, and even checking the onset of Alzheimer's disease.When combined with coconut oil's antioxidant properties, this mixture can be a powerful boost to brain and its functioning.
THC and other cannabinoids present in cannabis coconut oil can also prevent the spread of cancer cells and thus, lower the chances of cancer.
THC is considered an extremely effective painkiller as it is able to bind to the fat cells, making the cannabis oil more powerful and better able to function as an analgesic.It penetrates deep into the skin and addresses the muscle or joint pain at the very source for its cure. The oil, applied topically, is also used to medicate scrapes, wounds, cuts, and burns
The constituents present in coconut oil can help modulate hormones, due to the release of ketones in the liver. The THC is closely related to reductions in anxiety and stress, and can also help with sleep disorders and insomnia.
Cannabis coconut oil acts as a great topical lotion for the skin. It leaves the skin moisturized, healthy, and fresh.
Cannabis has widely been acknowledged to be a potent aphrodisiac. Combined with coconut oil, it may be used as massage oil, or even as lubricant for feelings of heightened sensual pleasure.
Uses of Cannabis Coconut Oil
Cannabis coconut oil can help in moisturizing skin to prevent chapped lips and feet, acts as a lubricant, soothe sunburn, and aids in body massage.
Side-Effects & Allergies of Cannabis Coconut Oil
Cultivation of Cannabis Coconut Oil
Coconut oil is definitely the best oil for creating strong marijuana infusions, topicals and medicinal edibles. This is because it has a high saturated fat content that makes it capable of absorbing more THC, Terpenes, Flavinoids and Cannabinoids than butter or other types of oil.