Bajra (Millet)
Many people haven't even heard of millet or bajra as it is not a very commonly grown grain. However, it is a staple in most developing countries not only because it is easy to grow but also because it is packed with nutrients and good for the human body. While there are multiple variants of this seed crop, the one most commonly grown is the pearl millet. This grain has a ton of benefits.
Nutritional Value of Bajra (Millet)
One of the reasons why bajra or millet is so popular in developing nations is because it is filled with nutrients. This is a huge advantage for people who cannot afford enough amounts or types of food to create a healthy and balanced diet for themselves. In a 100 grams of bajra, you will find 378 calories. It has a total fat content of 4.2 grams including 0.7 grams of saturated fat, 2.1 grams of polyunsaturated fat, and 0.8 grams of monounsaturated fat. It does not contain any cholesterol, and has 5 mg of sodium along with 195 mg of potassium in it. It has 73 grams of carbohydrates including 9 grams of dietary fiber. It also has 11 grams of proteins and offers large amounts of essential minerals as well. Of the daily recommended dosage for each of the following. 100 grams of bajra has 16% of iron, 20% of vitamin B-6, and 28% of magnesium. It does not contain any vitamin A, C, D, or B-12 in it.
Nutritional facts Per 100 grams
Vitamins and Minerals
Health Benefits of Bajra (Millet)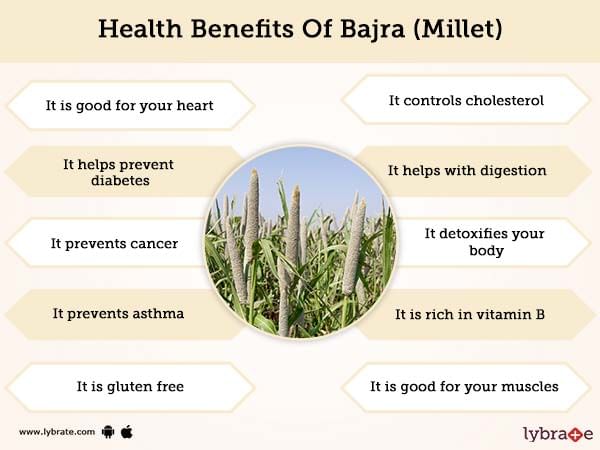 Mentioned below are the best health benefits of Bajra (Millet)
It is good for your heart
Grains are generally good for your heart and bajra is no different. Since it is rich in magnesium, it helps your cardiovascular system by lowering your blood pressure, which in turn helps reduce the chances of a heart attack or stroke. Moreover, bajra also contains high amounts of potassium which makes it a good vasodilator. This also helps reduce the overall blood pressure. It also contains certain plant lignans that get converted into animal lignans in the body. These lignans are also known for preventing heart disease.
It controls cholesterol
Bajra is also known for controlling your cholesterol levels. This is because it contains a lot of fiber, which goes a long way in lowering the bad cholesterol in your blood stream. This prevents your arteries from getting clogged up and protects your heart from cardiovascular disease.
It helps prevent diabetes
Diabetes is a disease that you've got to keep your eye on. It's all about control and management and not much else can be done once you have the disease. Bajra has high amounts of magnesium in it, due to which it helps control the glucose receptors in the body. In the populations that have bajra or magnesium rich foods in their diet, the occurrence of diabetes is reduced by at least 30%.
It helps with digestion
Millet is filled with a ton of fiber. Foods that are rich in fiber are very good for your digestive system on the whole. The fiber that is present in rye helps you have regular and better bowel movements as it bulks up the stool and stimulates peristalsis, which moves it to the colon. It also helps prevent a number of digestive issues like gas, stomach pain, cramping, ulcers, acidity, inflammation, and even colon cancer.
It prevents cancer
There have been studies that show that food that is rich in fiber helps prevent breast cancer. In fact, by just consuming 30 grams of bajra in a day, women can reduce their chances of getting breast cancer by a whopping 50%. As breast cancer is one of the most common types of cancers to occur, this is certainly a huge benefit of this grain.
It detoxifies your body
Another great benefit of eating bajra is that it detoxifies your body. It is filled with antioxidants which help in getting rid of free radicals from your body. It can also help clear up random toxins from your body such as the ones that are present in your liver and kidney. They remove foreign agents from your body and also help with neutralizing the activity on enzymes in certain organs.
It prevents asthma
Whether you live in a large metropolis or a small town, there's no denying that pollution levels these days are off the charts. As a result, more and more children as well as adults are becoming susceptible to respiratory diseases, particularly asthma. Asthma, though common now, is highly dangerous as it obstructs your breathing and can be fatal if an attack is not treated on time. This is why anything that prevents asthma should definitely be added to your diet. This is why you should add bajra to your diet.
It is rich in vitamin B
Bajra is rich in vitamin B components. This means that it helps to break down the carbohydrates and fat in your body. It also has high amounts of niacin in it, which helps to increase the good cholesterol, HDL, in the body. This can help prevent haemorrhage.
It is gluten free
Gluten free foods are generally very good for you. This is because they help prevent celiac disease. Celiac disease is a disease that occurs in the small intestine and is very dangerous as it interferes with your body's ability to absorb the nutrients from the food you eat. Bajra is very good for preventing this disease as it is gluten free.
It is good for your muscles
Bajra contains high amounts of protein in it. Proteins are known as the building blocks of the body as they help with cellular and muscular growth and regeneration. One of the best ways that bajra impacts your muscular system is that it allows your muscles to become leaner and stronger over time. Furthermore, bajra also helps prevent muscular degeneration as you grow older.
Uses of Bajra (Millet)
Bajra is mainly used for culinary purposes. It is also used to create gluten free beer.
Side-Effects & Allergies of Bajra (Millet)
If you are not sure whether or not you are allergic to bajra, performing a patch test can always help. On a general note, it is always best to consult a physician before adding anything new to your diet or lifestyle.
Cultivation of Bajra (Millet)
It is believed that Bajra originated in Africa. It is used widely in developing nations. This grain can grow nicely in harsh weather conditions and under nourished soil.