Oregano Oil
Oregano essential oil comes from the oregano plant through a process known as steam distillation. Oregano is an extremely well known herb and is used commonly in cooking. The oil, on the other hand, offers a ton of health benefits and is used mostly for medicinal purposes in herbal and Ayurvedic medicines. It is also used in aromatherapy.
Nutritional Value of Oregano Oil
Oregano essential oil contains all the nutrients that are present in the oregano plant, just in a more potent form. It is filled to the brim with nutrients and is very good for you. In 100 grams of oregano essential oil, you will find a total calorie content of 265. It has a total fat content of 4.3 grams, including 1.6 grams of saturated fat, 1.4 grams of polyunsaturated fat, and 0.7 grams of monounsaturated fat. It does not contain any trans fat.
It also does not contain any cholesterol. It has a total of 25 mg of sodium and 1,260 mg of potassium. The total carbohydrate content of 100 grams of oregano essential oil is 69 grams, with 43 grams of dietary fiber and 4.1 grams of sugar. It has 9 grams of proteins and is also filled with a ton of essential minerals. Of the daily recommended dosage for these minerals, oregano essential oil has 34% of vitamin A, a stunning 159% of calcium, 3% of vitamin C, a whopping 204% of iron, 50% of vitamin B-6, and 67% of magnesium. It does not contain any vitamin B-12 or vitamin D.
Oregano essential oil also contains a whole list of important chemical components. Its chief components are carvacrol, thymol, cymene, caryophyllene, pinene, bisabolene, linalool, borneol, geranyl acetate, linalyl acetate, and terpinene. These chemical components are extremely good for your body and ultimately contribute to its well being in different ways.
Nutritional facts Per 100 Grams
Vitamins and Minerals
Health Benefits of Oregano Oil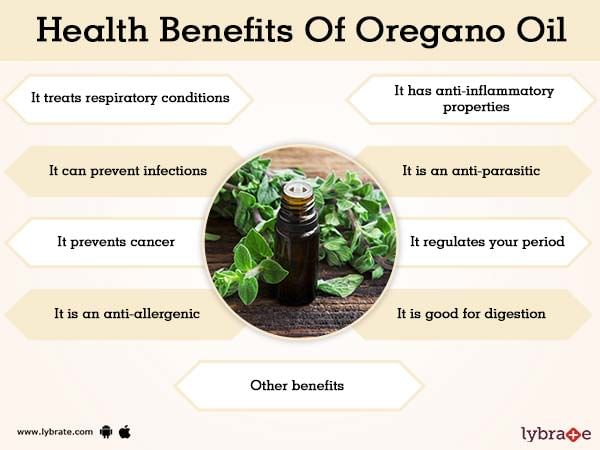 Mentioned below are the best health benefits of organic oregano oil. Antibiotic and antifungal properties of this oil good for health. It helps you to maintain a lower cholesterol level, cold, cough signs, and if you're suffering from fungal and other infections then start using it. We also discuss the side effects of oregano oil and its cultivation details.
Oregano Oil for Respiratory Health & Conditions
Oregano essential oil has all the properties of an expectorant. This means that it clears your respiratory tract off any phlegm and mucus that may have built up. This can help prevent congestion and breathing difficulties.
Furthermore, oregano essential oil is known for acting as a balm for your lungs. If your lungs are inflamed or irritated in any way, this essential oil can soothe them and make them function normally again. It can even help with inflammation in the throat and the occurrence of coughing fits.
Anti-inflammatory Properties of Oregano Oil
Oregano essential oil has strong soothing properties and can soothe inflammation that can occur internally and externally as well. Thus, it is used as a remedy for inflammation. It can be applied topically just as is or mixed with a carrier oil like olive oil. When applied, it can help relieve some redness and soreness on the skin and muscles.
Oregano oil is extremely good for relieving the inflammation that comes with arthritis and injuries. If you choose to consume the oil instead of applying it, it will still cure the inflammation, though at a much slower pace as it will be distributed all over your body.
Oregano oil can prevent various infections
Oregano essential oil has strong antibacterial and antiviral properties and can therefore protect you from a ton of different infections, both internal and external in nature. For instance, oregano oil can help you prevent and control infections that can occur in your colon, kidneys, urinary tract, and excretory system pretty easily. This is because it eliminates the bacteria that causes these infections in the first place.
Use oregano oil to prevent other infections like cholera, sores, typhoid, skin infections, and even food poisoning and is therefore very effective at protecting your body. Furthermore, oregano essential oil also has strong antifungal properties. It can inhibit the growth of different types of fungi that can cause infections all over your body. As fungi are usually responsible for the worst infections that you can go through (and these can often be fatal), this makes oregano essential oil all the more important for you.
Oregano oil good for infections that can occur in the nose, throat, ears, and all over the body. Some of these infections are known to reach the brain as well if not treated. Thus, it is important to include this oil in your health regimen. Lastly, oregano essential oil can also protect you from viral infections. It can strengthen your body's immunity against measles, cold, pox, mumps, and other problems that are caused by viruses.
Oregano essential oil ends up boosting the amount of white blood cells in your blood, which is why it is so effective against practically any time of infection that you can imagine. It can also protect your body from autoimmune diseases that are caused due to viruses and even help you fight against viral fever.
Oregano Oil Acts as Anti-parasitic
Oregano essential oil can be a good defense against these disgusting creatures. Ingesting this oil can help you get rid of most parasites inside your body while applying it topically can help you get rid of fleas, lice, and bugs outside your body. It is therefore commonly used in a ton of organic repellants and bug sprays.
No matter how clean and hygienic you may consider yourself to be, the truth is that your body is always exposed to different parasites at any given time of the day. In fact, it is even home to many parasites.
Roundworms, lice, bed bugs, mosquitoes, tapeworm, and fleas are some of the most commonly found parasites within the human body. They drain the nutrition our body needs from the food we consume, or sometimes even consume our flesh or blood for sustenance, making us weak and sick.
Oregano Oil Good for Cancer
Oregano essential oil has strong antioxidant properties, which is one of the most celebrated benefits that this oil has to offer. Antioxidants are known for getting rid of any free radicals that are present in your system. This helps boost your immunity and keep the immune system free to take care of bigger problems.
Furthermore, organic oregano seed oil even repairs the damage that has already been caused by the free radicals in your system, eliminating the risk of cancer entirely. Oregano essential oil can help your body slow down its ageing which can protect you from certain types of cancers, macular degeneration, loss of vision, wrinkles, degeneration of muscles, nervous disorders, and various other ailments that are related to ageing.
Oregano essential oil contains a ton of phenols, which is one of the most powerful antioxidants there is. It can scour the entire body and get rid of all the free radicals that are present in it.
Oregano Oil for Period Cramps & Regulation
An irregular period can cause a ton of inconveniences. Oregano essential oil is an emmenogogue. This means that it can regulate your menstrual cycle and even increase the flow of blood that is secreted. It can also help you with the various symptoms of PMS such as headaches, cramps, nausea, dizziness, vomiting, and even gas. Therefore, it is extremely beneficial for women.
Furthermore, oregano essential oil also delays the onset of early menopause. It even regulates the symptoms of menopause that can affect your day to day life such as horrific mood swings and drastic hormonal shifts. By ingesting oregano oil, women can really make their menstrual cycles much easier to bear.
Anti-allergenic Properties of Oregano Oil
Oregano essential oil is a sedative in nature and can calm down your body and its hyper reactions. It can prevent allergies from occurring and even lower the symptoms significantly. It can also work on extremely serious reactions like anaphylactic shock or swellings in your throat that make it hard to breathe and swallow.
If you have allergies, or are prone to a lot of different allergies, you know how difficult life can get. You've got to avoid practically everything, including, sometimes, the things you love, constantly tell waiters and chefs about your allergies. The symptoms of your allergies can be a total nightmare and even be fatal. However, an allergy is nothing more than a hyper reaction to stimuli. To deal with this, you can use oregano oil.
Use Oregano Oil In Cooking for Good Digestion
Oregano essential oil is also really good for your digestion. It helps by stimulating the important gastric juices that are needed to digest the good, improves the rate and amount of nutrient absorption by the body, and even secretes important enzymes that are needed to stimulate better digestion. This makes it a great oil for those who suffer from a lot of stomach related problems and disorders.
Other Benefits of Oregano Essential Oil
Oregano essential oil can help with a ton of other ailments and health problems as well. It is extremely effective against athlete's foot, psoriasis, eczema, flu, and infectious ailments as well. It can help relieve congestion in the chest, throat, and lungs and health you breathe better. It also works as a very powerful pain killer when applied topically or ingested.
Many people prefer using this organic oregano seed oil to gain relief from pain rather than medication as it does not have any side effects on your liver or any other part of your body.
Uses of Oregano Oil
Oregano essential oil is used commonly in aromatherapy. It blends well with a number of other essential oils such as the oils of chamomile, cypress, lavender, rosemary, bergamot, cedar wood, tea tree, and even eucalyptus.
You can use oregano black seed oil for cooking, it can even be used in certain types of non-dietary beverages in order to ingest it in small amounts. Oregano essential oil is also used in organic and herbal bug repellants and sprays as well.
Side-Effects & Allergies of Oregano Oil
If you take oregano essential oil in high doses, it can end up irritating your skin or your mucus membranes. This oil should be avoided by women who are pregnant because it functions as an emmenagogue and can result in a miscarriage if taken in large doses. It can also affect your pregnancy because it stimulates the secretion of hormones.
Furthermore, people who have known allergies to basil, mint, lavender, marjoram, or sage usually is allergic to oregano oil as well. In order to determine whether or not you are allergic to this oil, you can always perform a patch test to see how your body reacts.
As a general rule, it is always a good idea to consult with your doctor or herbalist before adding anything new to your diet or lifestyle in case it causes any adverse effects instead of the positive ones!
Cultivation of Oregano Oil
Oregano, the plant, is native to high altitudes. In fact, the word oregano actually means "delight of the mountains". The fact that oregano essential oil can be used to disinfect the body and has strong antibacterial properties was first discovered by the people living in ancient Greece. They often used this oil on their wounds and cuts on the skin as it prevented them from getting infected.
Oregano hemp seed oil also used to prevent food from being infected as well. It protected the food from bacteria, as well as from random bugs that spread diseases by sitting on things. It has since then been used for its health benefits all across the globe. Since oregano itself is a very popular herb and extremely well known, oregano essential oil can be easily found anywhere in the world.