Macadamia Nut Oil
Macadamia nuts are small buttery flavored nuts cultivated from macadamia nut trees and are very popular for its rich flavor and high nutrient profile. Macadamia is an evergreen species.
Nutritional Value of Macadamia Nut Oil
Macadamia nut oils are a rich source of Vitamin A, iron, protein, thiamin, riboflavin, niacin, and folates. They also contain moderate amounts of zinc, copper, calcium, phosphorus, potassium, and magnesium. Macadamia contains antioxidants like polyphenols, amino acids, flavones, and selenium. It also acts as a good source of carbohydrates like sucrose, fructose, glucose, maltose, and some starch-based carbohydrates.
Nutritional facts Per 1 Tbsp
Health Benefits of Macadamia Nut Oil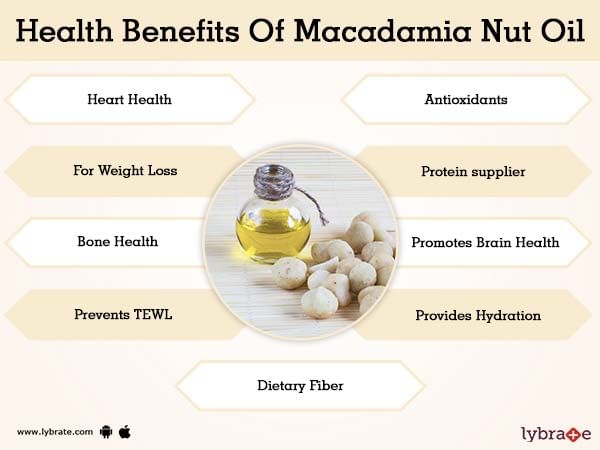 Mentioned below are the best health benefits of Macadamia Nut Oil
Heart Health
Macadamia nut oil contains high oleic acid content which makes it beneficial for re-balancing the cholesterol levels in the body.Triglycerides are essentially fat in the blood, which can be very dangerous for our heart. It can clog the arteries, raising our chances of atherosclerosis, heart attacks, and strokes. Macademia nut oil can significantly reduce the amount of triglycerides in the blood.These nuts are rich in healthy monounsaturated fats that aid in improving the heart health.
Antioxidants
Health benefit of macadamia comes from its high flavonoid content. Flavonoids, found naturally in these plants help to prevent cells from damage and protects from toxic effects. These flavonoids convert into antioxidants in our body and search and destroy free radicals and protect our bodies from various diseases. These are also known to protect from certain types of cancer. Macadamia nut oil also contains a high level of tocotrienols, which can have a positive effect on the overall health of the body.
For Weight Loss
The fat present in macadamia oil is monounsaturated which promote weight loss. Macadamia nuts are enriched in palmitoleic acid.Palmitoleic acid increases fat metabolism and reduces fat storage. It also contains omega 7 fatty oil that provide building blocks for the enzymes and control the burning of fat and curb the appetite which indirectly checks weight.
Protein supplier
Macadamia nuts contain a significant level of protein, which is an essential component for our body . It helps to form muscles and connective tissues in our bodies. Proteins are a part of our blood and act positively on our health. They also help to maintain the health of hair, nails and skin.
Bone Health
Macademia contains phosphorus which plays a variety of roles including bone and teeth mineralization, metabolism, absorption and transportation of nutrients. Calcium, also present in macademia, also helps in the formation of teeth and bones. Manganese helps the body deposit new bone tissue, so that the skeleton stays strong. Omega 3 prevents osteoporosis and reduces the severity of arthritis. ,
Macademia promotes the health of brain.Copper in macadamia helps to produce neurotransmitters, the chemicals which our brain cell uses to send chemical signals.
Prevents TEWL
Macadamia nut oil is rich in is linoleic acid thats greatly benefits the skin. It can prevent TEWL, or trans-epidermal water loss, from the delicate tissues of the skin.
Provides Hydration
The omega-7 that macadamia nut oil provides to our body plays a vital role in replenishing palmitoleic acid in our body and keeps our skin and hair hydrated.
Dietary Fiber
Macadamia nut oils contain around 7% of dietary fiber which comprises of complex carbohydrates and includes many types of soluble and insoluble fiber. Dietary fiber promotes satiety, provides roughage, aids digestion and assist in reducing constipation and several other diseases related to it, thus improving digestive health.
Uses of Macadamia Nut Oil
Macademia oil enhances bone, cell and tissue cells. It provides optimal amount of omega 3 fatty acid and oleic acid to the body. It aslo assists to absorb free radicals. Besides this, it also nourishes skin and hair.
Side-Effects & Allergies of Macadamia Nut Oil
Macademia is a good source of body fats and a high level of fats in the body can cause weight gain Also, macadamia nut oil has been known to cause constipation in certain cases
Cultivation of Macadamia Nut Oil
Macadamia nut trees are grown in tropical climates of Australia, Brazil, Indonesia, Kenya, New Zealand, and South Africa. The macadamia tree is usually cultivated by grafting. It does not produce commercial quantities of seeds until it is 7–10 years old. Macadamias prefer fertile, well-drained soils, a rainfall of 1,000–2,000 mm (40–80 in), and temperatures above 10 °C (50 °F) with an optimum temperature of 25 °C (80 °F).