Table of Content
Aloo Bukhara
Nutritional Value of Aloo Bukhara
Nutritional facts Per 100 grams
Vitamins and Minerals
Health Benefits of Aloo Bukhara
Improves Cardiovascular Health
Relieves constipation
Fights Cancer Cells
Improves vision
Improves bone health
Improves Blood Circulation
Helps Combat Diabetes
Healthy Cholesterol Levels
Skin Benefits Of Plum
Uses of Aloo Bukhara
Side-Effects & Allergies of Aloo Bukhara
Cultivation of Aloo Bukhara
Aloo Bukhara
Aloo Bukhara is very famous, nutritious and summer season fruit that is very sweet and juicy. It is found in abundant amount during season and most loved by the people because it helps to keep their health strong and powerful.This fruit belongs botanically to the family of Rosaceae and genus Prunus domestica and comes in a panorama of colors.
Nutritional Value of Aloo Bukhara
Aloo Bukhara is a pulpy fruit which is usually sweet, although some varieties may be sour. It has low fat content and high dietary fiber content. It is rich in vitamins A and C, and high potassium, magnesium, and iron content. Vitamin D, B6, B12, and calcium are also present.
Nutritional facts Per 100 grams
Vitamins and Minerals
Health Benefits of Aloo Bukhara
Mentioned below are the best health benefits of Aloo Bukhara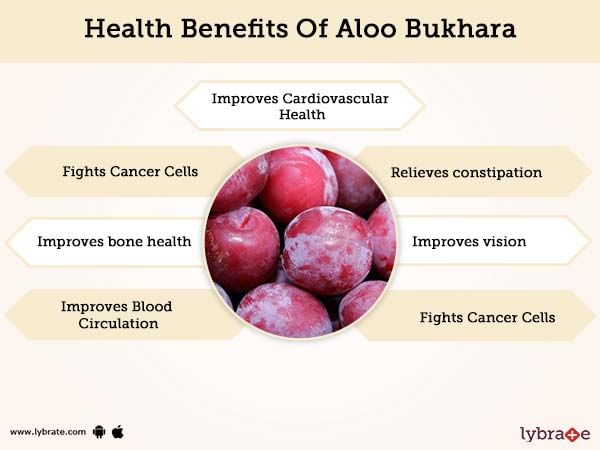 Improves Cardiovascular Health
Plums also help in maintaining the heart health. Dark coloured plums contain more amount of antioxidant called anththocyanins that prevent cell damage due to its anti-inflammatory effects and also checks cholesterol oxidation.They also contain other poly phenolic compounds like lutein and cryptoxanthin. These compound also further help reduce oxidative stress on the cells.
Relieves constipation
Plums are rich in dietary fibre. The compounds sorbitol and isatin, found in plums help to maintain bowel movements and regulate smooth flow.Sorbitol is a natural laxative that assists the large intestine to absorb water and stimulate bowel movement, thereby relieving constipation. Isatin may help in regulating the function of the digestive system.
Fights Cancer Cells
Plums are useful for the prevention of cancer, especially breast, gastrointestinal and respiratory tract cancers. Anthocyanins, which are reddish blue pigments in this succulent fruit, protect against cancer by mopping the free radicals present. Vitamin A found in abundance in plums is also known to protect from oral and cavity cancer. Plums are particularly good in preventing breast cancer.The antioxidant power of plums and their phytonutrients cease the development of the breast cancer cells but does not kill the healthy cells.
Improves vision
Plums are a rich source of vitamins, especially vitamin A.Vitamin A is important for healthy eyes and sharp vision and protects against macular degeneration.Plums are a rich source of carotenoid zeaxanthin. Plums not only keep the eye membrane healthy but also protect us against the damage caused by UV light.
Improves bone health
Eating plums can boost the bone health, especially of post-menopausal women.Vitamin K in plums have the ability to reverse bone loss in women in their menopause. It can reverses bone loss due to the rich amount of phenolic and flavonoids compounds present in it, apart from vitamin K. It also contains boron which plays an important role in ossification and actively participates in the preservation of the bone density and the general upkeep of the bones.
Improves Blood Circulation
Plum and prunes have the increased ability to aid absorption of iron in the body. This ability is due to the high vitamin C content in this fruit. The iron in the plum is highly beneficial for the formation of red blood cells or erythrocites. It improves the blood circulation in the body and prevents anemia.
Helps Combat Diabetes
Plums rank quite low in glycemic index (GI). Eating plums can control the blood sugar level and reduce the risk of developing type 2 diabetes. The phytonutrients found in plums control the release of glucose into the blood after having eaten our meal and regulate the insulin spike between the meals.
Healthy Cholesterol Levels
Plums are a rich source of potassium that is an important component of the cell and body fluids. It can help in controlling the heart rate. It also prevents platelet clotting which may result in atherosclerosis, high blood pressure, stroke and coronary heart disease. It also maintains a healthy level of blood pressure, thanks to the fiber in plums that helps to lower the cholesterol levels. Plums also contain vitamin B6, which prevents an increase in the homocysteine levels and reduces the possibility of a heart attack.
Skin Benefits Of Plum
Eating highly pigmented fruits, like aloo bukhara or plum can make us look more attractive.Rich in antioxidants, it can fight the signs of aging, rejuvenate our skin and reduce scar marks. Plums are also useful to promote healing and thus gives a youthful fresh skin.
Uses of Aloo Bukhara
Aloo Bukhara is mostly used for consumption. It may be consumed directly as fruit, or is sometimes used in the preparation of other dishes. It may be used in fruit salads. Dried fruits are sometimes used for their medicinal benefits.
Side-Effects & Allergies of Aloo Bukhara
Overconsumption of Aloo Bukhara can lead to certain complications. They contain oxalic acid, which can crystallize and form stones in the urinary tract due to over eating of Aloo Bukhara and low consumption of water. Overconsumption may interfere with medications.
Cultivation of Aloo Bukhara
Aloo Bukhara originated in western Asia, in the mountains adjacent to the Caspian Sea. It was transported to North America by European colonists and Spanish missionaries. Today it is cultivated in China, USA, Serbia, Romania, Chile, Germany, France, Spain, Turkey, etc., with China being the largest contributor to worldwide cultivation. Some cultivation takes place in the hill states of India. Plums or aloo bukhara usually need long hours of cooling. It ranges between 300 to 1000 hr of chilling. Warm summer and cool winters are optimum for aloo bukhara cultivation. Plums can grow in a wide variety of soils. Sandy loam soil with a good drainage system and free from saline and alkaline solutions should be selected for the best cultivation of plums. Aloo bukhera strives well in neutral soil with a pH range 5.0 to 6.5