About
About Us Fortis Escorts Heart Institute (FEHI), Delhi, a pioneer and centre of excellence in cardiac care, is recognised for its path-breaking work and service to the numerous heart pa...
...more
About Us Fortis Escorts Heart Institute (FEHI), Delhi, a pioneer and centre of excellence in cardiac care, is recognised for its path-breaking work and service to the numerous heart patients, who have benefitted from treatment, at its facility. Armed with clinical expertise and cutting-edge medical technology, the hospital has set enviable benchmarks in Cardiac Bypass Surgery, Minimally Invasive Surgery, Interventional Cardiology, Non-invasive Cardiology, Paediatric Cardiology and Paediatric Cardiac Surgery. Till date, FEHI has successfully completed over 173,000 Coronary Angiographies, 53,000 PTCAs, 80,000 CABGs, 22,70,000 consultations, 3,16,000 admissions, 50,000 thallium scan tests, 18,020 congenital surgeries, in addition to several life-saving procedures. The hospital also performed India's first Trans Catheter Aortic Valve Implantation (TAVI) and Bioresorable Vascular Scaffold (BVS); Asia Pacific's first Directional Atherectomy, Angioscopy, Drug Eluting Stenting, etc. Over the years, FEHI has cloned a Heart Care Network of 19 hospitals and Heart Command Centres in India and abroad. It has also launched the revolutionary e-ICU programme, enabling remote and timely access to critical care. Fortis Escorts Heart Institute has won numerous awards and accolades, the most recent among them being the 'Best Private Cardiac Hospital in India' by The Week magazine, 2014, 'Best Comprehensive Cardiac Care Service provider in India' by Frost & Sullivan, 2014, 'Best Cardiology Hospital' at the ICICI Lombard & CNBC TV18 India Healthcare Awards for 2012 and 2013, among others. Fortis Escorts Heart Institute (FEHI), Okhla Road, New Delhi, is a 310 bed, JCI certified and NABH accredited cardiology care hospital. We commenced operations way back in 1988 and since then our specialised medical programmes provide clinical excellence integrated with cutting-edge technologies and innovations to offer world-class treatment. Our approach, based on patient centricity, state-of-the-art emergency response, integrity, teamwork, ownership and innovation, combines compassionate patient care with clinical excellence, to achieve a single-minded objective—'Saving and Enriching lives'. Today, the hospital is recognised world over as a Centre of Excellence in Cardiology and our doctors have also been recognised by the Government of India, having received four Padma Shri & Padma Bhushan awards. The hospital is backed by the most advanced laboratories performing complete range of investigative tests in the field of nuclear medicine, radiology, biochemistry, haematology, transfusion medicine and microbiology. Journey towards Quality Awards/Accreditations - JCI Accreditation Hospital since 2010 & Re-accreditation in Oct 2013 - NABH Accreditation for Hospital in 2008 & Re-accreditation in May 2014 - NABH Accreditation for Blood Bank 2009 & Re-accreditation for Blood Bank in 2015 - NABL for Laboratory Services 2013 Hospital Capacity: - 310 Beds (159 critical care beds) - 9 state of the art Operation Theatres - 5 Cath labs - 3 Heart Command Centers - 2 Heart Stations
Timings
Location
Okhla road, Sukhdev Vihar Metro Station, New Delhi, Delhi 110025
Okhla
Delhi,
Delhi
-
110025

Get Directions
Photos (10)










View All Photos
Videos (1)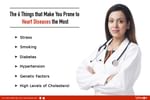 6 Things that make you prone to heart diseases the most
Every year almost 2 lakh people opt for heart surgeries in India; and as of 2015 there were about 30 million people in the country suffered from heart diseases. There are several factors that increase the threat of heart diseases, among which some can be controlled and some can't. On one hand, where factors like being a man, old age, being a woman in the post-menopausal phase of life, and a family history of heart diseases are beyond your control; other risks can be minimized by making some lifestyle changes.
Although natural processes like ageing, which narrow down your arteries and weaken the heart muscles increase the risk of heart diseases here are 7 factors, which dramatically increase your chances of getting heart diseases, while you are still young.
1. Genetic Factors:
If someone in your family is already suffering or has suffered from a heart disease, especially at a young age, it increases your probability of getting a cardiovascular disease.
2. High Levels of Cholesterol in the Blood:
Chances of formation of plaque on the inner walls of the arteries increase with increasing levels of bad (LDL) cholesterol in the blood. This may be a major cause of the heart disease, atherosclerosis, which happens due to accumulation of fatty substances inside the arteries.
3. Smoking:
Smoking causes constriction of your blood vessels and may damage their inner lining due to the effect of nicotine on them. This can put you at high risk of developing atherosclerosis. Moreover, studies suggest that people who smoke are twice as prone to heart attacks in comparison to non-smokers.
4. Hypertension:
If your blood pressure level is usually above normal, it can give rise to thickened arteries, which, in turn, can reduce the passage for the flow of blood through the vessels. This damages your heart health to a large extent and makes you prone to heart diseases.
5. Diabetes:
Uncontrolled diabetes increases your chances of getting a heart attack, especially because diabetes almost goes hand in hand with diabetes and obesity, which are risk factors of heart diseases.
6. Stress:
If you fail to keep your levels of stress and anger in check, they may have a damaging effect on your arteries. This can make way for strokes and heart attacks in the future.
'Consult'.
read more
Amenities
Pharmacy
Parking
Credit Card
Online Appointments
Diagnostic Lab Service
Reception
Cafeteria
Waiting Lounge
Ac Rooms
Travel Desk
Radiology
Ambulance
Emergency Service
Specialities
Cardiology
Aims to provide effective diagnosis and treatment related to cardiac and circulatory problems

Cardiothoracic Vascular Surgery
General Surgery
Offers extensive care to patients suffering from abdomen related medical issues

Diabetology
Gastroenterology
Offers qualitative care to patients suffering from stomach and intestine problems
Orthopaedics
Concentrates on efficient treatment of injuries and problems of the musculoskeletal system
Gynaecology
A branch of medicine reserved especially for treating female conditions of the reproductive system
Ear-Nose-Throat (ENT)
Aims to offer special care to patients with conditions related to the ear, nose and throat
Dentistry
Offers excellent dental care to patients with various oral and tooth conditions
Dermatology
Aims to deliver the highest quality of care to patients with skin disorders
Psychiatry
Offers specific care to patients with any kind of mental illness or behavioural disorders
Oncology
Offers high quality care to patients with tumours, especially those that are cancerous

Pain Management
Concerns itself with the effective diagnosis and management of various kinds of pains
Nephrology
Deals with the diagnosis and treatment of conditions affecting the kidneys
Internal Medicine
Deals with the careful understanding and treatment of adult diseases
Urology
Offers cumulative treatment of problems of the Urinary tract and male reproductive organs
Psychology
Deals with management of emotional and behavioural problems
Neurosurgery
Aims to deliver cumulative healthcare for disorders related to the brain and spinal cord
Pediatrics
Aim to offer the best form of childcare to infants and children up to 18 years
Health Packages
35 Days validity
•
Medicines included
₹2200
35 Days validity
•
Medicines included
₹2200
Network Hospital
Patient Review Highlights
"Practical"
1 review
"Very helpful"
1 review
Fortis Escorts Heart Institute & Research Centre - Okhla Road Reviews
Neeraj Chandel
Nov 10, 2015
thanks for helping me . it was nice consulting with you
Shivali Singh
Feb 26, 2015
Hello, i got to meet Dr. Vishal Chhabra in the year 2007... i ws under severe depression / mental illness and got treated by him in gtb hospital, shahdra... he rathr than jst being a doctr ,becam more of a frend cum doctr for me.. he ws th only one wd whom i used to share all my thogts n feelings... n by his endeviours i cud come out of tht illnes very easily... tody m living a vry happy n healthy life... hv many timz recommnded his name to many in need... wish all d luv n luck to Sir Vishal Chhabra.. will alws b greatful to u for wt u dd for me... u gave me a new life... regrds shivali singh
Jagesh
Mar 3, 2017
My father was suffering from some mental illness for which we were looking for a psychatrist. I saw Dr Vishal Chhabra clinic's advertisement in newspaper and that is how we referred him. My father is so much benefitted with his electroconvulsive therapy (ECT), that he is perfectly fine now. Even in case of emergency, the staff is always willing to help. Whatever tests he prescribed, were very correct and gave us an exact idea about my father's condition. Fortis Flt. Lt. Rajan Dhall Hospital - Vasant Kunj has all the latest technology in place to handle severe cases.
Abhiraj
Aug 15, 2017
A friend of mine referred to Vishal Chhabra. Thanks to the expert care and guidance, I feel much better than before. In order to diagnose my problem completely he asked me a number of questions. I must say the hygiene was maintained very nicely in the Fortis Hospital. Over the period of time the obsessive compulsive disorder treatment has helped me a lot. he is not just friendly, but also is very motivating.
Aneri
Jul 3, 2017
The mood disorder was increasing day by day. Thanks to the expert care and guidance, I feel much better than before. Dr Vishal handIed my case with ease and I owe him a big thank. He is not just friendly, but also is very motivating. I must say the hygiene was maintained very nicely in the Fortis Hospital - Vasant Kunj.
Fortis Escorts Heart Institute & Research Centre - Okhla Road Feeds
Shared 1 year ago • Featured Tip
Cardiomyopathy includes diseases involving the heart muscle. These diseases have various causes, types, symptoms and modes of treatment. The heart muscle gets enlarged, thick or rigid. In several cases, the heart muscle tissue is replaced with a s...
1956
people found this helpful
Asked for male, 22 years old from Chandigarh
Hi. OCD is a type of anxiety disorder for which you must see a psychiatrist for detailed analysis of your symptoms and the usual treatment for OCD is a combination of psychotherapy and medicines.
Asked for female, 29 years old from Kolkata
Around 2-3% of population suffer from OCD. The usual treatment for this is the combination of psychotherapy and medicines by a psychiatrist with the help of a psychologist.
Shared 2 years ago • Featured Tip
We're all guilty of making fun of snorers, but sometimes this snoring can be a symptom of sleep apnea. Sleep apnea is a condition where breathing is not continuous and may start and stop many times while asleep. This affects the quality of your sl...
4740
people found this helpful
Asked for male, 72 years old from Agra
Dear lybrate-user, if there is ongoing chest pain after heart attack, patient must be admitted in ccu and should be prepared for early angiography and revascularization in the form of angioplasty or surgery. It is of utmost importance to prevent f...
4
people found this helpful
View All Feed