About
We will always attempt to answer your questions thoroughly, so that you never have to worry needlessly, and we will explain complicated things clearly and simply.
...more
We will always attempt to answer your questions thoroughly, so that you never have to worry needlessly, and we will explain complicated things clearly and simply.
More about Dr. Ashwani Maichand's Minomax Knee & Shoulder Clinic
Dr. Ashwani Maichand's Minomax Knee & Shoulder Clinic is known for housing experienced Orthopedists. Dr. Ashwani Maichand, a well-reputed Orthopedist, practices in Delhi. Visit this medical health centre for Orthopedists recommended by 67 patients.
Timings
Location
No.8/29, West Patel Nagar, Landmark : Opp. Arya Samaj Mandir, Near Metro Pillar No. 198
Patel Nagar
Delhi,
Delhi
-
110008

Get Directions
Photos (7)





View All Photos
Videos (4)
View All Videos
Doctor in Dr. Ashwani Maichand's Minomax Knee & Shoulder Clinic

Fellowship in Joint Replacement , M.Ch , MS - Orthopaedics, MBBS
Orthopedist
Book appointment and get ₹125 LybrateCash (Lybrate Wallet) after your visit
Services
Submit Feedback
Submit a review for Dr. Ashwani Maichand's Minomax Knee & Shoulder Clinic
Your feedback matters!
Write a Review
Reviews
Ananya Asri
May 23, 2017
My mother had a severe pain in her knees. she was not consulting any doctor as she anticipated that she'll be fine by home remedies but the agony didn't go away. I searched on Practo and found Dr. Ashwani maichand. We visited his clinic, and he gave us some medications, and taught her some exercises. It's been a month now and she has improved a lot.
Verified
Jun 13, 2017
i had pain in my back, due to my desk job. my neck got stiff and i had excruciating pain. so i consulted dr ashwani maichand. he taught me some excercises, and we began with the treatement. but now i am good. and i dont get much pains
Feed

Fellowship in Joint Replacement , M.Ch , MS - Orthopaedics, MBBS
The lower back or the lumbar area is the region that lies right below the rib cage. Pain in the lower back is usually a result of persistent muscle spasms that make it a chronic pain. While many people suffer from this kind of pain at some point at the other, there are few who actually take up exercise as a long-term solution to deal with the pain. A proper exercise schedule and regular yoga can actually strengthen your lower back and help it support the spinal cord in a better manner. Also, most orthopedic specialists recommend constant movement to alleviate the painful symptoms of lower back pain. Do go through this list of exercises to find one that suits you.
Partial Crunches: This one requires you to lie down, prop your knees up with your feet firmly on the ground and your hands behind your head. Now bring your body partially up and stop shy of doing a full on sit up. This will help in relaxing the muscles in the lower back, to a great extent.
Hamstring Stretches: Get on your back and prop up one knee. Take a towel and loop it under the ball of your other foot. Now lift and hold as you press your foot into the towel, to gradually relieve some of that stress as it plays on your lower back.
Ankle and heels: The classic ankle pump involves lying flat on your back and stretching your feet before you begin to move your ankles in an up and down motion. Repeat it ten times for each set. You can combine this exercise with the heel slide where you have bend and straighten your knee ten times each, in the same position as you lie flat on your back.
Wall Squats: While actual squats can be painful if you are suffering from lower back pain, you can take the support of a nearby wall for squats that will work the muscles in a more soothing manner and give you a good workout at the same time.

Touching your toes, running on the treadmill, sit-ups and other forms of intense exercise that make the back work too hard should be avoided if you are suffering from lower back pain.

Fellowship in Joint Replacement , M.Ch , MS - Orthopaedics, MBBS
A human body has a total of 206 bones, and yet it makes life a living hell, if even one of them is harmed. A person living with Osteoporosis feels the same way, except that they are a lot more prone to having their bones broken than a person who doesn't. There are a variety of ways to go about treating the issue and one of them involves making use of parathyroid hormones. This is a pathbreaking cure for Osteoporosis and is being adopted by many patients worldwide.

If a person takes a look at the drugs which are made use of in the treatment of osteoporosis, he or she will release that their main function is not to repair what is damaged, but rather to slow the rate of further damage like Bisphosphonate.

However, if parathyroid hormones are looked at, it will be seen that they are usually recommended for those people who may even already had had fractures on account of osteoporosis. These people are generally said to have low bone density, which can be quite dangerous. The reason for this being the case is the fact that when parathyroid hormones are used, they have the potential and the ability to increase the rate of growth of the bones; in terms of the mineral density of the bones as well as the strength of the same.

Teriparatide comes in a pen-like device so that it can be introduced into the body by the way of an injection to either the thigh or the wall of the abdomen. It is important to keep in mind that the medicine should be handled with care which goes to mean that it is to be refrigerated at all times.
It is also to be kept in mind that the medicine can have certain side effects. In most cases in which side effects occur, the medicine leads to some dizziness or some leg cramps.

Taking into due account the fact that the drug is a new one, many doctors would not recommend it to people who have problems with their bones other than those which are caused by osteoporosis. Examples of such conditions would be hypercalcemia, which is a condition in which there is too much calcium in the blood or bone cancer. In addition to this, the medicine is not to be used by a person for a duration which is longer than two years.

All in all, it can be said that if a person makes use of parathyroid hormones to treat a problem that can be as bad as osteoporosis, the effects can be quite startling, and that too, in a positive way!
2470
people found this helpful

Fellowship in Joint Replacement , M.Ch , MS - Orthopaedics, MBBS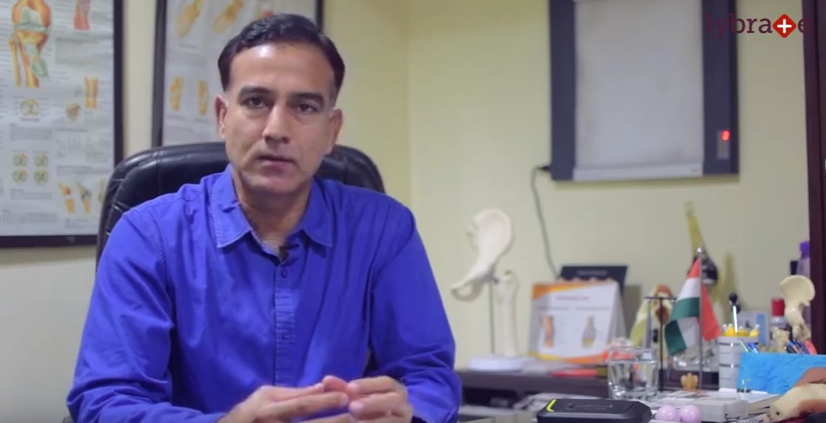 Slip disk is a condition of the spinal column which consists of a stack of vertebras from the cervical, thoracic and the lumbar spine.The bones of the spine are cushioned by disks that are present to absorb shocks. Trauma to the spine may cause the disk to bulge or be ruptured. This may lead to pain in the neck and the back.
3591
people found this helpful

Fellowship in Joint Replacement , M.Ch , MS - Orthopaedics, MBBS
One of the most common diseases that afflict a large section of the population is arthritis. It is common among people who are above 40 years of age. Acute joint pain, difficulties in movement and weakened bones are among the most common symptoms of arthritis. Given the fact that it is a condition that has permeated into modern life so deeply is what makes arthritis one of the most feared illnesses of this time. Although there are multiple forms of arthritis, there are primarily two types, which are:
Osteoarthritis: This is characterized by a breakdown of the cartilage between the bones. It is mostly known to affect a person's joints.
Rheumatoid Arthritis: This is a form of auto immune disease that severely affects the lining within the joints of bones.
Causes
The causes of arthritis might vary from person to person. Some of them are discussed below:
Diet and nutrition habits: Some food items, especially red meat and products derived from animals can cause a rise in the level of uric acid thus, increasing the risks of arthritis as well as gout. Smoking also has been known to worsen this condition.
Genetic predisposition: Some people are more prone to develop arthritis as they are genetically predisposed to it.
Problem in the immune system: Rheumatoid arthritis is one condition which is caused by the attack of immune system on the lining of the joints within the body.
Risk factors for arthritis include:
Obesity: The joints are subject to excess stress because of the excess weight. This results in a higher risk of arthritis in obese people.
Age: The risk of arthritis increases with age.
Family history: It is possible for you to be vulnerable to this disorder if arthritis runs in the family.
Previous injury: People who have had a previous joint injury are more susceptible to arthritis.
Typical symptoms of both forms of arthritis are:
Redness in the affected areas
Stiffness in the joints
Pain in the joints of the body
Swelling in particular joints or most joints of the body
Decreased mobility either due to pain or stiffness
3467
people found this helpful

Fellowship in Joint Replacement , M.Ch , MS - Orthopaedics, MBBS
The knee is known as the largest and one of the most complex joints in the human body, and also one of the most vulnerable, as it supports the weight of the entire body. The knee joint is made up of several elements including the knee cap, meniscus, connective tissue, tendons, ligaments, cartilage, and muscles. Damage to any part of the knee can cause chronic pain. So how can you protect your knee from damage and injury? Take a look at these three points!

Dealing with Load: Weight is a big one. Carrying around extra pounds and kilograms can be detrimental for your knees in the long run. Your knee is not equipped to handle the excessive weight. It already supports three to five times your weight when you get up and walk around or indulge in some mild jogging. One must be careful of those extra pounds to take the load off the knee and keep it from falling prey to damage.
Exercise: Moderate to intense exercise is prescribed for one and all. This, of course, depends on one's overall health and age. If you are already suffering from joint pain, then you may want to go easy on the exercise with a focus on building muscle strength and foundation. If you are healthy, then some amount of daily exercise as a routine will keep those knees in prime working condition and well lubricated as well. Inactivity and a sedentary lifestyle can affect the knees very badly.
Do not Ignore: Warning signals such as chronic or acute knee pain should not be ignored. Remember to see a doctor or an orthopaedic specialist to find out if you have contracted an infection or if you may have suffered a fracture due to an injury. Also, it is important to take a bone density test regularly, especially after the age of 40 or for women going through menopause, as this will point to any deficiencies and even warn you in case there is any trace of osteoporosis.
Rest, exercise, and food should be kept in fine balance for a healthy body. These are a few measures that one can take to keep knee pain at bay. Yet, it is also advisable to speak with a doctor at length regarding measures to protect your knees.

Fellowship in Joint Replacement , M.Ch , MS - Orthopaedics, MBBS
The anterior cruciate ligament is one of the most delicate yet vital ligaments that holds the knee bones in place and stabilizes the movement. Injury to the ligament, on account of a sprain, can prove to be a cause of severe distress. This may lead to a partial or a complete destabilization of the knee joints and impair the normal movements to a great extent.
Causes
Some of the most common causes of this sort of a ligament tear are accidental injuries during a sporting activity, unexpected collision or incorrect body postures. This is a fairly common occurrence among the athletes. However, the physiological and neuromuscular controls make women more susceptible to damage to the Anterior Cruciate Ligament than men.
There are two cruciate ligaments in our body, i.e. the anterior and the posterior cruciate ligaments. They run in crosses to connect the insides of the knee joints. They regulate the back and forth movement of your knees. They therefore, may incur substantial damage through sudden movements like jerks or an abrupt change of direction; the degree of tear may vary from minor strains to complete detachment. Accordingly, treatments are available to cure the distress. The treatments may either be surgical or nonsurgical, depending about the extent of the injury as well as the age of the patient. A complete tear in the ligament necessitates surgery for recovery. However, one may choose to opt for other non - surgical methods to minimize the damage.
Some of the most effective treatments for a tear in the anterior cruciate ligament have been enlisted below:
1. Bracing: Wearing a brace or using a crutch for the purpose of movement can accord the knees with some stability. It also keeps the joints intact and alleviates pain.
2. Physiotherapy: Once the inflammation reduces, you may opt for physiotherapy to restore movement and reduce the pain. Heat and Ice therapies work as ideal adjuvants to physiotherapy in such cases.
3. Surgery: Regrowth of the anterior cruciate ligament may be possible through a surgical process of grafting. This enables the tissues to repair themselves. Knee caps and adequate rest accord better rehabilitation. The recovery is faster and steadier in this process. In surgery we reconstruct the ligament again using patients own tissues. Its called Arthroscopic ACL Reconstruction.
4086
people found this helpful

Fellowship in Joint Replacement , M.Ch , MS - Orthopaedics, MBBS
Osteoporosis is a commonly experienced condition where the bones tend to get thin and become hollow over time. This is a condition that is experienced mostly by people who are over the age of 50 years, and even more commonly by women who have been through menopause. Other risk factors include smoking as well as medication which can lead to such degenerative diseases as a side effect. Let us find out about living with osteoporosis and the many myths and facts surrounding the same-
A Natural Part of Aging: This is a fact. While not everyone who ages will wind up with this condition, it is commonly experienced by patients who are growing old. One can resort to taking calcium supplements as well as plenty of Vitamin D in order to prevent the risk of fractures that are a common occurrence in such a condition where the bones become too hollow. Also, mild and moderate exercise will help the condition.
Only Female Patients: This is a myth. While it is true that women form a major risk group when it comes to this condition, there are many men who also suffer from it. It has been demonstrated by various medical studies that one in every five men in the USA alone are prone to this condition. Furthermore, due to exercise, sports and other heavy manual work, young men are more likely to end up with a fractured bone than an aging woman.
Worry only when you are Old: This is also a myth. One must remember that the major bone mass forms by the time a person hits the age of 18 to 20 years. This is the time when nutrition, exercise and lifestyles must be structured in a way that such troubles like osteoporosis will not follow you into the later years when your bones begin to age. Ample and strong bone mass nourished by proper habits, will help in preventing such conditions to a large extent.
Fractures only happen if you Fall: This is another myth. It is important to keep in mind that living with a condition like osteoporosis means that you have to be vigilant at all times in your daily routine and other activities. Strain on the bones can also lead to fractures, and one does not necessarily have to fall down to get one. Leaning over too much can also lead to a fracture!
You can feel the Degeneration: It is another myth that you can actually feel your bones getting weaker. Usually, there are no symptoms of this condition until it has progressed to a particularly painful stage in your life. The best way to find out if you are suffering from osteoporosis is by taking a bone density test.
3873
people found this helpful

Fellowship in Joint Replacement , M.Ch , MS - Orthopaedics, MBBS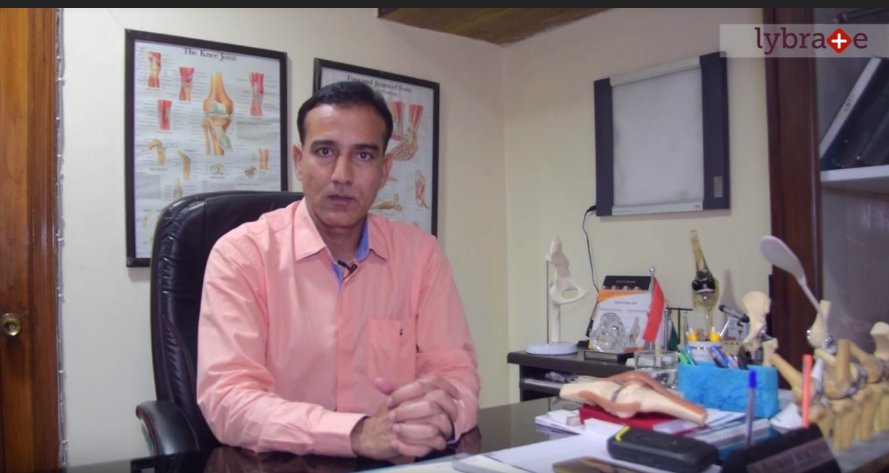 Joint replacement, an arthritic or dysfunctional joint surface is replaced with an orthopedic prosthesis. This gets rid of the pain because the diseased cartilage and bone are no longer there.
3228
people found this helpful

Fellowship in Joint Replacement , M.Ch , MS - Orthopaedics, MBBS
A fracture separates a single solid object into two or more pieces due to pressure. In medical terms, a fracture refers to a broken bone due to some kind of external trauma. A crack in the bone, on the other hand, does not cause a clean break in the bone - there is only a separation or discontinuity in the bone material. A crack in the bone caused due to repeated stress is often called a 'hairline fracture'.
Here are the basic differences between a crack and a fracture in the bone and how to treat them:
A crack or hairline fracture is rarely caused by a single injury. It is usually the result of bone fatigue which may be caused due to repeated concentrated stress over a long period of time and thus it is also called a stress fracture. Other bone fractures are almost always the result of sudden and severe force on the bones.
The skeletal system constantly remodels itself. The cells called osteoblasts absorb calcium and secrete bone connective tissue. If a particular site is exposed to recurrent bouts of force (which are individually not impactful enough to cause a crack), over time the osteoblasts in that region malfunction and the crack appears. Muscular exhaustion can also cause cracks in the bones. Fractures are caused due to sudden external single force trauma to the bone. Nutritional problems like deficiencies of calcium, phosphorus and vitamin D and excessive smoking decrease the bone mineral density and increase the chances of both cracks and fractures.
The symptoms of a crack are swelling, tenderness and sharp pain in the injured region. The symptoms worsen over time. A fracture has similar symptoms and might also exhibit an external physical distortion and makes it impossible to move the part of the body that where the broken bone is.
An MRI is better for the detection of cracks or crack-prone areas because an X-ray can only detect the crack after it widens somewhat or the bone starts paining because the rays cannot pass through the tiny gap in bone material. A fracture is easily detectable by an X-ray because the rays pass right through the break.
Complete rest for six to eight weeks is the most effective way of healing a crack. Using a walking boot in case of cracks in the leg bones in also helpful. Healing fractures requires extensive medical intervention. Surgical techniques like bone grafting and insertion of metal plates are used to reposition the broken bone.
In case you have a concern or query you can always consult an expert & get answers to your questions!
3896
people found this helpful

Fellowship in Joint Replacement , M.Ch , MS - Orthopaedics, MBBS
The human hand has multiple bones, tendons, ligaments and muscles which in unison help us to grip things and manipulate other objects to do our work. Within the wrist lies a narrow passageway on the palm side which houses the main nerve for movement of the nine tendons. These tendons help us to move our fingers individually and grip things or accomplish any task we want with our hands.
What is carpal tunnel syndrome?
Carpal tunnel syndrome is a condition where this nerve gets pinched due to a variety of factors and may have adverse effects. Some of the symptoms include tingling, numbness and pain with movements of the arm.
Causes of Carpal Tunnel Syndrome:
The nerve within the wrist which is known as the median nerve can be pinched due to a variety of factors:
Movements where the wrists are always higher and in an angle: Repetitive movements of the wrists where the hands are always at a lower angle, can increase the chances of carpal tunnel syndrome. This is usually a workplace related problem and thus be caused by bad hand posture.
Medical Conditions: There are certain medical conditions that may also trigger the onset of carpal tunnel syndrome such as diabetes, thyroid, menopause and other problems.
Pregnancy: Pregnancy has also known to cause carpal tunnel disorder as it can alter the balance of fluids within your body. However, other factors could also put your fluids in imbalance and cause problems with the median nerve.
Conditions that may cause inflammation: Certain conditions such as rheumatoid arthritis can cause the inflammation within the joints which might lead to the median nerve being pinched which in turn might lead to carpal tunnel syndrome.
Some Preventive Measures from Carpal Tunnel Syndrome:
Breaks from repetitive work: It is important for your wrists to have a break when you are doing repetitive tasks that might cause carpal tunnel syndrome. Relax and stretch your muscles within the break time
Wear wrist splints: These are support devices which can help correct problems for repetitive actions throughout the day while you are sleeping.
In case you have a concern or query you can always consult an expert & get answers to your questions!
3572
people found this helpful
View All Feed
Near By Clinics