Shatavari
Shatavari is a species in the family of asparagus which is found in all parts of India, Srilanka, Nepal and the Himalayas. It can also be found in southern parts of China, Africa, Asia and India. It can grow up to 3 feet to 7 feet tall and emerges in rocky soils in piedmont plains which are slightly elevated. This plant is also known as Asparagus racemosus. The name 'Shatawari' denotes 'the curer of hundred diseases.' Shatavari has small pine like needles which are called phylloclades which are shiny green and uniform. During July, small white flowers emerge from spiky stems and during September, globular, blackish and purple berries pop up.
Nutritional Value of Shatavari
Shatavari is a very important medicine and has usually been used since ages in subtropical and tropical India. It contains sarsasapogenin and 4 saponin compounds which is called Shatavari I-VI. This medicine is also present in traditional medicine systems such as Siddha, Unani and Ayurveda. It is generally used for the treatment of galactogogue, dyspepsia, gastric ulcers, etc. There have been studies which prove that, this plant is ideal for dealing with nervous disorders. It can be consumed as a health tonic for better immunity or hyperacidity.
Health Benefits of Shatavari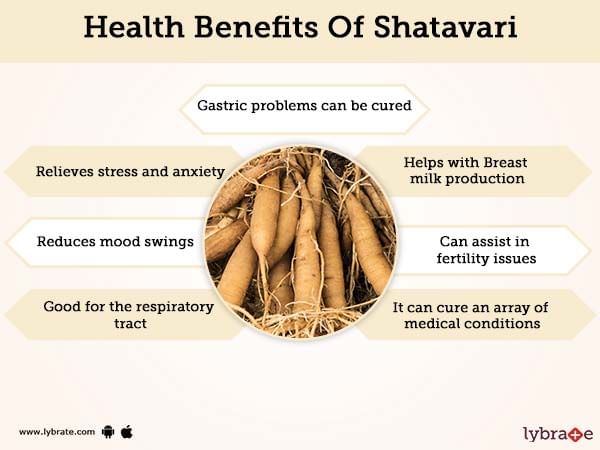 Mentioned below are the best health benefits of Shatavari
Gastric problems can be cured
Shatavari is known to treat gastric problems. The dried roots are turned into powder and it can be made into a juice. The consumption of this juice is ideal to cure ulcers and other ailments occurring in the gastrointestinal tract. If this plant is consumed regularly, it can also cure gastroparesis. This disease usually causes diarrhea, vomiting, abdominal pain and heartburn.
It can cure an array of medical conditions
Shatavari is very beneficial for the body and can act as a diuretic so that excess fluid can be removed from the body. The boiled leaves on the Shatavari can be used to cure hormonal imbalances, rheumatism, fever and headaches. In most cases, it can also help diabetes patients by controlling their blood sugar levels to a great extent.
Relieves stress and anxiety
Due to work pressure, performance pressure, education and mental traumas stress has become a daily part of our lives. We usually ignore it and the next thing we know is, it makes us under-perform and makes it difficult to lead a happy life. Stress and tension can easily be reduced by Shatavari due to its ability to strengthen the immune system. This helps our mind and body to relax and cope up with everyday challenges which might cause tension and anxiety.
Helps with Breast milk production
Young mothers usually find it difficult to breast feed their newborns due to very little milk production. This can happen due to a variety of reasons such as anaemia, low blood pressure or simply stress. Consuming Shatavari everyday helps to facilitate and regulate milk production. This method is ideal for the nourishment of young babies so that their immune system becomes stronger. Also Shatavari is a natural herb so it doesn't cause any harm to the child.
Reduces mood swings
Mood swings are more common in women than in men. This can occur due to menstruation, pregnancy or hormonal problems. Mood swings can not only spoil our mood but also make it difficult for us to interact with people. Consuming Shatavari on a regular basis can help to combat mood swings easily.
Can assist in fertility issues
Becoming a parent is one of the most joyous experience in someone's life, but sadly for some people fertility problems restrict them from leading a happy life. Shatavari is a powerful herb and is full of beneficial ingredients, so by consuming it fertility problems can be kept at bay and the chances of conception becomes high.
Good for the respiratory tract
Respiratory problems can be very fatal if it is not treated on time. It causes breathing problems and bronchitis. Regular consumption of Shatavari can help reduce ailments of the respiratory tract and is also helpful in cases of asthma patients.
Acts as a diuretic
Shatvari helps to fight against urinary tract problems and infections. It also maintains health of the urinary bladder. Apart from this, regular consumption of Shatvari can help to reduce kidney stones in size and sometime cure it completely.
Natural antibiotic
Often we experience diseases which are a result of certain infection, Shatvari acts as a natural anti-biotic to cure diseases like Staphyoloccus, E.coli, dysenteriae and cholera. It also helps to make the immune system much stronger so that it can prevent life threatening diseases from occurring.
Uses of Shatavari
Shatavari is ideal for people who require stress or anxiety therapy. It increases resistance in both women and men. Shatavari is very useful for relieving menstrual symptoms, improving vision, purifying the blood, improving anti-inflammatory conditions of the body and treating abdominal tumours.
Side-Effects & Allergies of Shatavari
Shatavari can also have some side effects which include breast tenderness. This usually occurs because it contains the same properties as oestrogen, so someone with a high oestrogen level can face breast pain and tenderness. It can also lead to variation in breast size for a woman which might not be comfortable for them. Shatavari should be avoided by people who have kidney or heart disorders as consuming it might prove fatal. Weight gain can also occur for some people. However it is important to buy Shatavari from a certified and authentic source to avoid any problem.
Cultivation of Shatavari
Shatavari is generally found in Africa, Australia, India and Asia. A tropical and warm climate is ideal for this herb to grow and flourish. It also grows in shady areas which have low attitude. Granules can be prepared from the dried root which is usually consumed by mixing it into teas, drinks and dishes.