Cow Ghee
Cow ghee which is produced from cow milk has medicinal value and offers several health benefits. It primarily contains butterfat, along with water and milk proteins. Cow Ghee is made following a simple procedure of boiling butter and then removing the butterfat. Its proteins (whey and casein) and milk solids are removed this way. Cow ghee is what is left behind.
Nutritional Value of Cow Ghee
Cow ghee has all the necessary nutrients value along with antiviral, antioxidant, antifungal, and antibacterial properties. Let check out cow ghee nutritional value, it contains a high amount of saturated fat which is approximately 7.9 grams per serving. Just as all fats, cow ghee is comparatively high in calories; roughly one tablespoon of serving contains 112 calories. According to the American Heart Association's recommendation, the total fat intake should be between 25-30% of total calories. So for a person with a 2000 calories diet, the ideal fat consumption should be between 56-78 grams, of which the saturated fat shouldn't be more than 16 grams. A healthy body can produce its own fat, but it's beneficial to consume a little extra ghee.
Nutritional facts Per 1 Tbsp (5 g)
Vitamins and Minerals
Health Benefits of Cow Ghee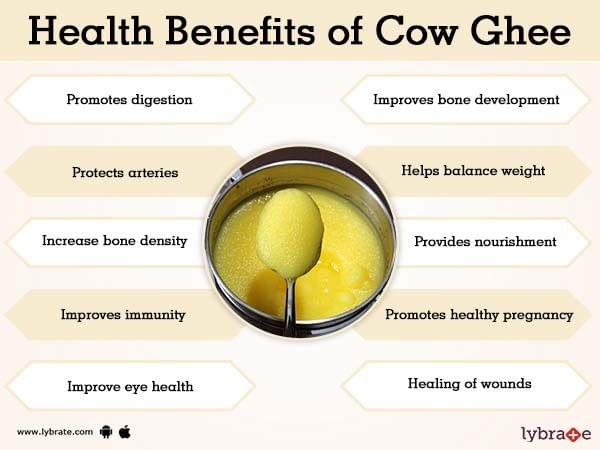 Mentioned below are the best health benefits of Cow Ghee. You can Consume Cow ghee in different ways, you can even cook various dishes with cow ghee. Cow Ghee gives helath benefits to all age group.
Cow ghee for digestion
Cow ghee helps in improving digestive strength by revitalizing secretion of enzymes. Cow ghee is easy to absorb and metabolize as it contains lower chain fatty acids. People with weak digestion must consume cow ghee so that their body can break down their food in a better manner.
Cow ghee is among those rare food items that help in balancing bile without diminishing the intestinal potential of the body. Constipation can be cured with cow ghee. If one consumes a spoonful of cow ghee mixed in lukewarm dairy, they can achieve healthy bowels in the morning
Cow ghee benefits for bones health
The consumption of cow ghee helps in enhancing bone strength and stamina. In fact, the richest source of fat-soluble vitamins in cow ghee. They aid in healthy growth and development of bones and brain, also maintaining their normal functioning.
If the body receives cow ghee at a sustained level, it improves its immunity against several disorders by developing body tissues. It also helps sensory organs to work properly. Capabilities of the brain like wisdom, memory, and intellect also increase due to the consumption of cow ghee.
Cow ghee benefits for heart patients
Cow ghee contains vitamin K2 which helps in reducing the calcium deposition in the arteries, thus protecting against the calcification of arteries. It helps the heart in functioning well by decreasing harmful blood cholesterol levels and boosting the good blood cholesterol level
Cow ghee weight management
Whether it's about gaining or losing weight, cow ghee can help in both. For losing weight, it's a good way to obtain Conjugated Linoleic Acid (CLA) which increases the metabolic rate; thus supporting weight reduction strategy and reducing stomach fat. It can help in bringing down the insulin resistance, keep a check on weight and help individuals in preventing diabetes. It does not have any hydrogenated natural oils and thus do not allow extra and unneeded fat to deposit.
Cow Ghee Increase bone density
They aid in improving bodyweight by increasing bone density and muscle mass rather than accumulating unnecessary excess fat in the body.
Cow ghee benefits for babies
Cow ghee is an absolute must for kids. It offers better nourishment to youngsters for their healthy development and strengthening of bones, muscles, brain and teeth etc. It supplies instant energy to and satisfies their requirement for extra boost in energy.
Cow ghee for immune syste
Cow Ghee improves kids' eyesight, memory power, and immunity level thus helping them build healthy bones and muscles. It prevents malnutrition and fat-soluble vitamin deficit syndrome. Cow Ghee encourages the development of the brain and enhances the memory of kids.
Cow ghee benefits for healthy pregnancy
There are several benefits of consuming cow ghee during pregnancy. It offers better nourishment to ladies during pregnancy as they need more natural vitamins, minerals, essential fatty acids for healthy growth, and development of their baby.
Cow Ghee prevents the newborn from birth problems like vertebral or bone disorders or malnutrition. It ensures that the foetus receives all the necessary vitamins and minerals that are required for its healthy growth.
Cow ghee benefits for eyesight
Cow ghee can be used for an activity called 'Tarpana'. Here a mixture is applied around the eyes, which is made with a chunky paste of flour, and the mixture is filled with herbal ghee. The individual is asked to open his or her eyes and then close them again and again. According to ayurveda, this procedure increases and strengthens the power of the eyes and helps in improving eyesight.
Cow ghee prepared with Triphala can be used for this process. Cow ghee along with Triphala and honey is believed to improve vision. Cow ghee can be applied to the eyes for strengthening the eyes. The eyes can be washed with cow ghee for attaining soothing results when slight itching or burning sensation occurs in one's eyes.
Cow ghee for fungal infection & wounds
Herbal ghee produced from cow ghee itself is called Jatyadi Ghrita and used for treating external wounds. Two teaspoons of neem, mixed with a teaspoon of turmeric powder and half cup of cow ghee can be applied to heal wounds. In leech therapy, ghee is applied over the infected area. It is advised to use cow ghee over bleeding wounds to have some cooling effect and achieve speedy recovery
Post-surgery recovery
Earlier, cow ghee was used as a base to make wicks that were used post-surgery. It is also applied over operated sutures for quick recovery. In ayurveda practice, piles and fistula were treated using a special preparation called Kshara; cow ghee can be used on that area after the procedure to ease the burning sensation and discomfort. Cow ghee is an outstanding injury healing agent, if it is applied locally. In children, while doing ear lobe puncturing, cow ghee is used first to reduce pain & irritability while it also eases piercing.
Cow Ghee reduces bladder pain
To reduce the pain in the bladder region, it is advised to have a teaspoon of cow ghee every morning as it helps in relieving the pain. In chronic fever, garlic clove along with cow ghee is prescribed in the diet. To relieve dryness of taste buds and oral cavity, amla powder and raisins are mixed with cow ghee and kept inside the oral cavity for a few minutes. Haritaki powder is used with cow ghee to ease burning sensation. In the treatment of low blood count, Triphala decoction added with cow ghee and sugar is useful.
Uses of Cow Ghee
It is used for cooking in many households. It is also used by cancer patients as it helps in reduce the growth of cancer cells. It improves the quality of voice. Cow ghee is also consumed to strengthen mental health. It is used to build stamina and helps in improving the level of testosterone. It is used by many as a home remedy to achieve glowing skin.
Cow Ghee Side-Effects & Allergies
Cow Ghee must be avoided by people who are obese or are suffering from any heart disease, kidney ailments, or stomach related problems. Anyone can have it once or twice a week. Obese or overweight people should avoid it as it may add to their weight and result in making them unhealthier.
Heart patients shouldn't have it as it may increase the risk of heart attack. This is because it contains fatty acids which increase the blood pressure and make them more prone to such attacks. People with diseases like jaundice, or those who have some abdominal discomfort should also avoid cow ghee as it may lead to some major problems of the organs.
Origin And Cultivation of Cow Ghee
The origin of ghee is listed in Indian Vedas and epics, that link the ghee-making to the 3rd century BC. Ghee is the most commonly used dairy product in India.
The production of Ghee is not just confined to the Indian subcontinent only. Several other countries also make ghee. For example, people living in Egypt make a product identical to ghee which is known by the term Samna Baladi, which means "countryside ghee".
The process of making Samna Baladi is similar to that of ghee in terms of method and outcome, however, they commonly make it from buffalo milk instead of cow milk. Ghee is also exported to various other parts of the world which includes some African and Asian countries, Australia, Armenia, United Kingdom, Belgium, Netherlands, United States and New Zealand.