What is Triphala Churna?
Triphala is not a standalone kitchen species or herb. It is composed of a blend from the dried fruits of Amalaki, Bibhitaki and Haritaki with amazing healing properties in appropriate proportion.
There is preliminary evidence that Triphala contains compounds with antioxidant properties in isolated cells and rats, but this has not yet been demonstrated in people.
Triphala has significant immune- stimulatory effects on cellular immune response, especially cytotoxic T cells and natural killer cells. Triphala extract significantly prevents selenite-induced experimental cataractogenesis in vitro and in vivo for rats. Triphala can be taken as tea, powder, liquid extracts.
Nutritional Value of Triphala
The active constituents are unknown. Triphala contains several compounds that have been proposed to be responsible for its claimed health benefits, including carbohydrates, vitamin, minerals, sodium, dietary fibres, gallic acid, chebulagic acid, and chebulinic acid.
Health Benefits of Triphala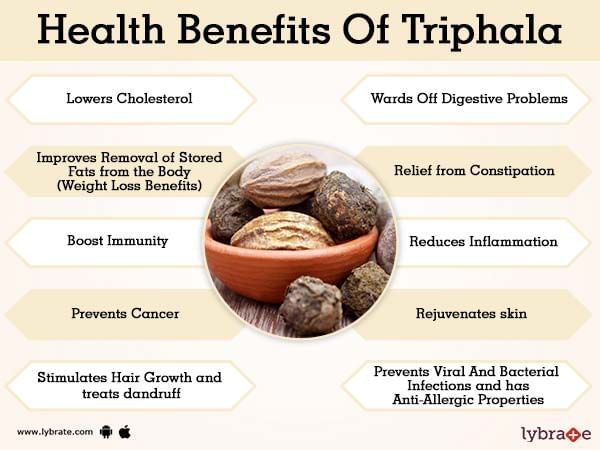 Mentioned below are the best health benefits of Triphala. You can start consuming triphala churna, triphala juice and Triphala tablets in your daily diets. As they offers lots of benefits to complete health including haircare, skincare, and even has different medicinal uses.
Triphala contains high concentration of oleic and linoleic oils, that can be beneficial in reducing risk of heart disease. Linoleic oil is essential in increasing HDL (often called "good") cholesterol while reducing "bad' LDL cholesterol levels.
Triphala churna for digestion, works great as a laxative and can be used to stimulate bowel movements. People with digestive problems or bowel movement issues can have one spoon Triphala powder before going to bed at night. One can also take a spoon early morning on an empty stomach with loads of water to bid farewell to bloating, fussy stomach, or even diarrhoea.
Triphala churna cleanses your stomach and ensures clearer bowel movements, Relieves flatulence, it provides nutrition in the form of nutrients and vitamins to the entire digestive tract, starting from the oesophagus to the anus, and improves and strengthens the rectal muscles.
Triphala Improves Removal of Stored Fats from the Body (Weight Loss Benefits)
Triphala powder helps to approach weight loss in a different way; rather than focusing on eating less and exercising more, this superfood works to cleanse the digestive system and promote healthy nutritional uptake. Triphala being an active participant in weight loss or in removing belly fat. Triphala churna controls the satiety center by inducing the secretion of cholecystokinin.
This hormone sends out a message to the brain and makes one feel full quicker than usual. For faster weight loss, take around a tablespoon of Triphala churna with warm water three times a day. Alternatively, one can mix half a tablespoon of this churna with half tablespoon of trikatu churna and some honey in lukewarm water and take it every morning and nights.
Effective constipation properties can be found in Triphala. Triphala churna helps regulate their bowel movements. To get rid of constipation, one should have a glass full of warm water with 2 teaspoons of Triphala powder every night.
Triphala powder is rich in vitamin C, which is a boon to the immune system and a potent antioxidant. It is also rich in bioflavonoids which are reported to speed healing in certain cases.
Triphala helps in cleaning the gastric and digestive tract, improving blood circulation, and nourishing the body from within by providing the necessary nutrients and minerals, Triphala helps boost the body's immunity
The regular consumption of Triphala helps in reducing internal and external inflammation, which one might have due to poor immunity or lack of nutrients in the body.
Triphala churna is said to carry anti-cancer properties and exhibits radioactive, chemoprotective, and antineoplastic effects. Thus helps to prevent cancer.
Triphala powder rejuvenates, moisturizes, smoothens, and softens your skin. This is because of the strong presence of many antioxidant compounds present in Triphala that clear pigmentation and help kill the acne-causing bacteria.
This characteristic and its emollient property together make Triphala ideal for soothing dry and flaky skin. One should use it thrice in a month for best results.
Triphala Stimulates Hair Growth and treats dandruff
The emollient properties of Triphala powder lock moisture in the hair and save one from the threat of alopecia. Mix Triphala churna and water, either consume it or apply it topically to help stimulate hair growth.
Triphala Prevents Viral And Bacterial Infections and has Anti-Allergic Properties
Taking Triphala churna can prevent bacterial and viral infections. Triphala churna can be taken by highly sensitive people without triggering any harmful allergic reactions.
Uses of Triphala
Triphala is used to maintain the tri doshas, i.e. kapha dosha, pitta dosha, vata dosha. It is used in to make ayurvedic medicines. It is used as an ingredient in shampoos, face masks, eye drops, fungal powders. Etc.
How to make triphala hair mask?
Using triphala powder as a hair mask can help one to get rid of even the most stubborn dandruff within no time. To solve this problem:
Just mix 2 tablespoons of triphala powder in 4-5 tablespoons of water
Massage the paste gently on the scalp
Wash it off after 20-30 minutes.
Side-Effects of Triphala
Even though Triphala churna is a safe choice, there are a few risks involved. Pregnant women should not take Triphala due to its downward energy flow, which can even lead to miscarriages. Even breastfeeding mothers should avoid taking Triphala as this herb can be passed on to the child via breast milk and can be harmful.
Don't give your baby more than a pinch of this powder as it can lead to diarrhea and other stomach troubles. Never take more than the recommended quantity of Triphala churna as it may cause loose motions and dehydration. If you are diabetic, consult your doctor before consuming Triphala.
Since Triphala is highly rich in fiber, its excessive use can lead to bloating problems. So, if you are already suffering from gastric troubles, take mild dosages.
Cultivation of Triphala
Triphala is compose of three fruits, i.e. Haritaki, Amalaki, Bibhitaki.
Haritaki are indigenous to Southern Asia. Haritaki trees are grown from seeds. The seeds are sown during spring in clay and sandy soils. They are best grown in full sunlight and ample amounts of water. These trees cannot tolerate cold temperature below 16°C. Their fruits are harvested while they are green.
Bibhitaki has its origin in southern Asia, within lower hills and plains.
Amalaki has its origin in India. For amalaki cultivation, annual rainfall of 630-800 mm is ideal, the baby young plant should be protected from the hot winds during summer and the frosts during winter for 3 years.
The mature plant can tolerate freezing temperature as well as high temperature upto 46°C. Light and medium heavy soils, except purely sandy soil is ideal to grow amalaki.