What are breast lumps?
The term breast lumps refers to any bulges or growths in the breast tissues. There are many different types of lumps that can form in or on your breasts and depending on the type, they may feel like a hardened mass, a localized swelling, or a sense of fullness in your breasts.
Since all of these lumps mean different things, their treatment varies. It is important to note that all breast lumps do not necessarily mean that you have breast cancer, and it's vital not to panic,but breast lumps can also be a sign of cancer.
There are various treatment options for breast lumps and they all depend on why the lump has formed in the first place. Have your doctor look at them immediately so that you can begin treatment.
How does a breast lump feel like?
Breast tissue usually differs in their density, the outer part of the breast tissue is relatively stiff than the inner part.
What are the types of breast lumps?
There are two types of benign breast lump are cysts and fibroadenomas:
Cysts: It is round sacs filled with fluid that builds in your breast tissue. Cysts may vary in size and it can be more than one. Mostly it can come at the age of 35 and 50 and it can come and go.
Fibroadenomas: Fibroadenomas are a common type of breast lumps. These are basically solid growth of tissue and are sore while touching. It majorly comes in between the age of 16 and 24.
Are breast lumps common?
Yes, Breast lumps are common, and mainly in the case of young women, they are benign.
Can men get breast lumps?
Yes. Some men might experience breast enlargement due to the formation of a lump beneath the nipple. This noncancerous condition in men is called gynecomastia.
What are the causes of breast lumps?
There are various possible causes for breast lump:
Hamartoma: Whose developments is similar to a benign tumour
Milk cysts: Suggesting to sacs loaded up with milk that can happen during breastfeeding
Lipoma: Which is a moderate developing, noncancerous, fatty lump
Breast cysts: Which are liquid-filled soft sacs
Fibroadenoma: Which means noncancerous rubbery bumps that move effectively within the breast tissue and seldom become dangerous
Intraductal papilloma: Attributing to a small, non-harmful tumour in a milk duct
Fibrocystic breast: A condition wherein breast tissue feels uneven in surface and is in some cases joined by pain
Breast Injury:If your lump is caused due to an injury or trauma to the breasts
Mastitis: If you are currently breast feeding, your lump may be the result of mastitis, which is an infection that occurs in the breast in lactating women.
Below are the ways to do a self-breast examination: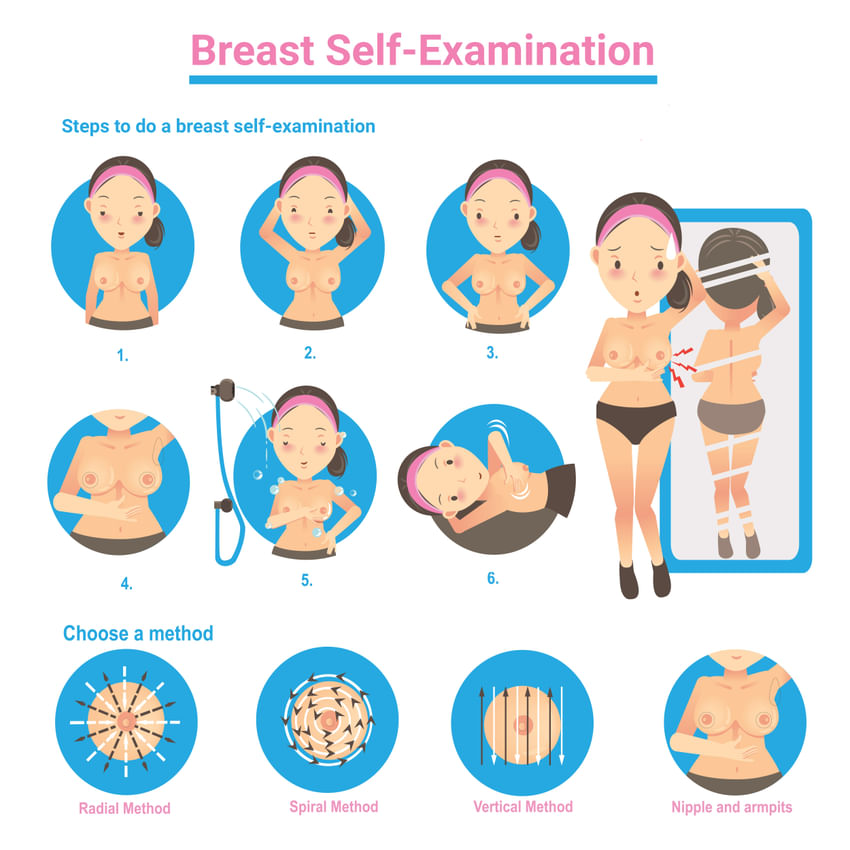 Lie down on your back. It makes it easy to assess breast tissue in this position.
Start with keeping your right hand behind your head. Use the middle finger of your left hand, check the right breast for any movement by pressing it gently.
Next, sit or stand and feel your armpit, because most breast tissue goes into that area.
Now next you need to slowly squeeze the nipple, to check for any discharge.
Now try another way, keep your arms by your sides and stand in front of a mirror.
Now you need to observe your breasts both directly and with the help of the mirror. And also observe for the changes in the skin surface, such as crumpling, incisions, or skin that appears like orange peel.
Also, notice the shape and outline of both the breast.
Check in the mirror for the direction in which the nipple turns.
If you notice the difference go and consult your doctor
How breast lumps are diagnosed?
Here are the few testing methods to detect the lumps in the breast tissues.
Mammogram Test:

A mammogram is an image of the breast which is obtained post-X-ray, Mammogram helps to observe the changes in the breast tissue. It is used for the diagnosis of breast cancer.

Ultrasound Test:

An ultrasound is a diagnostic test that involves high-frequency sound waves to catch live images from beneath the surface of the breast.

Magnetic Resonance Imaging (MRI) Test:

In MRI testing, magnetic fields and radioactive waves are given to capture the image of breast tissues.

Fine-Needle Aspiration Test:

Fine-Needle Aspiration is a kind of Biopsy technique that involves the insertion of a thin needle in the area of abnormal lump and fluid is extracted. Cyst present in breast tissue moves along with the extracted fluid.

Note - If the extracted fluid appears bloody or cloudy, It needs to be examined in the laboratory for cancer detection.

Biopsy Testing:

In biopsy, a tissue sample is taken from the body to check more closely and send it to the laboratory for diagnosis. A breast biopsy can be done using different procedures as:

Fine-needle aspiration biopsy:In this fluid sample is taken from the breast during a fine-needle aspiration
Core needle biopsy: In this technique, a sample of tissue or fluid is extracted with the help of a larger needle. This technique uses ultrasound for guiding the correct tissue.
Stereotactic biopsy: In this technique of biopsy a sample of tissue or fluid is extracted using a needle and a mammogram is used at the same time to take images from various angles.
Surgical biopsy: In this biopsy technique, a complete breast lump is removed.
How Often Are Breast Lumps Cancerous?
Nearly 80% of breast lumps turn up to be benign. In some women, a breast lump can turn into cancer if it enters the metastasis stage.
How is breast lump treated?
Once the reason for the lumps is diagnosed, the treatment can begin.
Are breast lumps dangerous?
Most breast lumps are not dangerous, but it's important to get checked with your doctor to have them diagnosed properly.
Are there any side effects?
Chemotherapy can lead to the loss of hair, nausea, weight loss, weakness, fatigue, and problems with concentration. The treatment can make you extremely weak before you get better.
What is the price of the treatment in India?
Chemotherapy can cost up to Rs 57,000 – Rs 60,000 per session.
How long does it take to recover?
The recovery period depends on the reason behind the lumps occurring. Infections can be cleared within a few days. It can take a minimum of 2 weeks to fully recover from the effects of any surgery on your breasts to help remove cysts or growths. Cancer can take months and years to go into remission and can come back any time.