Bhringraj
Bhringraj is a species of plant in the sunflower family. It is commonly known as – False Daisy. The plant possesses greyish, cylindrical roots. The solitary flower heads are 6 – 8 mm in diameter with florets of white color. The achenes are narrowly winged and compressed. The herb tastes bitter, hot, sharp and dry.
Nutritional Value of Bhringraj
The extract prepared from Bhringraj plant is rich in alkaloids and the leaves contain high amount of proteins. The plant is known for its antioxidant, anticancer, antibacterial, antiviral, antileprotic, antihaemorrhagic, analgesic, antihepatotoxic, hypotensive and ovicidal properties. The plant contains several chemicals like polypeptides, steroids calcium, vitamin D, Iron, Vitamin E, magnesium.
Health Benefits of Bhringraj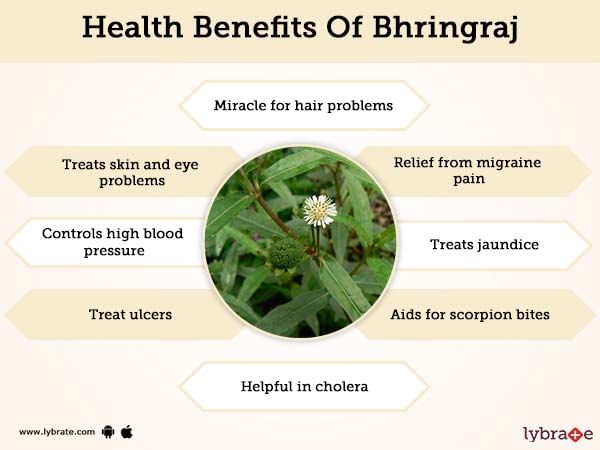 Mentioned below are the best health benefits of Bhringraj
Miracle for hair problems
The best way to use bhringraj for hair is by making a hair oil with it, bhringraj oil has amazing hair benefits. It prevents hair fall, premature greying, strengthens the hair roots, conditions the hair well, prevents split ends, stimulates hair growth, prevents baldness, premature greying and alopecia - in short everything that is needed for a healthy hair. This oil can be made in two ways, the first method is made by grinding the bhringraj leaves without water and making it into small rounds and then sun drying it till crisp. Then the rounds are added to coconut oil in a glass jar and placed in hot sunlight till the color of the oil changes. This method takes around 3 to 4 days for the bhringraj balls to dry and for the coconut oil to get heated up. This method is best done during hot summer months. The second method includes directly heating the paste in coconut oil. This oil has a beautiful green color and a unique pleasant smell. To use this oil, massage it well into the scalp before having your hair wash regularly and let it soak for at least 30 minutes.
Treats skin and eye problems
Bhringraj leaves are amazing for treating all minor skin related diseases as it has wonderful anti-bacterial properties. Bhringraj juice is very effective for treating cracked heels and minor skin allergies. To get the bhringraj juice, take the fresh leaves of bhringraj plant, wash and pound it in a mortar and pestle as finely as you can. Now take the pounded mixture in a strainer and press with a spoon to extract the juice completely. Apply this juice directly on the affected area continuously for a few days to see results. This juice also helps in faster healing of wounds and it is best applied when it is fresh. We can also use bhringraj while making kajal, we apply the keelanelli juice on the brass plate and place it over a small lamp that is filled unrefined sesame oil. Once the soot is collected, we take it in a plate and mix it with ghee and use as kajal. Kajal made with keelanelli has a cooling effect on the eyes.
Relief from migraine pain
Heat equal quantities of its juice and goat's milk, put few drops of this mixture in nose. Also, mix black pepper powder in its juice and apply on the forehead. It gives relief from migraine.
Controls high blood pressure
To normalize the blood pressure, give 2 teaspoon juice of its leaves with 1 teaspoon of honey mixed in it, twice a day.
Treats jaundice
Grind fresh and clean leaves of Bhringraj with 7 black peppers in 2ml paste of leaves and give it to the patient every morning, in an empty stomach. One can give it with sour curd or buttermilk.Within 5-6 days, it cures jaundice.
Treat ulcers
Apply juice of bhringraj on the infectious ulcers. One can also tie the poultice on the ulcers. In case of ulcers and boils on hand, thumb and fingers apply its thick paste on the ulcer. It helps heal the ulcer fast.
Helpful during Diabetes
Take powder of Bhringraj and powder of flowers of babool in equal quantities. Add some sugar candy to it. Give this to the patient with 6 ml of goat's milk. This is very useful to treat all forms of diabetes.
Aids for scorpion bites
Grind the leaves of Bhrinraj and apply the paste on the swollen area. The pain condenses on the bitten area. It also relieves the sting and poison too.
Helpful in cholera
2 teaspoon juice of Bhringraj plant if given with little amount of rock salt in it, to the patient thrice a day, relieves Cholera.
Uses of Bhringraj
Bhringraj is used to produce hair oils, hair dyes, skin disease powders, balms, lotions, cosmetics. It has its wide use in pharmaceutical fields.
Side-Effects & Allergies of Bhringraj
Bhringraz has no such side effects. Its extract is cool, this one may catch a cold. Higher dose may cause a slight burning sensation.
Cultivation of Bhringraj
Bhringraj is native to India and South-western America. It is also widely distributed in Nepal, China, Thailand, and Brazil. It is grown mostly in the more tropical parts of the country. It grows well in moist, ground-bound and clay, paddy fields, tanks, water courses, both in plains and hilly regions.